Regular price
$605
Sale price
$97
Unit price
per
Sale
🎉 Coming Soon
 This deal has ended, click here to see our current bundle deals.
📩 Instant PDF Download
🚸 Ages 6-12 Years Old
📆 Complete 12-Month Scope & Sequence.
Get set for the upcoming school year with our comprehensive collection of Bible teaching curricula, meticulously designed for kids' church or Sunday School. We've taken the stress out of planning, providing you with a ready-to-follow scope & sequence for each Sunday of the school year.
🎓 Hassle-Free Teaching: Our easy-to-follow lesson plans make teaching a breeze.
💸 Budget-Smart: This limited-time deal saves over $500 off the regular price.
🧲 Engaging Content: Our curriculum will keep your students' attention with various learning activities.
📖 Our curriculum is compatible with any Bible translation. Poster visuals are provided using the NIV, ESV, and KJV.
Every Sunday from August 2023 to July 2024 is planned for you. 
Click here to download the 2023-2024 scope & sequence
Why Choose Curriculum from the Sunday School Store?
🚸 Age-Appropriate: Our flexible lesson plans are crafted for ages 6-12.
🚀 Instant Access: Get digital downloads you can share with parents and co-teachers immediately.
📖 Versatile: Our curriculum works with any Bible translation and includes NIV, ESV, and KJV verse printables.
🍎 User-Friendly: With our easy-to-teach format, you can focus on what matters most - sharing Jesus with the kids."
The 52-Week Back To School Curriculum Bundle is a limited-time offer.
✅ No coupon required.
💳 Money-back guarantee.
⏰Limited-time offer.
Kids will love the creative lesson themes and church leadership will love the 84% discount when you report how much you saved the children's ministry budget.
Be Ready from NOW until Back To School 2024!
Every lesson is made to keep kids attention and engage them with Gospel truth.
Each lesson has includes "more than enough" and is flexible for wide age-ranges. Choose the lesson elements that work best with your group.
Because the material comes in print-ready PDF. You can easily email the digital files to volunteers or co-teachers. 
Ideal for age 6-12 and flexible for small churches who combine age-groups. Each lesson includes "more than enough" so you can choose what works best in your ministry.
View full details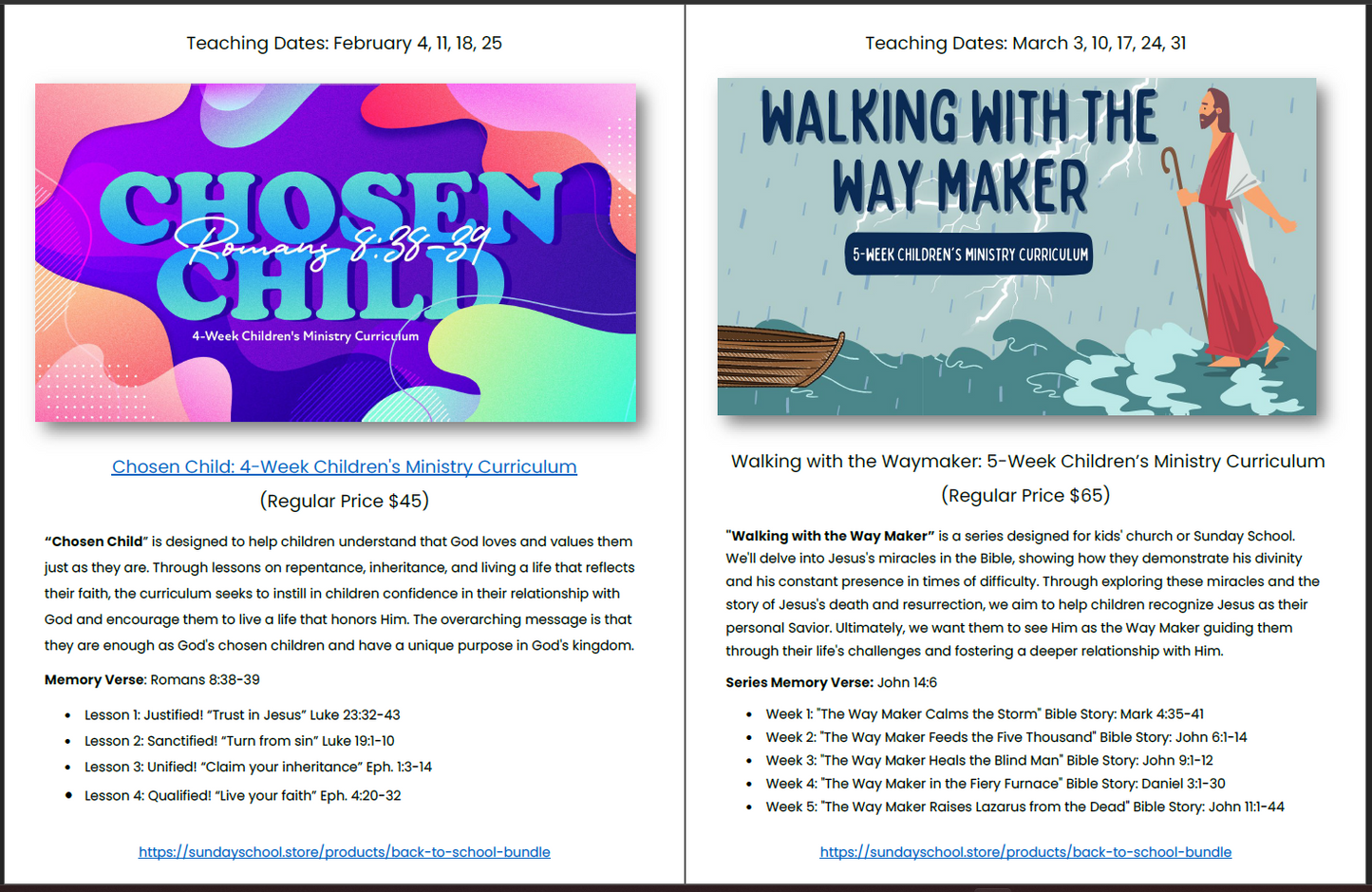 I've appreciated each of the units that I've received so far. They are perfect for my needs at the school. I have the children for three 20 minute periods each week and it just covers the three periods perfectly. Thank you so much.
Not exactly what we expected.
From the description, it sounded like we would be getting printed material and possibly a DVD. What we got were a bunch of PDF files that we had to print out. I have already gone through more than a ream of paper and only about 1/3 of the lessons printed out. That being said, it does look like the lessons are very complete and well laid out so they should be very useful.
Thanks so much for letting us know - your correct that it's a massive amount of teaching material in printable PDF format. We appreciate your helpful review and pray that God will continue to bless your ministry!
Backpack, Blessings and New Beginnings
I just started reading the material on this curriculum; I like how the theme is connected with the children daily work activities.
52-Week Back To School Children's Ministry Curriculum Bundle Deal ⏰ Limited-Time Only
52-Week Back To School Children's Ministry Curriculum Bundle Deal ⏰ Limited-Time Only
Back to school bundle
So pleased with the lesson plan for this year through 2024 at such a reasonable price looking forward to start soon.
52 Week Back-2-School
We will begin the 1st session this week. We love the content!
Great resources!
A great set of resources for all kinds of leaders and kids. Relevant to issues kids face today. Biblical activities with games and crafts suitable for all ages. Thank you for such a great resource. Can't wait to use the next installment!
52-Week Back To School Children's Ministry Curriculum Bundle Deal ⏰ Limited-Time Only
52 Week curriculum bundle is perfect
Looking for a new lesson for our Sunday school for the year and everything is planned out, prepped n easy. So greatful to get this package !
New & Popular Children's Ministry Curriculum