Regular price
Sale price
$45
Unit price
per
Sale
Unavailable
⌛ {timer} ⌛
SALE ENDS SOON
Fulfilled: 4-Week Easter Curriculum for Kids is all about how Jesus accomplished salvation for God's people, as promised in the Old Testament. Children will learn the "why" behind Jesus' suffering, death, and resurrection: that he endured it all because of his undying love for us!
Big Idea: Because of His love, Jesus gave up his life to save me from sin and death. 
Memory Verse: Acts 3:18. Visuals available in the NIV, KJV, or ESV.
Lesson 1: "The Suffering Servant" 1 Peter 2:24

Lesson 2: "The Passover Lamb" 1 Cor. 5:7b

Lesson 3: "Scorned in the Psalms" John 19:36-37

Lesson 4: "Death is Destroyed" Hebrews 2:14-15
Credits: This series was written by Elizabeth James. The editors were Samuel O'Neal and Andrew Toy. We pray this material will be a blessing to your ministry and help children feel the love of Jesus Christ.
Attention-Keeping Learning Activities 

Easy to teach lesson plan

Discussion questions and prayer
Memory verse activity
Printable word search worksheets
Bible story coloring pages
Parent take-home review sheets
Craft activities
Perfect for Children's Ministry or Sunday School

Use this Bible study in your children's ministry, kids' church, or Sunday School. Our curriculum includes everything you need to keep the children's attention, get them into God's Word, and help them grow in their personal relationship with Jesus Christ.
56 pages of teaching material
perfect for children aged 6 to 12 (Kindergarten to 6th grade)
designed for small churches
instant digital download in one print-friendly PDF file
flexible teaching activities designed for elementary-aged students
unlimited permission to share directly with volunteers or families in your church
View full details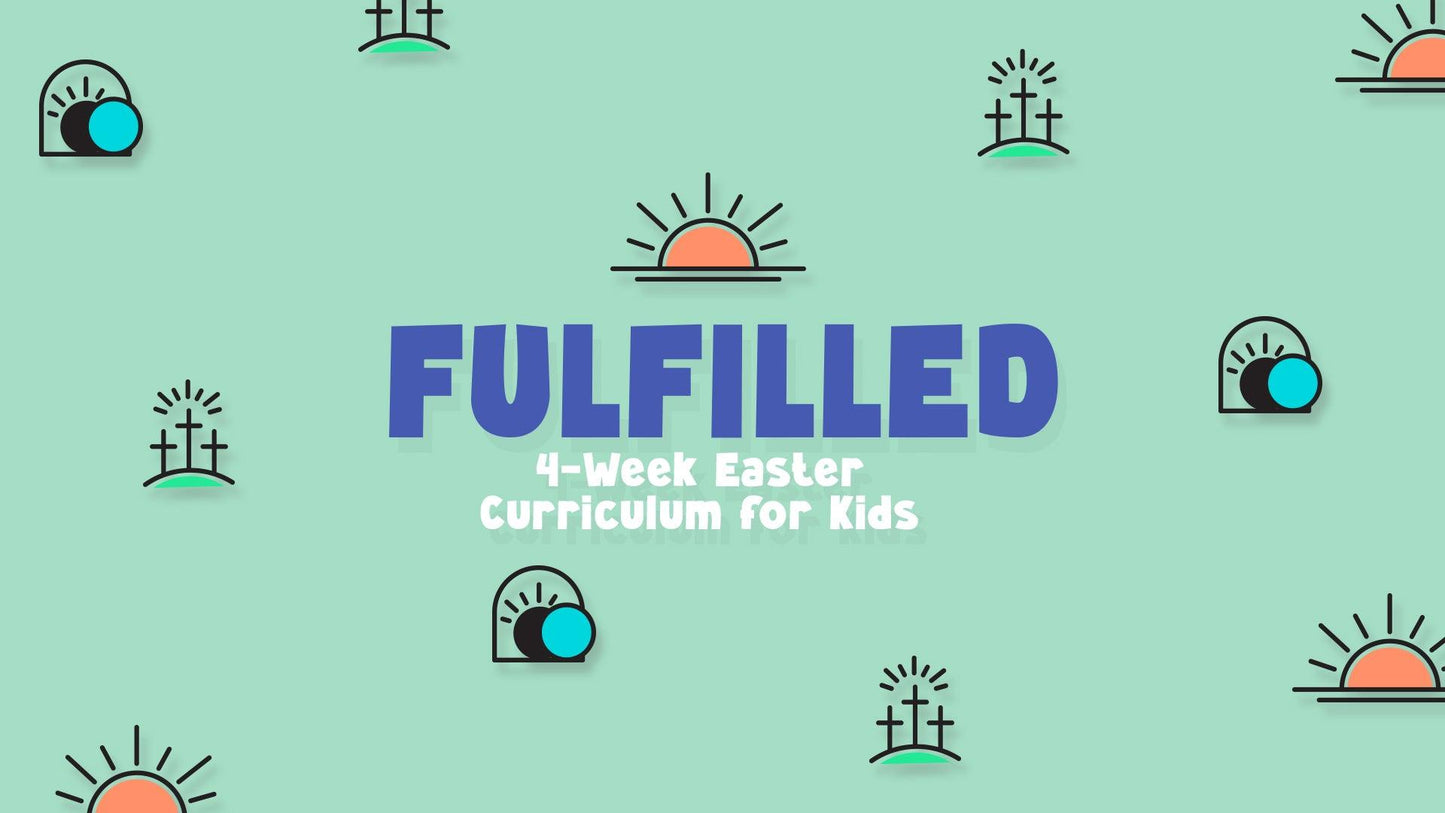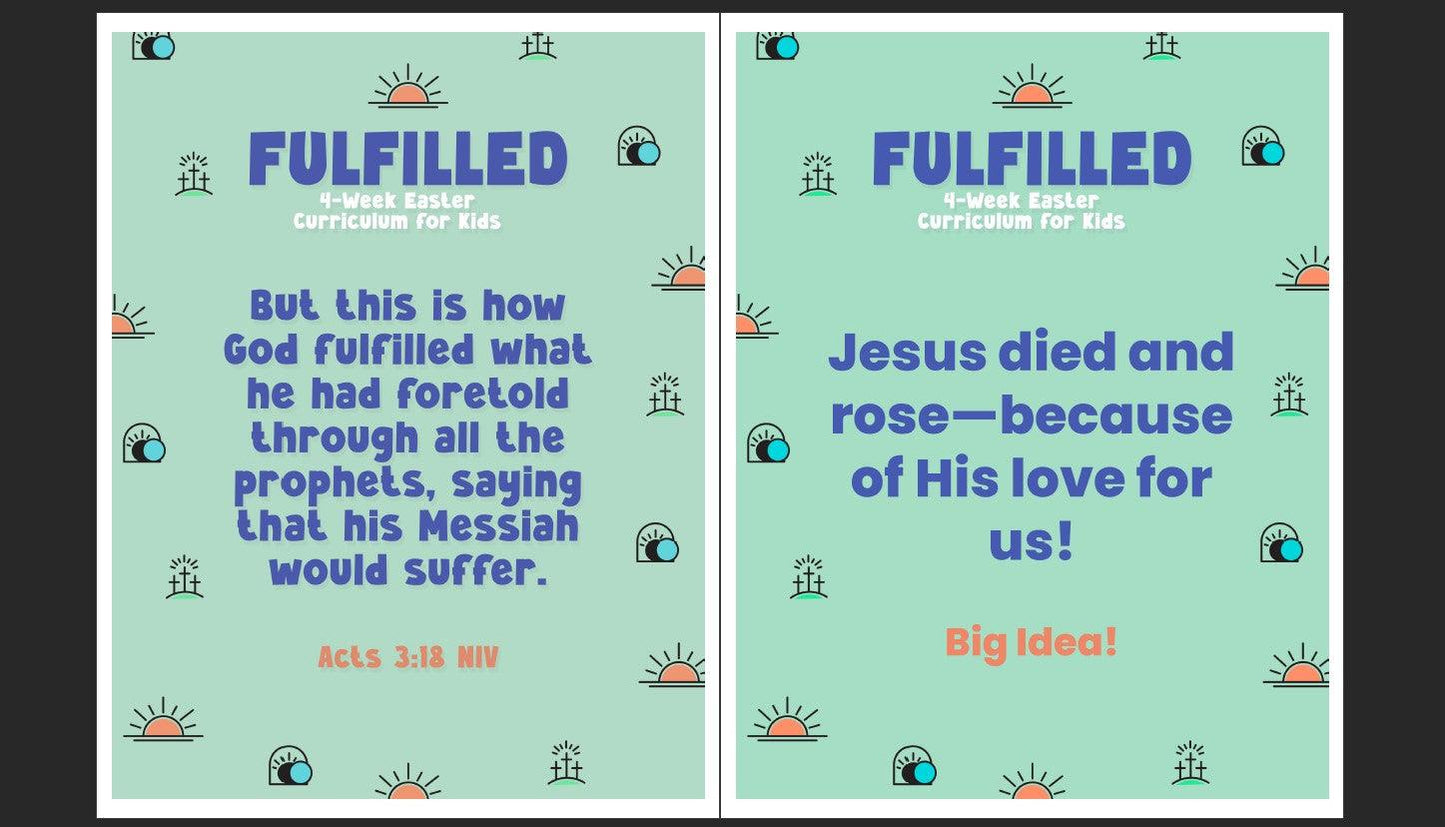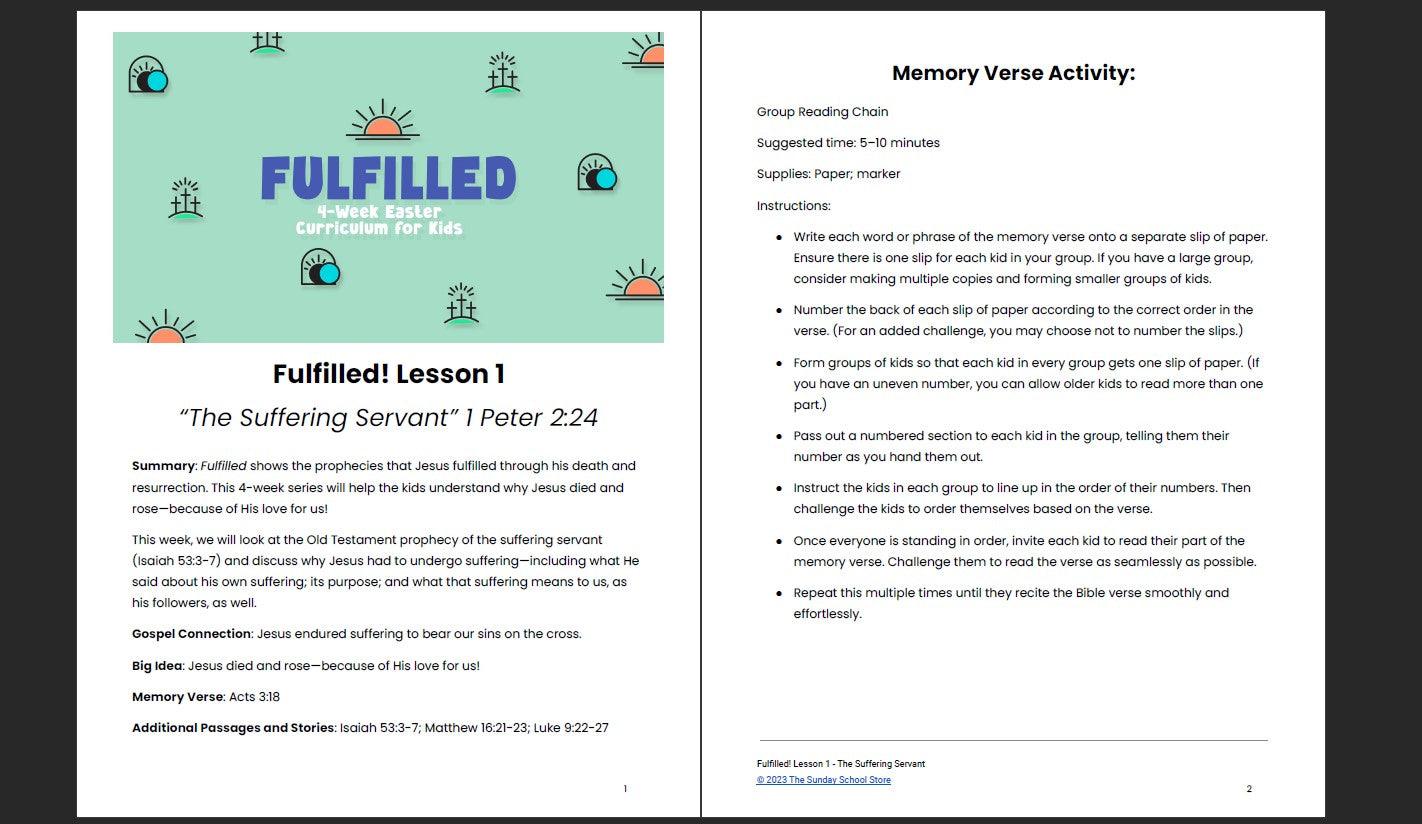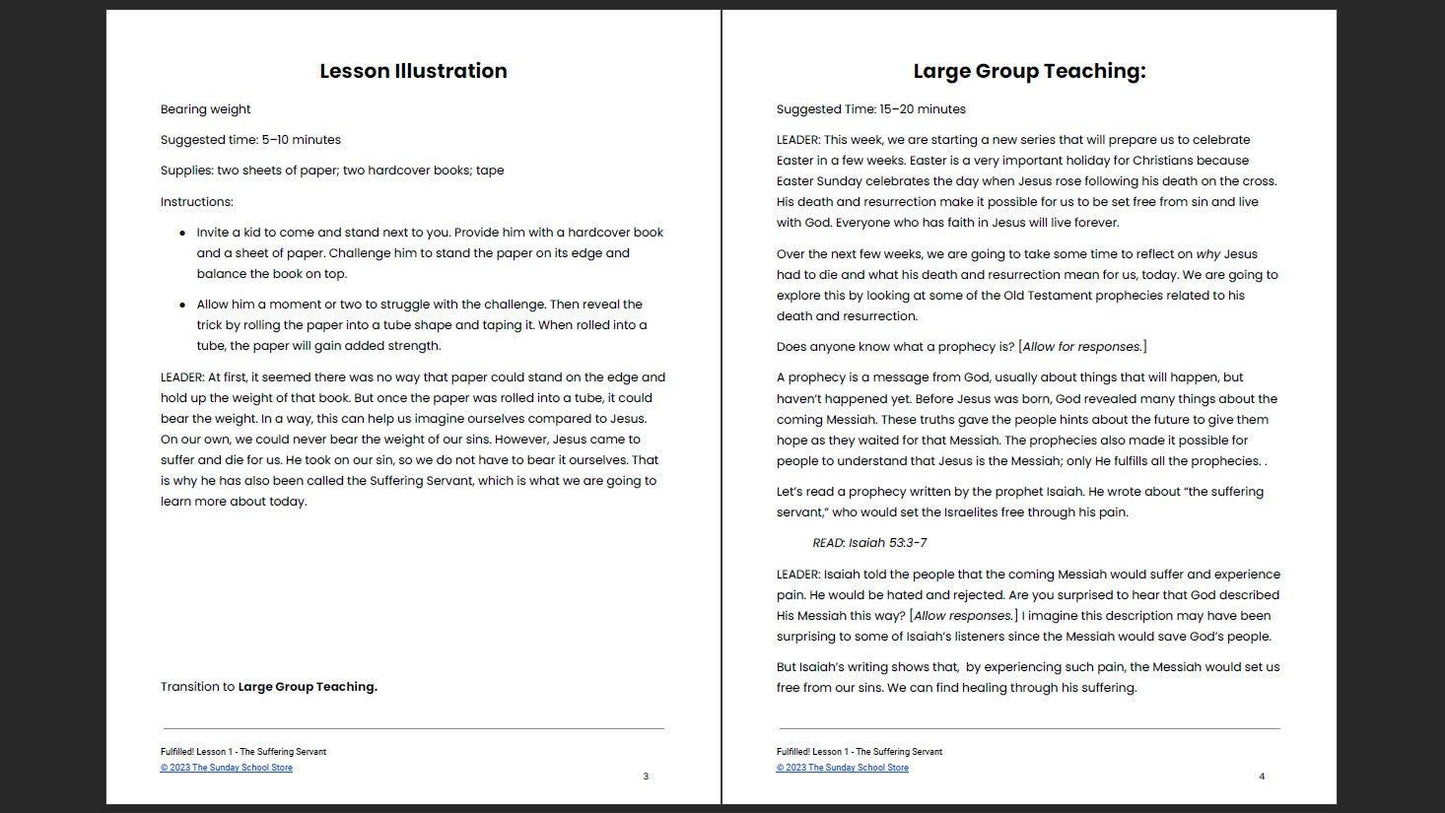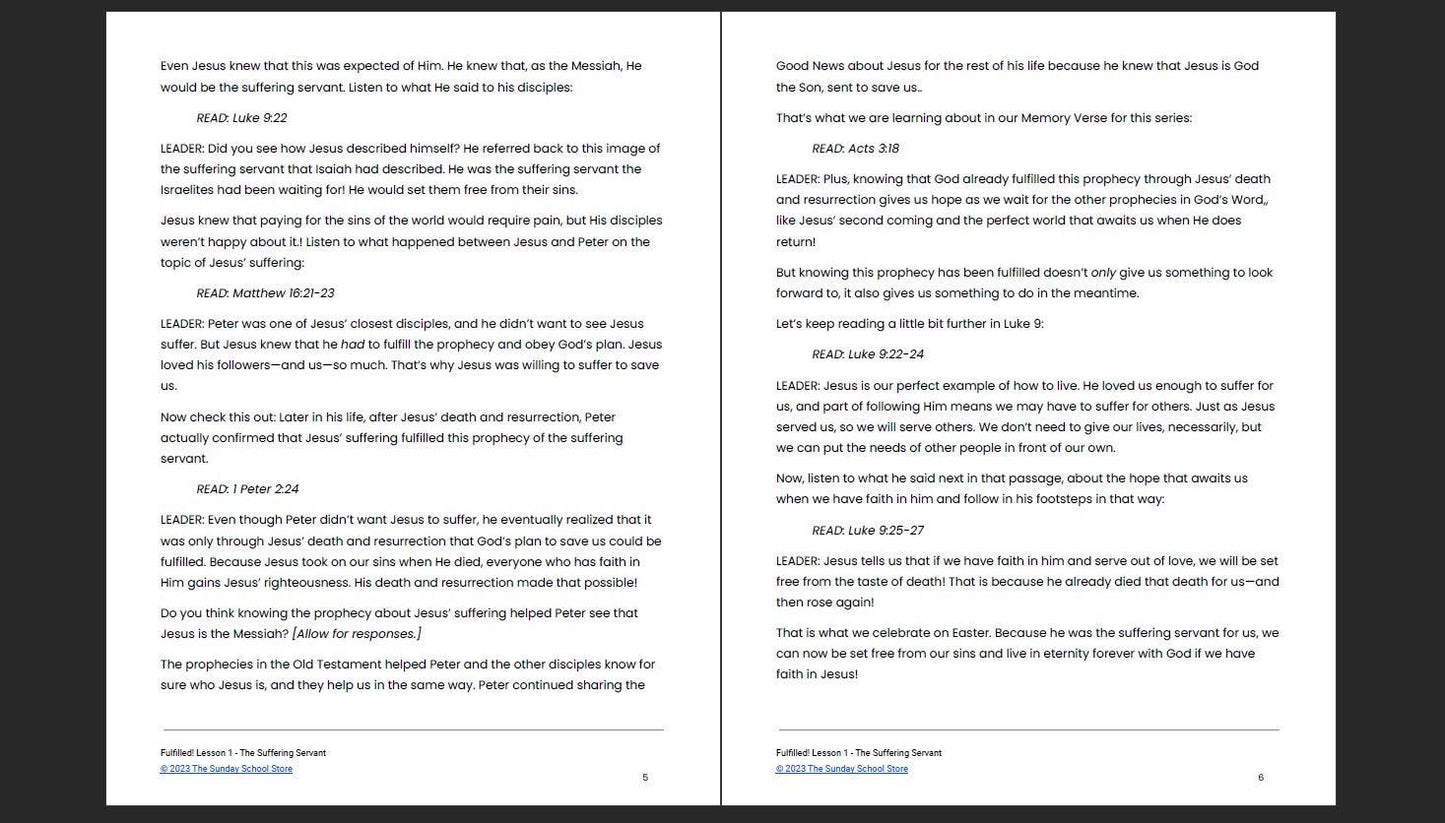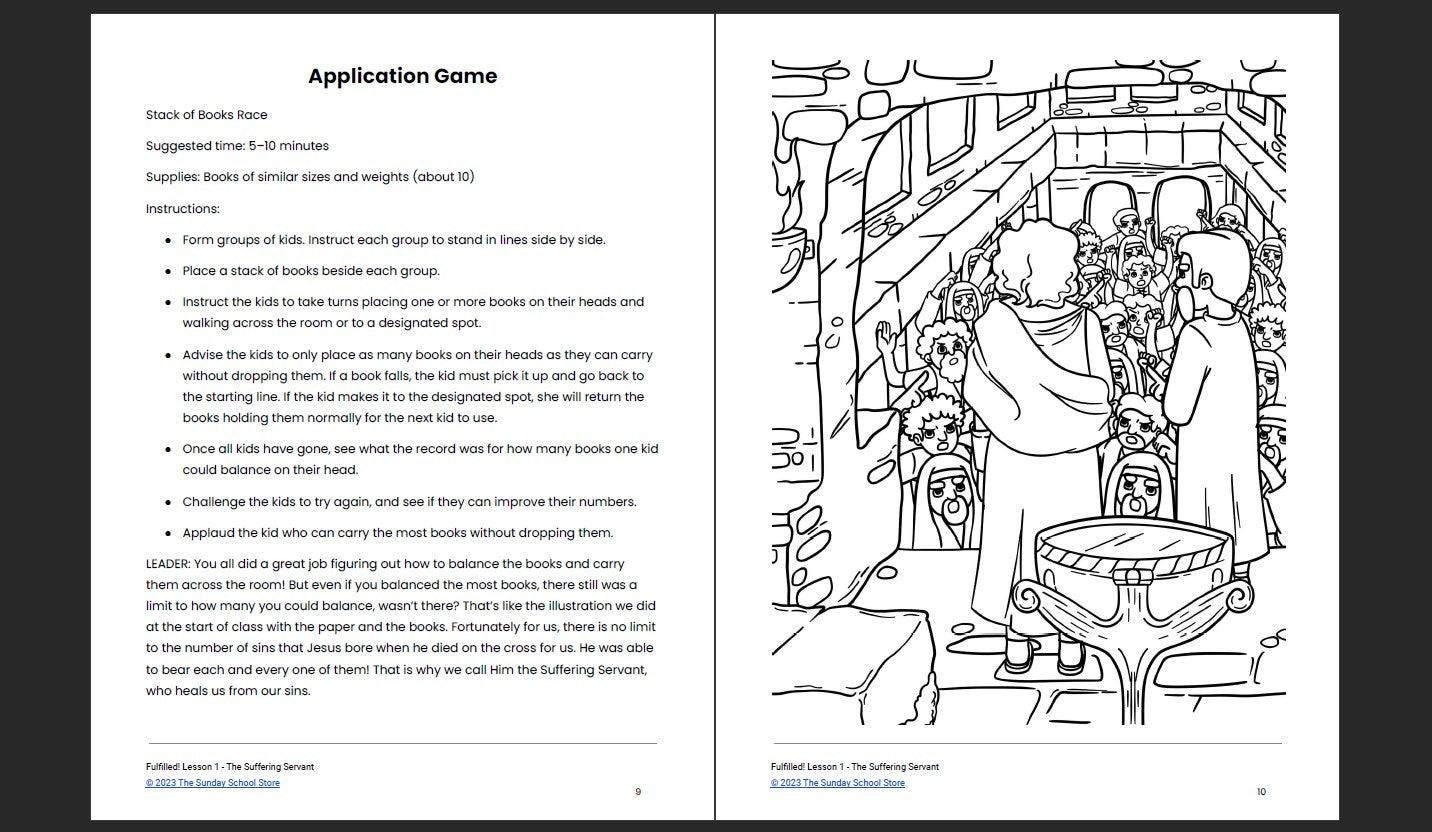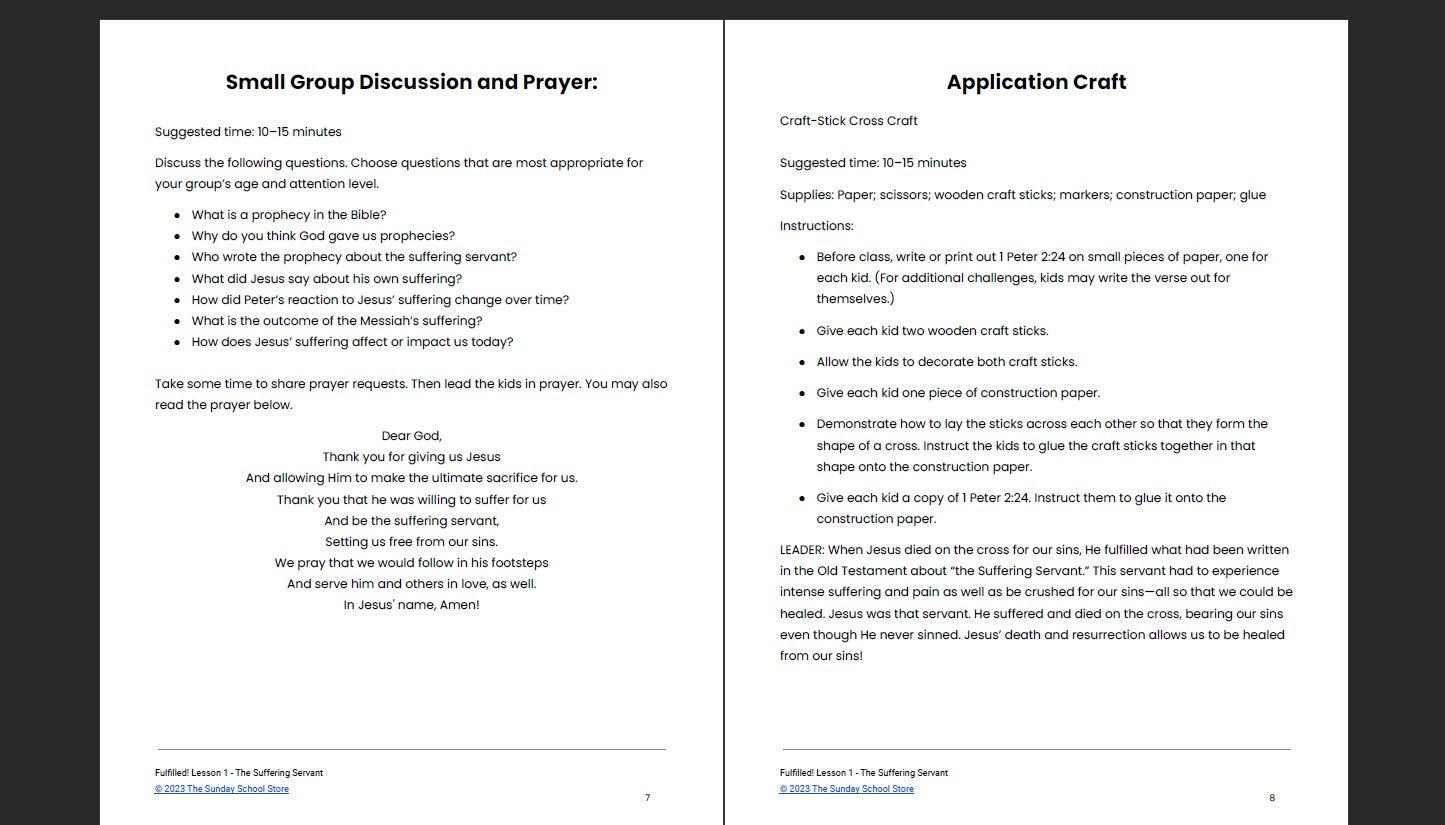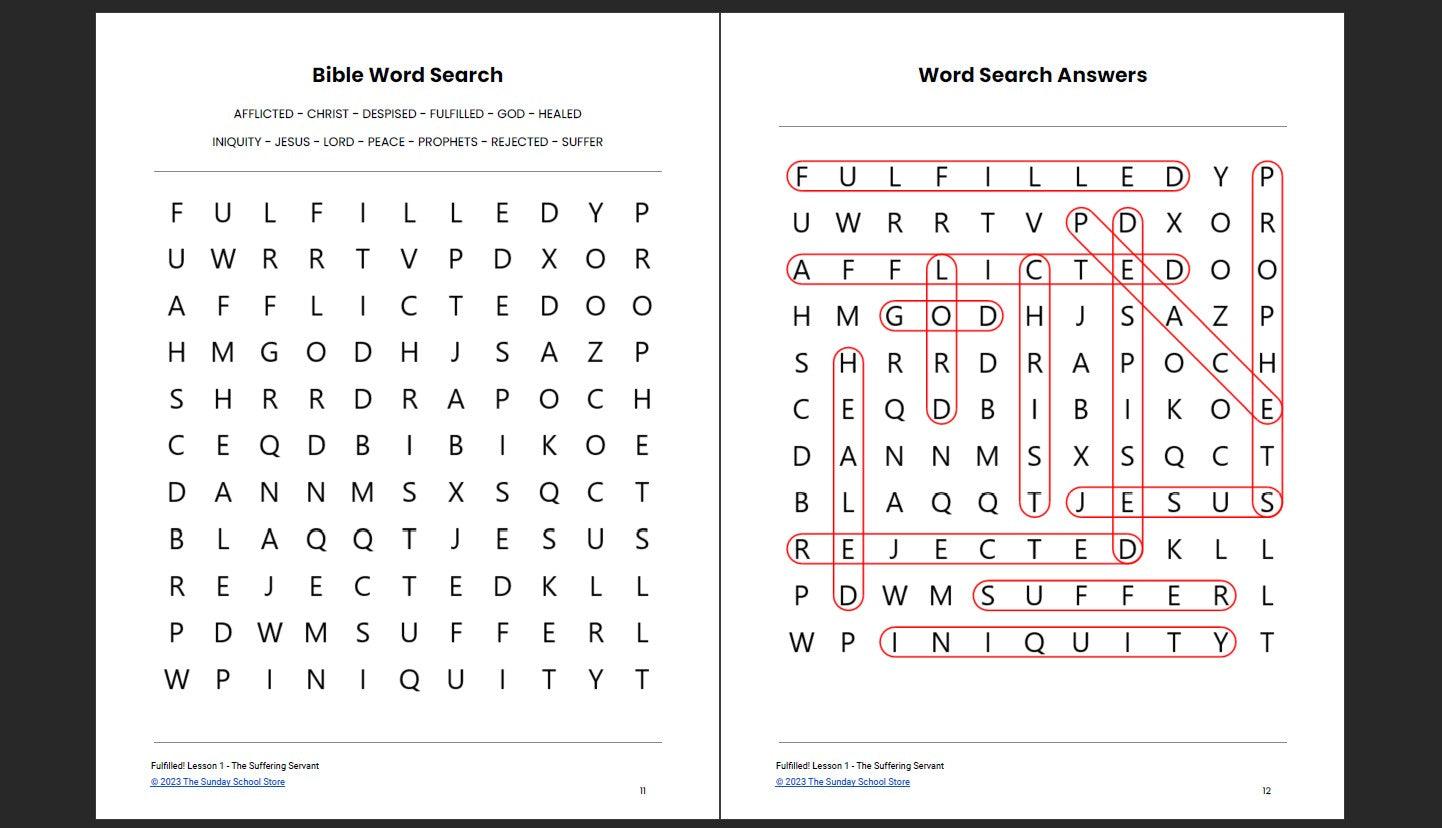 Meaty
I like how in-depth this study is- tying to the Old and New Testaments. Good for higher end of elementary and kids who have likely heard Easter story many times and looking for a new approach to teach it.
The activities are simple and low prep.
Great
Wonderful program. I use it for my special needs class. Very versatile and easy to follow. Thanks so much for writing and sharing. God Bless
Fulfilled: 4-Lesson Easter Curriculum for Kids
Fulfilled -4 weeks Easter lessons
Today was our first session with Fulfilled. We liked it overall but I did think the lesson was too long for most of the kids to sit through, especially the 1st-3rd graders. I would have liked more creativity shown in teaching the lesson that used more of their learning styles. These days we have a lot of kids with ADHD and forms of autism and need lessons that engage the child in a variety of ways.
I look forward to seeing how the other lessons play out. It was a nice change though from our regular curriculum.
Excellent Resources
I teach a multiage class and this material has something for every age.
Advanced
Most of my children are younger and this would have been way advanced for them.
AMAZING PRODUCT!
I teach 4-12 year olds in a children's ministry. Sometimes it is hard to find lessons that cover such a big age gap. This lesson plan has been perfect! The children are fully engaged, eager for the next weeks lesson and love doing the associated craft projects. Reinforces the lesson of Jesus and all He did at the Cross.
New & Popular Children's Ministry Curriculum