Regular price
Sale price
$45
Unit price
per
Sale
🎉 Coming Soon
Heads UP ⏰ This item is included in the Black Friday Bundle Deal. Get $3,897 worth of children's ministry curriculum for only $97.

📩 Instant PDF Download
🚸 Ages 6-12 Years Old
📖 Free Week #1 Lesson

More than ever, kids need to learn the importance of prayer AND how to build this spiritual habit into their relationship with Jesus.

In a world where fleeting distractions are countless, many of our young believers, raised within the embrace of the Church, find themselves at a crossroads. Although they have been taught the importance of prayer, developing a profound and personal connection with Jesus Christ can be challenging.
The "Pumpkin Prayer Challenge" seeks to bridge this divide, presenting the transformative journey of a pumpkin seed as a metaphor for the blossoming of a genuine, personal relationship with our Savior through consistent prayer.
This 4-Week Bible Study for kids is perfect to teach in the Fall season to emphasize gratitude, connection with God, and building spiritual habits. This curriculum includes a 28-day prayer challenge to help build a healthy prayer life.
Target Age Group: Children 6-12 Years Old
Setting: Children's Church or Sunday School
Series Memory Verse:  Philippians 4:6
Big Idea: Because Jesus loves me, I can always talk with Him in prayer.

Translation: This study is written to work with any Bible translations and poster visuals are included using the NIV, ESV, KJV, and NLT.
Prayer Sunday School Curriculum for Children
Lesson 1: Planting Your Prayer Seed
Main Idea: Connecting with Jesus through daily prayers can lead to spiritual growth.
Bible Story: The Mustard Seed (Matthew 17:20)
Learning Objective: Students will learn that beginning a daily prayer is like sowing a seed, and growing a closer relationship with Jesus.
Lesson 2: Nurturing Your Prayer Life
Main Idea: Establishing and maintaining a consistent prayer life strengthens our relationship with Christ and draws us closer to Him every day.
Bible Story: Daniel's Unwavering Prayer Life (Daniel 6:10-23)
Learning Objective: Students will learn that consistent prayer, like watering a plant, grows a strong relationship with Jesus.
Lesson 3: Overcoming Prayer Obstacles

Main Idea: Prayer to Jesus strengthens our relationship with Him, even in tough times.
Bible Story: Jonah's Reluctance and Redemption (Jonah 1-3)
Learning Objective: Students will understand that challenges and distractions are opportunities to strengthen their prayer life.

Lesson 4: Harvesting the Blessings

Main Idea: Expressing gratitude can strengthen our relationship with Jesus.
Bible Story: The Grateful Leper (Luke 17:11-19)
Learning Objective: Students will celebrate the blessings that come from a consistent prayer life and learn the importance of gratitude.

Each lesson includes various engaging activities for children, such as group games, object lessons, interactive Bible stories, memory verse exercises, teaching skits, discussion guides, craft activities, word searches, and coloring pages.
Attention Keeping Learning Activities 

Easy to teach lesson plan

Discussion questions and prayer
Memory verse activity
Printable word search worksheets
Bible story coloring pages
Craft activities
Simple read-aloud teaching skit
Group game
Object Lesson
PDF Curriculum for Children's Ministry, Kids Church, or Sunday School

Use this Bible study in your children's ministry, kids' church, or Sunday School. Our curriculum includes everything you need to keep the children's attention, get them into God's Word, and help them grow in their personal relationship with Jesus Christ.
-- pages of teaching material
perfect for children aged 6 to 12 (Kindergarten to 6th grade)
designed for small churches
instant digital download in one print-friendly PDF file
flexible teaching activities designed for elementary-aged students
unlimited permission to share directly with volunteers or families in your church
View full details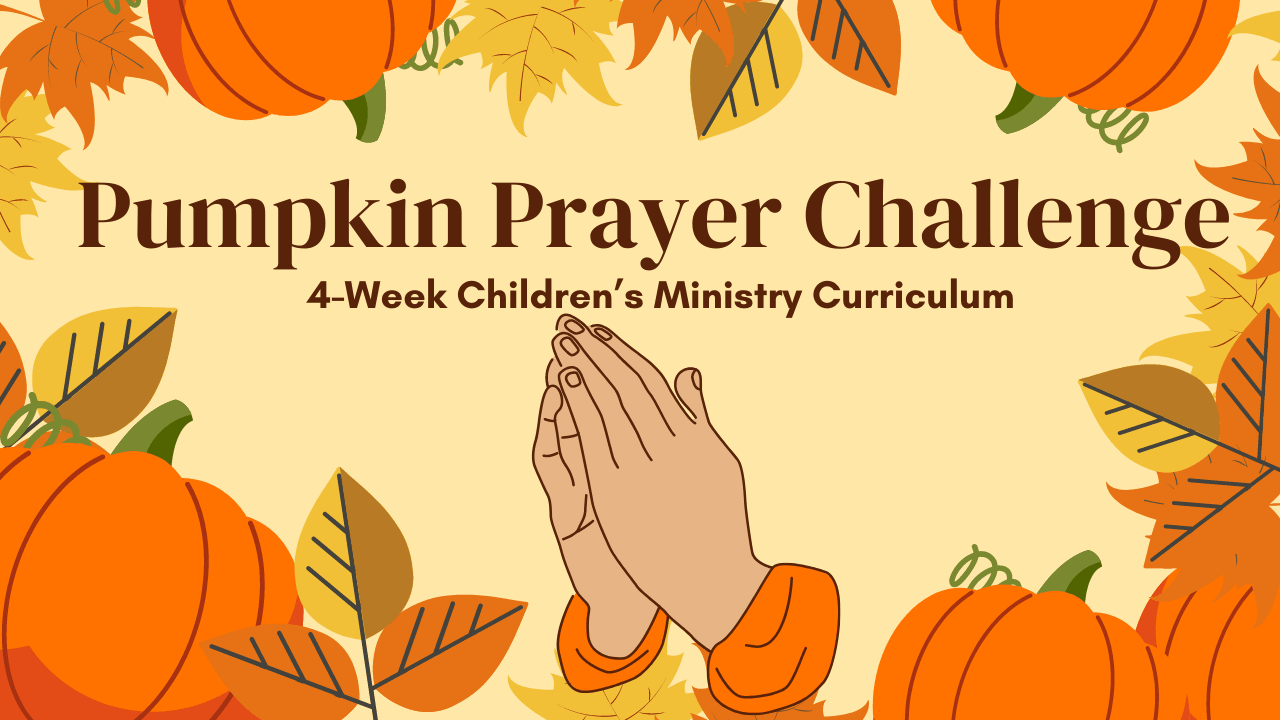 Great 👍 Idea 💡
First I must say, this is a great 👍 price, and unfortunately, I just saw this and I am so broke, I can't even pay attention, but when I can if this is still around, I definitely would like the whole series.
I was skimming through the whole lesson, and I would like to get the whole Pumpkin Prayer 🙏 lessons. It even encourages me to have a better prayer 🙏 like because ask and you receive, seek and ye shall find, knock and the door will be open. We have not because we ask not😁🙏
You have my email, when the Lord impress upon your heart to send me the full lessons believing that you will be rewarded, please send Pumpkin Prayer 🙏 curriculum for kids. I have 8 grandchildren, 6 boys and 2 girls ages ranging from 2 - 18 years old. So you may understand why I wouldn't have money in my account. I get paid by weekly, and this is not the week.
Anyway, Thank you 🙏 for sharing so much with us. I definitely would order this for myself, my grandchildren, and t share with my church children. I am going to try to put a pic. I am 64 years old, but not your typical 64 year old. I am very young at heart ❤️ And, I really really would love ❤️ a copy of the whole Pumpkin Prayer. May God continue to Bless you as you continue to come up with more Bible Base Curriculum 🙏🙌🙏
Thanks so much for the encouragement - check your email, we sent you a little blessing.
New & Popular Children's Ministry Curriculum