Limited Time Only ⏰ This lesson is included in the Print & Teach ⏩ Curriculum Bundle Deal. For less than $1 per week, download a comprehensive library of Bible teaching for kids.

CLICK HERE to See the DEAL
Regular price
$15
Sale price
$7.99
Unit price
per
Sale
Unavailable
⌛ {timer} ⌛
DEAL ENDS SOON
Format 📩 Instant PDF Download
🚸 Ages 6-12 Years Old
Heaven can be a tricky topic to teach. In fact, it can be hard for adults to understand the themes of Revelation or to grasp what awaits us after life on earth has passed away. To be sure, we cannot know with certainty what will happen as our earthly bodies slip away, but the main message of eschatology should be one of hope. We can know that what God has in store for us is bigger and better than anything we can possibly imagine. As we communicate this message to kids, we want to remind them that God can take even the worst things in our lives and make them beautiful.
God is the beginning and the end of all things. He promises that one day He will take all things and make them new again. We might not know what Heaven will look like, but we can be sure that God will take away all our sadness and tears and turn them into joy. It can be difficult to imagine or understand, but we can take hope in the fact that for those who love the Lord, life after death will be wonderful.
Passage: Revelation 21:1-7
Target Audience: Kindergarten-6th Grade (adaptable older or younger)
Easy-Prep Bible Lesson
Target Age: elementary school, adaptable for K-6th grades
Translation: choose NIV, ESV or KJV
Stand-alone lesson plan
17-pages of teaching material
Instant digital download
Flexible teaching plan for mixed age groups
Ideal for kids church or Sunday School (45-60 minutes teaching time)
Attention Keeping Activities
Object Lesson with video demonstration

Game Suggestions
Easy To Follow Teaching Plan
Craft Ideas with video demonstration 
Coloring Page
Word Find Worksheet
Memory Verse Poster
Secure Purchase & Money Back Guarantee
Every purchase from the Sunday School Store comes with a 100% money-back guarantee. If you're not happy for any reason, just contact support and we will make it right. Our checkout process has the most advanced security. Customers can pay with credit card, PayPal, or mail a physical check from their church. Simply choose your payment method during the checkout process. 
View full details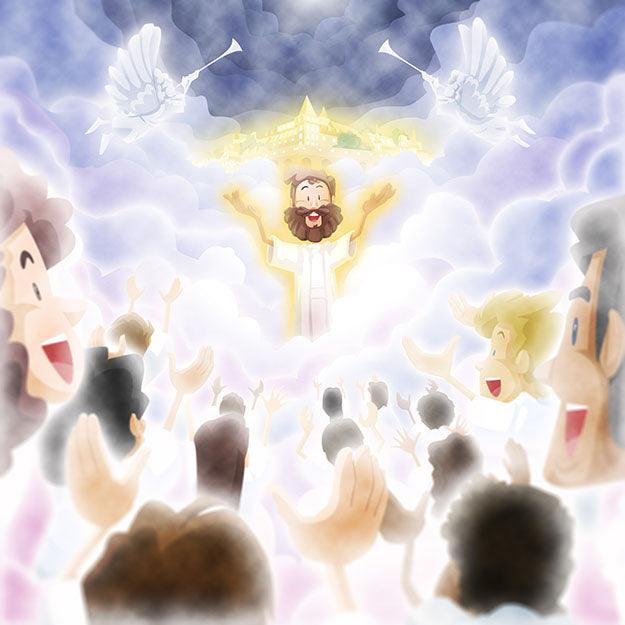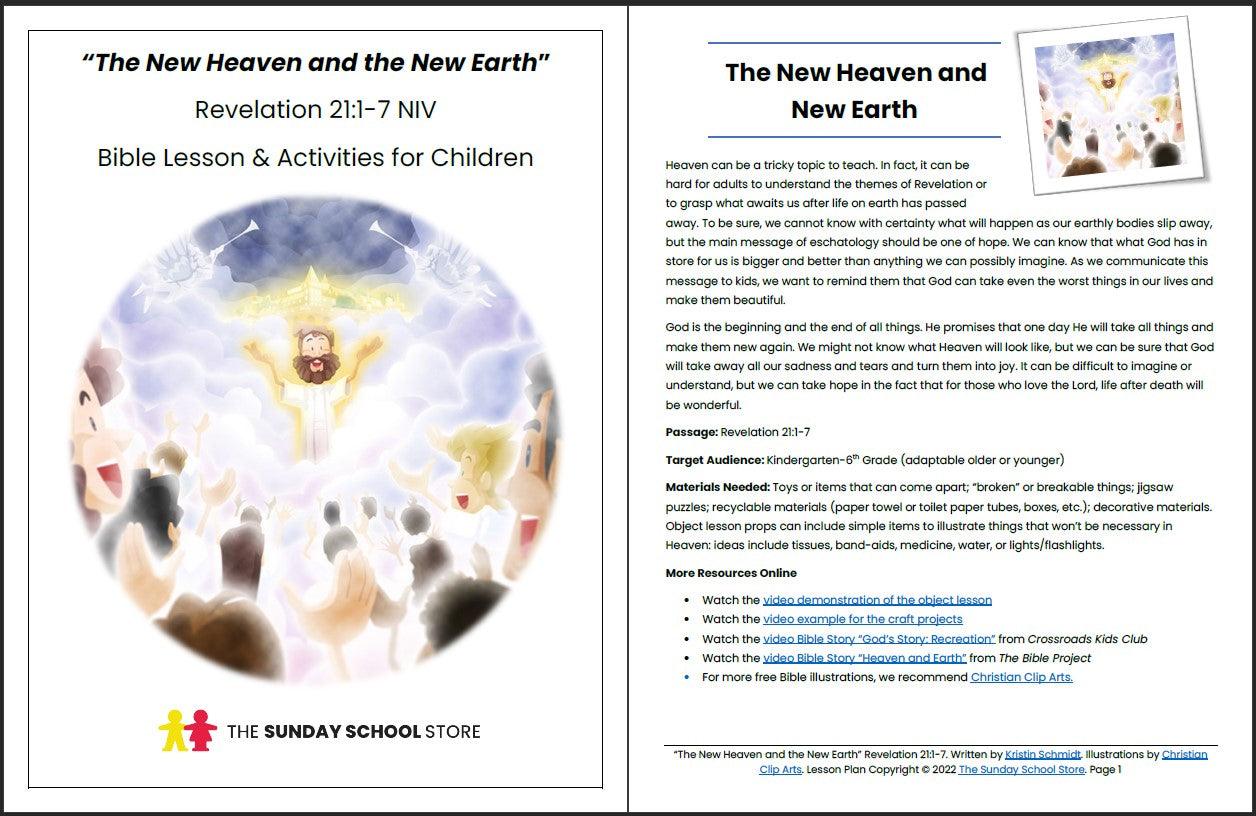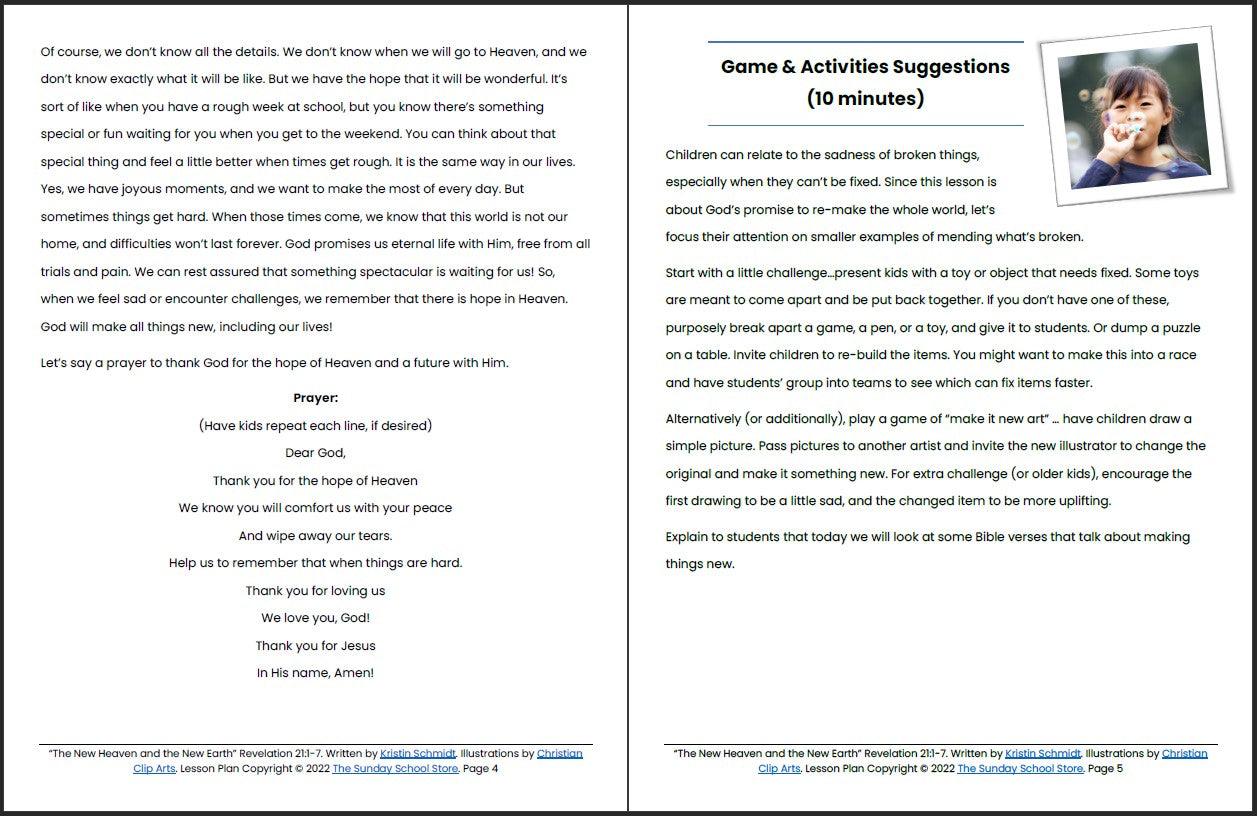 New Heaven and New Earth (Revelation 21:1-7 ) Printable Bible Lesson & Sunday School Activities