Regular price
$15
Sale price
$9
Unit price
per
Sale
🎉 Coming Soon
Heads UP ⏰ This item is included in the Black Friday Bundle Deal. Get $3,897 worth of children's ministry curriculum for only $97.

Format 📩 Instant PDF Download
🚸 Ages 6-12 Years Old
God wants us to focus our minds on Him and dwell on positive things. He wants to "swap" our anxieties for peace and promises that He will comfort us with His presence. These truths provide us with wonderful hope, and they are important to communicate to young children. This lesson describes how God "trades" our worries for wonder by demonstrating how we might trade in boring or work-related items for fun delightful ones. The emphasis is on how God grants His joy when we focus on Him. 
Sometimes we might look at Paul's exhortations in this passage as some form of "thought police:" we need to legalistically monitor our minds and make sure only wholesome things come through. But that's not what these verses are about at all. Philippians 4 is reminding us of the wonderful peace and blessings that God offers us. We don't need to be anxious, because the Lord is close by, and will grant us His comfort beyond understanding. Christ will guard our hearts and minds, filling them with wonderful thoughts. His spirit is with us and will help us to fix our minds on what is pure, lovely, excellent, and all the rest. We know this is impossible on our own power, but that Jesus grants all things and will guide us with His peace.
Passage: Philippians 4:1-9
Target Audience: Kindergarten-6th grade 
Materials Needed: Construction paper; decorative supplies; glue; markers or crayons; tape; scissors; paper plates; brad fasteners; noisemakers; Bibles.
More Resources Online
Easy-Prep Bible Lesson
Target Age: elementary school, adaptable for K-6th grades
Translation: choose NIV, ESV or KJV
Stand-alone lesson plan
Instant digital download
Flexible teaching plan for mixed age groups
Ideal for Kids' Church or Sunday School (45-60 minutes teaching time)
Attention Keeping Activities
Object Lesson with video demonstration

Game Suggestions
Easy To Follow Teaching Plan
Craft Ideas with video demonstration 
Coloring Page
Word Find Worksheet
Memory Verse Poster
View full details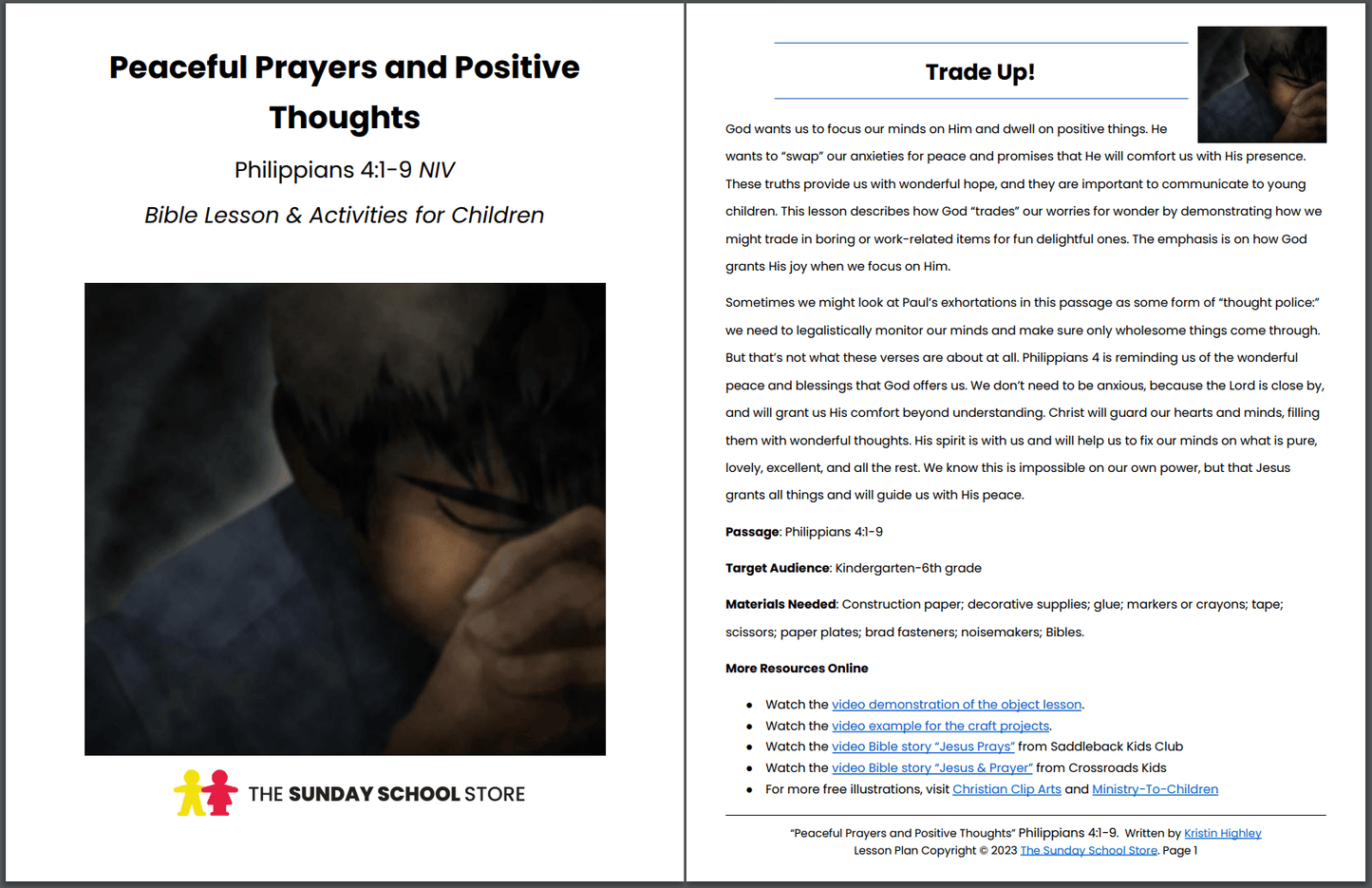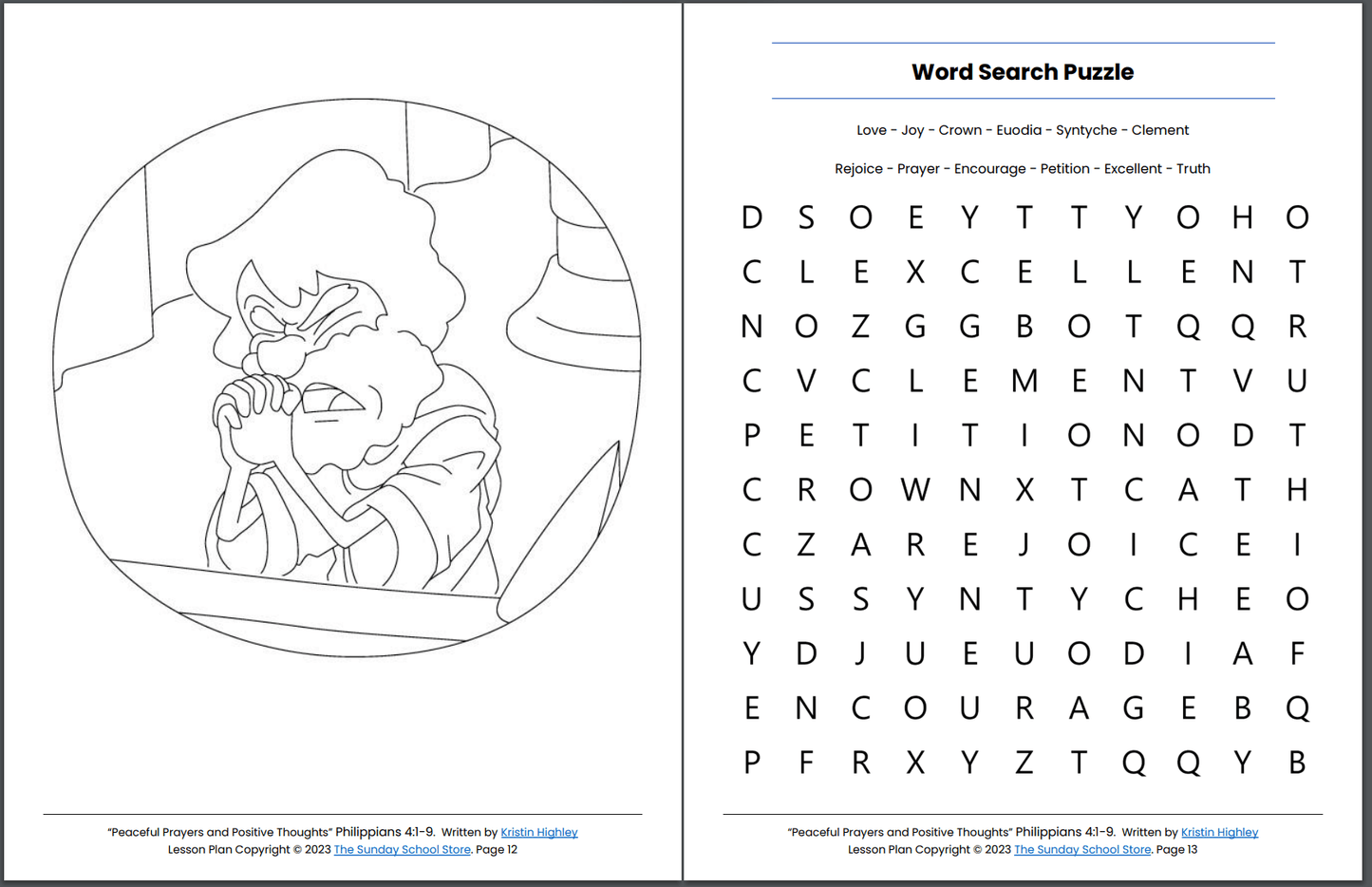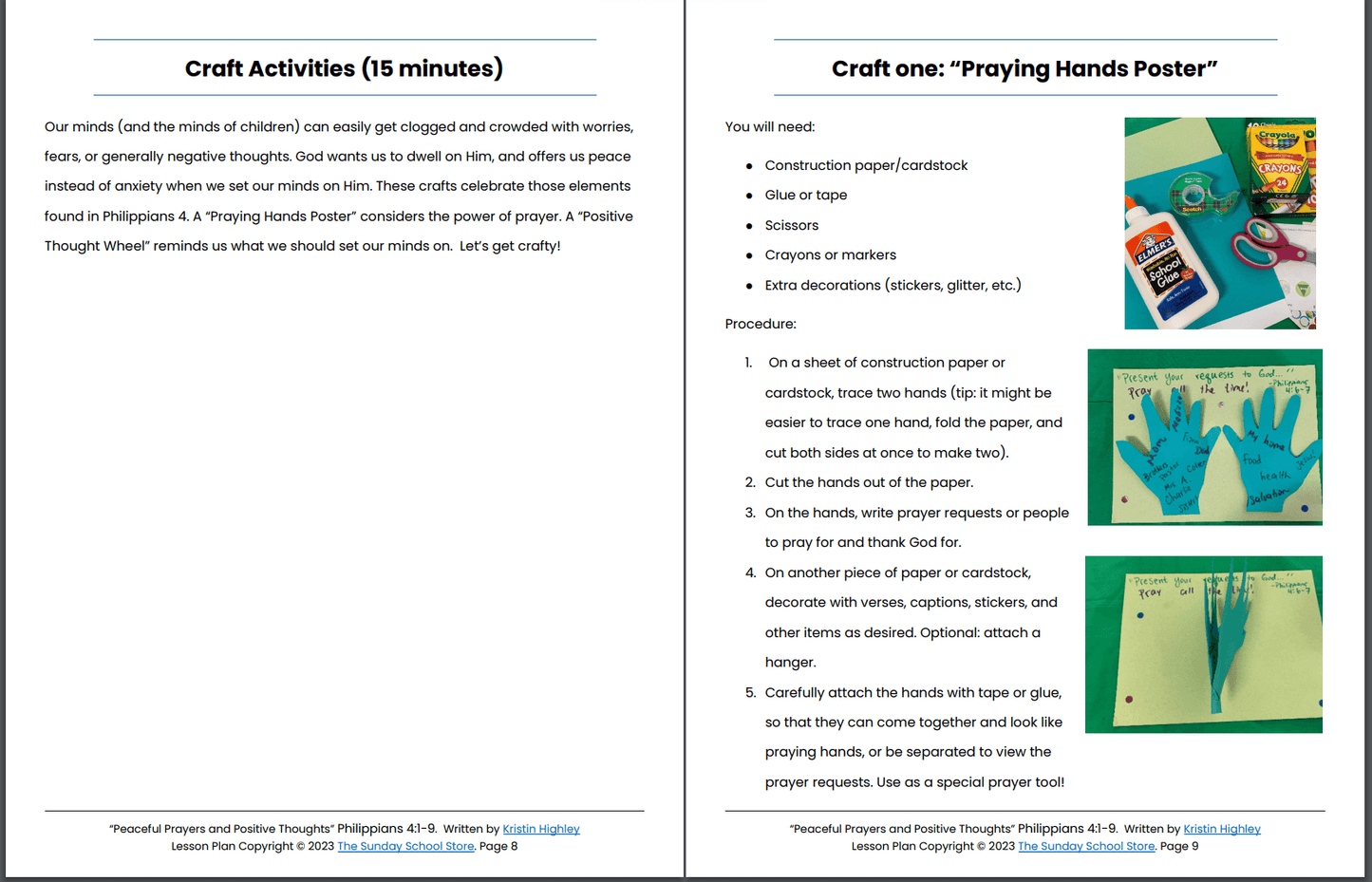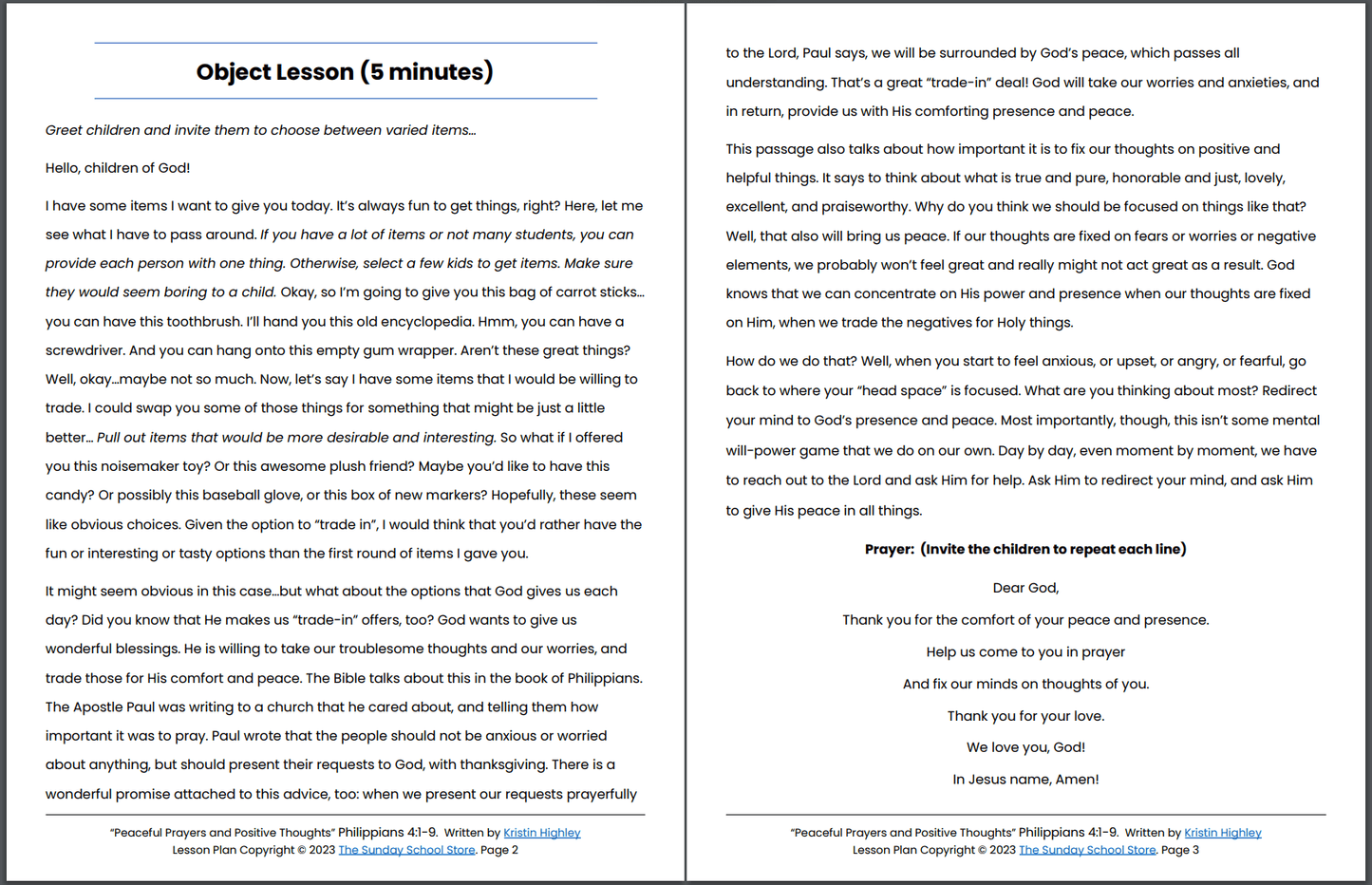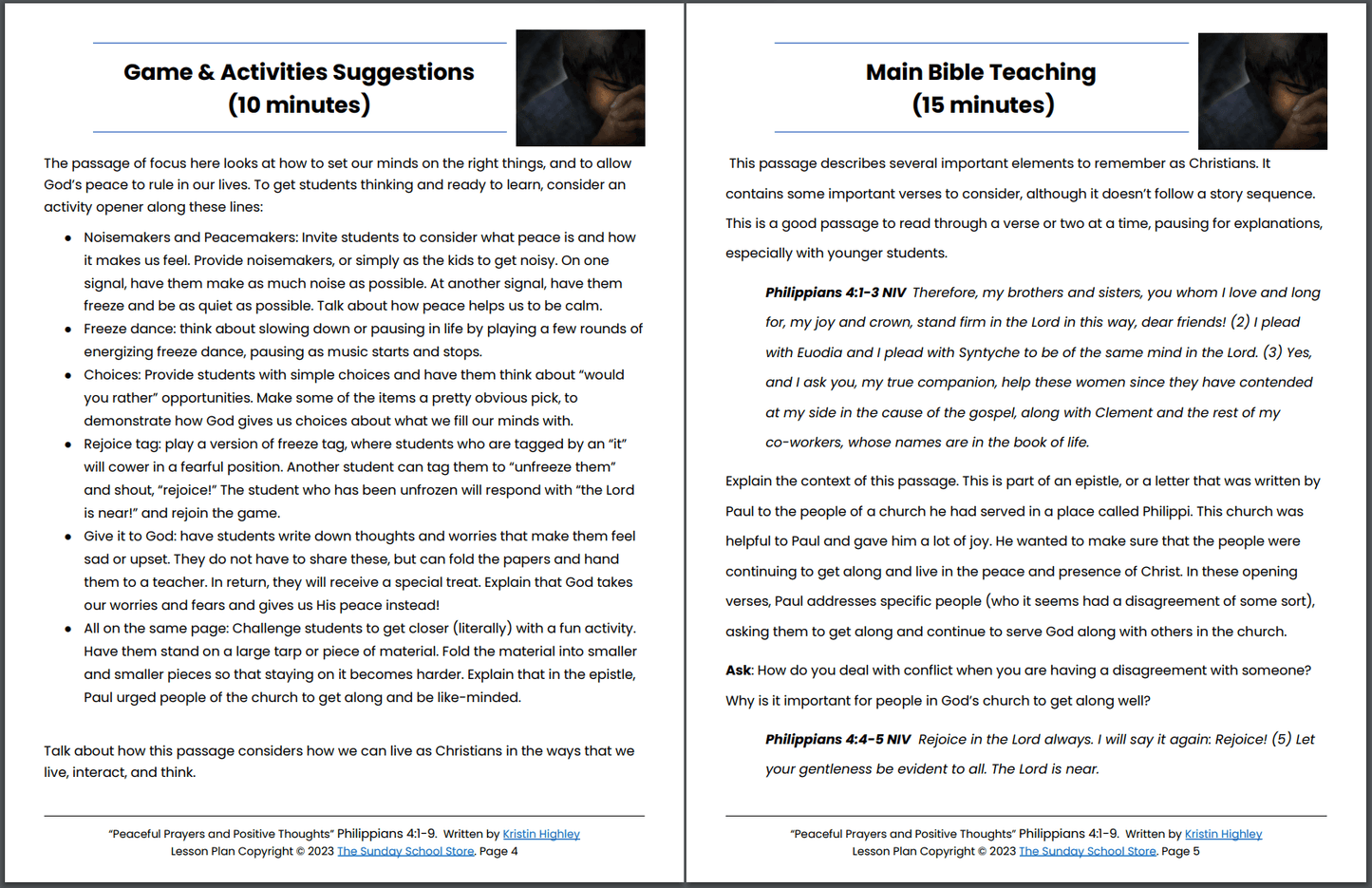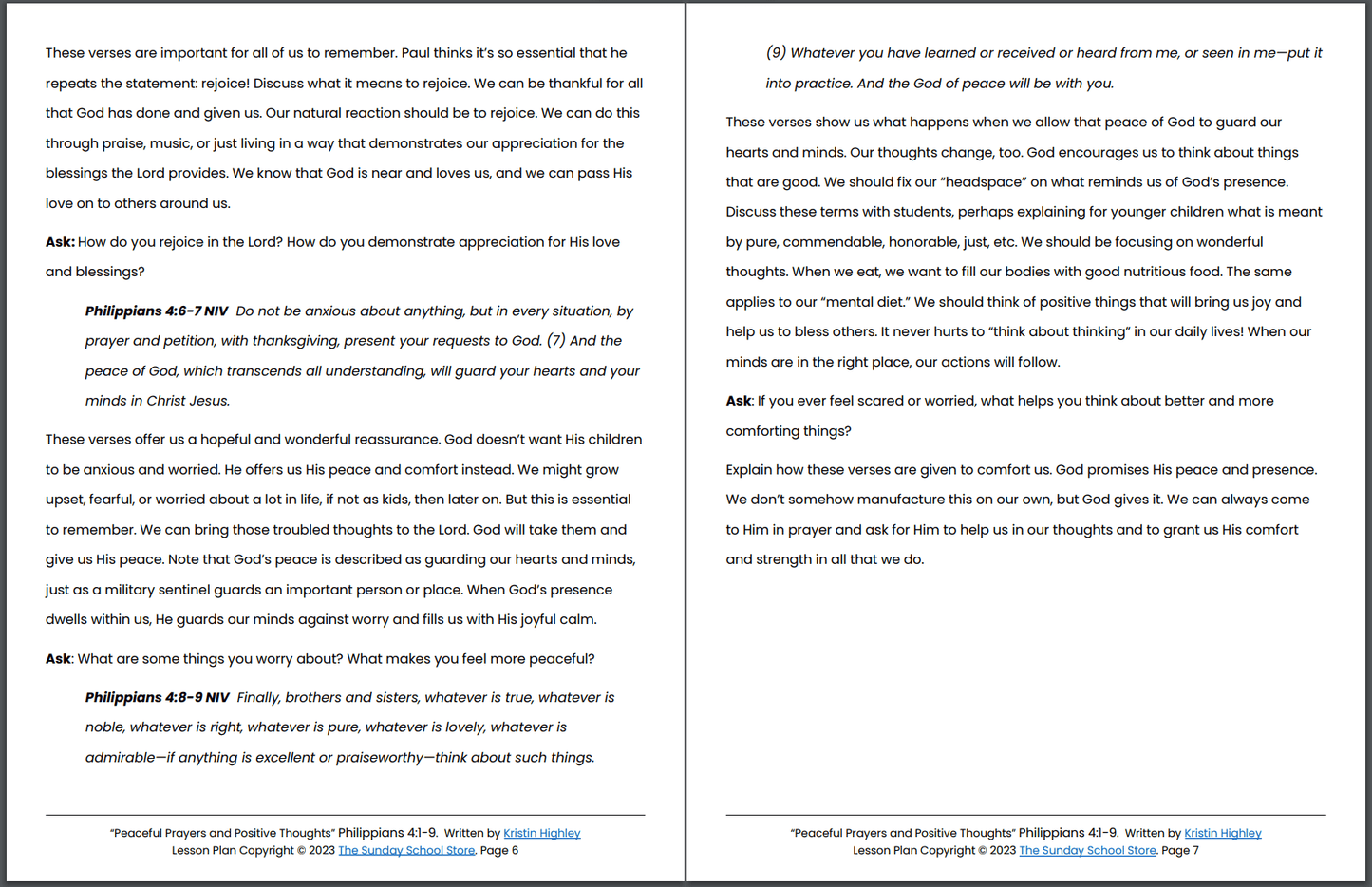 New & Popular Children's Ministry Curriculum