Regular price
Sale price
$0
Unit price
per
Sale
Unavailable
⌛ {timer} ⌛
DEAL ENDS SOON
"Splash" is a 7-week lesson series that takes kids on a wet & wild journey through the Bible while pointing to Jesus as the Living Water. Kids will experience familiar stories like Noah, Jonah, Jesus' baptism, and others in a new way as they consider God's authority over the water and how each of these stories points to salvation through Christ alone. Ultimately, the goal of this series is for children to be confronted with the Living Water (Jesus) and their individual need for salvation.
This free sample lesson is week #1 of the full curriculum. Click here to purchase the complete 7-Week Curriculum.
For 200+ lessons by Bethany Darwin and many other ministry resources, please click here.
7-Week Curriculum Schedule
Get on the Boat - Noah

Text –

Genesis 6-9

Noah & the Ark
Main Point –All God's promises are yes in Jesus

Through the Water - Exodus

Text –

Exodus 14-15

The Exodus
Main Point – Jesus is the Only Way to God


Dip in the Water - Naaman

Text – 2 Kings 5
Naaman is healed from leprosy
Main Point – God heals people's hearts

Tossed in the Water - Jonah

Text – Jonah
Jonah is God's Messenger
Main Point – Jesus is the Word of God

Up Out of the Water – Jesus' Baptism

Text – Matthew 3, Luke 3 & John 1
Jesus' Baptism
Main Point – Jesus is the Lamb of God

The Living Water

Text – John 4:1-45
Jesus and Samarian woman at the well
Main Point – Jesus gives Living Water

Jesus Power Over the Water

Text – Mathew 8 and Mark 4
Jesus Calms the Storm
Main Point – God is in control of everything

BONUS: Summer Splash Event

Text – Exodus 17 & John 4
God gives water from a rock & Jesus is the Living Water
A water game event to help kids experience Jesus as the Living Water
 The key verse for this unit is John 7:37b-38 -
Jesus stood up and cried out, "If anyone thirsts, let him come to me and drink. Whoever believes in me, as the Scripture has said, 'Out of his heart will flow rivers of living water.'"
Each Lesson Contains

Introductory Activity
Large Group Worship Time: Welcome activity, Complete Bible Lesson – teaching materials for the Biblical text, Prayer, Song Suggestions
Small-Group Lessons (2 options – ages 5-8 and ages 8-12): Review, Application, Memory Verse, Prayer
All necessary printables and resources
Take home – family devotional guide


Why Digital Only Curriculum?
You get instant access to all files in 3 formats. A combined print-ready PDF, single lessons in PDF format - ideal for sharing by email, and single lessons in WORD format - ideal for editing.
You have unlimited permission to print, copy, and share within your church or ministry group. Because it's digital, you can easily support families at home or use in a virtual setting.
The download-only format costs half the price of a traditional printed curriculum.
Click here about us and our statement of faith.
View full details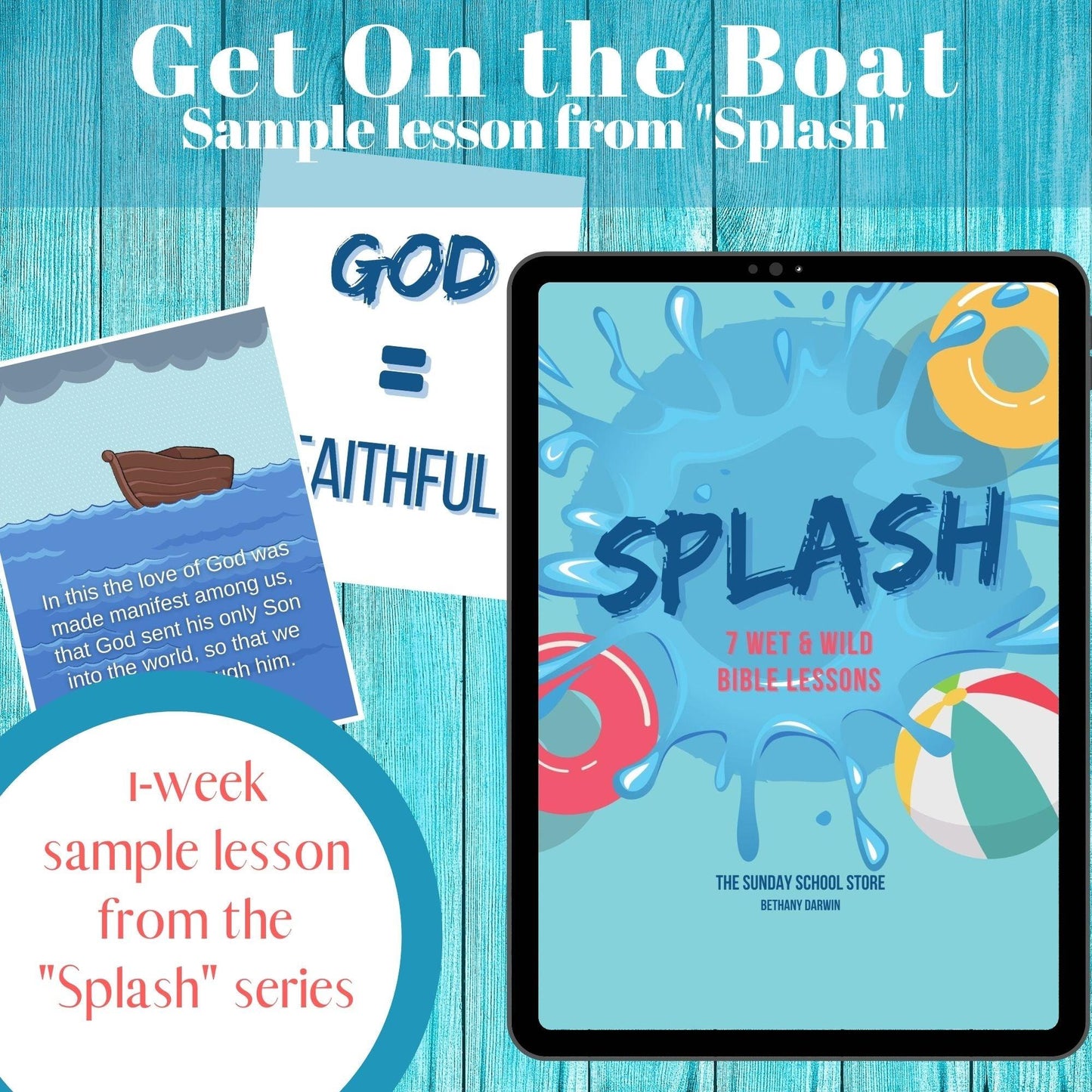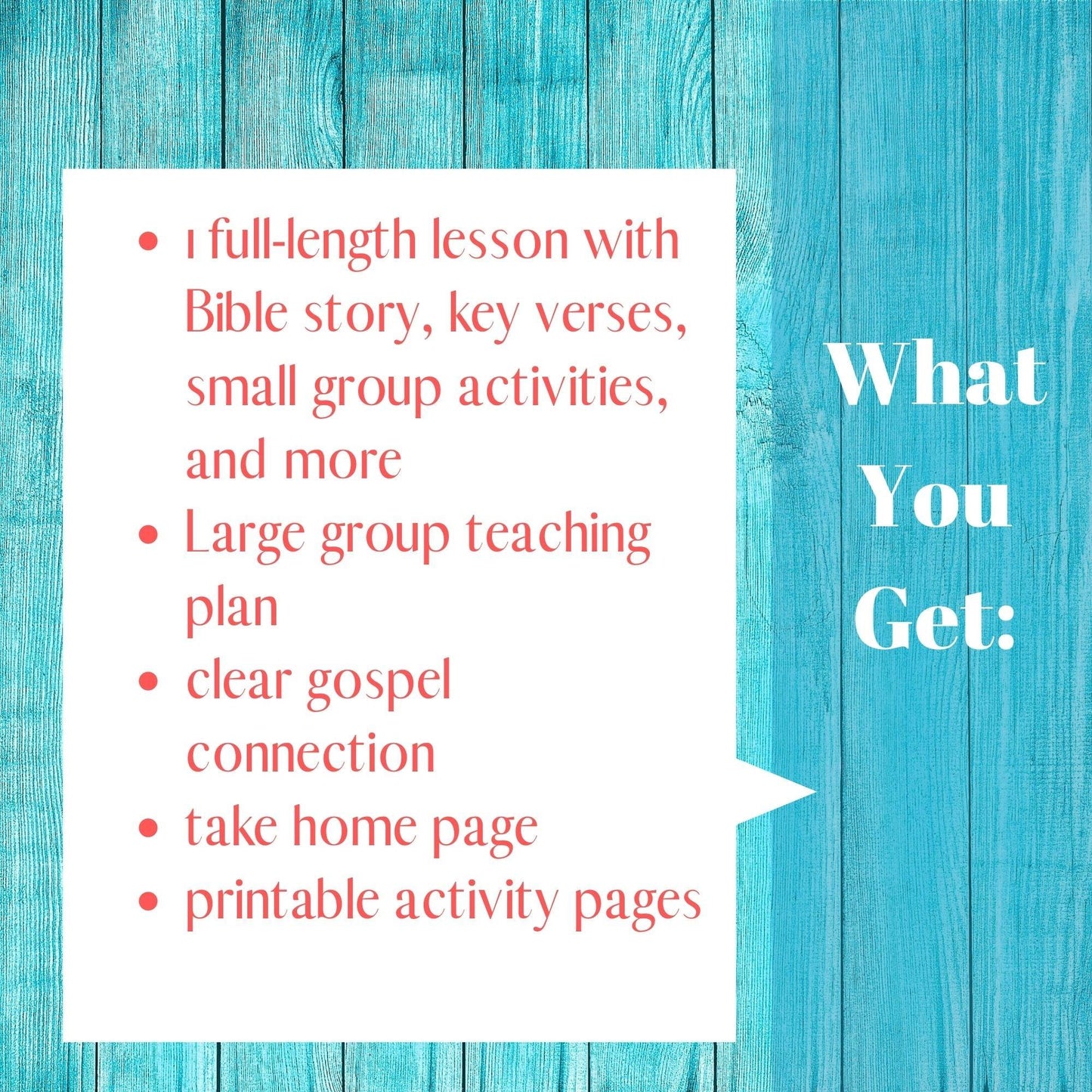 Wonderful Summer Curriculum
Thank you for providing a fun, summer curriculum to review. It is very well done and so colorful.
great resources
thank you for the variety of resources and your generosity in sharing. Praise God for gifts and kind hearts.
Splash is a Splash
Our kids enjoyed this lesson so much that we purchased the curriculum lessons.
Good theme
I downloaded the papers and used them during a long prayer session we had in church. The kids loved them
Nice
Nice but having to pay for the lesson, when you are doing it for free for a campground on with your own $; it just doesn't work for us, we live at a campground b/c my hubs travels for work, kids get bored at church & at home I did Sunday school but we don't get the $ a normal church would.
great Summer lessons
I can't wait to use the Splash materials.
they were very complete
Noah...get on the boat!
Excellent lesson and pictures!
Splash! Free Sample Lesson
May used for VBS next summer.
New & Popular Children's Ministry Curriculum