Regular price
$95
Sale price
$65
Unit price
per
Sale
Unavailable
⌛ {timer} ⌛
DEAL ENDS SOON
Introducing our new Fruit of the Spirit Sunday School Curriculum! In this 9-lesson study, children will learn about how the Holy Spirit impacts their lives. Each lesson is packed with activities and ideas to help educators teach the main idea, making it easy to adapt for any teaching situation. Whether you're looking for a curriculum that covers Galatians 5:22-23 or just want a fun way to help kids learn more about the Bible, this study is perfect for you!
"But the fruit of the Spirit is love, joy, peace, patience, kindness, goodness, faithfulness, gentleness, self-control; against such things there is no law." Galatians 5:22-23
You can download the KINDNESS lesson from this curriculum as a free sample.
Digital Only

 

(download) This Sunday School curriculum is an instant download No items will be mailed. The lessons come in print ready PDF files.
"THE FRUIT OF THE SPIRIT" CURRICULUM INCLUDES
The complete 9 unit curriculum - in both combined and individual lesson format you can share with your co-teachers.
The complete 10 page coloring book
Review worksheets for each of the 9 lessons
Memory verse posts for each lesson
Creative snack ideas

Fun game ideas

Printable "Fruit of the Spirit" bingo game
Permission to copy & print all files for your church ministry
Each lesson plan includes extensive teacher notes, learning activities, and printables. It's everything you need to share God's Work with the children in your class. These Bible studies are designed for elementary aged students in a traditional Sunday School classroom. They are flexible enough for homeschool, kids church, or other children's ministry opportunities.
"The Fruit of the Spirit" is a classic Bible passage to understand the work of the Holy Spirit in a believer's life. This 9-lesson study will help children grow spiritually as they learn from Galatians 5:22-23.

Each of the Fruit of the Spirit Sunday School lessons was written for elementary aged Sunday School or children's church, but can be easily adapted for any ministry setting. We have included "more than enough" with each lesson to help you adapt to every teaching situation. Use what you can to teach the main idea, even if your class time does not allow for all activities. 
With our Fruit of the Spirit lessons, kids will learn about the Holy Spirit and His work in their lives. Each lesson includes adaptable activities, so you can teach the main idea even if your time is limited.


View full details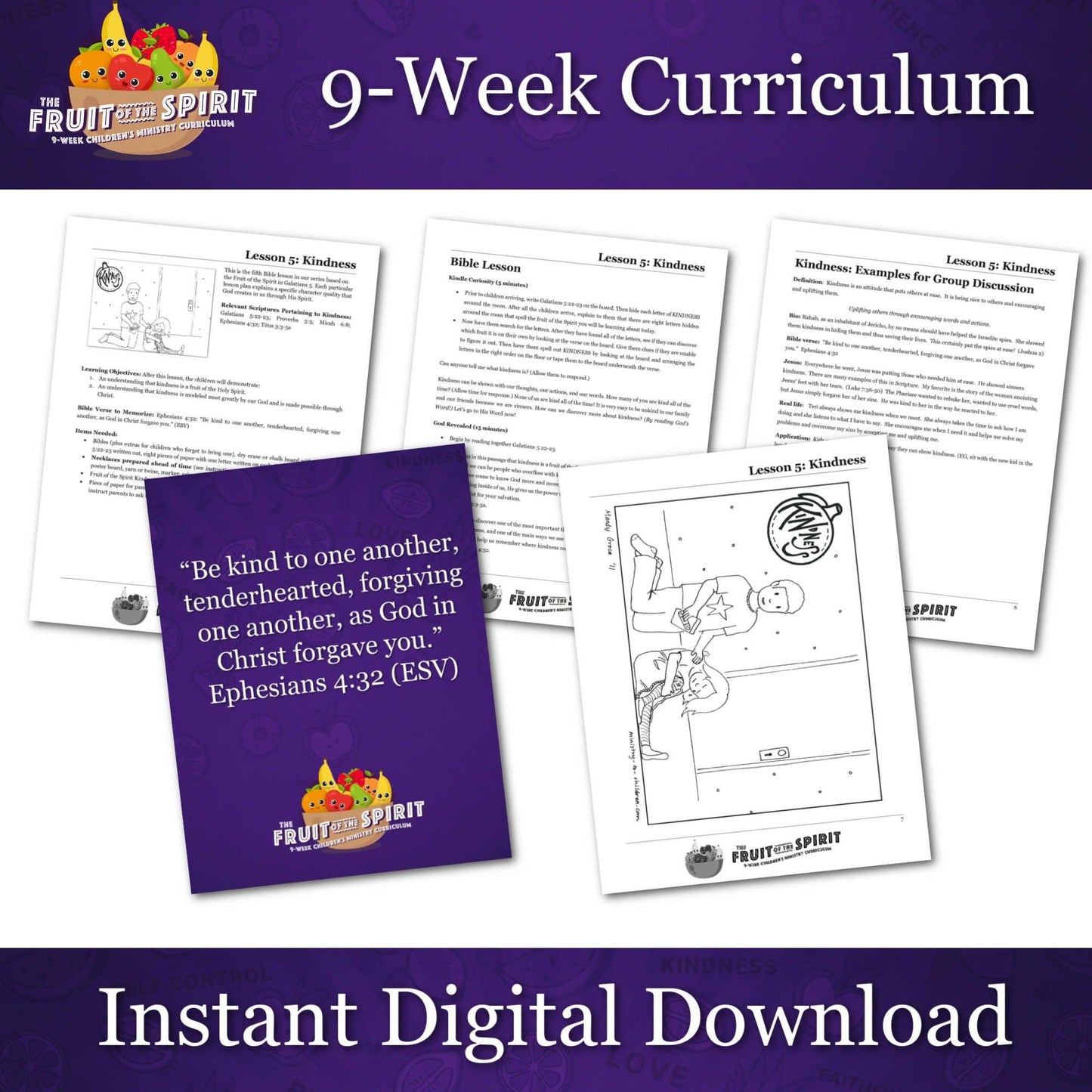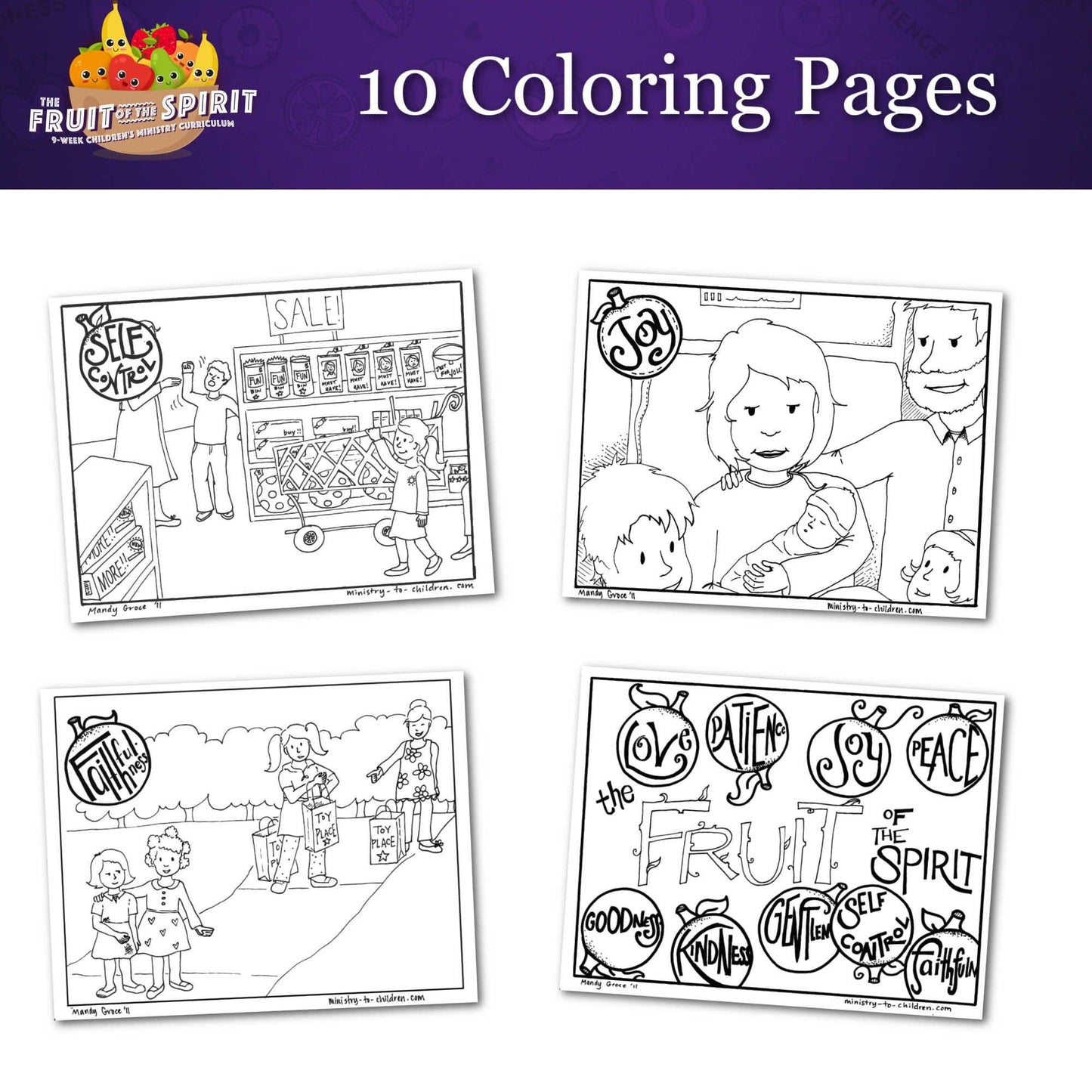 Fruit of the spirit
Thank you so much for your material. It helps me so much in teaching the children about Jesus.
I didn't get to download
I don't know why it didn't download? This one and the Lord's prayer.
Fruit of the Spirit
I haven't started Fruit of the Spirit as I am still doing the I Am series. It could be a couple weeks yet before I can start as we don't have a steady attendance at our church.
Ok I understand I did download the material, I was thinking that it was coming in the mail. Thank you. But I do like the material
Fruit of the Spirit
I've read through this lesson and I think it's well written
Fruit of the Spirit
We have a Summer Day Camp at our Church and while looking for material on the Fruit of the Spirit came across your curriculum!!! This has everything that we need for our Bible Study!! Thank you!!!
New & Popular Children's Ministry Curriculum