Limited Time Only ⏰ This lesson is included in the Print & Teach ⏩ Curriculum Bundle Deal. For less than $1 per week, download a comprehensive library of Bible teaching for kids.

CLICK HERE to See the DEAL
Regular price
$15
Sale price
$7.99
Unit price
per
Sale
Unavailable
⌛ {timer} ⌛
SALE ENDS SOON
Format 📩 Instant PDF Download

🚸 Ages 6-12 Years Old
Easter is a wonderful time to celebrate the joy of the Resurrection…but it's also important to remember the darkness before dawn. Going through hard times can make the happy moments even better! This lesson describes several elements with contrasts to exemplify how we can have extra hope even when things are tough. Just as darkness makes the day brighter or cold days make summer warmer, the sorrow of Good Friday paves the way for an incredible and exuberant Easter! We recognize that life includes sadness and evil, but Jesus conquered death, and God has already won the victory! 
The story of Easter is a great reversal…what a contrast the message of Jesus is from the punitive rules of the Law! Christ did not come to abolish the law, of course, but to fulfill it, and that happened on the cross. He bore our sin and punishment, suffering in our place and satisfying the consequences we deserve. Because of that, we have the reassuring wonder of knowing that everything we do, have done, and will do is covered by His blood. What a blessing to know that He paid the price and redeemed us! 
Passage: John 20:1-18
Target Audience: Kindergarten-6th grade 
Materials Needed: Construction paper; paper plates; magazines; glue; markers or crayons; tape; scissors; decorative supplies; cups; string; ; Bibles.
More Resources Online
Easy-Prep Bible Lesson
Target Age: elementary school, adaptable for K-6th grades
Translation: choose NIV, ESV or KJV
Stand-alone lesson plan
21-pages of teaching material
Instant digital download
Flexible teaching plan for mixed age groups
Ideal for Kids' Church or Sunday School (45-60 minutes teaching time)
Attention Keeping Activities
Object Lesson with video demonstration

Game Suggestions
Easy To Follow Teaching Plan
Craft Ideas with video demonstration 
Coloring Page
Word Find Worksheet
Memory Verse Poster
Secure Purchase & Money Back Guarantee
Every purchase from the Sunday School Store comes with a 100% money-back guarantee. If you're not happy for any reason, just contact support and we will make it right. Our checkout process has the most advanced security. Customers can pay with credit card or PayPal. Simply choose your payment method during the checkout process.  
View full details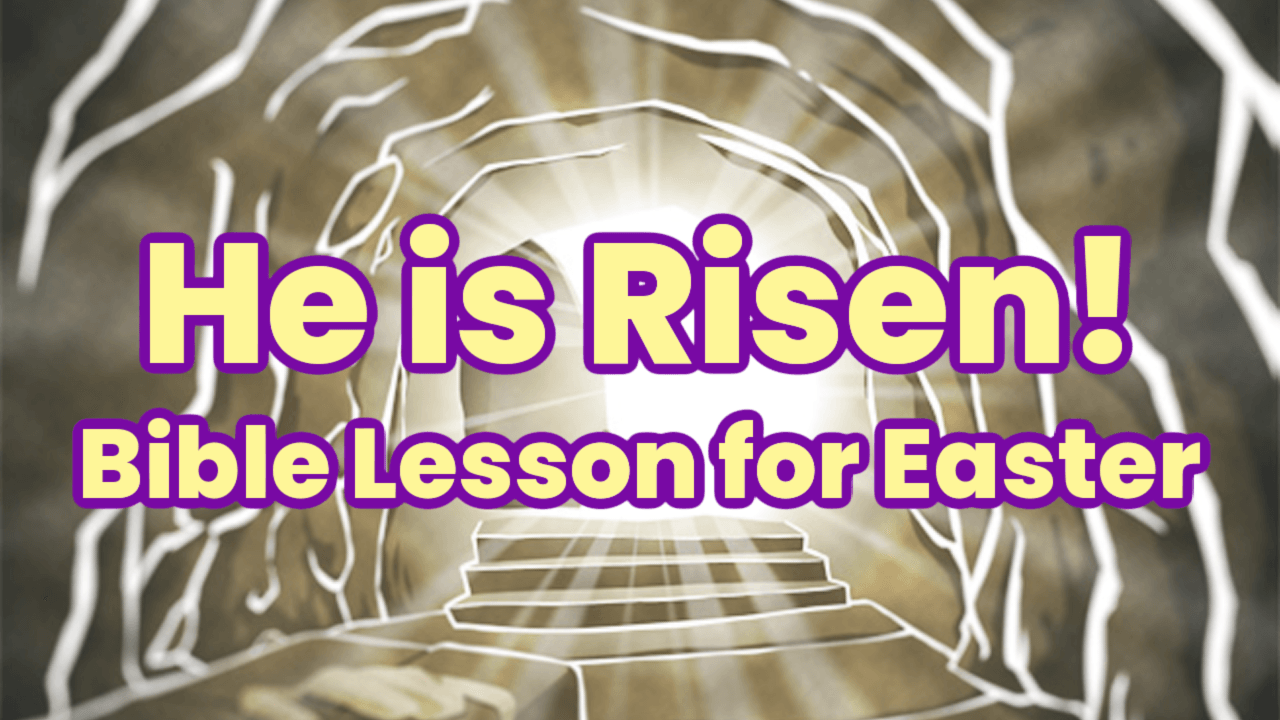 The Son Has Risen. What A wonderful time!
The children enjoyed this lesson. It was prepared so well that it was very easy to teach and the children to learn on many different levels. It is a very important lesson to learn but I was not intimidated by the plans. The passages and activities were very supportive and fun. We loved how to learn the memory versus.
Excellent! Very well written and brought to the attention of youngsters. Quite a assistant to the Easter lessons.
Excellent supplement
Thank you for the Easter lesson! I used some of the materials as supplements to what we use already. I love your word searches, coloring pages, and craft suggestions. Thank you also for offering it in k
KJV, which is what we use.
The Son Has Risen
Thank you for the free lesson plan. Our Sunday School class ages 10-13 were engaged and participated in the lesson discussion. They enjoyed acting out the Easter mimes. They also enjoyed the "He is Risen" relay race.
The Son has Risen
Really enjoyed the simplicity of the lesson. Students enjoyed the coloring page.
Glory to God for this!
Great way to teach kids. Very creative and useful. Thank you!