Regular price
Sale price
$97
Unit price
per
Sale
Unavailable
⌛ {timer} ⌛
DEAL ENDS SOON
"The Ten Commandments" are the heart of the Old Testament and are the core expression of God's rules for his people. Believers have always looked to these simple directions for life and worship as the basis of right living. In this Gospel-Centered series, children will learn that God's rules show us our need for Christ and how we can express his love in how we live.
This curriculum is flexible enough to handle a wide range of age groups in even the smallest Sunday school. We have included "more than enough" with each lesson to help you adapt to every teaching situation. Use what you can to teach the main idea, even if your class time does not allow for all activities.
Learn more about the curriculum author, Tara Tegard.
ABOUT THIS CURRICULUM
Over 135 pages of teaching material
Perfect for ages 5 to 12
Designed for small churches
Instant digital download
Flexible teaching activities
Includes easy-print PDF format
Unlimited permission to share directly with volunteers or families in your church
EACH LESSON INCLUDES
Lesson plans adapted for 3 age groupings (PreK - K, 1st-3rd, 4th-6th)

Memory verse activity
Age-appropriate learning activities: craft, skit, or games
Coloring sheet
Parent take home sheet
12-WEEK LESSON OVERVIEW
Introduction Lesson: Love Rules
Main Idea: God's rules help us get along with one another and to stay healthy, safe, and happy.
Commandment 1: Put God First!
Main Idea: We worship only God because only God can save us from our sin! 
Commandment 2: No Idols
Main Idea: We don't worship created idols, because we worship the invisible, incredible Creator!
Commandment 3: Holy Name
Main Idea: We keep God's name holy in our lives and to the world with our words and actions. 
Commandment 4: Holy Rest
Main Idea: We take a special day each week to rest and worship God. 
Commandment 5: Obey Authority
Main Idea: We honor our heavenly Father by obeying our parents. 
Commandment 6: Value Life
Main Idea: Since Jesus died for us all, we value everyone's life.
Commandment 7: Keep Promises
Main Idea: We keep our promises because God is a promise keeper.    
Commandment 8: Don't Steal
Main Idea: It is better to work hard and give generously than it is to steal.     
Commandment 9: Tell the Truth
Main Idea:  Honesty protects our relationships with our neighbors.      
Commandment 10: Be Content
Main Idea:  When we are content, we can have happy relationships with God and with others.      
Review & Summary Lesson: Love Rules
Main Idea:  When Jesus is in our hearts, we can happily obey the Ten Commandments to show love to God and our neighbors.       
View full details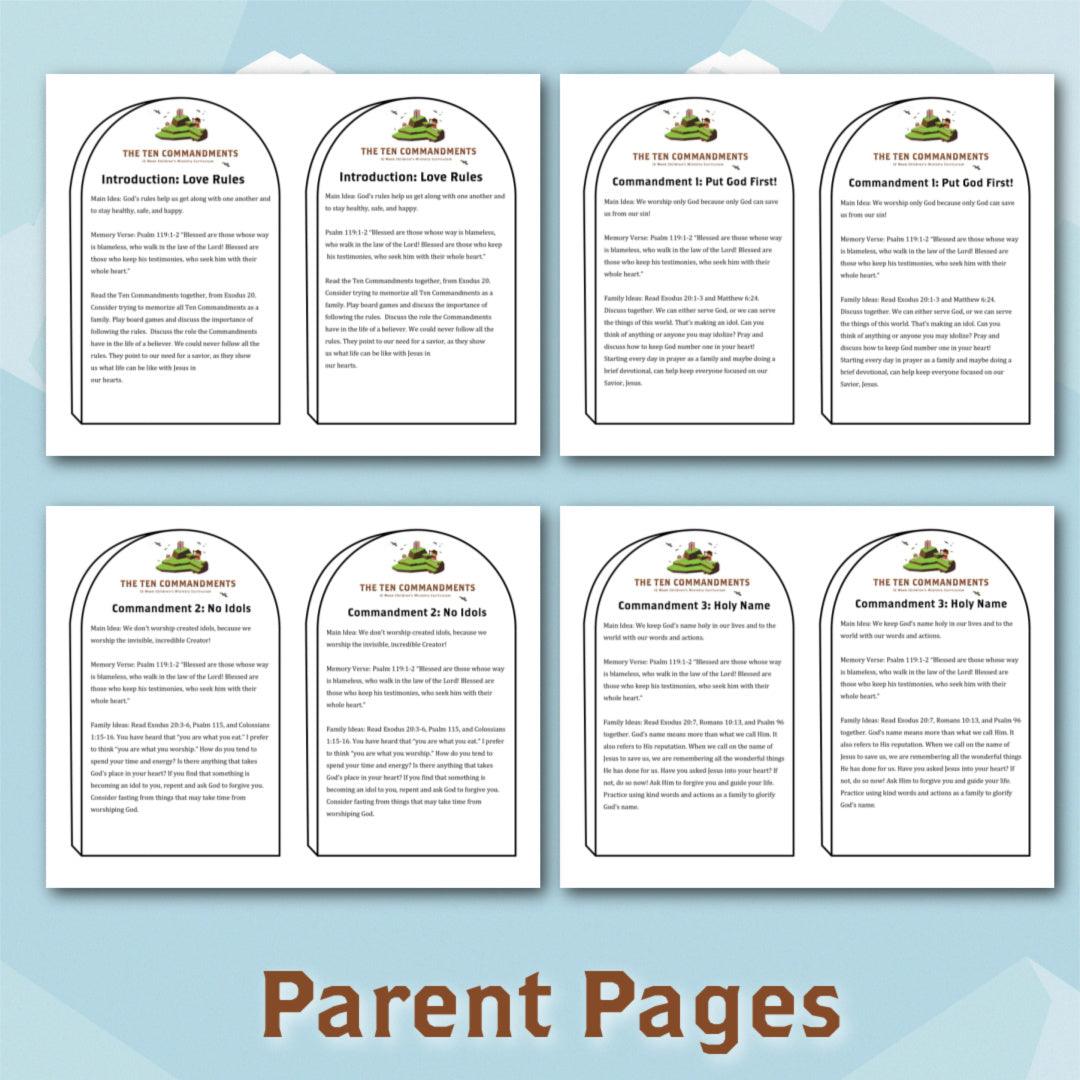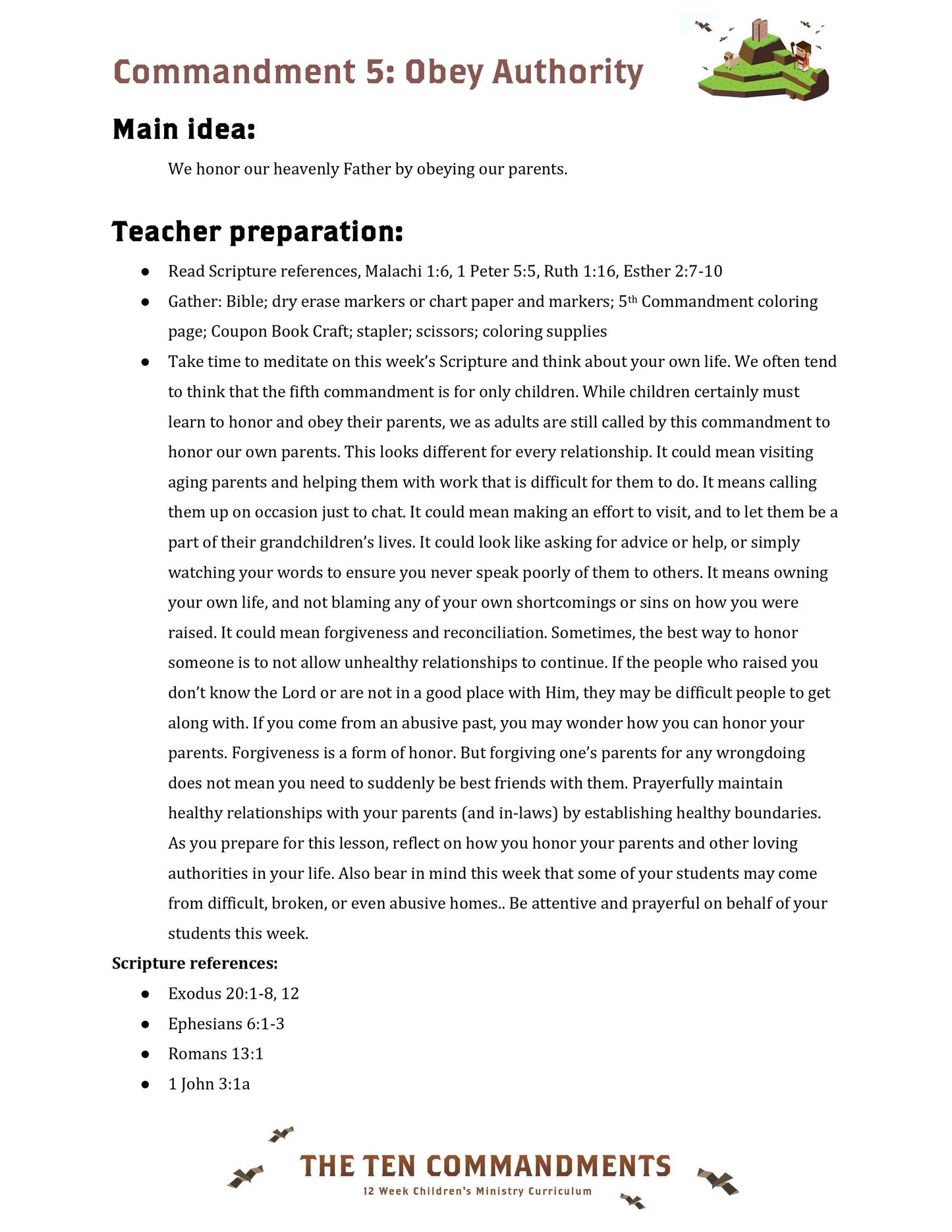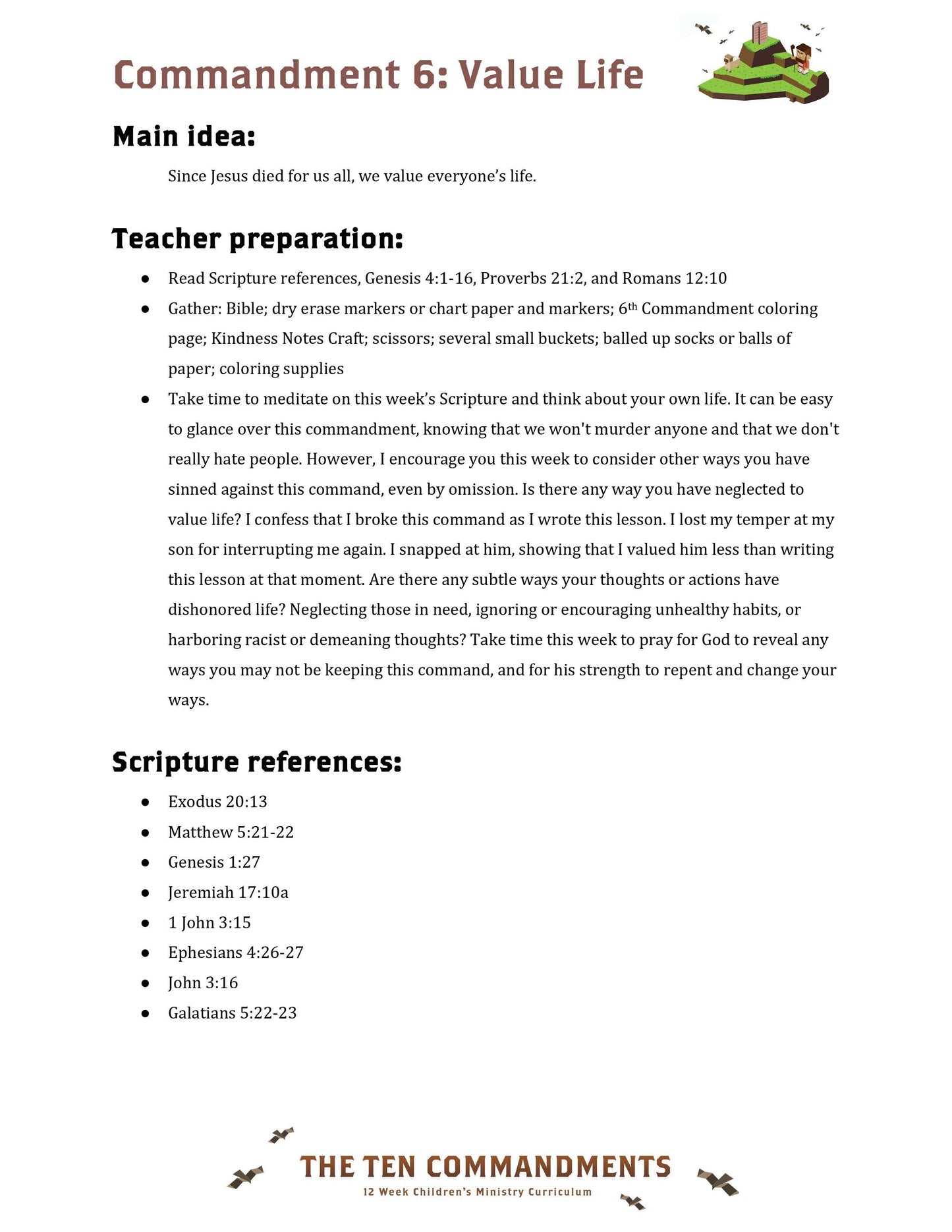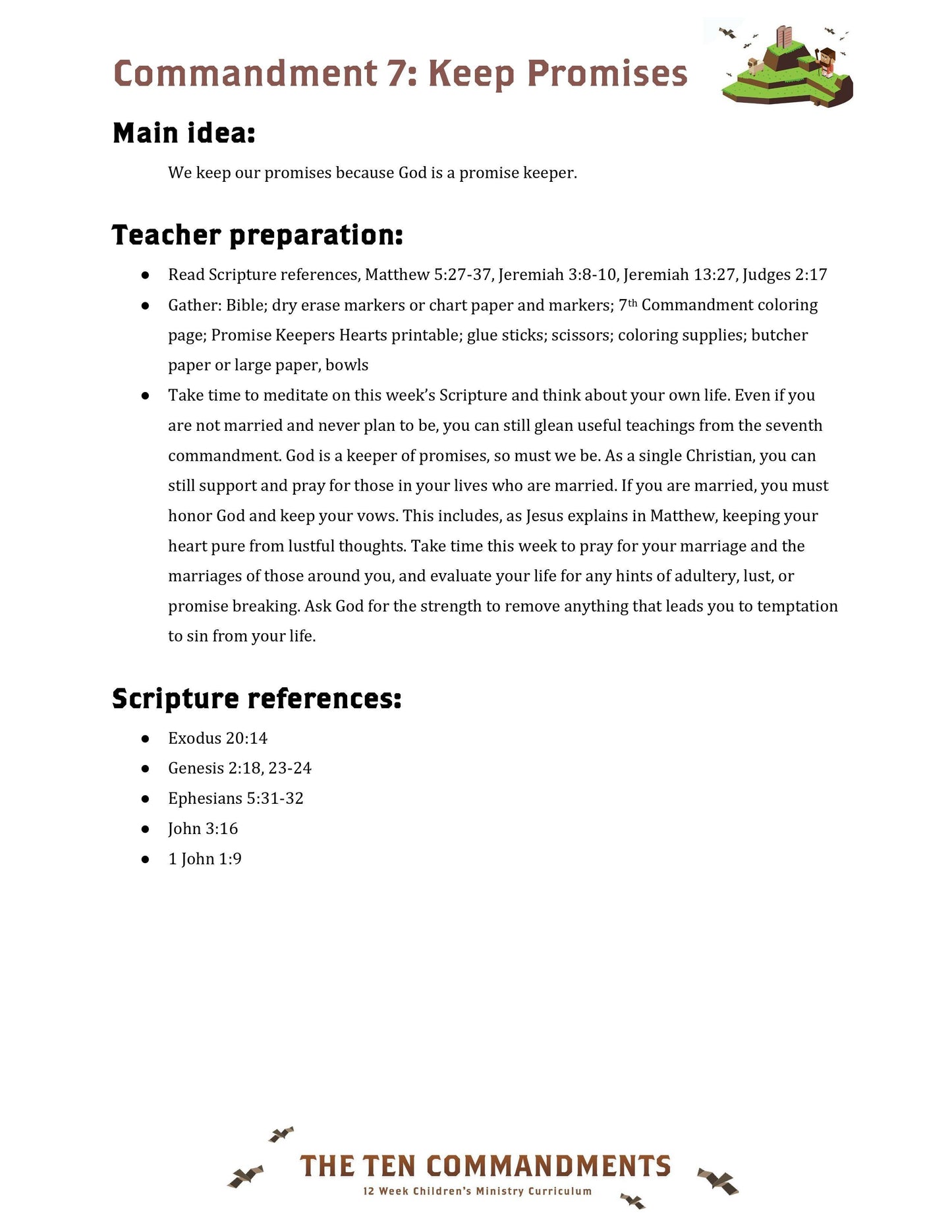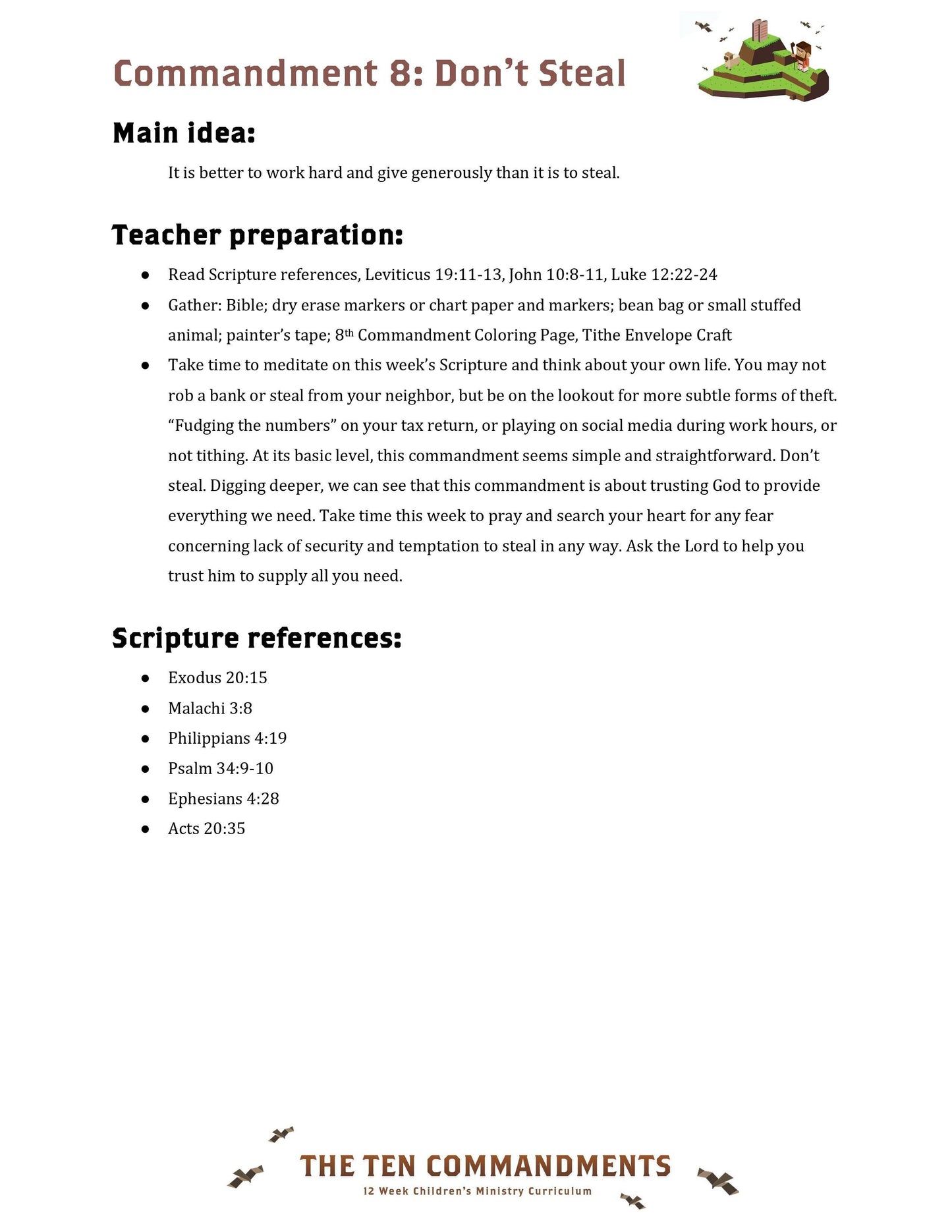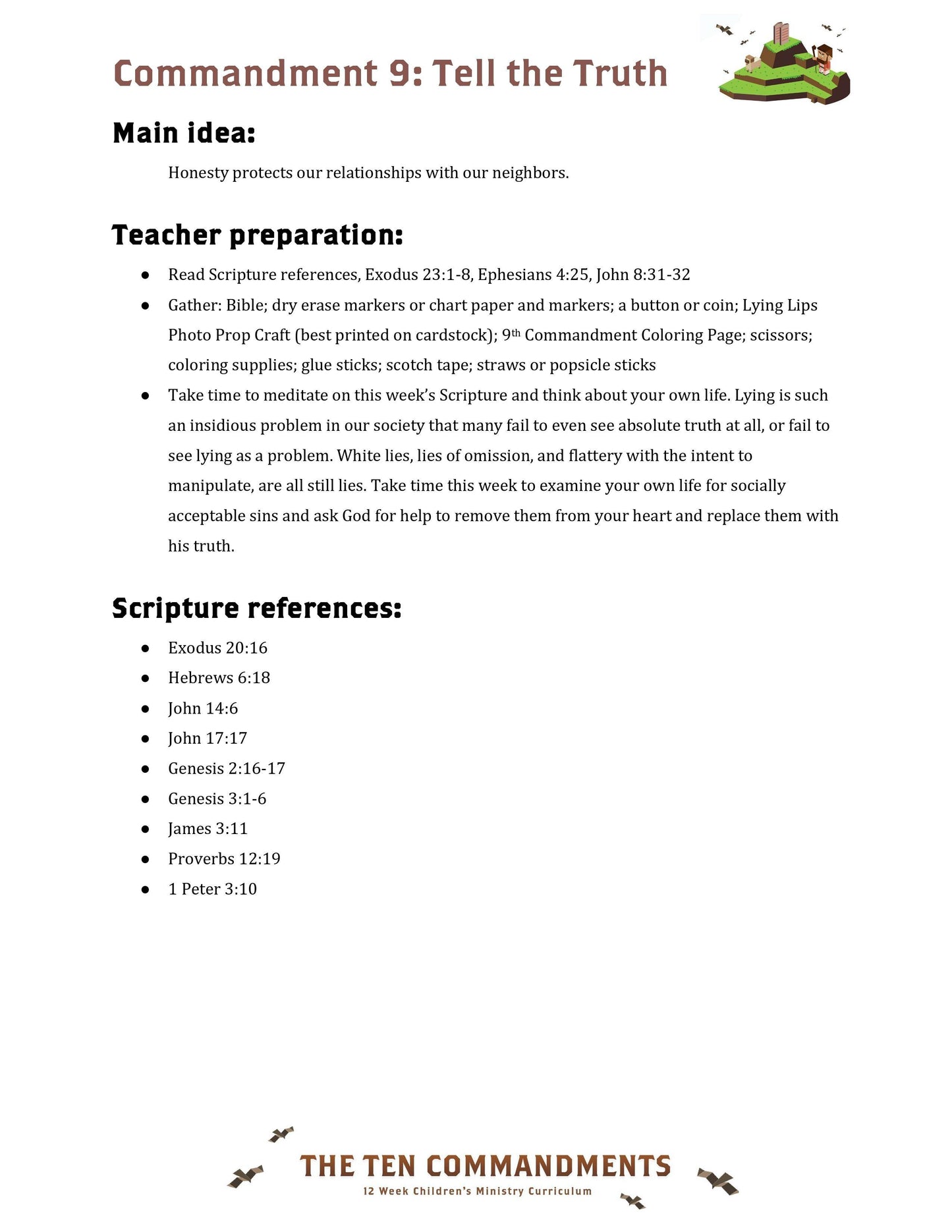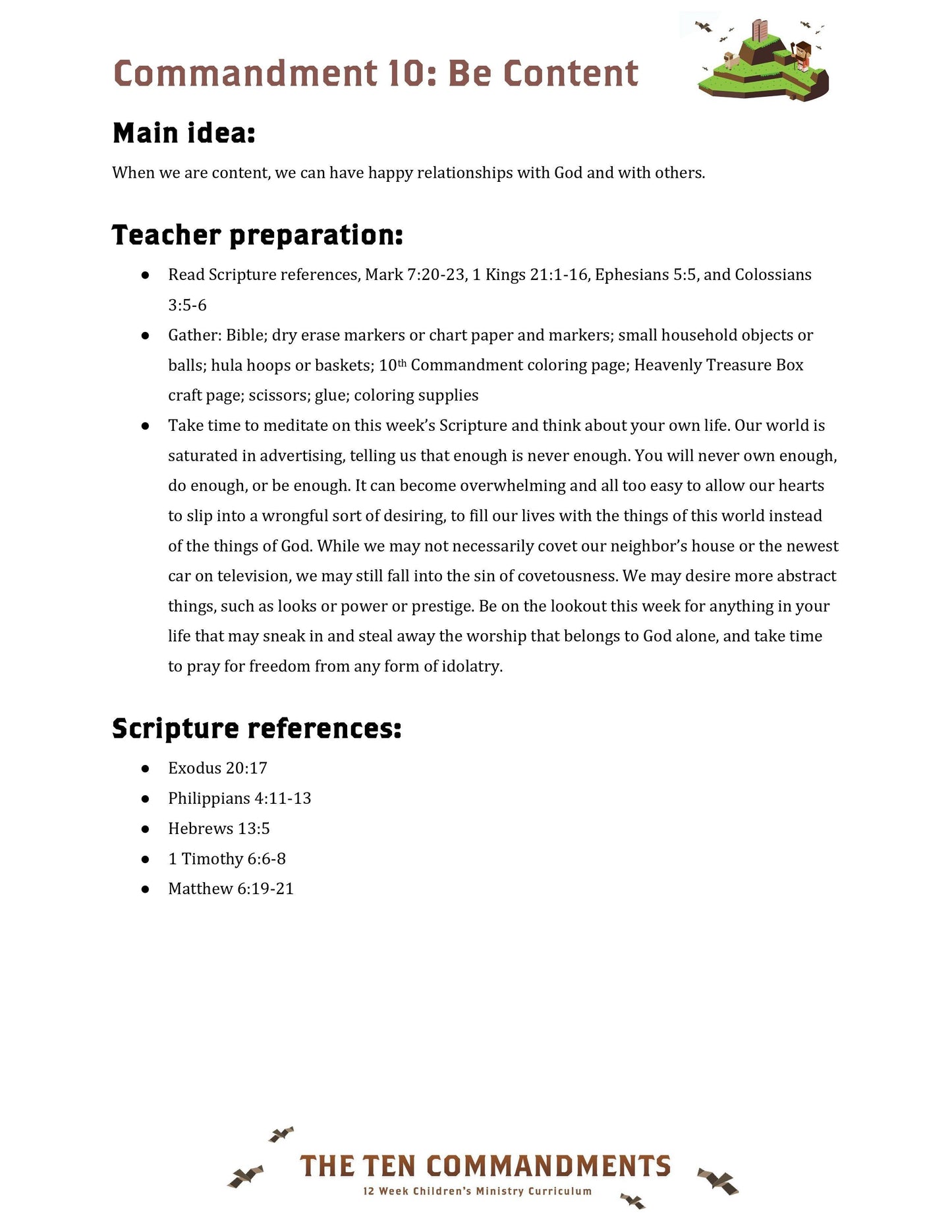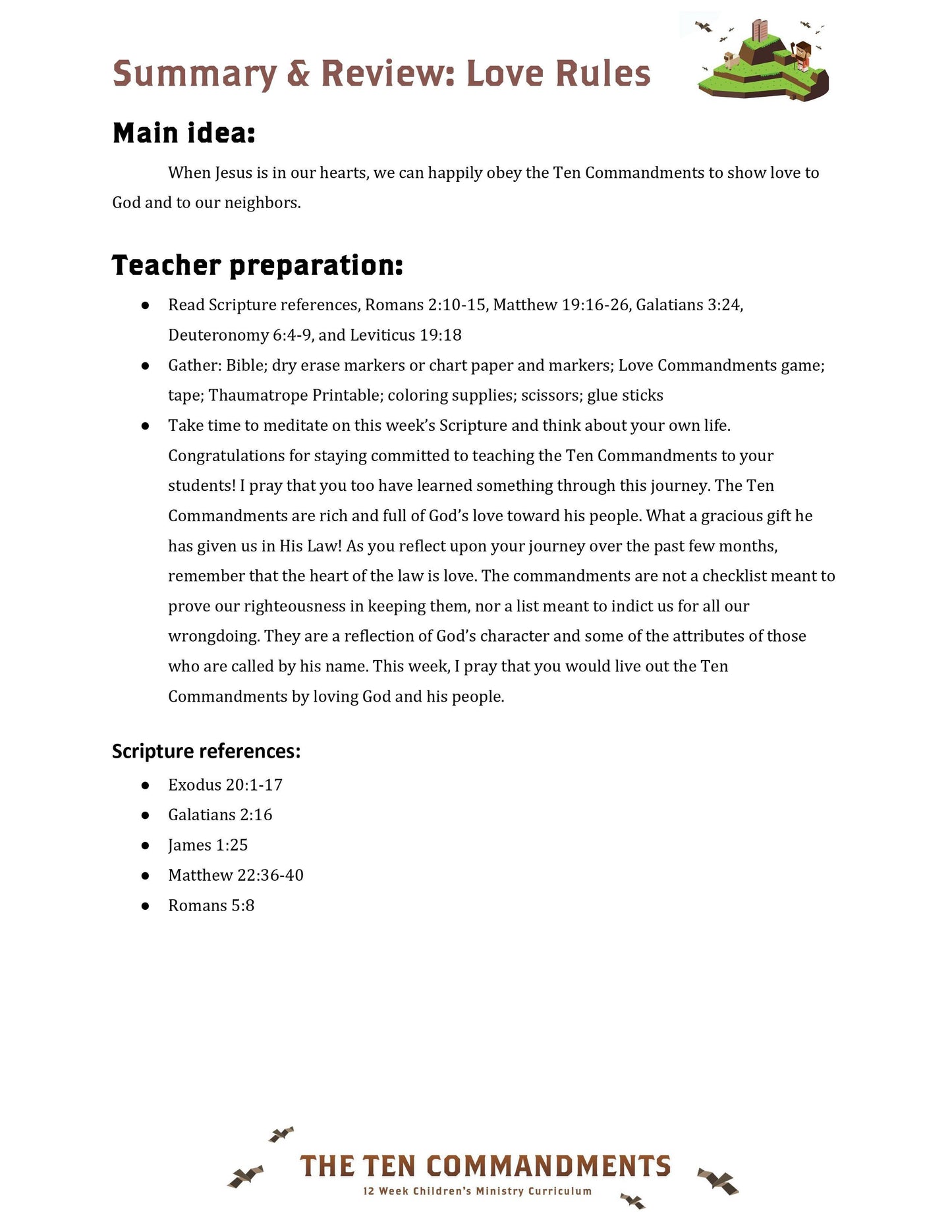 Would have loved to get a book copy, but loving this lesson of our kids at church.
New & Popular Children's Ministry Curriculum