Regular price
$35
Sale price
$19
Unit price
per
Sale
🎉 Coming Soon
Heads UP ⏰ This item is included in the Black Friday Bundle Deal. Get $3,897 worth of children's ministry curriculum for only $97.

📩 Instant PDF Download
🚸 Ages 6-12 Years Old

Treasure: 3-Week Children's Ministry Curriculum is all about the value of knowing Jesus Christ. He is the Wisdom of God, come to us in human form, so that we can know, love, and obey.  When we build our lives on Jesus, we gain understanding and the greatest treasure. 
Big Idea: Jesus loves me, so He gives me the greatest treasure of knowing Him.
Memory Verse: Proverbs 9:10.
Lesson 1: Wisdom is Worth More than Gold. Proverbs 3:13-15

Lesson 2: Knowing Jesus is God's Wise Plan for Us. Colossians 2:3

Lesson 3: Obeying Jesus is How to Become a Wise Builder. Matthew 7:24-27
Credits: This series was written by Angela Jelf. The editors were Samuel O'Neal and Elizabeth James. We pray this material will be a blessing to your ministry and help children feel the love of Jesus Christ.
Attention-Keeping Learning Activities 

Easy to teach lesson plan

Discussion questions and prayer
Memory verse activity
Printable word search worksheets
Bible story coloring pages
Parent take-home review sheets
Craft activities
Perfect for Children's Ministry or Sunday School

Use this Bible study in your children's ministry, kids' church, or Sunday School. Our curriculum includes everything you need to keep the children's attention, get them into God's Word, and help them grow in their personal relationship with Jesus Christ.
44 pages of teaching material
perfect for children aged 6 to 12 (Kindergarten to 6th grade)
designed for small churches
instant digital download in one print-friendly PDF file
flexible teaching activities designed for elementary-aged students
unlimited permission to share directly with volunteers or families in your church
View full details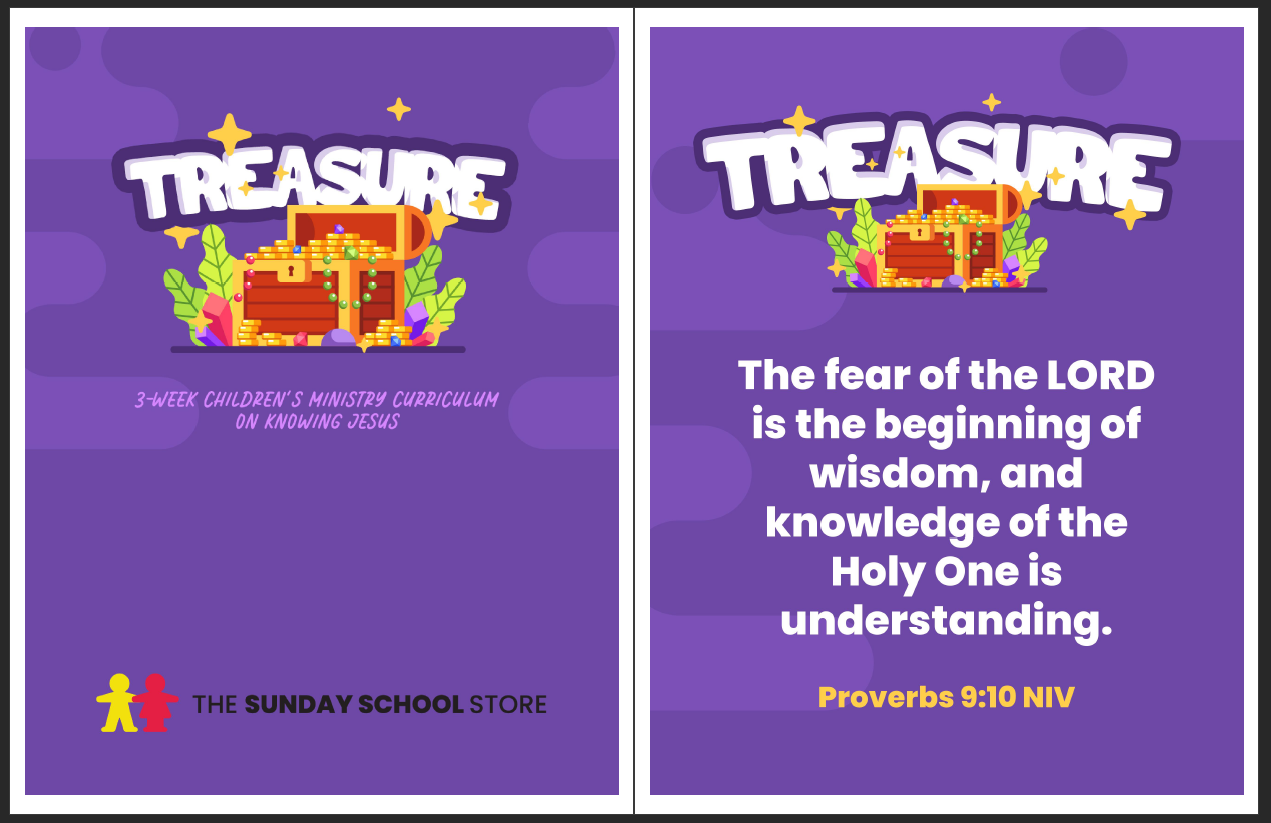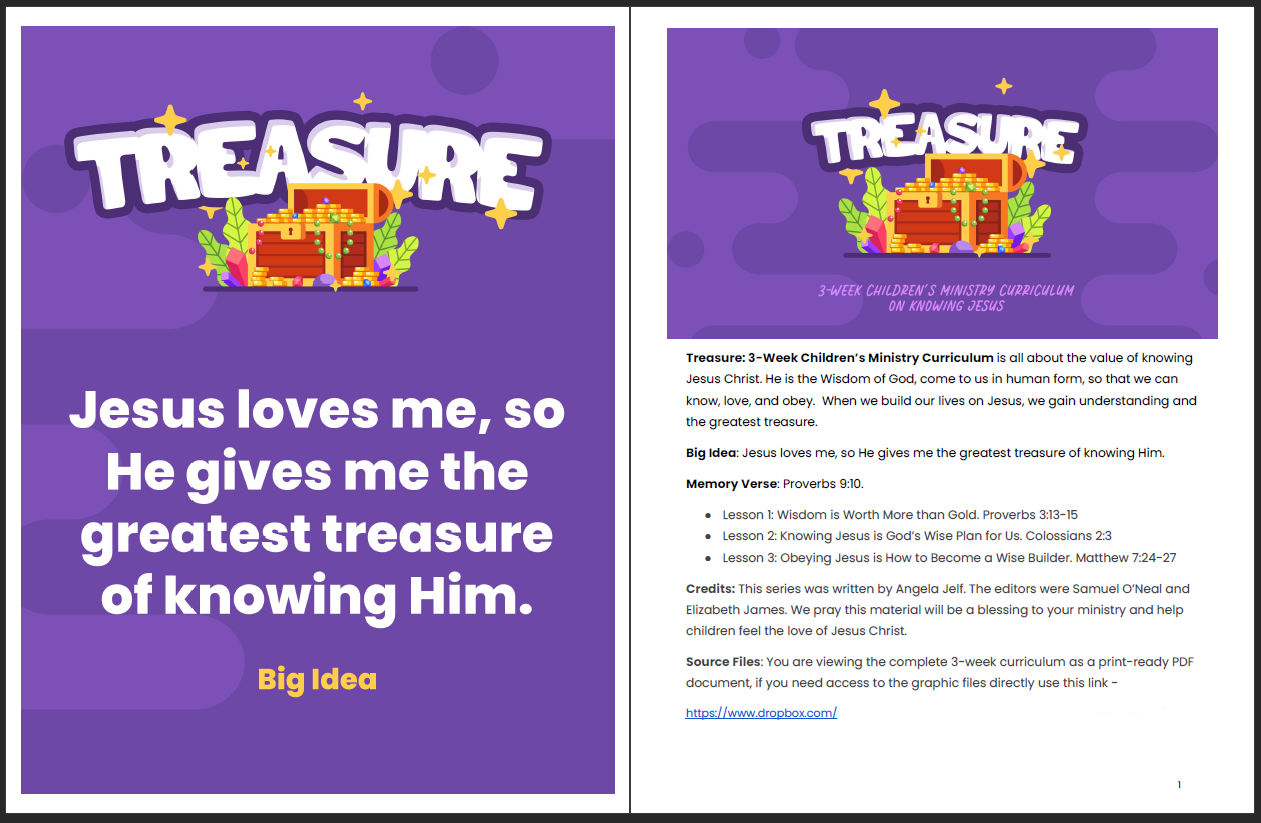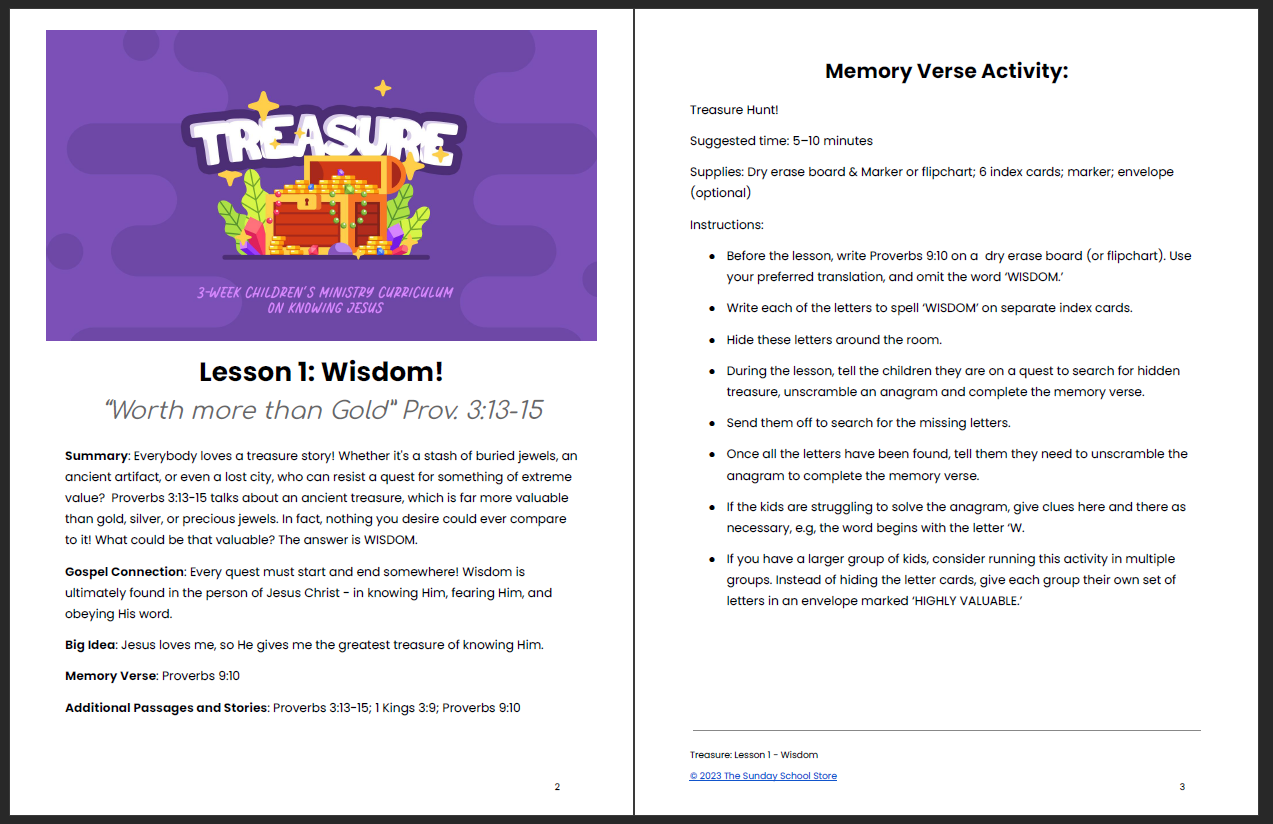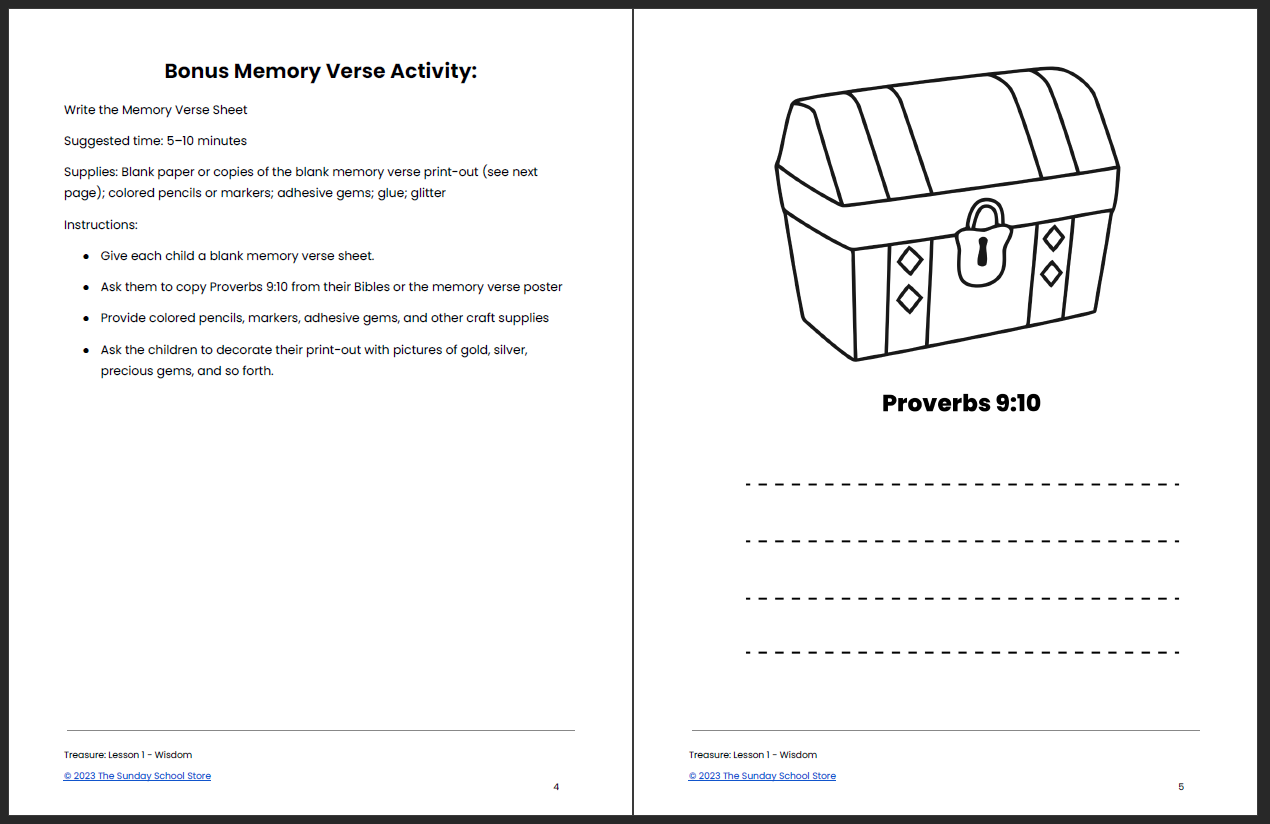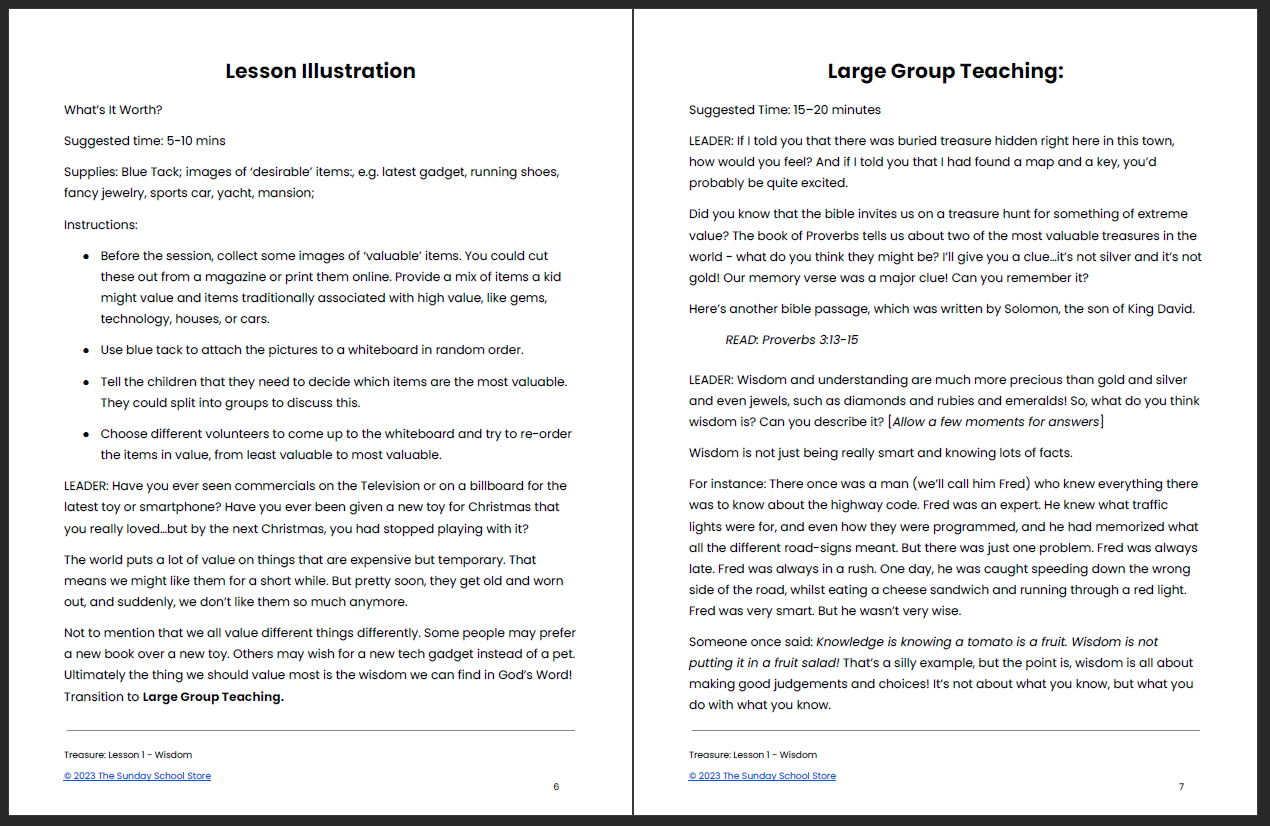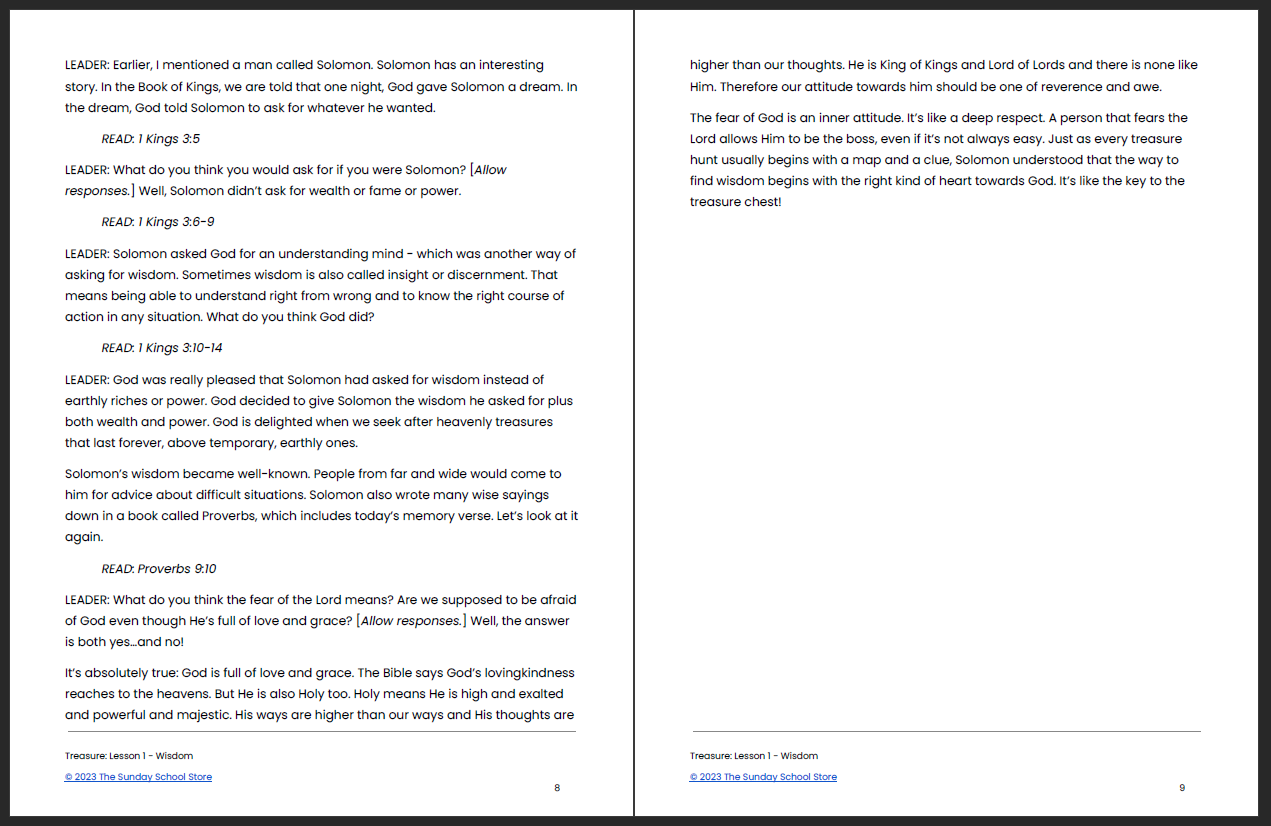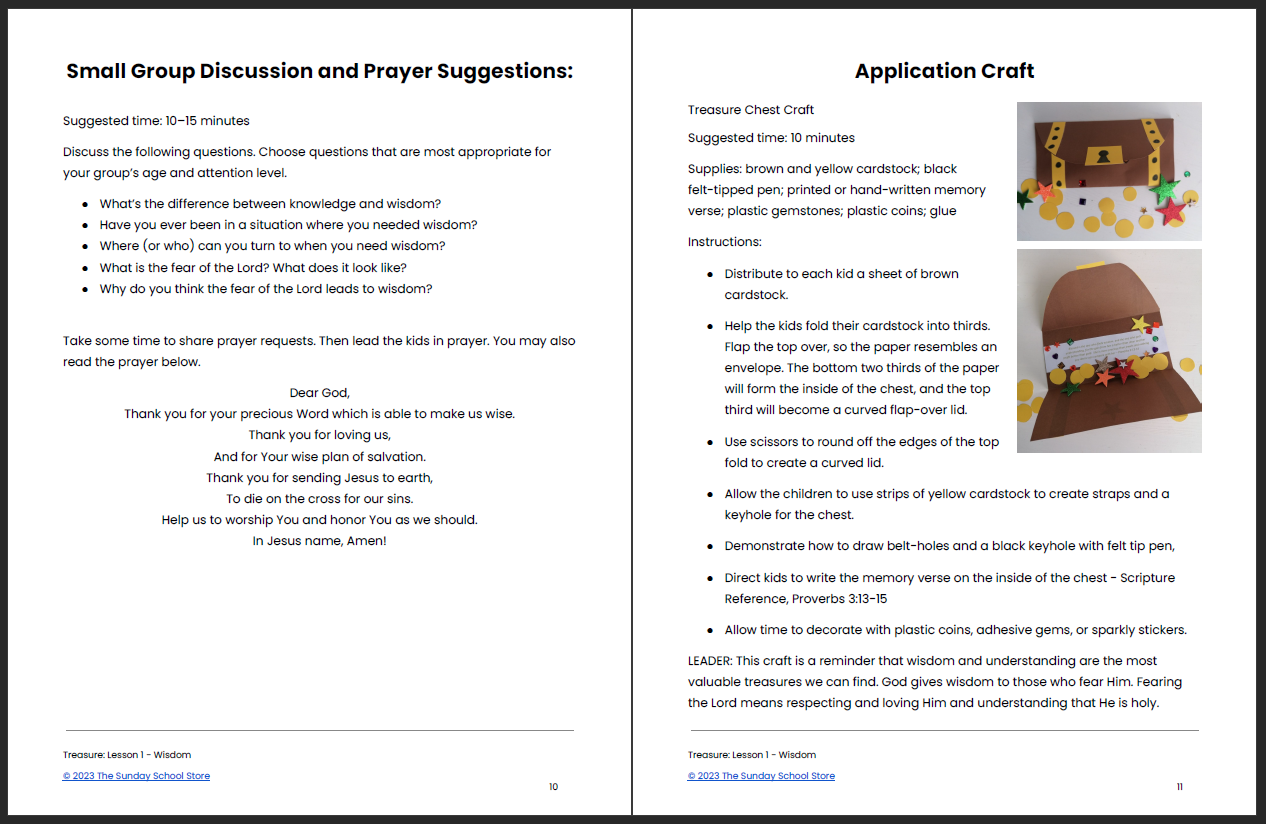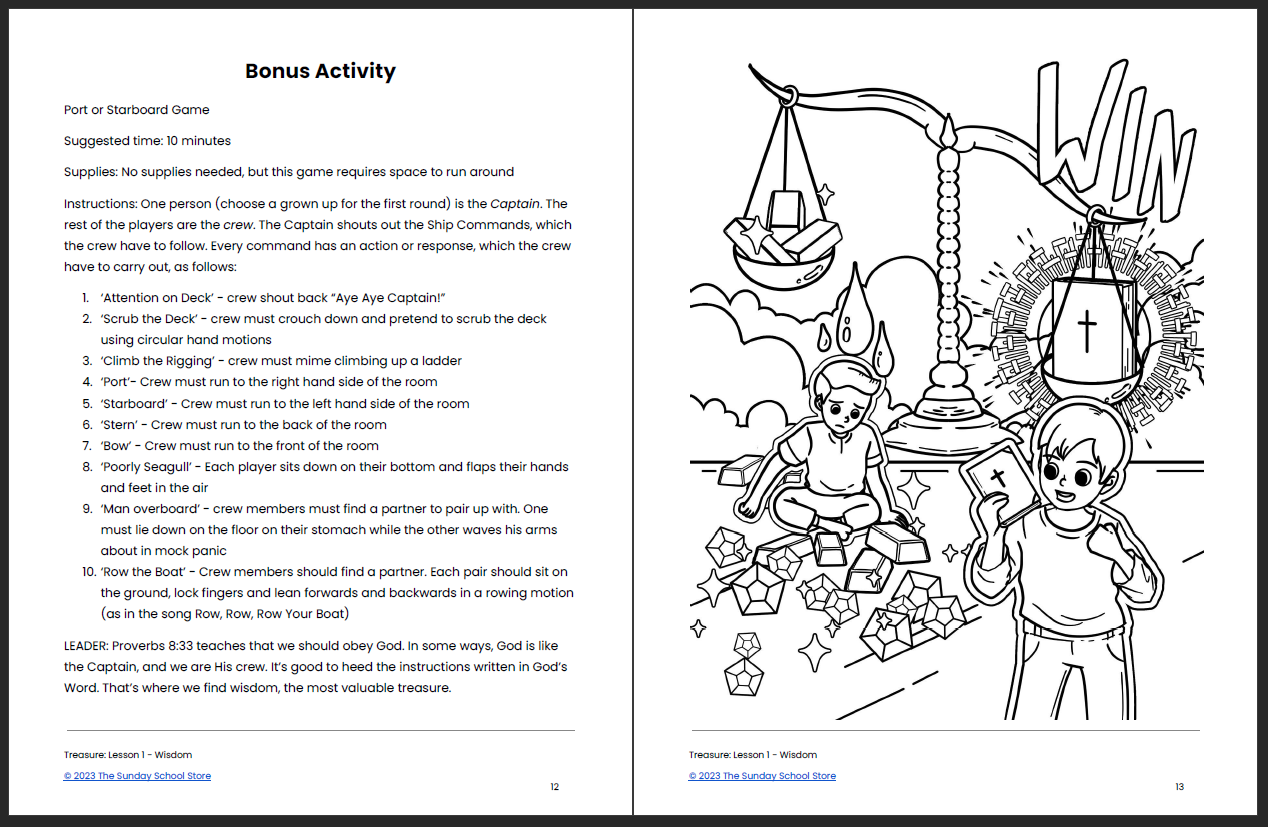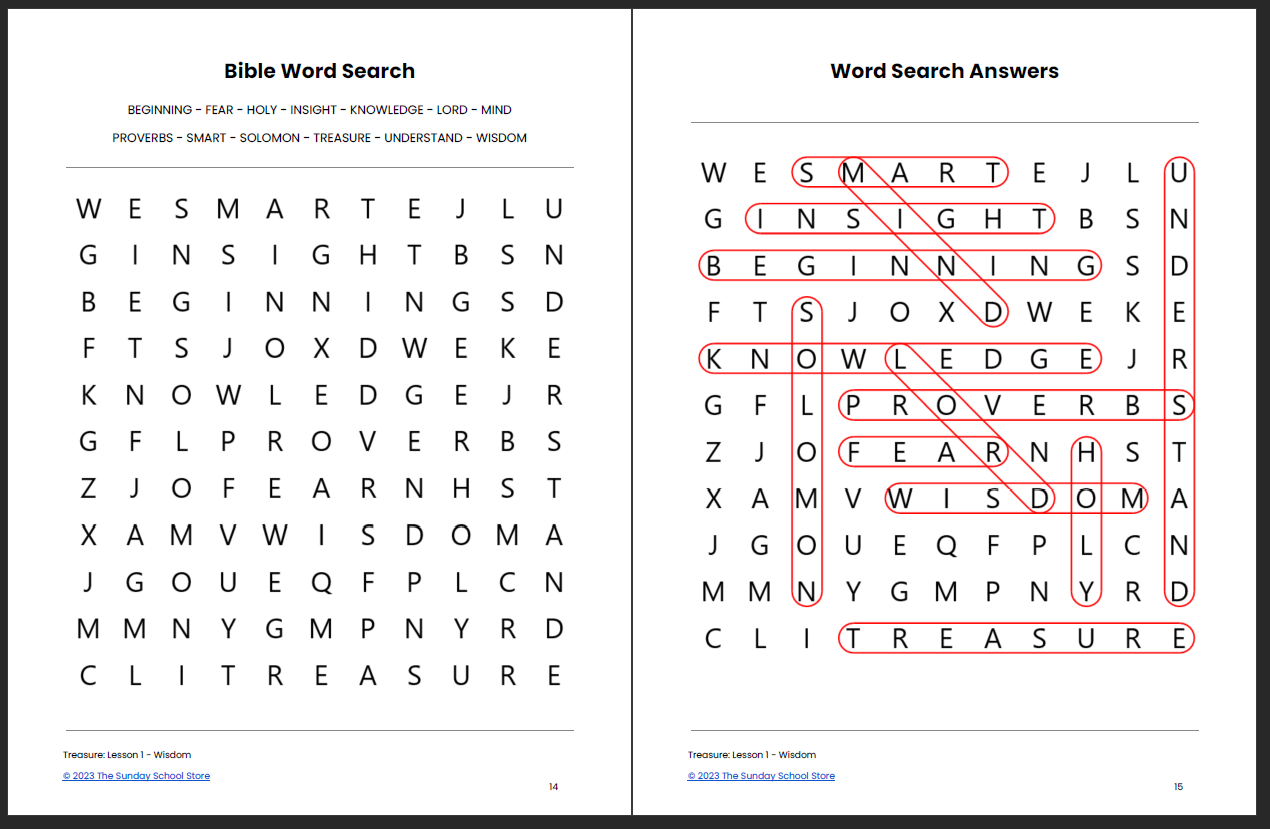 Treasure: 3-week curriculum
Treasure: 3-Week Children's Ministry Curriculum
More Than Earthly Treasure
Kids love to find treasure. In this series for Sundayschoolworks.com, the treasure and riches come from and in our Lord. He loves us and what He has to offer is more valuable than gold or silver. I love the "Treasure" curriculum and the kids did too. There is so much you can do with the lessons, the games and the sermon itself. Thank you! We enjoyed this series.
My Class loved this!!
We have all enjoyed this curriculum. We had so much fun making treasure maps show our way to our greatest treasure...Jesus!!
Treasure is a treasure
These Sunday School Ideas sound like they will be a lot of fun to do. Looking forward to using them!
New & Popular Children's Ministry Curriculum