Regular price
Sale price
$0
Unit price
per
Sale
Unavailable
⌛ {timer} ⌛
DEAL ENDS SOON
This is the free sample lesson from our True Joy: 4-Week Children's Ministry Curriculum. This is lesson #2 in the unit. If you enjoy this lesson, please consider purchasing the complete series.
Everyone wants to be happy, but finding True JOY comes from following God's directions. This 4-week study looks at the two great commandments that Jesus' explains in Matthew 22:36-40. Built around the acronym J-O-Y, these lessons will help kids know what it means to love God and others. As followers of Christ, our greatest JOY comes when we seek a deeper relationship with Jesus while obeying his Word.
This curriculum is flexible enough to handle wide age groups in even the smallest Sunday School. We have included "more than enough" with each lesson to help you adapt to every teaching situation. Use what you can to teach the main idea, even if your class time does not allow for all activities.
About This Curriculum
Perfect for ages 6 to 12
Designed for small churches
Instant digital download - no items will be mailed
Flexible teaching activities
Includes easy-print PDF format
Includes easy-edit Microsoft Word files
Unlimited permission to share directly with volunteers or families in your church
ESV Translation Included, but adaptable to any Bible version
Each Lesson Includes
Large group lesson
K-1st small group discussion
2nd-5th small group discussion
Memory verse activity
Full color memory verse poster
Multiple age-appropriate learning activities: craft, skit, or games
Coloring sheet
Parent take home sheet
View full details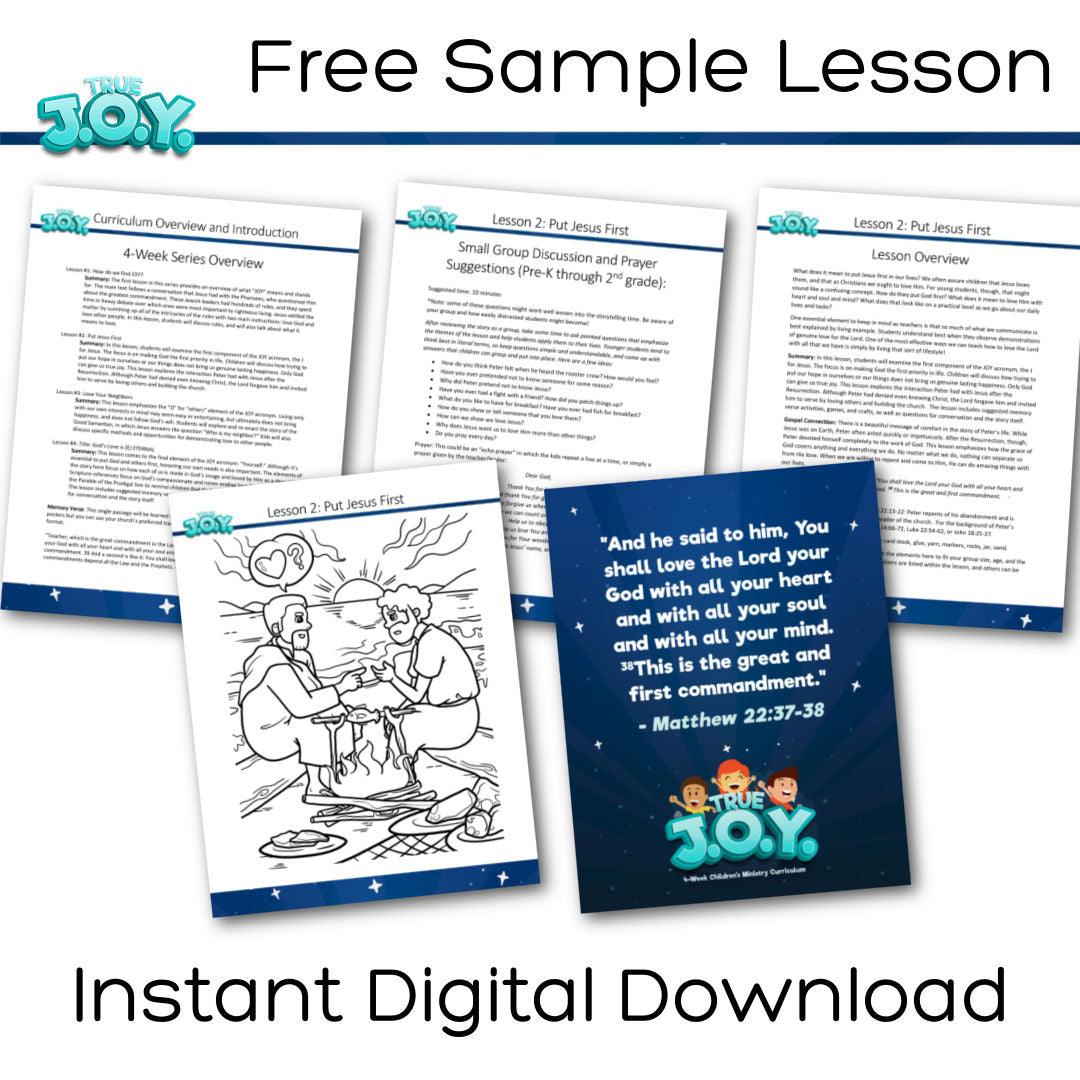 A lot of value for the price.
I did not teach through this or use it with any other teachers, I simply used it as a tool to review the format. After examining this lesson, I purchased the whole year curriculum to use on our Wednesday Night Childrens program.
Satisfied Leader
I utilize the lessons for children's church and they are easily accessible and broken down where the children are able to understand and become in engaged
Great Lesson
Thank you for the Lesson. I liked how it showed the transitions Peter went through. This lesson taught me as well, not just the kids I teach. Would be nice to have the whole curriculum free : )
excellent title
Like the focus is on Christian character.
I have passed along your name and a description of how pleased I have been with many of your offerings. I teach 5th Faith Formation and have for many yrs....(more than 30) and I have found your materials more than helpful. Our students are lacking in imagination and when trying to teach an abstract like religion concepts every little bit helps. To those I have passed your info. along, they have been very positive in their feedback to me. So please continue to do what you do so well!
Thank you
Teaching is a joy
I love how the lesson includes an activating strategy to engage children and to connect to the body of the lesson. As with other lessons, the children always have fun with the game. The body of the lesson provides them with how love can bring us joy, which lasts forever. The lesson format of first gathering as a large group and then breaking out into age appropriate groups meets the needs of our one room schoolhouse approach to teaching. It is an effective lesson that is fun to teach. I
True Joy Curriculum
Very helpful, very well researched. Touches on issues that one can very easily take for granted. A lot of information in there. have to break it into many other smaller lessons. great material no doubt.
Awesome to use virtually since some Christian w groups are not in church at this time
Student would love session and udead
Children. are enjoying in coloring
God bless this ministry its very useful to people like in India who can't effort the price, thank you so much for your kind heart
New & Popular Children's Ministry Curriculum