Regular price
Sale price
$45
Unit price
per
Sale
🎉 Coming Soon
Heads UP ⏰ This item is included in the Black Friday Bundle Deal. Get $3,897 worth of children's ministry curriculum for only $97.

📩 Instant PDF Download
🚸 Ages 6-12 Years Old
"Humble Beginnings" is a four-part study of the birth of Jesus Christ. Use this curriculum in your kids church or Sunday School during December. Each lesson will explore the value of humility  as seen in the characters of the nativity. Those include: Mary, the shepherds, the magic, and Jesus himself. 
Kids need to understand biblical humility - that only God is God and that we are not! This study will offer a fresh look at the drama of the nativity stories and the glory of God in those events. 
Philippians 2:6-7 (NIV) Who, being in very nature God, did not consider equality with God something to be used to his own advantage; rather, he made himself nothing by taking the very nature of a servant, being made in human likeness. 
4 Kids' Bible Lessons for Christmas (66-page download)
Lesson 1 "The Humility of Mary" Luke 1:26-38

Lesson 2 "The Humility of the Shepherds" Luke 2:8-20

Lesson 3 "The Humility of the Magi" Matthew 2:1-2,9b-11

Lesson 4 "The Humility of Jesus"  Luke 2:1-7
Attention Keeping Learning Activities 

Easy to teach lesson plan

Discussion questions and prayer
Memory verse activity
Printable word search worksheets
Bible story coloring pages
Parent take home review sheets
Bonus Christmas Craft directions
Perfect for Children's Ministry or Sunday School

Use this Bible study series during the Thanksgiving season in your children's ministry, kids church, or Sunday School. Our curriculum includes everything you need to keep the children's attention, get them into God's Word, and help them grow in their personal relationship with Jesus Christ.
66-pages of teaching material
perfect for children aged 6 to 12 (Kindergarten to 6th grade)
designed for small churches
instant digital download in one print-friendly PDF file
flexible teaching activities designed for elementary aged students
unlimited permission to share directly with volunteers or families in your church

NIV translation included in Bible verse poster. Lesson plans available to edit in WORD DOCX files for alternate translations.
View full details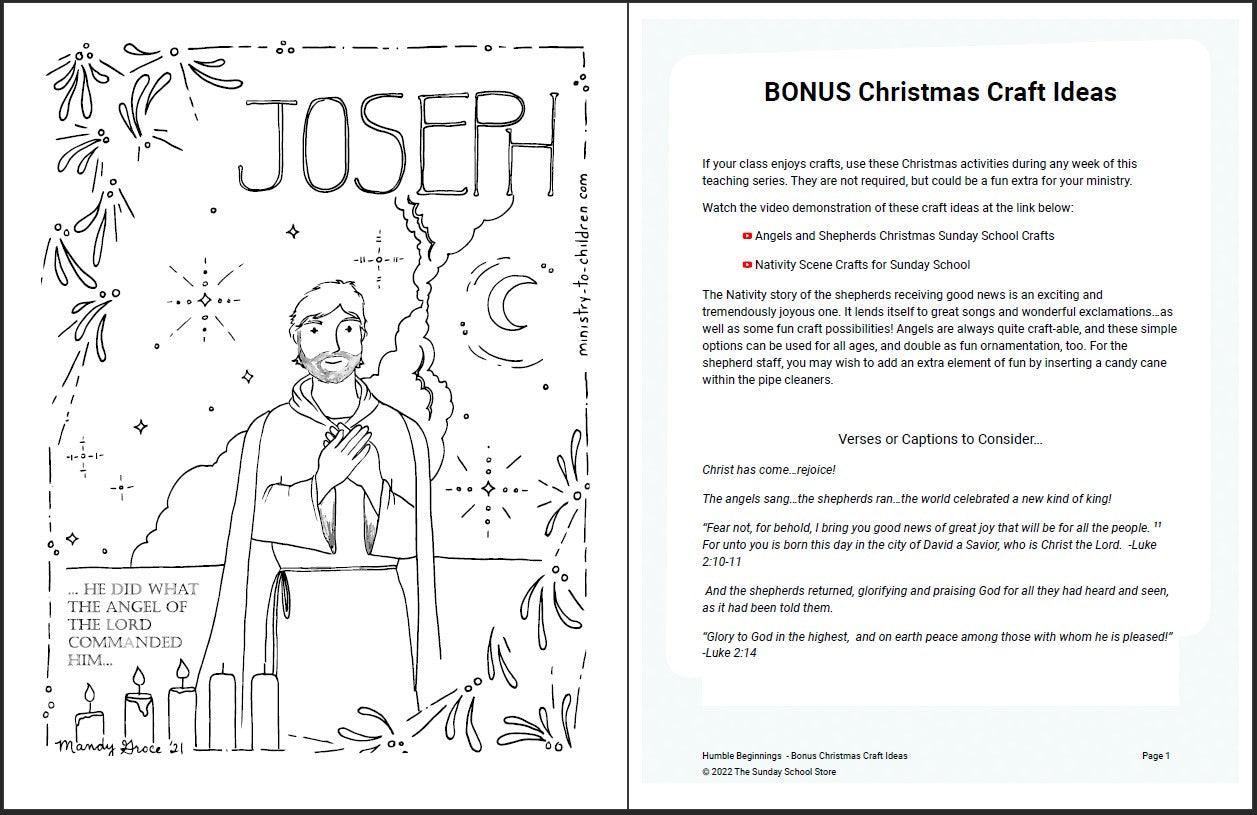 great lesson for children
love the flow of the lesson and the opportunity to tailor the lesson to your class.
Advent series
This was really useful in preparing and adding to our advent series last Christmas. Like all the Sunday School Store, great material.
I used this 4-week curriculum for children's church. I only have 25 minutes but was able to adapt it to fit my needs. I like the creative ideas and artwork. It was a good series for the Christmas season.
I love all the effort put into these Sunday school activities. Thank you so much, I love content.
Humble beginnings
It's a wonderful book. I love it
New & Popular Children's Ministry Curriculum