Limited Time Only ⏰ This lesson is included in the Print & Teach ⏩ Curriculum Bundle Deal. For less than $1 per week, download a comprehensive library of Bible teaching for kids.

CLICK HERE to See the DEAL
Regular price
$15
Sale price
$7.99
Unit price
per
Sale
Unavailable
⌛ {timer} ⌛
DEAL ENDS SOON
Format 📩 Instant PDF Download
🚸 Ages 6-12 Years Old
What are angels, and what do they have to do with us? This Christmas Sunday School lesson reviews how God sent angels to announce the birth of Christ. When Mary and Joseph (and the shepherds) encountered these holy messengers, they were surprised, but trusted what they were told. Their lives were changed in unexpected ways, but God's plans for them were wonderful! The angels we see in the Bible are quite different from our usual idea of what angels "should" be like, just as God's blueprints for our lives are often different from what we'd plan or expect. Fortunately, we can know that God is trustworthy, and will bless us when we hope in Him!
We often think that we are in control of our own lives, or we hope that somehow, we can manage things. God reminds us that His ways and plans are bigger and better than ours, and that is a blessing! We know we can trust in His Word and promises, because He sent Jesus to be our savior, and He transforms our lives in great ways!
Bible Passage: Matthew 1:18-25, Luke 1:26-33; 2:8-14
Target Audience: Kindergarten-6th grade
Lesson Materials Needed: Construction paper, markers, stickers, scissors, tape/glue, popsicle sticks, paper plates, paper bags, coffee filters, paper towel tubes, string, pipe cleaners, decorations (all optional, depending which activities you choose to use). Object lesson props can include pictures or representations of angels (ornaments, paintings, etc.), of various types.
More Resources Online
Easy-Prep Bible Lesson
Target Age: elementary school, adaptable for K-6th grades
Translation: choose NIV, ESV or KJV
Stand-alone lesson plan
19-pages of teaching material
Instant digital download
Flexible teaching plan for mixed age groups
Ideal for Kids' Church or Sunday School (45-60 minutes teaching time)
Attention Keeping Activities
Object Lesson with video demonstration

Game Suggestions
Easy To Follow Teaching Plan
Craft Ideas with video demonstration 
Coloring Page
Word Find Worksheet
Memory Verse Poster
Secure Purchase & Money Back Guarantee
Every purchase from the Sunday School Store comes with a 100% money-back guarantee. If you're not happy for any reason, just contact support and we will make it right. Our checkout process has the most advanced security. Customers can pay with credit card, PayPal, or mail a physical check from their church. Simply choose your payment method during the checkout process. 
More Christmas Bible Lessons for Kids
Children's Sermon Lesson on Matthew 1:18-25
Bible Craft Activities for Christmas Sunday School 
Kids Bible Lesson on the Birth of Jesus
Free Christmas Sunday School Lesson for Kids
Sunday School Lesson on Matthew 1:18-25
View full details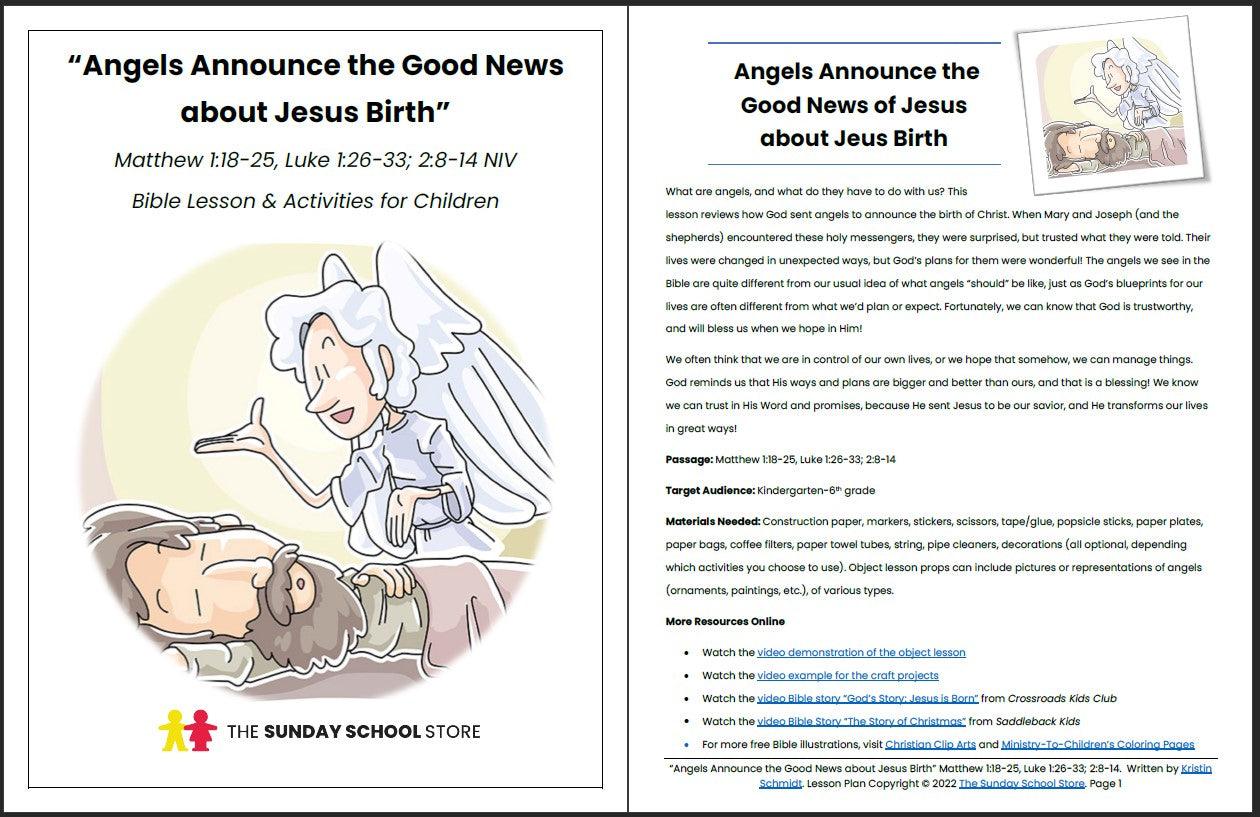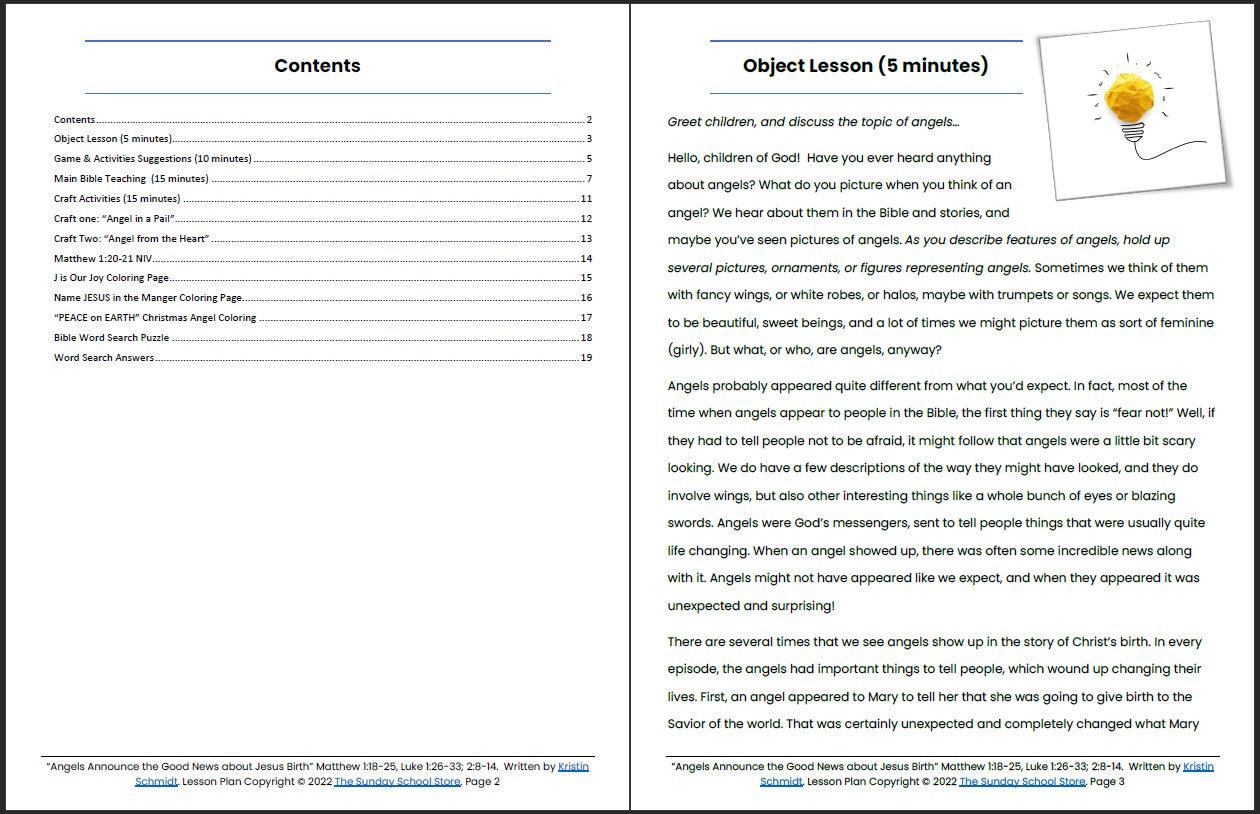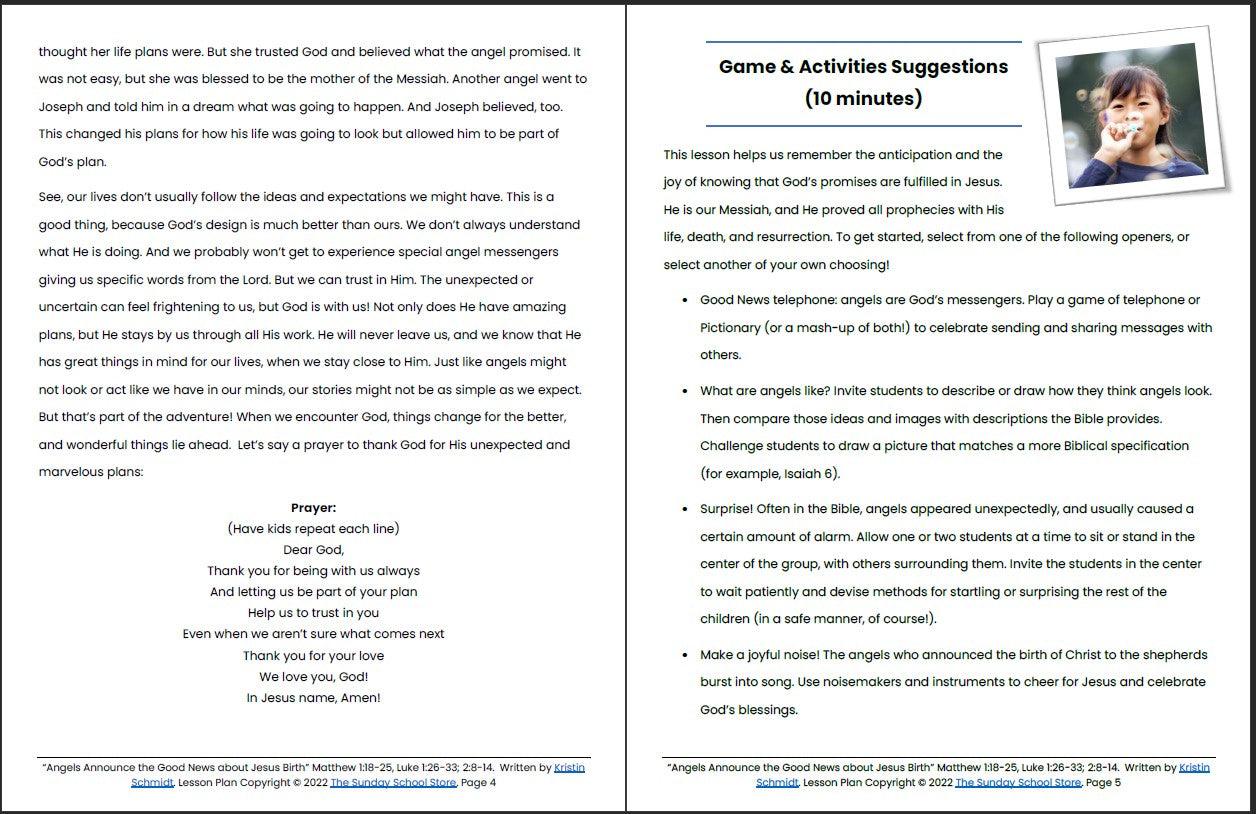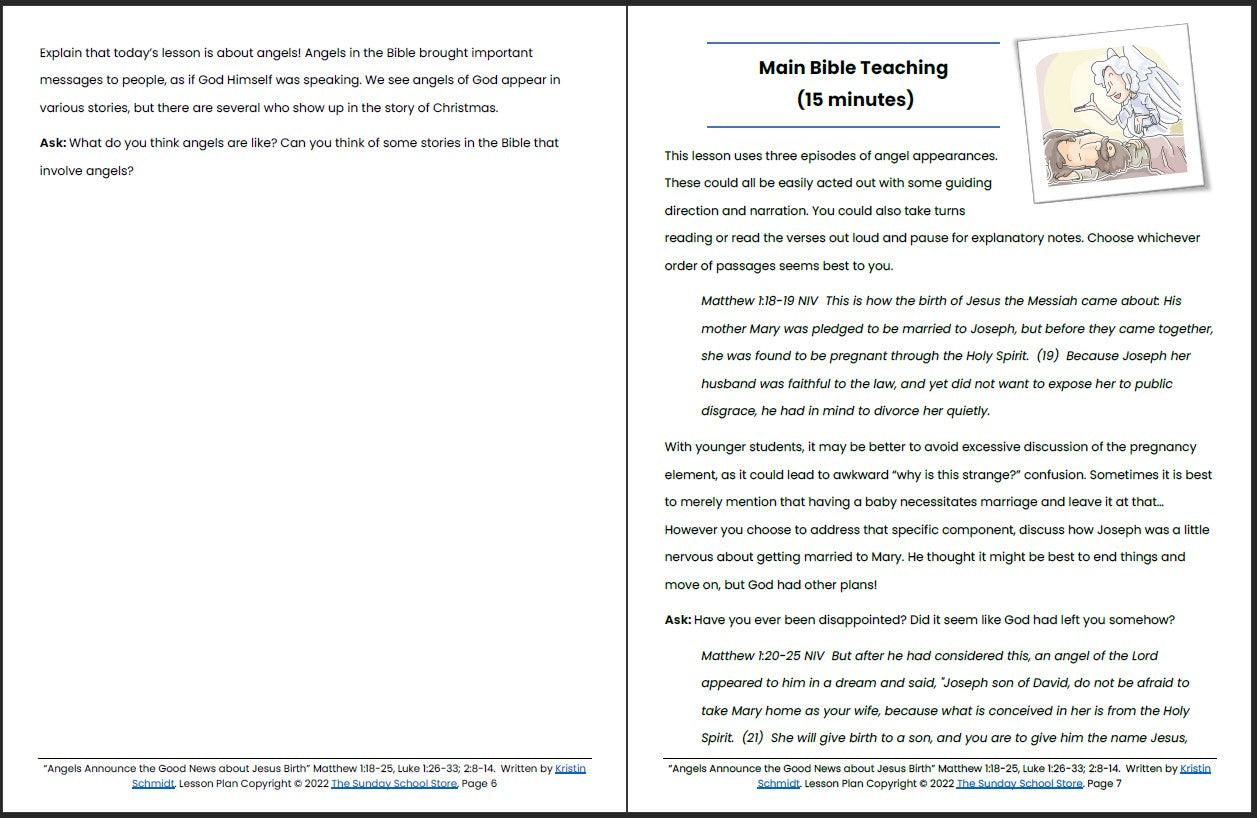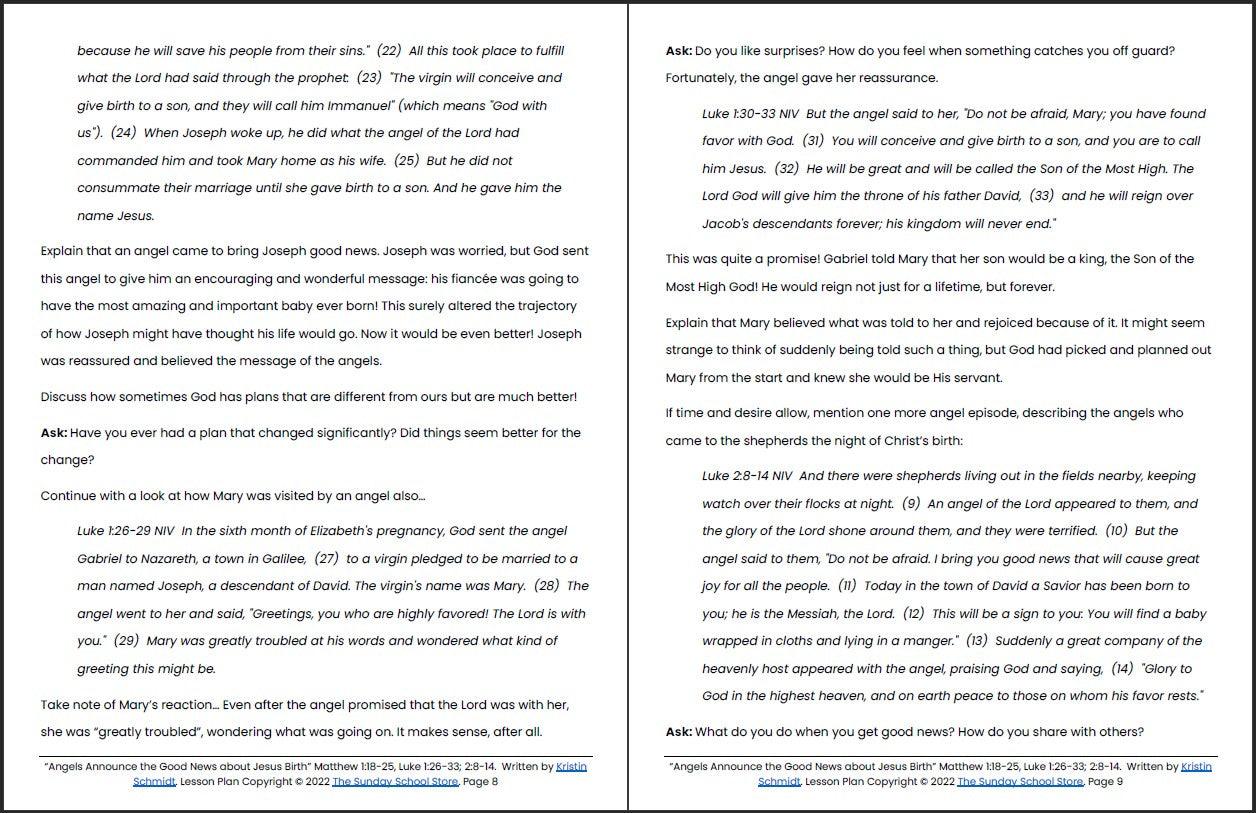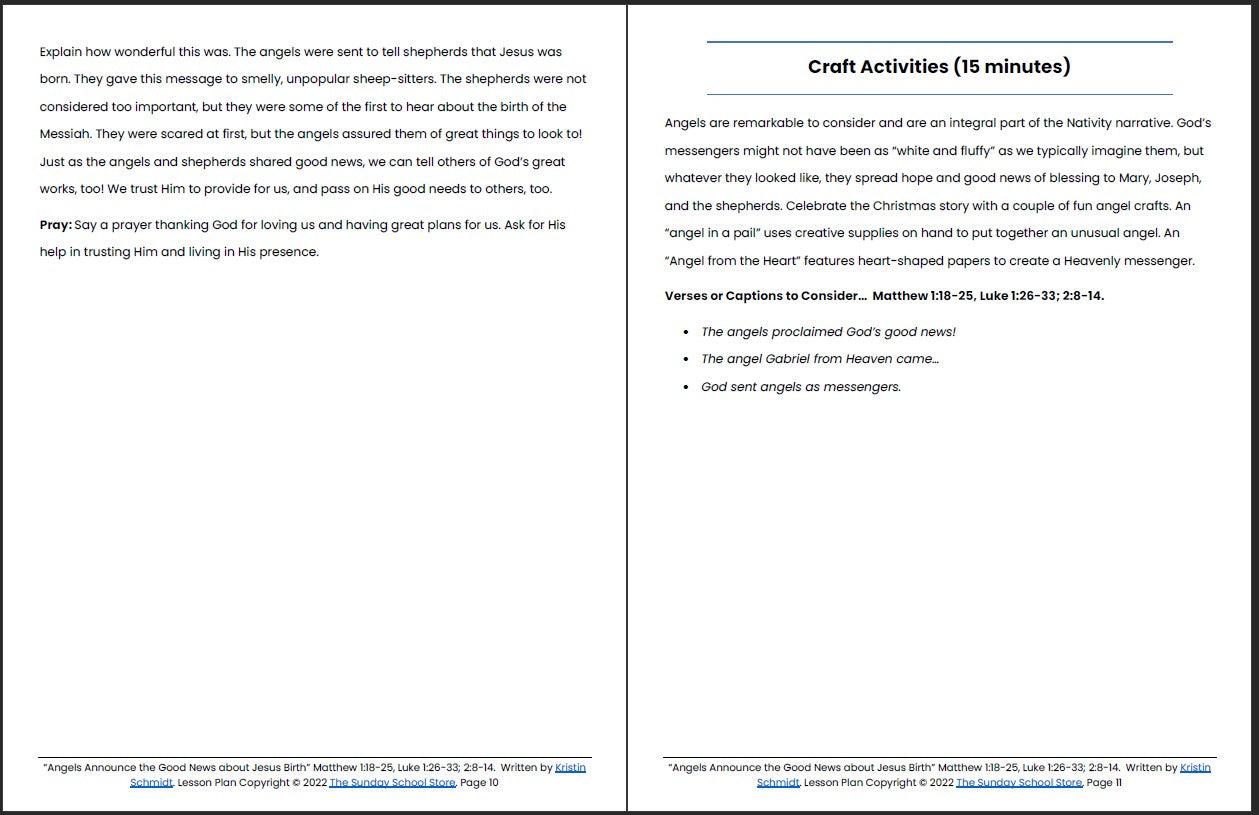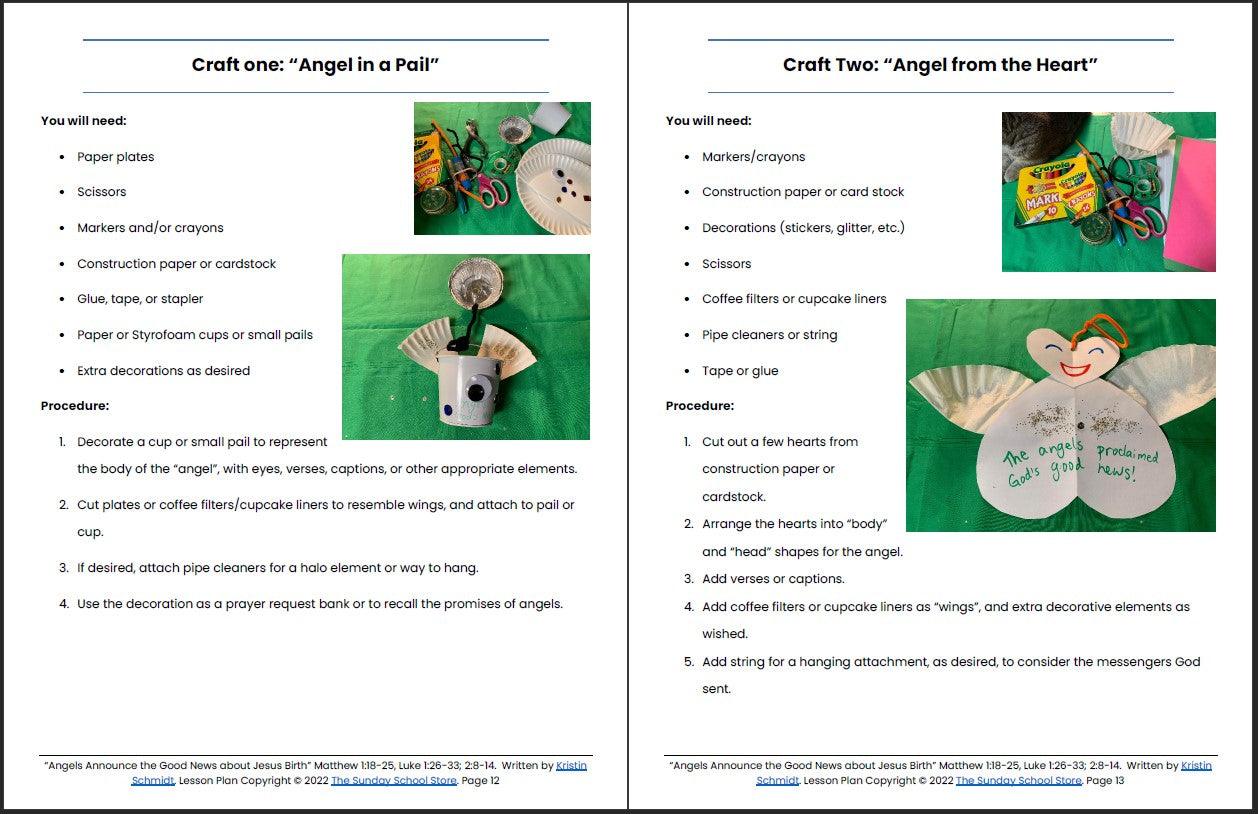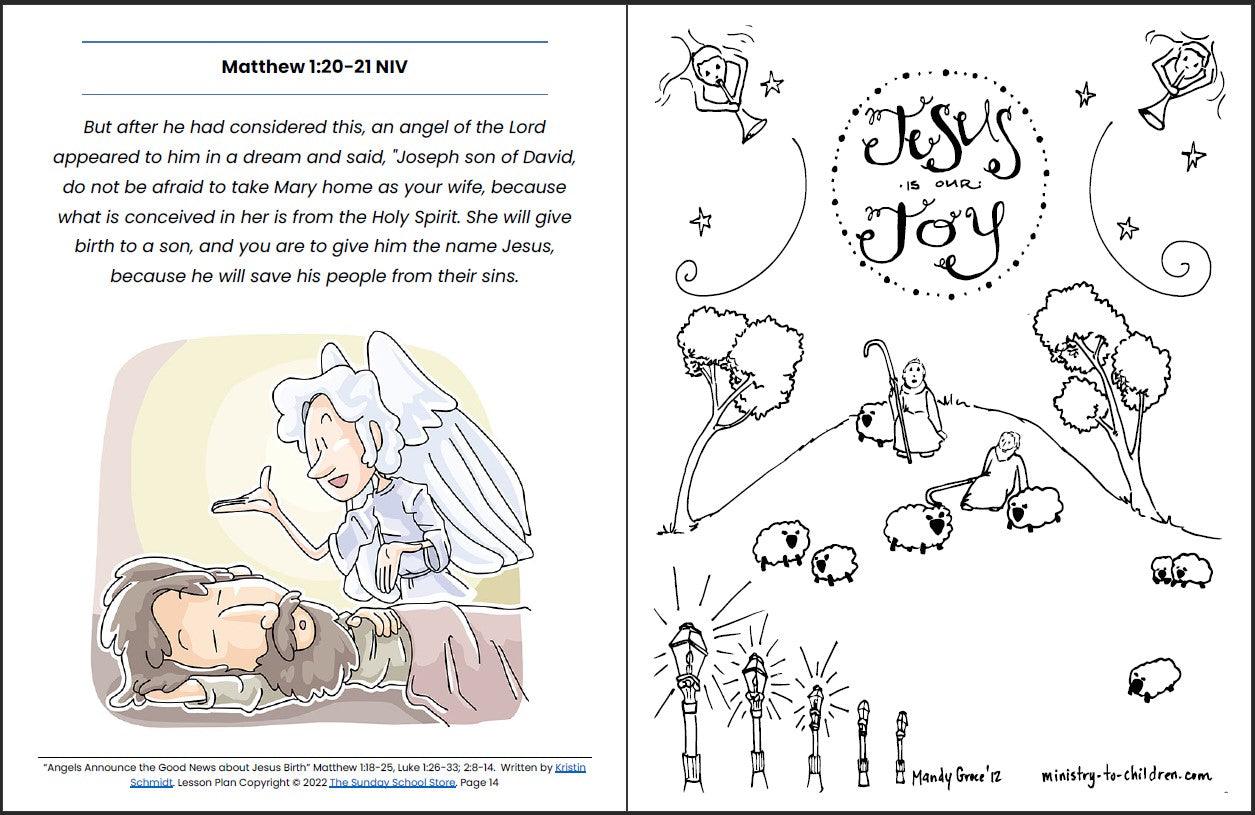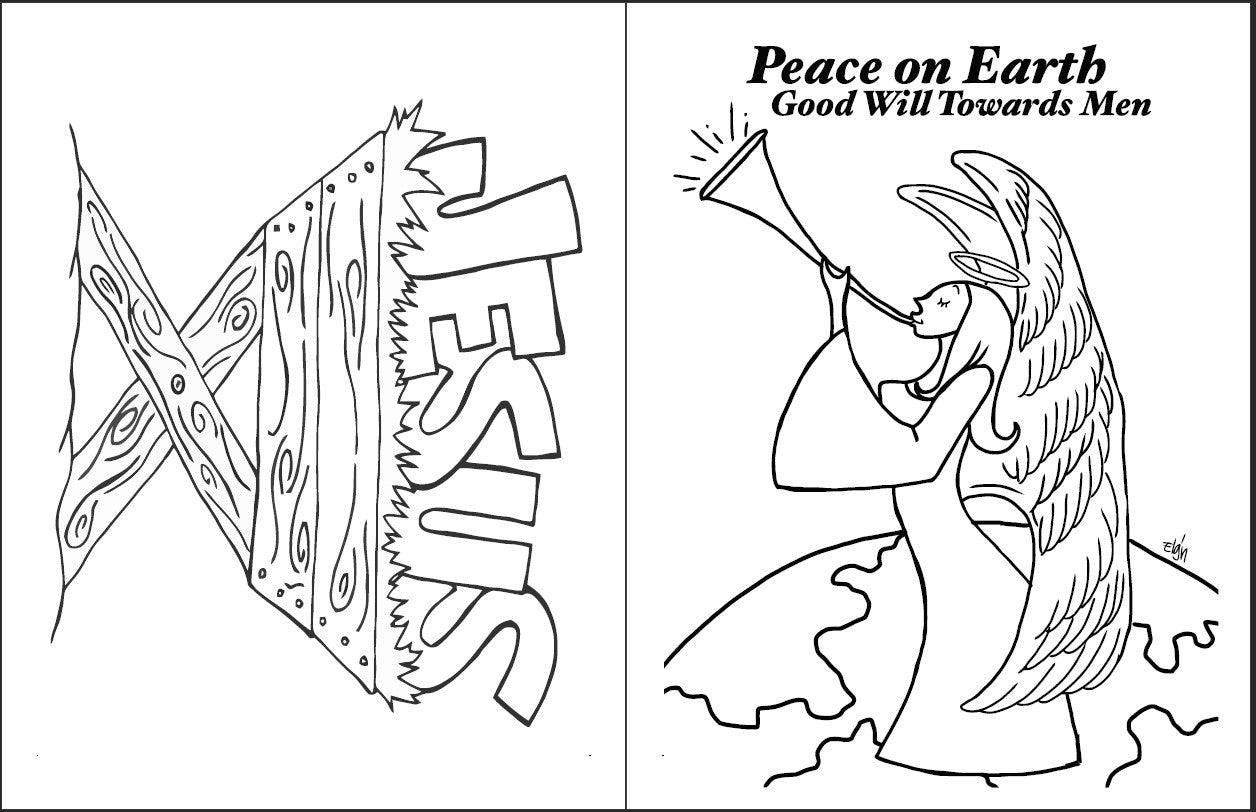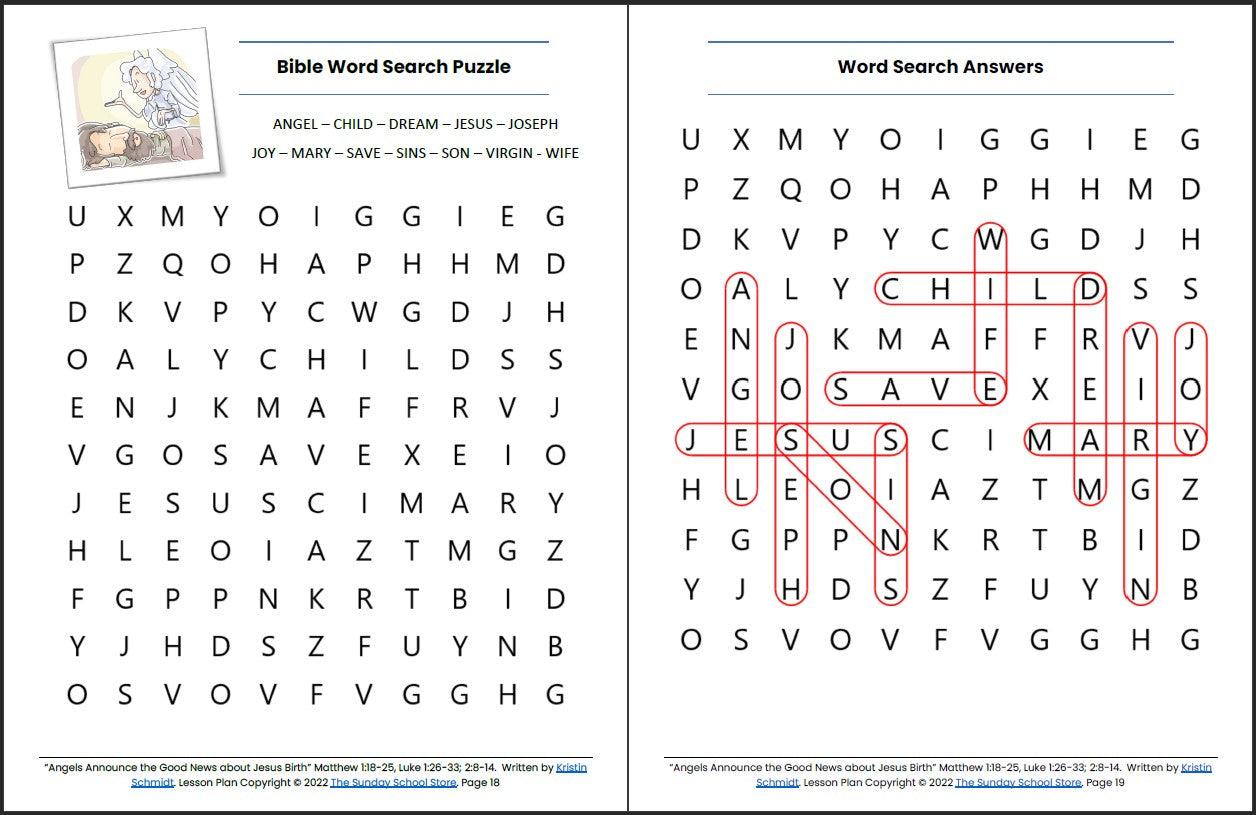 Angels Announce the Good News about Jesus Birth (Matthew 1:18-25) Printable Bible Lesson & Sunday School Activities
Good, (Great) News
The Sundayschoolworks.com lesson on Angel bringing the Great News of the birth of Jesus is a profound message for all. Not only does it impact the lives of children to realize that God sent His angels to earth to notify the special people about God's plan for them all, but it also reminds the adults that God always can be trusted to fulfill His promises. This is a magical time of the year for children and all people alike so angels coming to earth is a trusted, sincere way for people to believe. They can believe in our God. The story portrayed in this segment lesson by Sunday School Works, is amazingly told and presented.
Great Resource
I love the background information given on the topic and the fantastic ideas. I find with my group of children they need active participation in the storytelling and not too much talking. After being a school teacher for 30+ years I don't use worksheets during the Kid's church session but I find them great to send home.
Angels Announce the Good News about Jesus Birth
Love that you give a great presentation of Jesus' birth in a way that the kiddos can understand and even enjoy the object lesson and crafts. Thanks!
This lesson was a Blessing to have. Thanks!!!