Regular price
$45
Sale price
$27
Unit price
per
Sale
Unavailable
⌛ {timer} ⌛
DEAL ENDS SOON
"Influencers" are the new heroes in our culture. Kids dream of being popular on social media or even becoming a professional YouTube creator or star on TikTok. This series teaches children how to be a godly influence in real life by following God's Word. Each lesson profiles a character in the Bible and shows how they influenced others by living out their faith. Children will be challenged to follow Jesus and let his light shine out to influence others.
This curriculum is flexible enough to handle a wide range of age groups in even the smallest Sunday school. We have included "more than enough" with each lesson to help you adapt to every teaching situation. Use what you can to teach the main idea, even if your class time does not allow for all activities.
ABOUT THIS CURRICULUM
83 pages of teaching material
Perfect for ages 6 to 12
Designed for small churches

Instant digital download
Flexible teaching activities
Includes easy-print PDF format
Includes access to easy-edit Microsoft Word files
Unlimited permission to share directly with volunteers or families in your church
NIV Translation Included, but adaptable to any Bible version
EACH LESSON INCLUDES
Large group lesson
K-1st small group discussion
2nd-5th small group discussion
Memory verse activity
Full color memory verse poster
Multiple age-appropriate learning activities: craft, skit, or games
Coloring sheet
Parent take home sheet
Lesson #1: Be Intentional
Big Idea: To be an influential person, you have to be intentional with your actions and be aware of your actions and how they affect others. You have a purpose, and you won't let anything get in the way of it.
Key Passage: The story of Paul from conversion to persecuted Christian. We'll talk about how Paul became one of the most influential people of the Bible and how he was a godly example to follow.
Memory Verse: Acts 9:15 "But the Lord said to Ananias, 'Go! This man is my chosen instrument to proclaim my name to the Gentiles and their kings and to the people of Israel.'"
Lesson #2: Be Selfless
Big Idea: To be an effective influencer, you have to have people who will follow you. In order to be a good leader, you have to be willing to listen to others and speak thoughtfully to them.
Key Passage: The story of how Jonathan was selflessly loyal to David. Jonathan was the son of Saul and could have earned his father's favor instead of worrying about David. But because he cared for David like himself, he was able to save the man whose family line included Jesus.
Memory Verse: 1 Samuel 20:42 "Jonathan said to David, 'Go in peace, for we have sworn friendship with each other in the name of the Lord….'"
Lesson #3: Be Trustworthy
Big Idea: In order to influence others, they have to trust what you are saying. They have to know that you keep your word and what you speak is the truth.
Key Passage: Joshua's speech to the tribes of Israel. Because of Joshua's reputation of being an instrument of God and a trustworthy person, he was able to remind the Israelites what God had done for them and to encourage them to agree to follow the Lord instead of the many false gods of the time. 
Memory Verse: Joshua 24:15 "….But as for me and my household, we will serve the Lord.'"
Lesson #4: Be Inspirational
Big Idea: Being an inspiration is no easy task. You have to encourage others to do what is right and believe in the unbelievable. This comes from developing relationships, proving your trustworthiness and allowing others to speak.
Key Passage: Jesus' life from his birth to his time on the cross. Jesus is the ultimate influencer and motivator to do the right thing. We will talk about key points in his life and ministry and why he is the way, the truth and the life.
Memory Verse: John 14:6. "Jesus answered, 'I am the way the truth and the life. No one comes to the Father, except through me.'"
View full details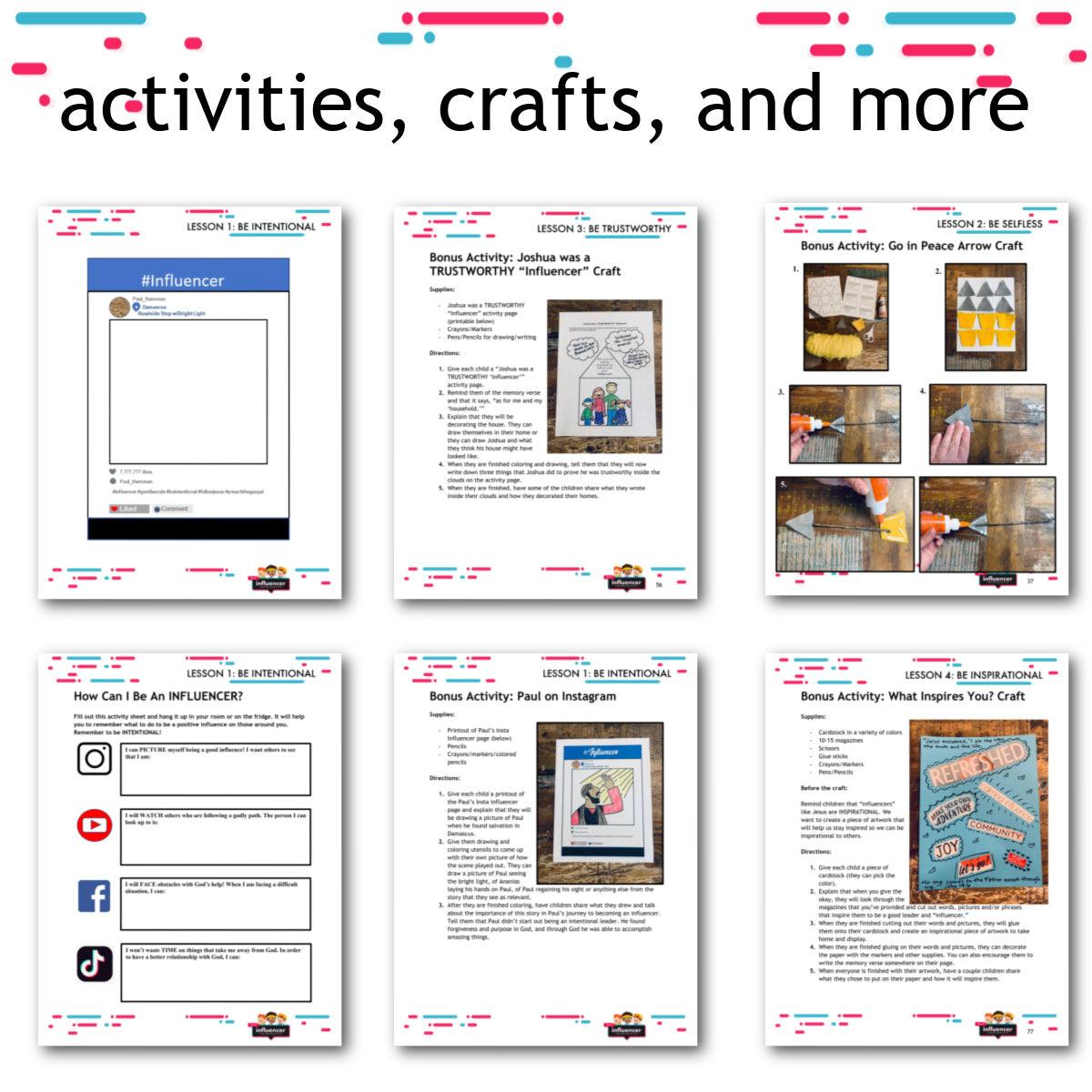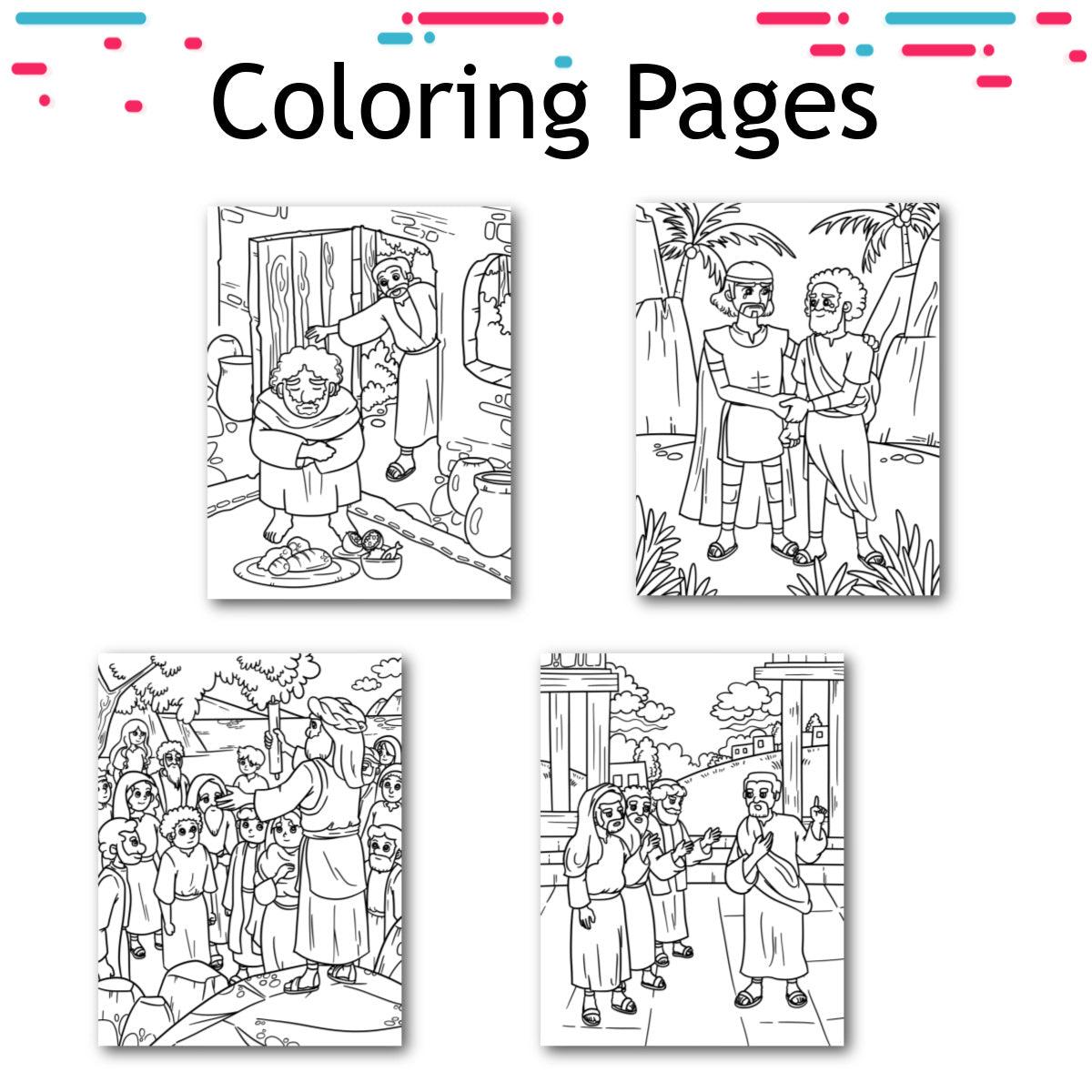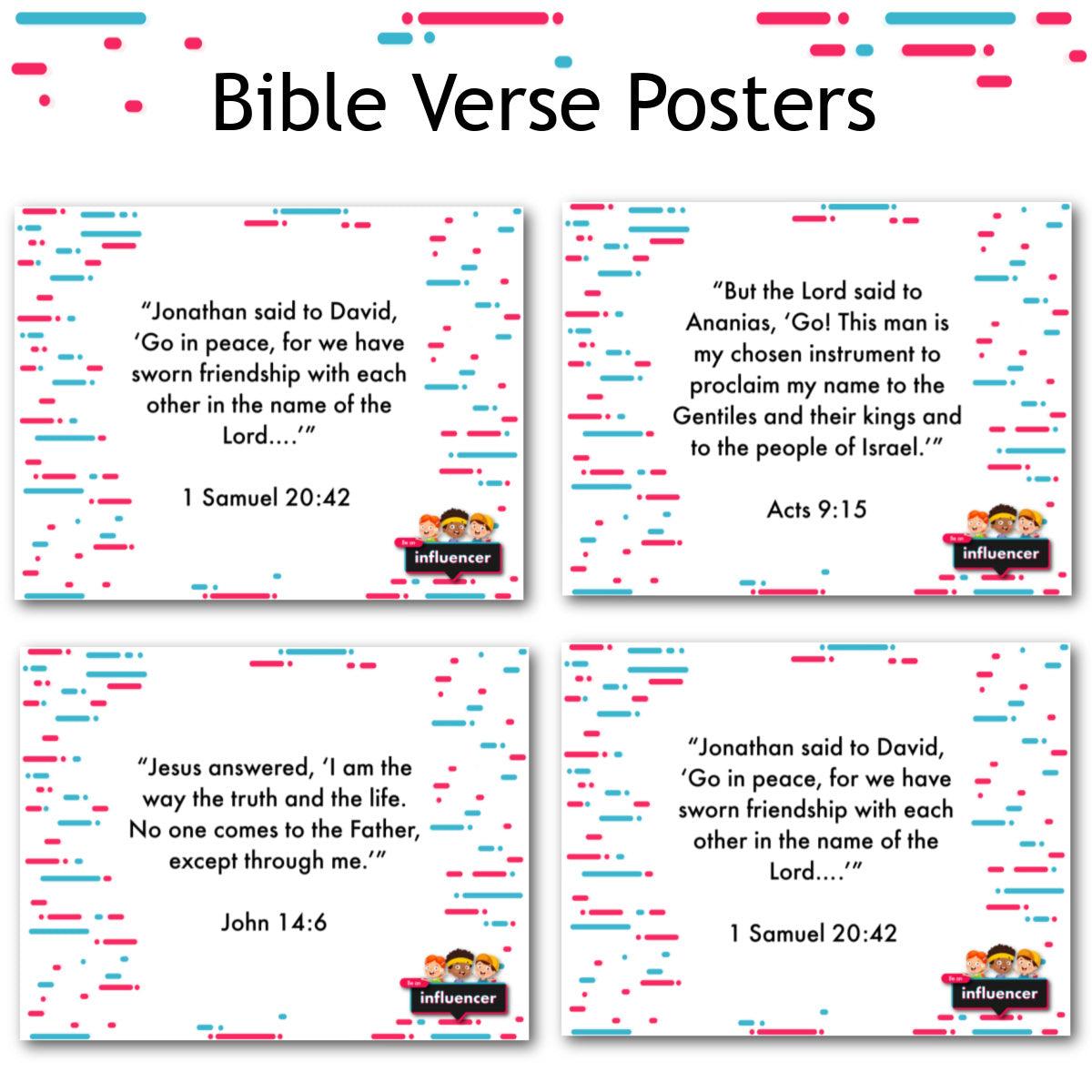 INFLUENCER
Absolutely amazing. My Sunday school kids loved it; the skits, the message, the songs ministered to them. I loved it and will be ordering more without a doubt.
kids love acting
The kids loved acting out the shows. It kept them engaged and the theological content was good. I felt a little funny about doing the show with Jesus talking- in fact, that is next week and I haven't decided what I'm going to do yet. I might just have the other people talk about Jesus.
Curriculum sent by Heaven
We love all the curriculum content. Very detail work. Children enjoyed this great curriculum content. Children learned how to influence others through God's Word.
I want to take the opportunity for you to continue doing such excellence work. Skits were very instructional and easy for the children to learn.
Very well developed instructions.
Please continue doing such amazing work.
Blessings!
Love it!
This has been a popular series for our mid-week group! They have enjoyed the "Influencer" slant and have related well to it! The way it's written has made it pretty memorable for our kids!
Awesome down load excellent content, helpful and fun skit's.
Influencer
I found this a great tool for my 3-4th grade PSR Students. The activities provided was engaging to that age level and they really enjoyed it. Especially the arrow activity and the fishing for the ping pong balls. They really paid attention to the stories relating to them which I felt was so important for their understanding.
Be His
Adults and children alike have an opportunity to be a spokesperson for God. We have had the perfect example of how we should act and speak. This was given to us by Jesus. Now Jesus lights our way. The Holy spirit guides our tongues to speak to others about God's commands. Children can influence others in their actions and words. This pleases our Lord. "Be an influencer" teaches us that we can make a difference at any age.
New & Popular Children's Ministry Curriculum