Regular price
$15
Sale price
$9
Unit price
per
Sale
🎉 Coming Soon
Heads UP ⏰ This item is included in the Black Friday Bundle Deal. Get $3,897 worth of children's ministry curriculum for only $97.

Format 📩 Instant PDF Download
🚸 Ages 6-12 Years Old
Life is full of unknown developments that force us to lean on the Lord and trust Him for guidance in all things. We are often called to obey God without knowing the eventual outcome of circumstances, having faith that He is with us and will help us. This lesson reminds children of those principles while telling the story of Joshua and the Israelites crossing the Jordan. Use activities and conversation to highlight the importance of trust and explain God's constant steadfastness. 
God is with us always! We often fail to understand His will and ways, but we can be assured that He has good plans for us. The Ark of the Covenant reminded Israelites of God's presence and faithfulness, and He provided for them. Today, we know that Jesus allows us to be in the presence of the Father, and that He goes with us no matter what. We can trust and obey, knowing He will supply our needs and bless our lives.   
Passage: Joshua 3:1-17; 4:1-7
Target Audience: Kindergarten-6th grade 
Materials Needed: Construction paper; decorative supplies; glue; markers or crayons; tape; scissors; box/container; paper plates; stones or rocks; popsicle sticks; Bibles.
More Resources Online
Easy-Prep Bible Lesson
Target Age: elementary school, adaptable for K-6th grades
Translation: choose NIV, ESV or KJV
Stand-alone lesson plan
Instant digital download
Flexible teaching plan for mixed age groups
Ideal for Kids' Church or Sunday School (45-60 minutes teaching time)
Attention Keeping Activities
Object Lesson with video demonstration

Game Suggestions
Easy To Follow Teaching Plan
Craft Ideas with video demonstration 
Coloring Page
Word Find Worksheet
Memory Verse Poster
View full details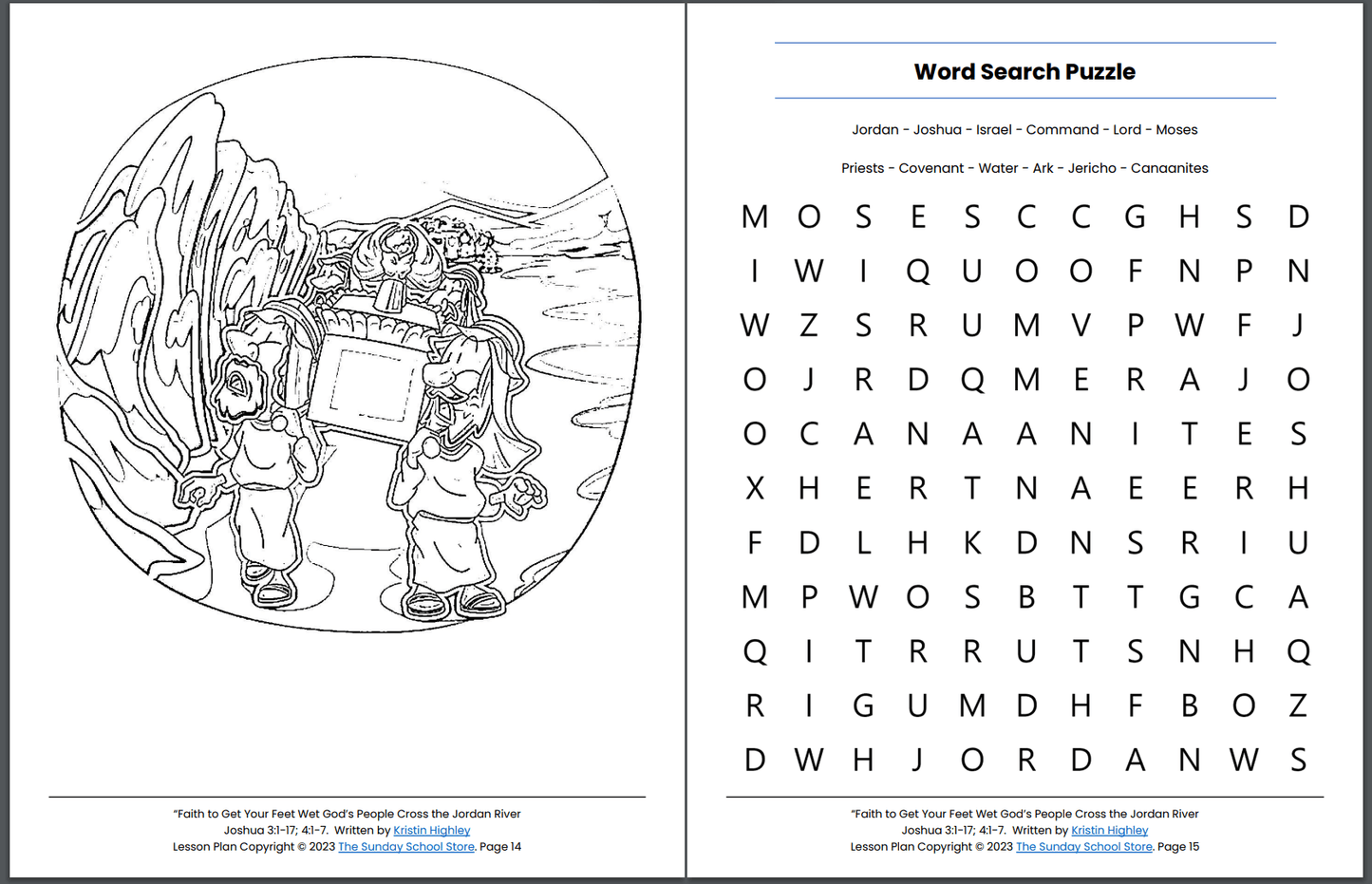 New & Popular Children's Ministry Curriculum