Regular price
$15
Sale price
$9
Unit price
per
Sale
🎉 Coming Soon
Heads UP ⏰ This item is included in the Black Friday Bundle Deal. Get $3,897 worth of children's ministry curriculum for only $97.

Format 📩 Instant PDF Download

🚸 Ages 6-12 Years Old
Do we need to see things to believe them? How can we know that what we are told is true? This lesson focuses on the importance of trusting God's Word as a reliable source of information, given for us to know and understand who He is. It also reviews the story of "doubting Thomas" to consider that doubts will come, but Christ is with us in those doubts. Genuine faith is belief without physical proof.
We have a tendency to scoff at the "doubter" for his skepticism, but there's an important element to note in this passage. Jesus didn't leave Thomas in his uncertainty; He showed up. He recognized that Thomas was not so strong in his faith, but He came to work him through it. Thomas went on to do amazing things for God's kingdom. We can take from this how much Christ cares about us. He is with us in our doubts, and will help us through them. He is always with us and gives His peace. 
Passage: John 20:19-31
Target Audience: Kindergarten-6th grade 
Materials Needed: Construction paper; paper plates; crepe paper; glue; markers or crayons; tape; scissors; decorative supplies; paper towel or toilet paper tubes; string; paper bags; Bibles.
More Resources Online
Easy-Prep Bible Lesson
Target Age: elementary school, adaptable for K-6th grades
Translation: choose NIV, ESV or KJV
Stand-alone lesson plan
17-pages of teaching material
Instant digital download
Flexible teaching plan for mixed age groups
Ideal for Kids' Church or Sunday School (45-60 minutes teaching time)
Attention Keeping Activities
Object Lesson with video demonstration

Game Suggestions
Easy To Follow Teaching Plan
Craft Ideas with video demonstration 
Coloring Page
Word Find Worksheet
Memory Verse Poster
Secure Purchase & Money Back Guarantee
Every purchase from the Sunday School Store comes with a 100% money-back guarantee. If you're not happy for any reason, just contact support and we will make it right. Our checkout process has the most advanced security. Customers can pay with credit card or PayPal. Simply choose your payment method during the checkout process.  
View full details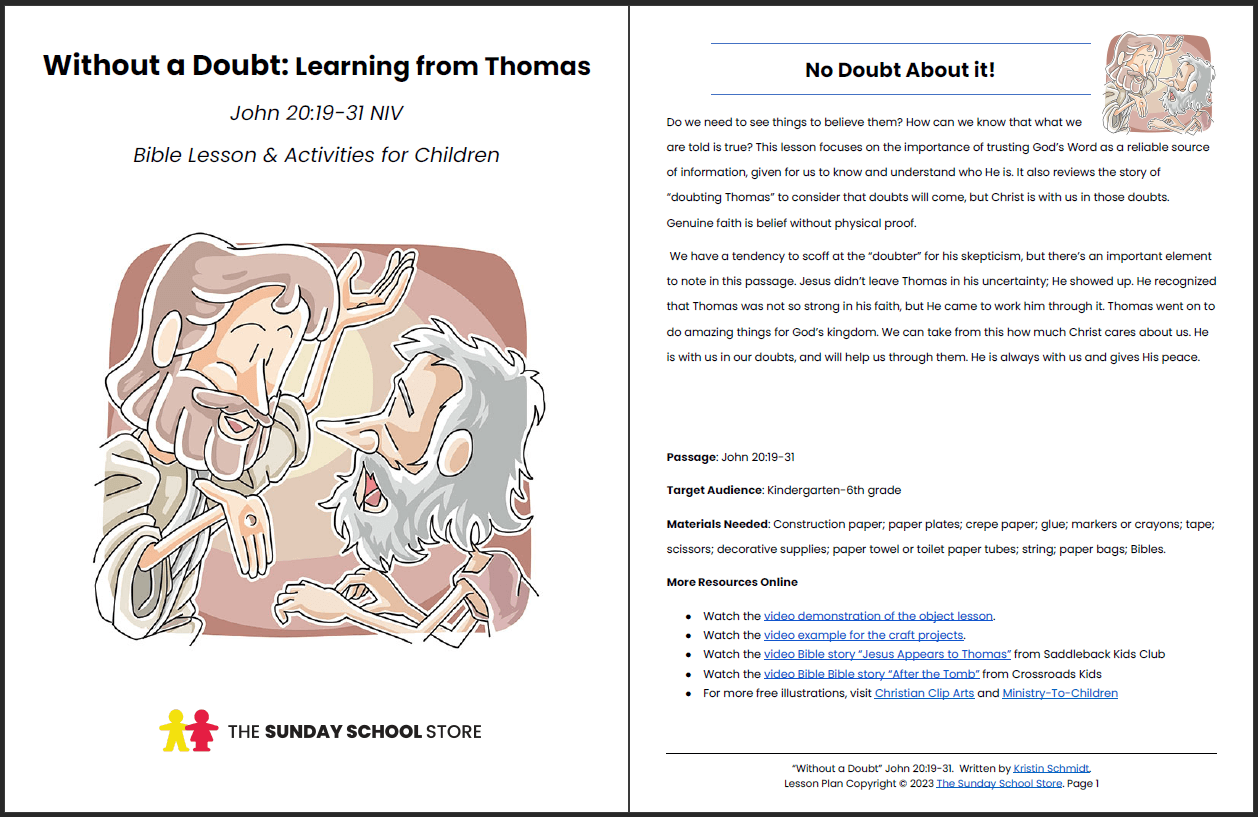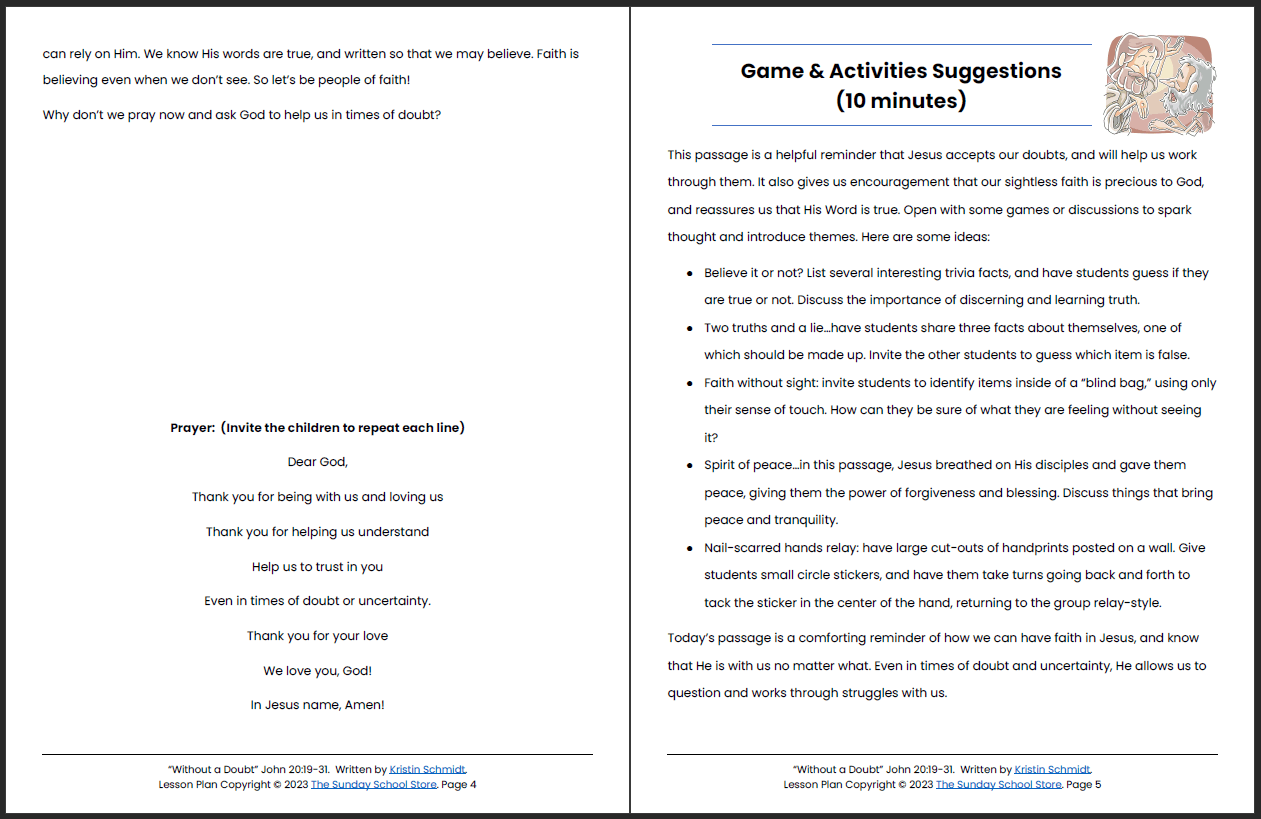 Amazing material
The download was very interesting. It made teaching the children enjoyable. The children were able to grasp the story about doubting Thomas easily. Thank you for the material. May God bless you all who have put effort into putting such wonderful materials together.
Learning from Doubting Thomas (John 20:19-31) Printable Bible Lesson & Sunday School Activities
Learning from Doubting Thomas (John 20:19-31) Printable Bible Lesson & Sunday School Activities
Great lesson
This lesson was well organized, had good ideas for introducing topic, story background and prompts -thanks!
Doubting Thomas
Great lesson and gospel focused
New & Popular Children's Ministry Curriculum