Regular price
$15
Sale price
$9
Unit price
per
Sale
🎉 Coming Soon
Heads UP ⏰ This item is included in the Black Friday Bundle Deal. Get $3,897 worth of children's ministry curriculum for only $97.

Format 📩 Instant PDF Download
🚸 Ages 6-12 Years Old
This lesson explores a somewhat challenging story but covers an important life truth in the process. The slaughter of children ordered by Herod was an awful episode in the history of Israel, but God rescued Jesus and His family, sending an angel to give Joseph special instructions. Use a blindfolded volunteer and specific directions to illustrate the trust required in following God's commands. The focus of this lesson is on trusting God, even during scary circumstances. We don't always understand what is happening, but we can listen to our Heavenly Father and know that He is with us and wants what's best for us.
The Lord promises to be with us and take care of us, no matter what else is happening in our lives. He sent an angel to warn Joseph that the family needed to leave for Egypt, which kept Jesus safe until Herod was no longer a threat to the Christ child. He will always be with us and keep us safe, too. Life can be scary and uncertain at times, but we can always count on Him for safety, love, and protection.
Bible Passage: Matthew 2:13-23 
Target Audience: Kindergarten-6th grade (may be best suitable for older audiences)
Materials Needed: Construction paper, markers, stickers, scissors, tape/glue, popsicle sticks, paper plates, paper bags, coffee filters, paper towel tubes, string, pipe cleaners, decorations (all optional, depending which activities you choose to use). Object lesson props can include blindfolds, special treats of some sort of treat.
More Resources Online
Easy-Prep Bible Lesson
Target Age: elementary school, adaptable for K-6th grades
Translation: choose NIV, ESV or KJV
Stand-alone lesson plan
16-pages of teaching material
Instant digital download
Flexible teaching plan for mixed age groups
Ideal for Kids' Church or Sunday School (45-60 minutes teaching time)
Attention Keeping Activities
Object Lesson with video demonstration

Game Suggestions
Easy To Follow Teaching Plan
Craft Ideas with video demonstration 
Coloring Page
Word Find Worksheet
Memory Verse Poster
Secure Purchase & Money Back Guarantee
Every purchase from the Sunday School Store comes with a 100% money-back guarantee. If you're not happy for any reason, just contact support and we will make it right. Our checkout process has the most advanced security. Customers can pay with credit card, PayPal, or mail a physical check from their church. Simply choose your payment method during the checkout process. 
More Bible Lessons for Kids on Baby Jesus Flight to Egypt
The Holy Family Flight to Egypt Matthew 2 Sunday School Lesson 
Children's Sermon on Matthew 2:13-23 The Escape to Egypt
View full details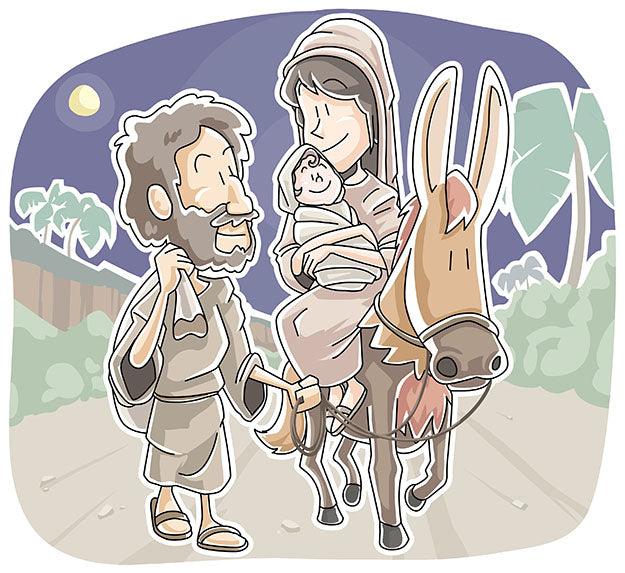 The Escape to Egypt (Matthew 2:13-23) Printable Bible Lesson & Sunday School Activities
Excellent Lesson -The Escape to Egypt
Our Religious Ed students loved this lesson plan. We talked about trust and blind faith in God. We used the blindfold activity with a little treasure at the end of the "journey". Kids took turns being blindfolded and directing each other. A fun and powerful exercise in understanding our relationship with God.
The Escape to Egypt (Matthew 2:13-23) Printable Bible Lesson & Sunday School Activities
Just used it today
Thank you so much for this lesson. It has been a great help and guide as we are only a very small Sunday School group they are invaluable and we have just used it for our lesson today, God Bless you.
Escape to Egypt
Absolutely love the lesson. The children stay focused and take part in all the teaching throughout the lesson. Thank you so much for creating these lessons that are easy to follow, have great storylines to teach and lots of fun for the children. Our class is ages 5 to 11 and all the children participate and have fun.
The Escape to Egypt (Matthew 2:13-23) Printable Bible Lesson & Sunday School Activities
A wonderful resource. lesson, craft, printables..great
Like Always great Sunday school lessons for 1st, 2nd graders
The Escape to Egypt
We enjoyed the chance to talk with the children about trusting in God to lead us.
Bible Activities
I used only a tiny bit of the information provided but that was because I ran out of presentation time. I especially liked that I could choose which version of the Bible I wanted to use. In my church we only use the King James Version.
I only teach 2 children but they enjoyed the story and craft page
New & Popular Children's Ministry Curriculum