Regular price
$15
Sale price
$9
Unit price
per
Sale
🎉 Coming Soon
Heads UP ⏰ This item is included in the Black Friday Bundle Deal. Get $3,897 worth of children's ministry curriculum for only $97.

Format 📩 Instant PDF Download
🚸 Ages 6-12 Years Old
What is faith, and how do we strengthen it? Jesus was asked how much faith is needed in life and responded that all we need is faith the size of a mustard seed. What is that supposed to mean? Faith does not depend on any action or merit of our own, but on what we put our faith in. The smallest thing can have tremendous potential in the right hands. This lesson will show children that we don't need to have special qualities or do specific things to be used by the Lord.
We sometimes ask the same question the disciples did: how much faith do we need? Can we determine if we have or do "enough" for God? The parable of the mustard seed shows us we will never "be enough", nor do we need to. Jesus provides all that we need. The Holy Spirit gives us faith. Our salvation and our faith are not about what we do or how we do it but trusting in God to handle our needs. 
Passage: Luke 13:18-19; Luke 17:5-6
Target Audience: Kindergarten-6th grade
Materials Needed: Construction paper, markers, stickers, scissors, tape/glue, paper plates, string/pipe cleaner, brad fasteners, bags, seeds, or seed-like candy (all optional, depending which activities you choose to use). Object lesson props can include items that can be knocked over, various sizes of balls or objects that would knock them over, very small items, mustard seed (jarred, if available).  
Easy-Prep Bible Lesson
Target Age: elementary school, adaptable for K-6th grades
Translation: choose NIV, ESV or KJV
Stand-alone lesson plan
17-pages of teaching material
Instant digital download
Flexible teaching plan for mixed age groups
Ideal for kids church or Sunday School (45-60 minutes teaching time)
Attention Keeping Activities
Object Lesson with video demonstration

Game Suggestions
Easy To Follow Teaching Plan
Craft Ideas with video demonstration 
Coloring Page
Word Find Worksheet
Memory Verse Poster
Secure Purchase & Money Back Guarantee
Every purchase from the Sunday School Store comes with a 100% money-back guarantee. If you're not happy for any reason, just contact support and we will make it right. Our checkout process has the most advanced security. Customers can pay with credit card, PayPal, or mail a physical check from their church. Simply choose your payment method during the checkout process. 
View full details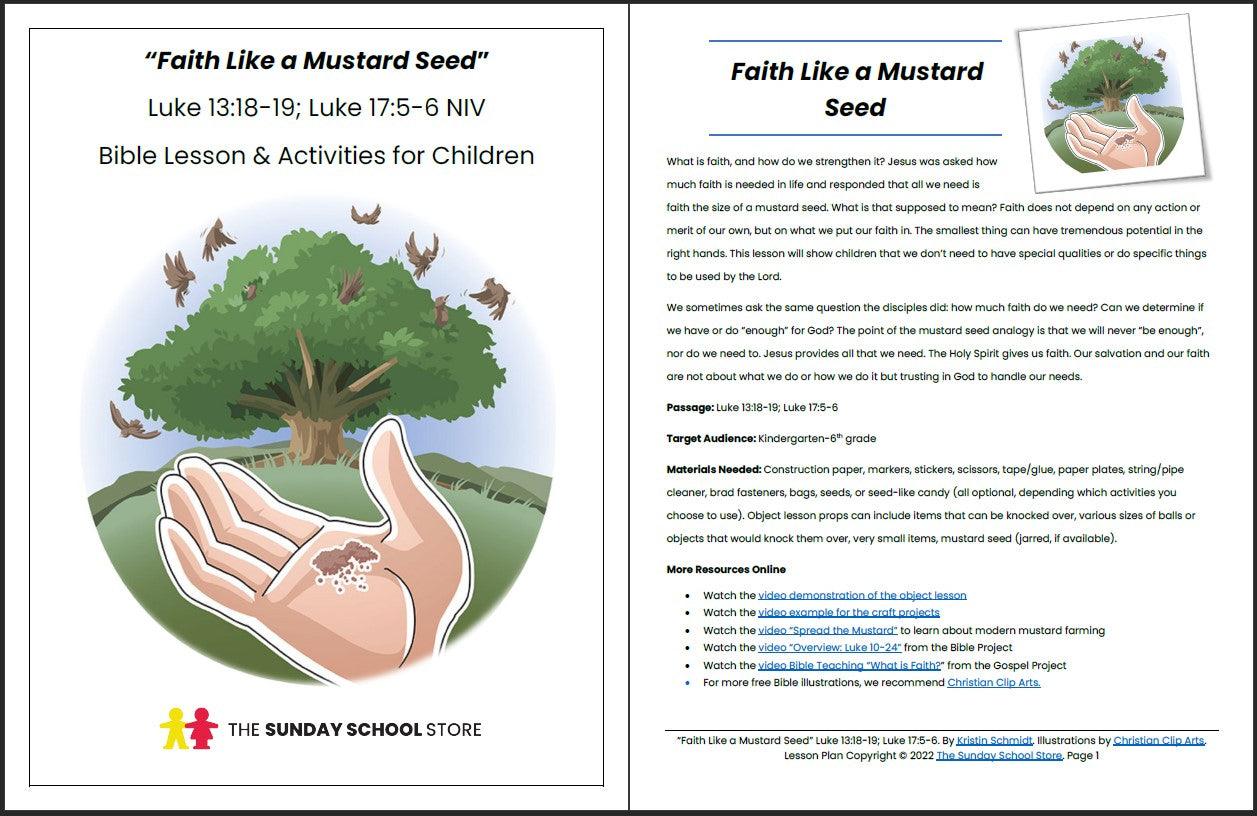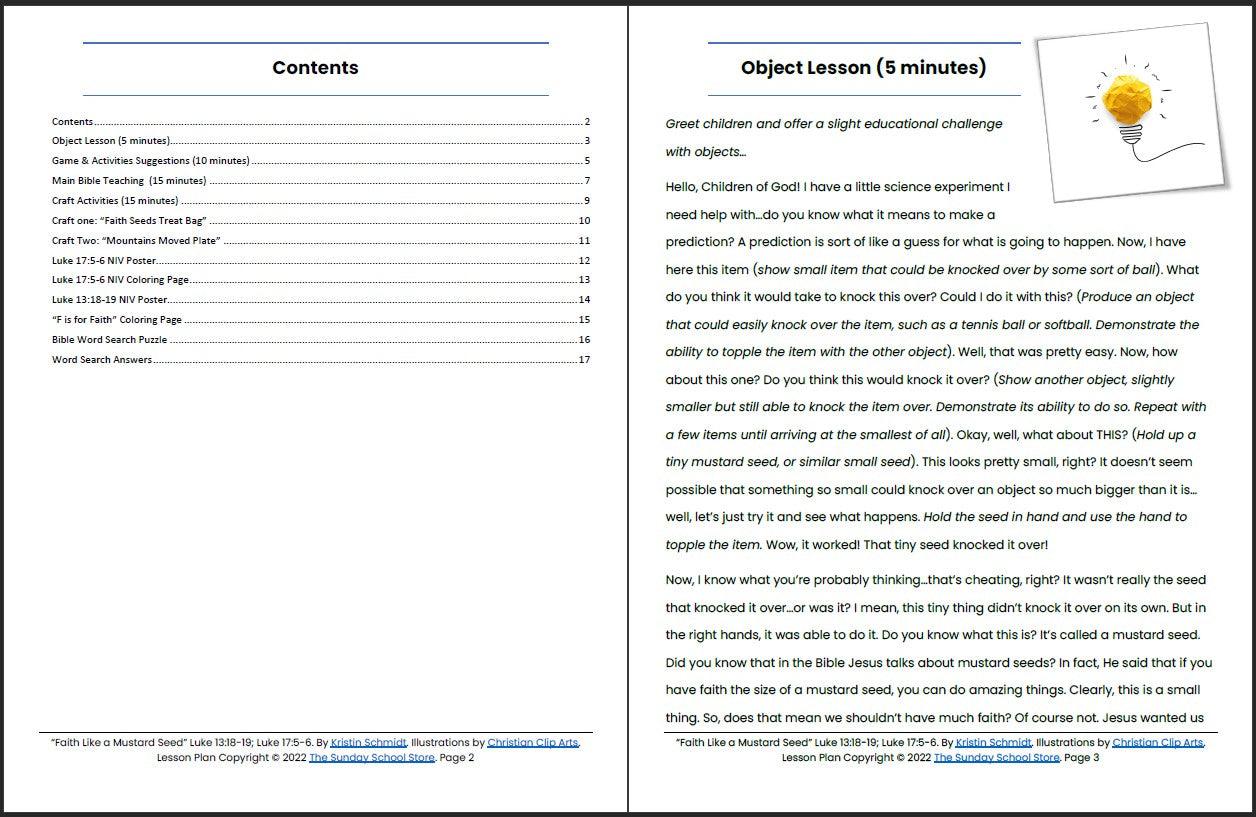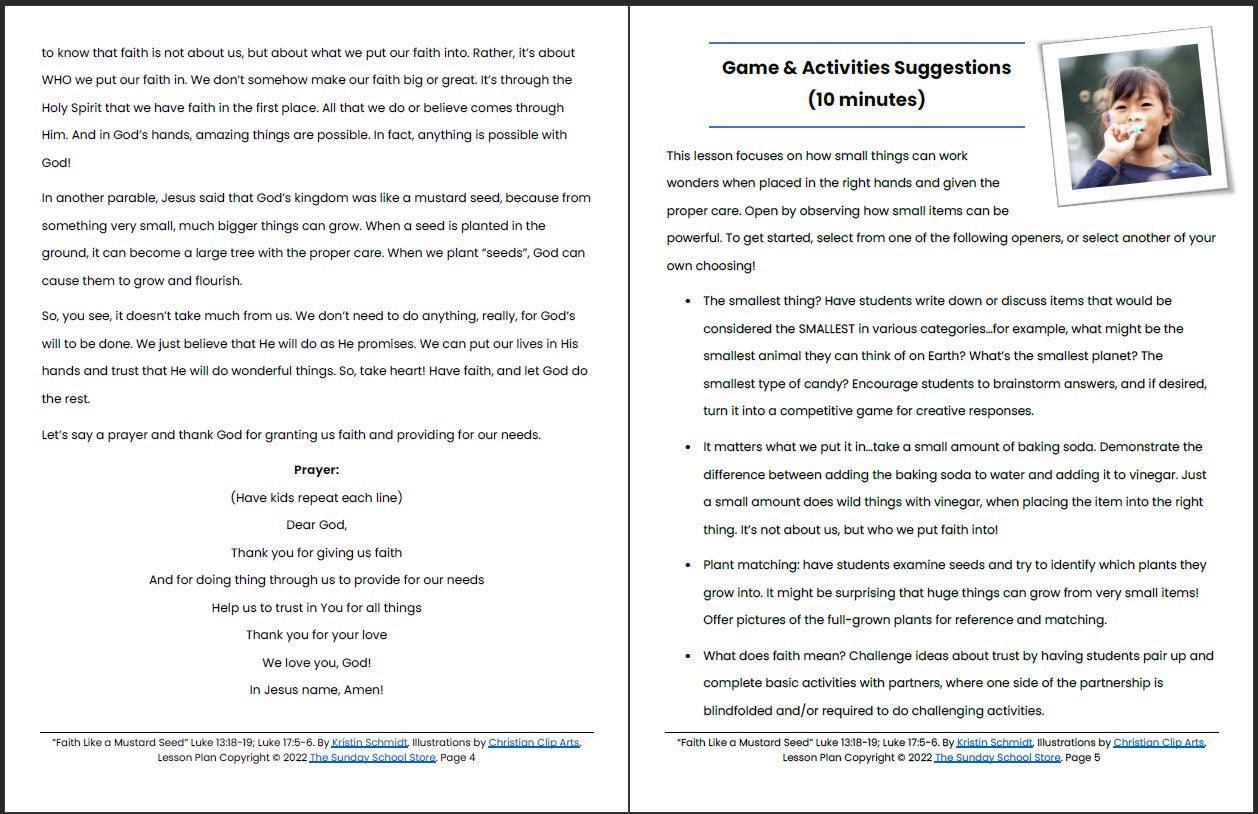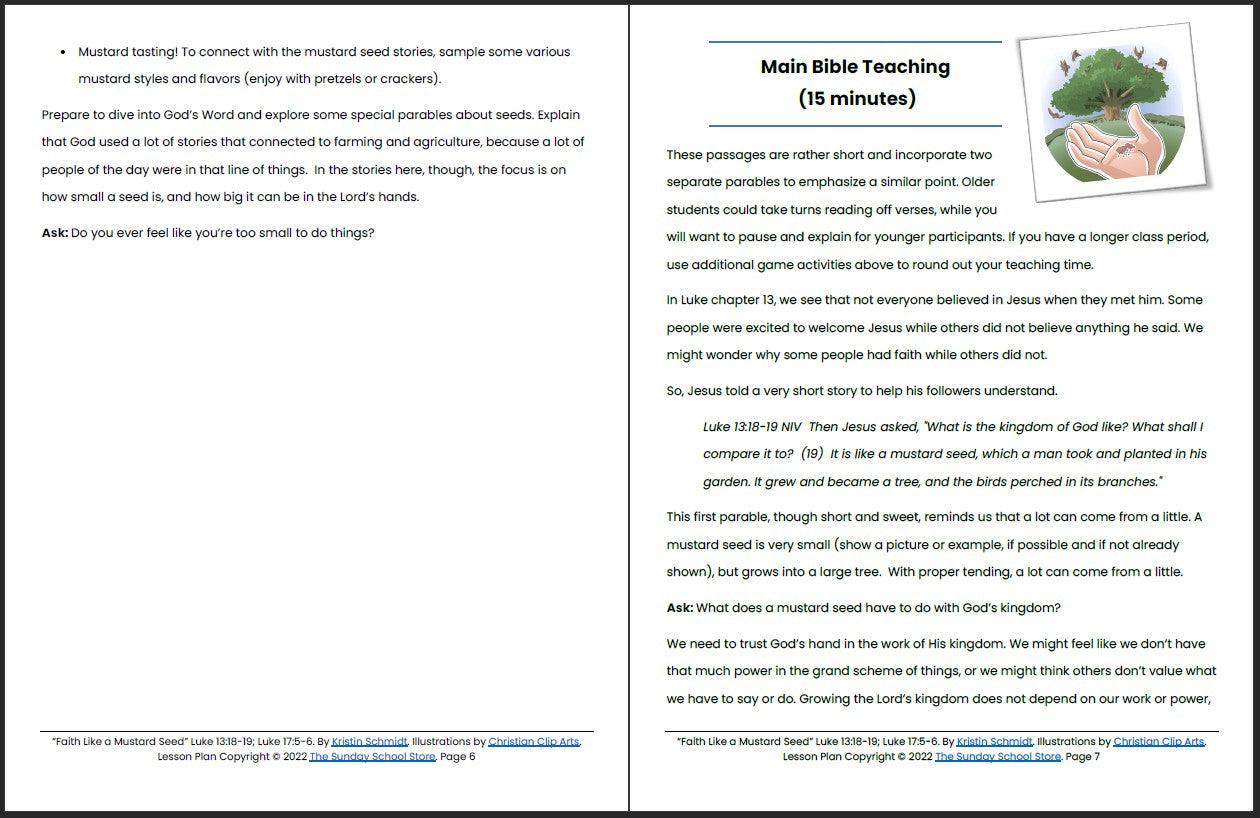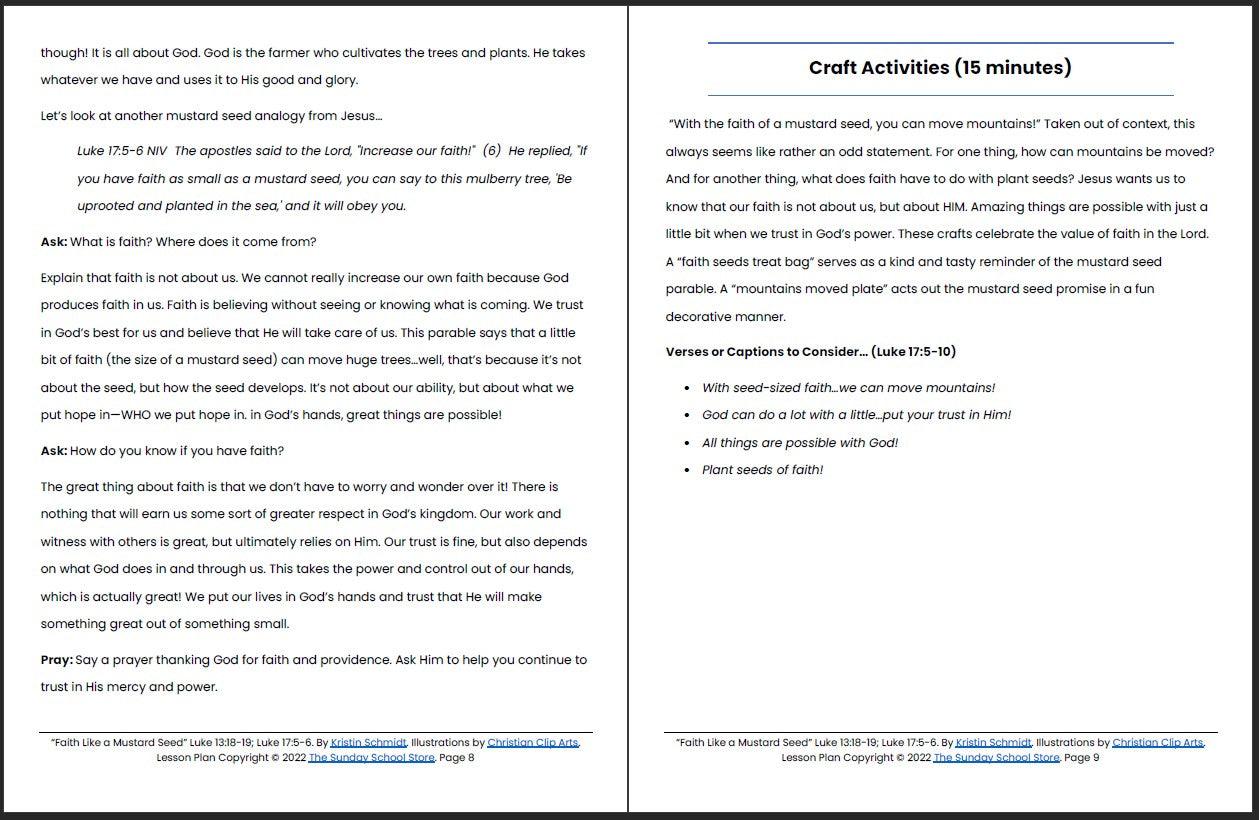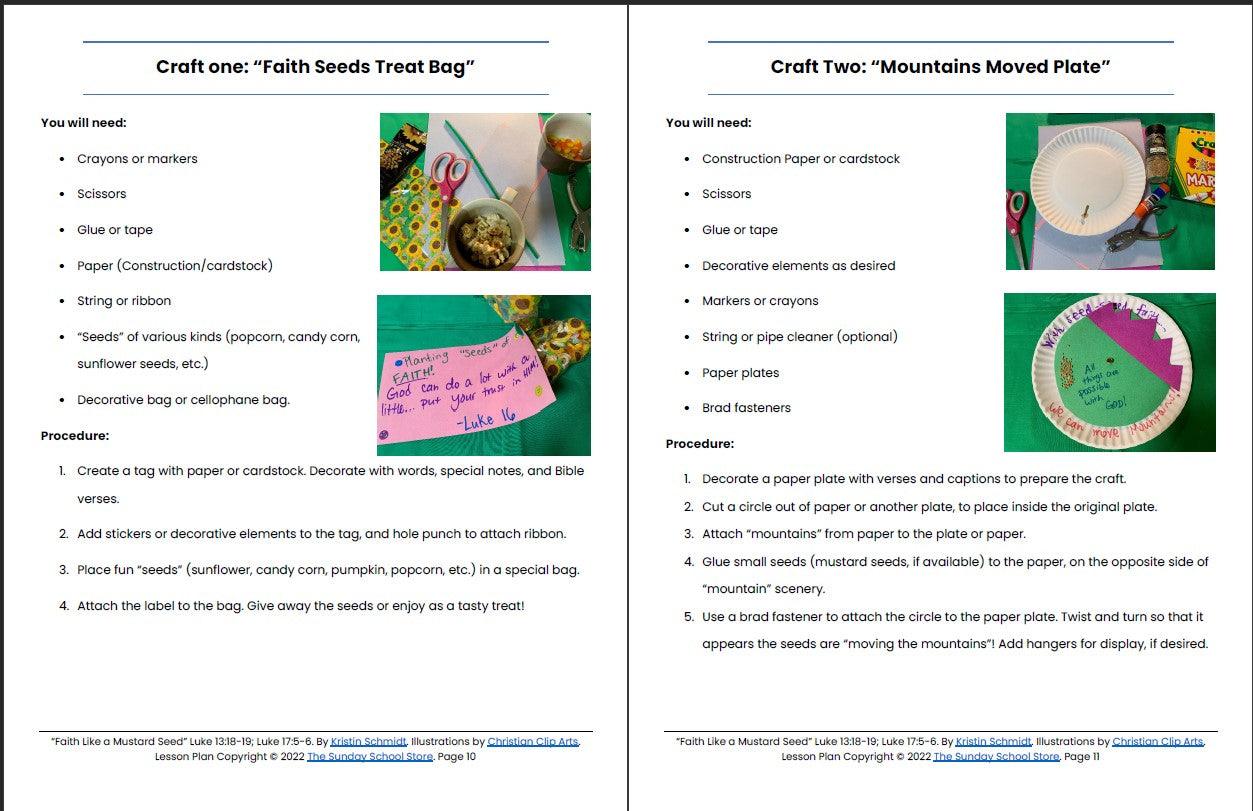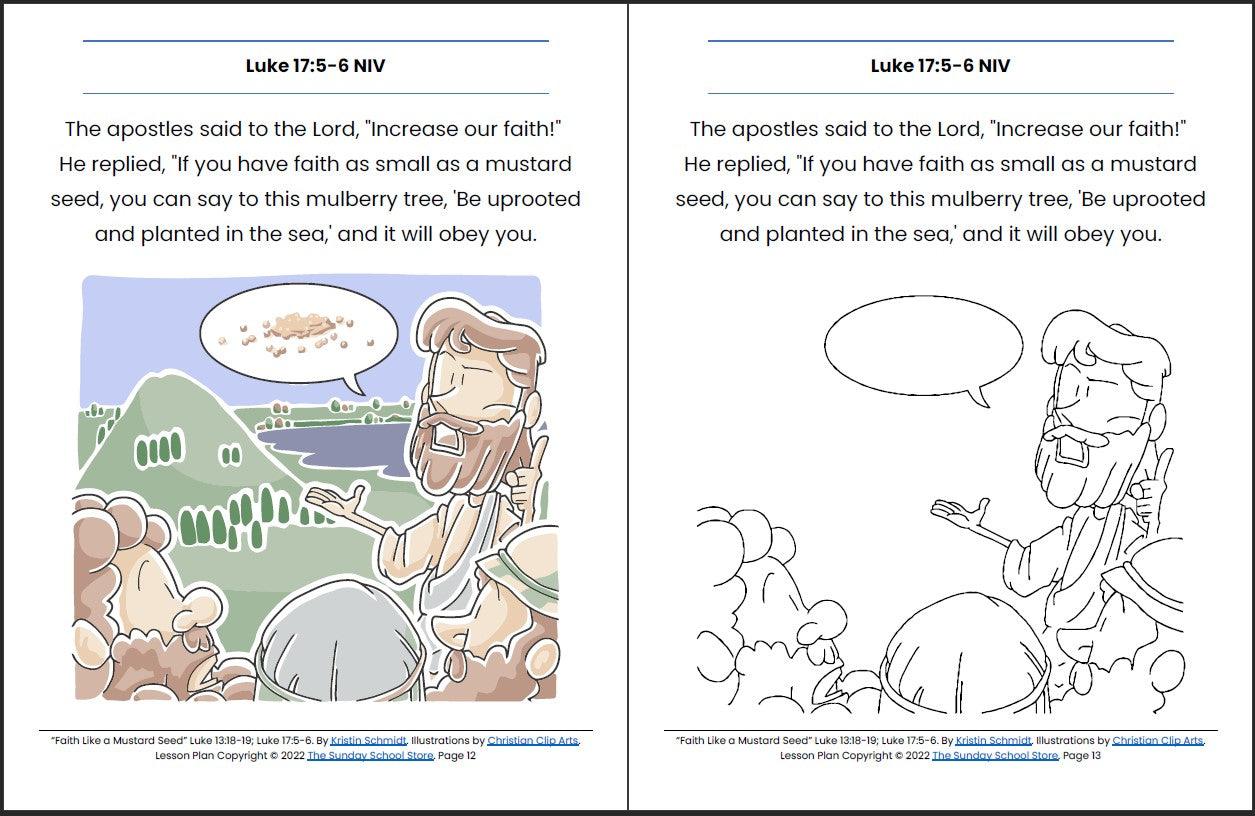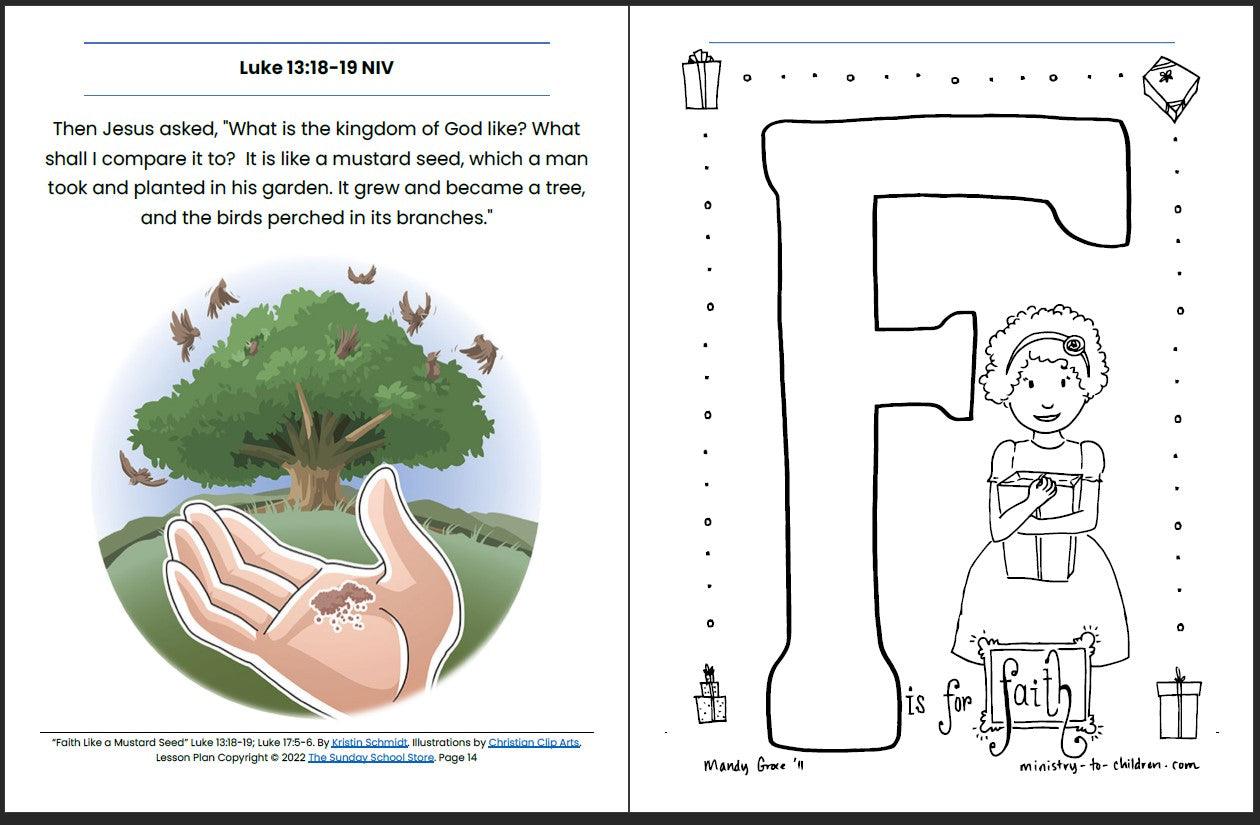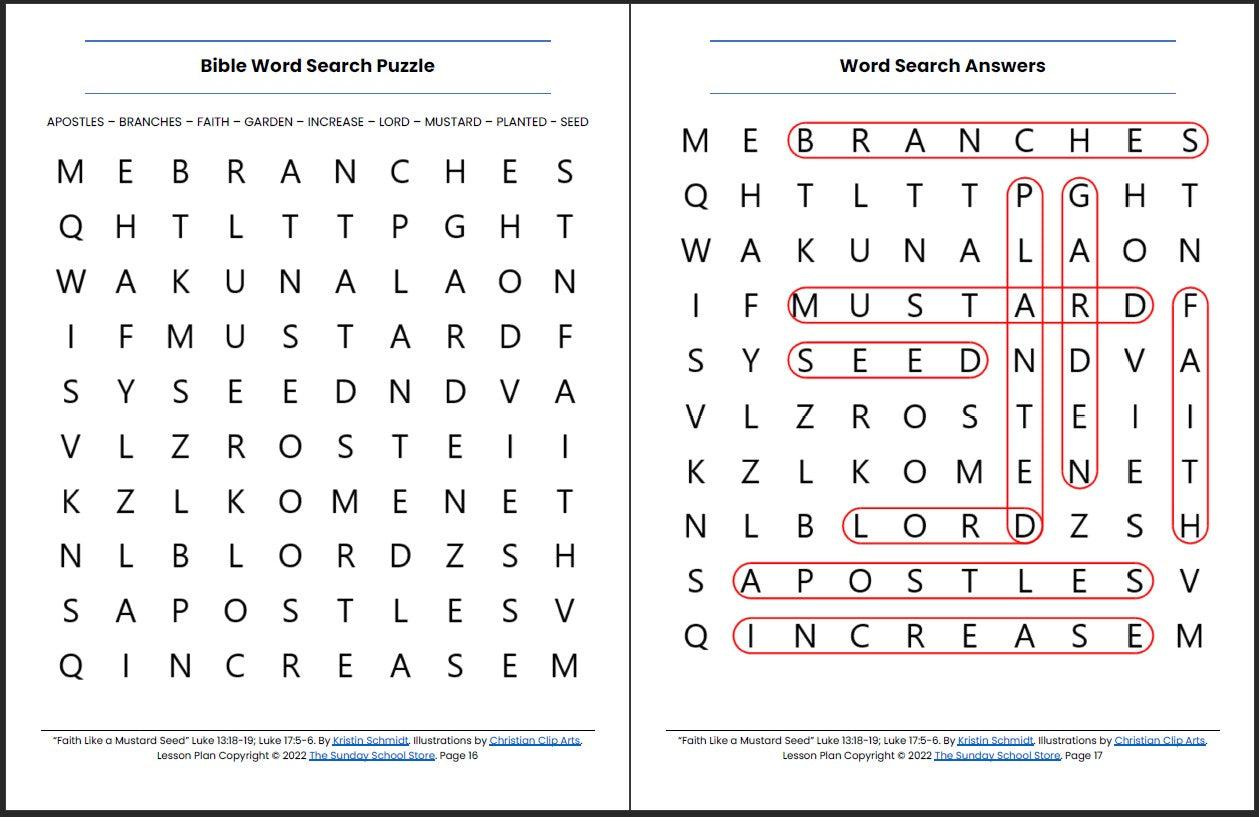 Great resources
I am very impressed with the range and scope of the resources that come with each lesson. We are a small group with limited resources right now and your teaching aids - and the range of great kid's church ideas, outlines and cool images your site - are a great blessing to us. Thank you.
FAITH LIKE A MUSTARD SEED
ADULTS LIKED THE LESSON AS MUCH AS THE KIDS. KIDS ENJOYED THE ACTIVITY
My class enjoyed the lesson and the craft activity.
Faith like a mustard seed!
The material was excellent! Thank you
Looks great
I didn't actually up doing this topic, so I didn't use any of the lesson. However, I have used your craft ideas many times! Sometimes I use an activity idea or draw from the way you present the topic, too. Your ideas are great. Thanks.
Good
It is a really great help for our Kids Church Ministry ...
It was an excellent title
It's about our Faith to the LORD even in just like a mustard seed we will be saved as long as we believe that Jesus Christ is our saviour and believe and trust in him even we didn't see that in everything we have is from our God.we must always acknowledge Him all the time and every plan we do always comment to the LORD.
Faith Like a Mustard Seed (Luke 13 & 17) Printable Bible Lesson & Sunday School Activities
Excellent Lesson
This lesson was very good. The children enjoyed it and I enjoyed teaching. It was easy for them to understand but still very impactful.
New & Popular Children's Ministry Curriculum