Limited Time Only ⏰ This lesson is included in the Print & Teach ⏩ Curriculum Bundle Deal. For less than $1 per week, download a comprehensive library of Bible teaching for kids.

CLICK HERE to See the DEAL
Regular price
$15
Sale price
$0
Unit price
per
Sale
Unavailable
⌛ {timer} ⌛
DEAL ENDS SOON
Format 📩 Instant PDF Download
🚸 Ages 6-12 Years Old
Psalm 139 is a beautiful reminder that God knows us inside and out, better than we know ourselves. He has created us and loves us, and we can't even begin to understand the depth of that care. God does wonderful and amazing things in nature and in our lives, and He has a plan for our lives that existed before we were even born! This lesson explores unique features about our bodies as a reminder that God formed us and made us special. Each and every one of us is precious and handmade by the Lord, the maker of all things. 
There is great comfort and peace in recalling that we are made, known, and loved by the God of the universe. He is mighty and powerful and awesome, and yet He cares for us as individuals. God knows our thoughts and understands us inside and out. He knit us together and designed us with purpose. We can rest assured that we are valuable and loved, no matter what we might do or not do. We have worth because of God's love, and He will guide us in our lives. 
Passage: Psalm 139:1-24
Target Audience: Kindergarten-6th grade 
Materials Needed: Construction paper; decorative supplies; glue; markers or crayons; tape; scissors; pictures of fingerprints; ink pads; paper plates; Bibles.
More Resources Online
Easy-Prep Bible Lesson
Target Age: elementary school, adaptable for K-6th grades
Translation: choose NIV, ESV or KJV
Stand-alone lesson plan
Instant digital download
Flexible teaching plan for mixed age groups
Ideal for Kids' Church or Sunday School (45-60 minutes teaching time)
Attention Keeping Activities
Object Lesson with video demonstration

Game Suggestions
Easy To Follow Teaching Plan
Craft Ideas with video demonstration 
Coloring Page
Word Find Worksheet
Memory Verse Poster
View full details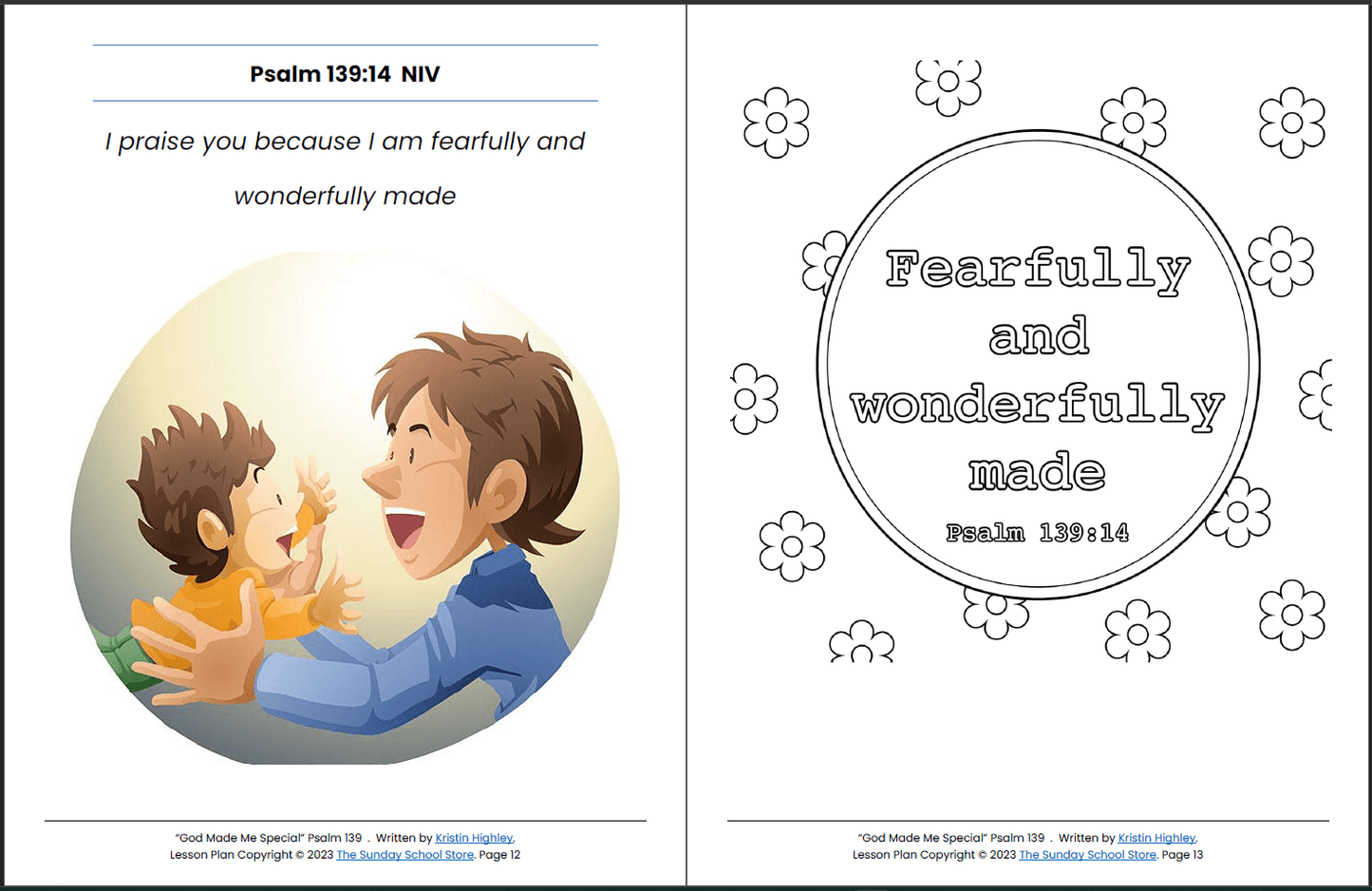 Fearfully and Wonderfully Made
God Made Me Special lesson
Very good, no cost and easy to get via download. Thanks.
God Made Me Special (Psalm 139) Printable Bible Lesson & Sunday School Activities
Help when needed
I am so grateful that I found your site when I was wondering how to teach a small mixed age group. This is great and thanks so much for offering it free. Bless you all, Esme
God Made Me Special
I appreciate the lesson and the crafts. thank you so much. Make more lessons and crafts available specially to starting church such as ours. God bless you richly!
God Made Me Special (Psalm 139) Printable Bible Lesson & Sunday School Activities
Love Free
Thanks so much for offering great lessons free! We are on a tight budget and I love having an opportunity to get quality materials.