Limited Time Only ⏰ This lesson is included in the Print & Teach ⏩ Curriculum Bundle Deal. For less than $1 per week, download a comprehensive library of Bible teaching for kids.

CLICK HERE to See the DEAL
Regular price
$15
Sale price
$0
Unit price
per
Sale
Unavailable
⌛ {timer} ⌛
DEAL ENDS SOON
Format 📩 Instant PDF Download
🚸 Ages 6-12 Years Old
Jesus can do the impossible, and in His hands, our meager offerings grow exponentially! When we trust and rely on Him for all things, nothing is out of the question. These are the important and memorable truths that we can take from the remarkable story of the feeding of the 5,000. From just a couple of fish and five loaves, Jesus fed a multitude. He cares for our needs and will always provide for them, even in unexpected ways. This message reminds children that everything we have comes from God, and we can lean on Him always. 
This miraculous feeding story found in Matthew 14 is a powerful and important reminder that Jesus supplies all of our needs. He cares for our bodies as well as our souls, and promises to provide for us. We might think that some tasks are out of our hands, but nothing is too hard for Him. When we are willing to offer whatever we have to the Lord, He can multiply and use it for His glory! 
Passage: Matthew 14:13-21
Target Audience: Kindergarten-6th grade 
Materials Needed: Construction paper; decorative supplies; glue; markers or crayons; tape; scissors; paper plates; baskets; toy or paper fish and loaves; goldfish crackers or Swedish fish; sponge or food coloring (optional); boxes or containers; Bibles.
More Resources Online
Easy-Prep Bible Lesson
Target Age: elementary school, adaptable for K-6th grades
Translation: choose NIV, ESV or KJV
Stand-alone lesson plan
Instant digital download
Flexible teaching plan for mixed age groups
Ideal for Kids' Church or Sunday School (45-60 minutes teaching time)
Attention Keeping Activities
Object Lesson with video demonstration

Game Suggestions
Easy To Follow Teaching Plan
Craft Ideas with video demonstration 
Coloring Page
Word Find Worksheet
Memory Verse Poster
View full details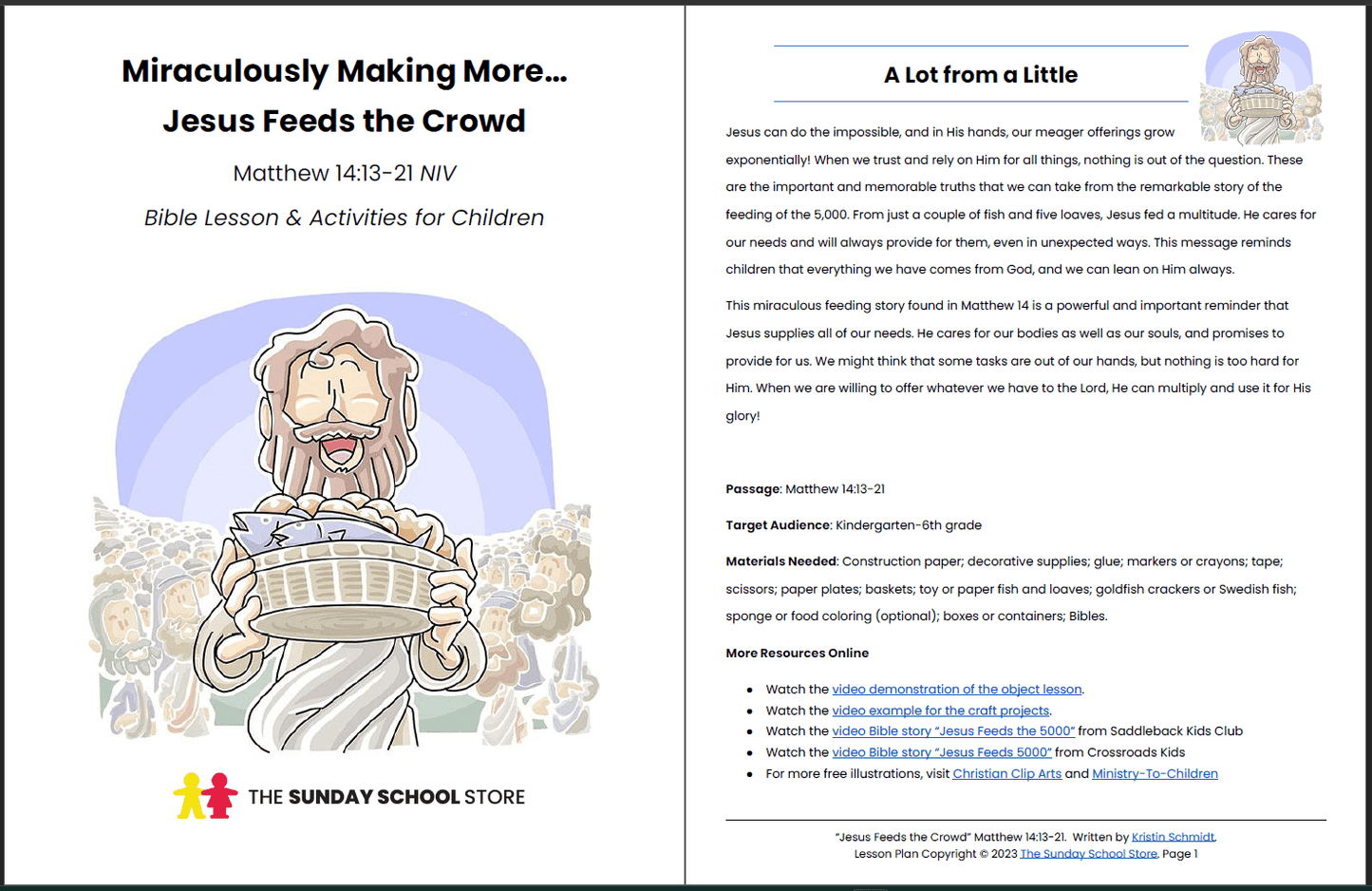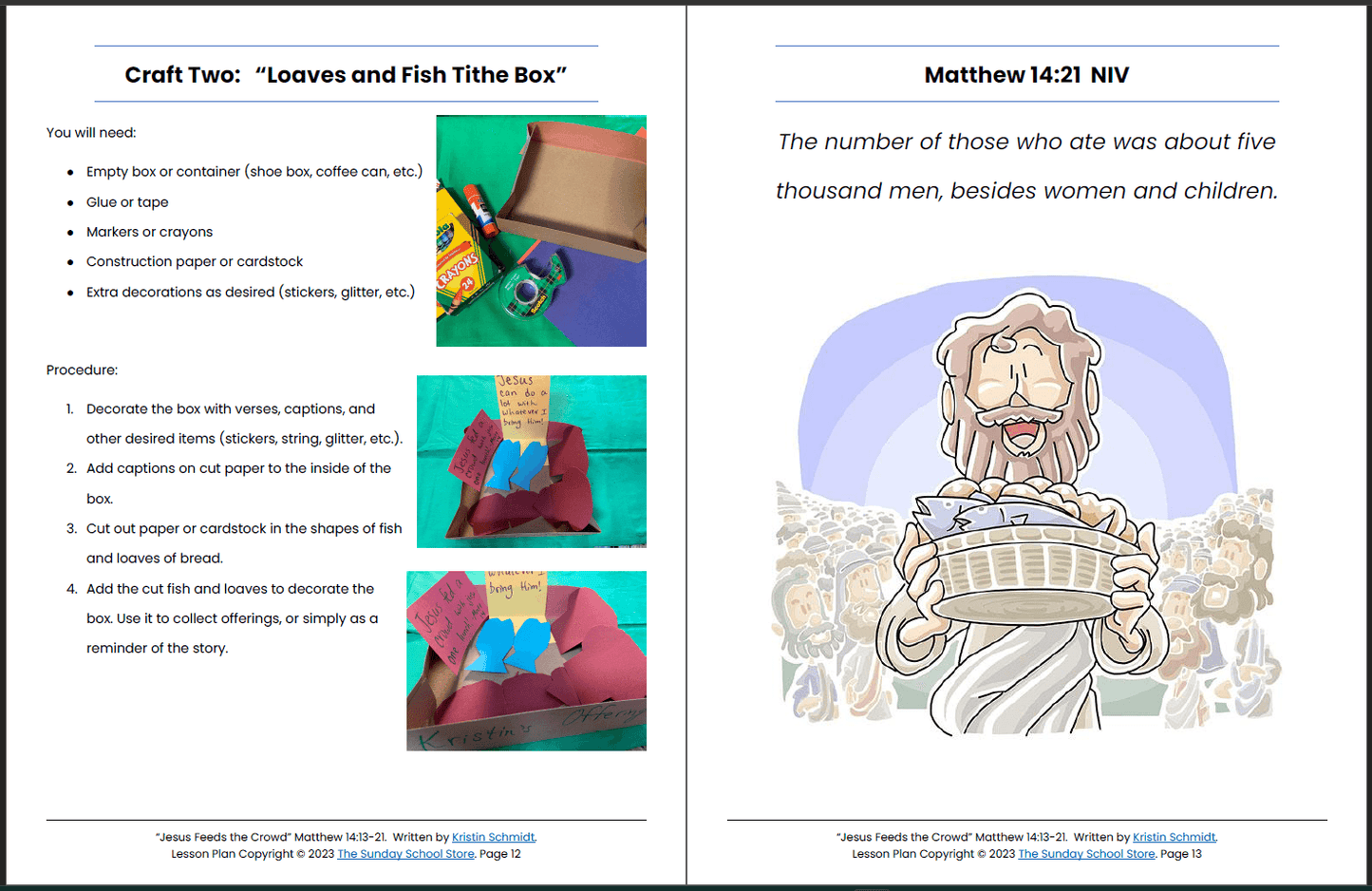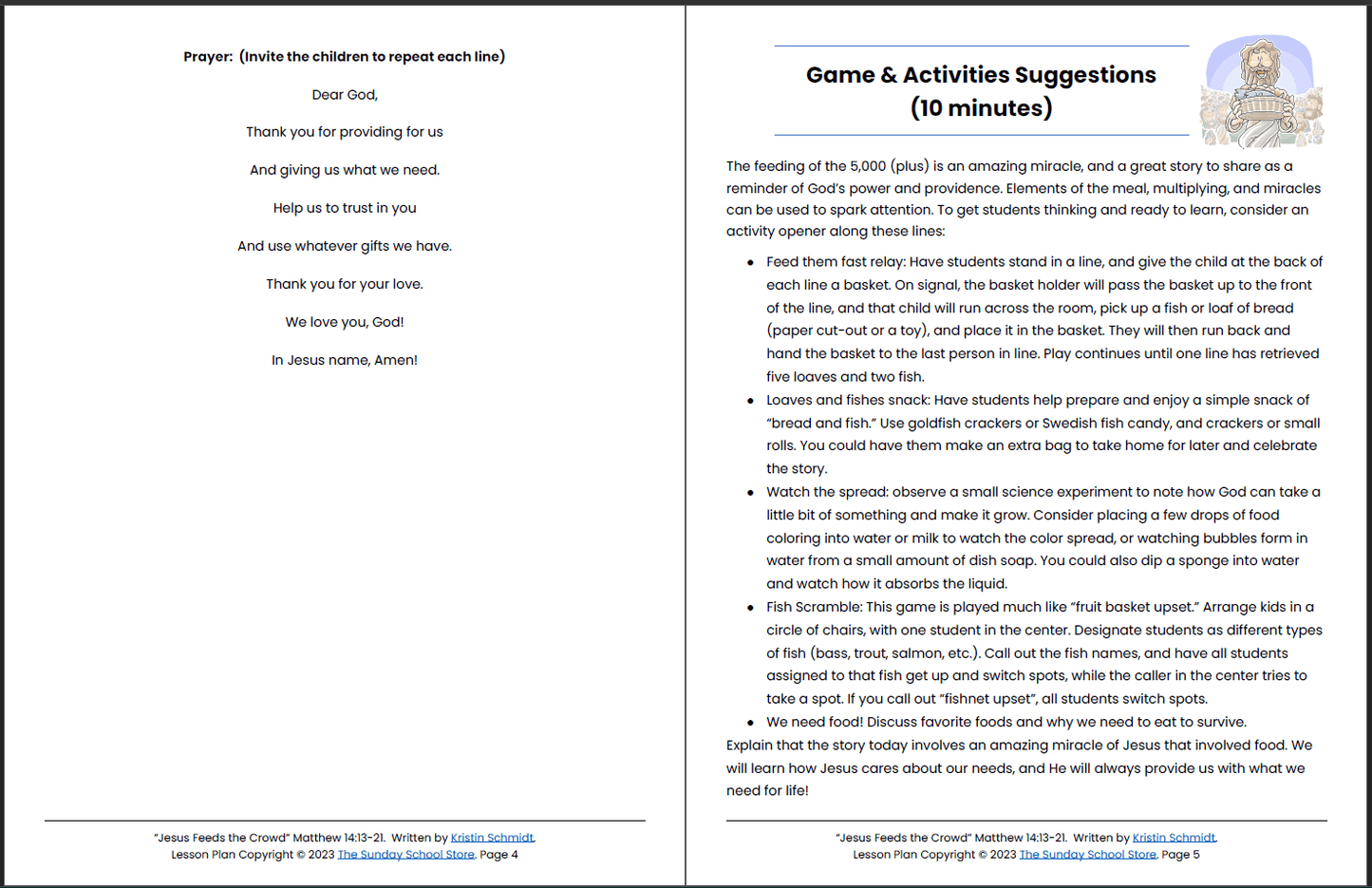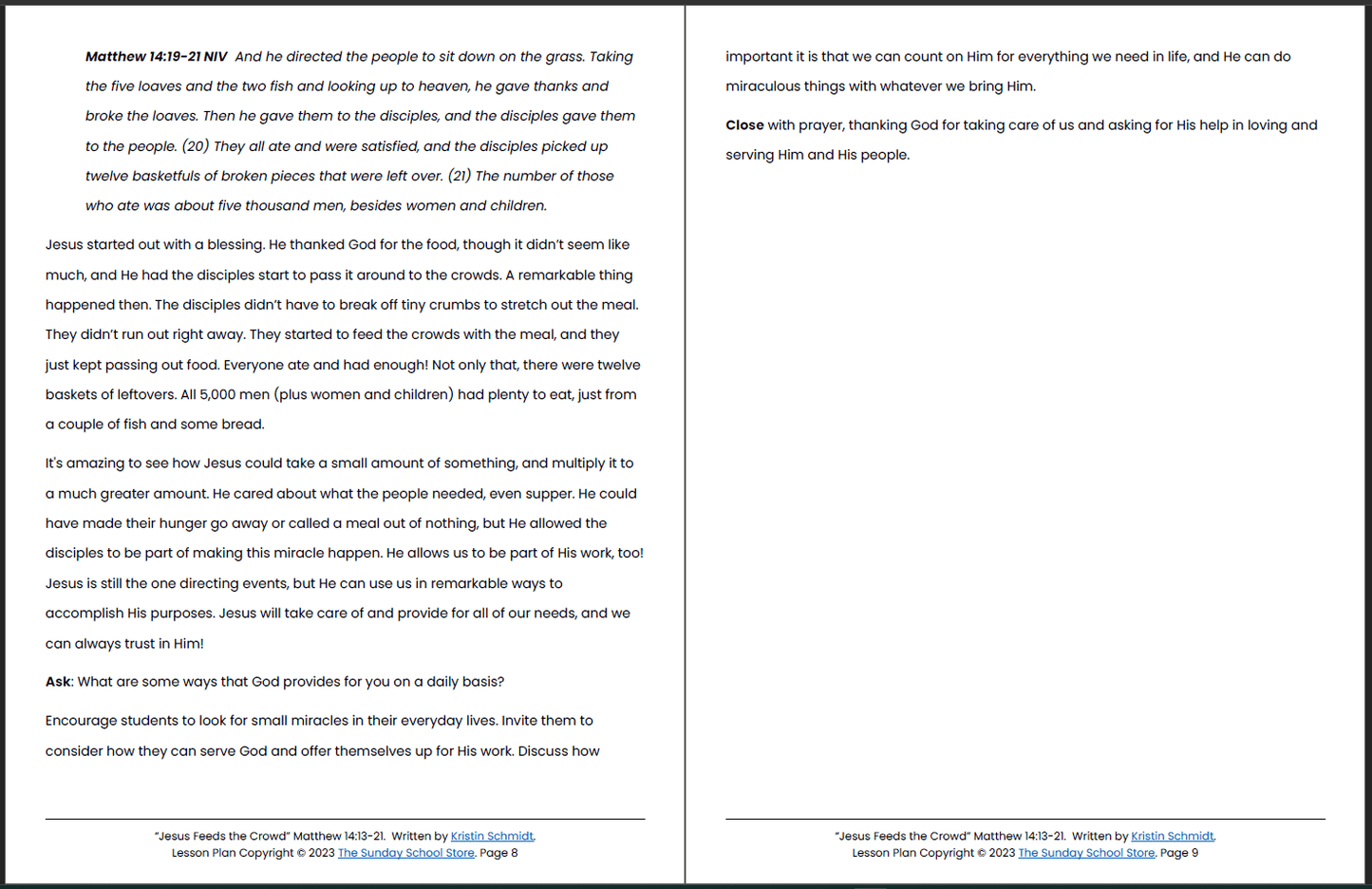 Sunday school lessons
These were beyond helpful with our lessons in the morning before school. The kids (ages 7-11) really enjoyed them as well! So great. Thank you!
Jesus Feeds the Five Thousand (Matthew 14:13-21) Printable Bible Lesson & Sunday School Activities
Thanks
It was lovely and my kids are overjoy about it too thanks very much
Sunday school success!!
It was a big hit with the kids I taught . They all loved the visuals of crackers and Swedish fish. Definitely was a hit!!!