Regular price
Sale price
$45
Unit price
per
Sale
Unavailable
⌛ {timer} ⌛
DEAL ENDS SOON
📩 Instant PDF Download
🚸 Ages 6-12 Years Old
📖 Free Week #1 Lesson
"Live in the Light: 4-Week Children's Ministry Curriculum" calls children to follow Jesus and walk in His light. In today's world, where so many ideas compete for attention, it can be hard for children to understand the concept of absolute truth. They often hear conflicting philosophies that might confuse them and make their faith wobble. It's important to guide them correctly. Our new curriculum series, "Live in the Light," comes in here. This series introduces the beautiful metaphor of God as light in the Bible, helping young believers see the path of truth clearly. This engaging series dives deep into the theme of 'light' and its connection with truth. Each lesson uses key Bible passages to help children understand God's unchanging truth and how it can daily guide their lives.
Big Idea: Because Jesus loves me, He helps me understand what is true.
Memory Verse: John 8:12
Live in the Light: 4-Week Curriculum Overview
In the world we live in, some people say truth is subjective. It can be challenging for children to grasp the concept of absolute truth. Doubt and uncertainty creep in as they are bombarded with various conflicting ideas and philosophies. The purity of their faith is at risk as they grapple to distinguish between truth and fallacy. This could result in confusion and wavering faith.
In light of these struggles, your church has the profound opportunity to guide these young minds in discovering the absolute truth of God. That's why we created "Live in the Light." This series is designed to introduce and unpack the profound metaphor of God as light in the Bible and illuminate the path of truth for your young believers.
Grounded in the enduring truth of Scripture, this engaging 4-week series explores the theme of 'light' and its relation to truth in the life of a Christian. Each lesson centers around key biblical passages that will enable children to understand the unchanging nature of God's truth and how it influences their daily lives.
Week 1 - "God is Light" (1 John 1:5)
Learning Goal: We'll explore how God is like a bright light, guiding us and helping us see what's true and right. We will look into how God being like light means that He shows us the way and helps us avoid wrong turns. We will dive into stories and verses that illustrate this truth.

Bible Stories: 1 John 1:5 (God is Light); Genesis 1:1-4 (Creation of Light); Psalm 119:105 (God's word as light); Proverbs 6:23 (God's commands as light)
Week 2 - "Jesus is Light" (John 8:12)
Learning Goal: We're going to learn about Jesus, the Son of God, who shows us God's light and helps us understand what's really true about God. We'll see how Jesus is the light means He is the ultimate truth and how His teachings can guide our actions and decisions.

Bible Stories: John 8:12 (Jesus as the Light of the World); Matthew 4:16 (Prophecy of the coming Light); Luke 2:32 (Jesus as Light for the Gentiles); John 1:1-5 (Jesus as the Light in creation)
Week 3 - "From Darkness to Light" (Acts 26:13-18)
Learning Goal: We'll look at how believing in Jesus changes us, like moving from a dark room into bright sunlight. This change helps us see things more clearly and understand God better. We'll discuss how our lives can change when we let the light of Jesus in.

Bible Stories: Acts 26:13-18 (Paul's conversion from darkness to light); Psalm 107:14 (God rescuing from darkness); John 9:39-41 (Spiritual blindness vs. seeing the light)
Week 4 - "Let Your Light Shine" (Matt. 5:14-16)
Learning Goal: We'll learn about our own roles as followers of Jesus. Just like a small lamp can light up a dark room, we can shine bright in the world by living God's truth in our lives. We'll explore how our actions, words, and even thoughts can reflect Jesus' light to the people around us.

Bible Stories: Matthew 5:14-16 (Believers as the light of the world); Ephesians 5:8-13 (Living as children of light); James 5:16 (The power of prayer in a believer's life)
Engage your children in discovering the light of truth through our carefully crafted, age-appropriate lessons. With "Live in the Light," your children's ministry will have a valuable tool to navigate the sometimes murky waters of the world's mixed messages, shining the brilliant light of God's truth onto the pathway of their spiritual journey.
Credits: This series was written by Elizabeth James. The editors were Sam O'Neil and Beth Stewart.
Translation: This study is written to work with any Bible translations and poster visuals are included using the NIV, ESV, KJV, and NLT.
Attention Keeping Learning Activities from the Sermon on the Mount

Easy to teach lesson plan

Discussion questions and prayer
Memory verse activity
Printable word search worksheets
Bible story coloring pages
Craft activities
Perfect for Children's Ministry, Kids Church, or Sunday School

Use this Bible study in your children's ministry, kids' church, or Sunday School. Our curriculum includes everything you need to keep the children's attention, get them into God's Word, and help them grow in their personal relationship with Jesus Christ.
48-pages of teaching material
perfect for children aged 6 to 12 (Kindergarten to 6th grade)
designed for small churches
instant digital download in one print-friendly PDF file
flexible teaching activities designed for elementary-aged students
unlimited permission to share directly with volunteers or families in your church
View full details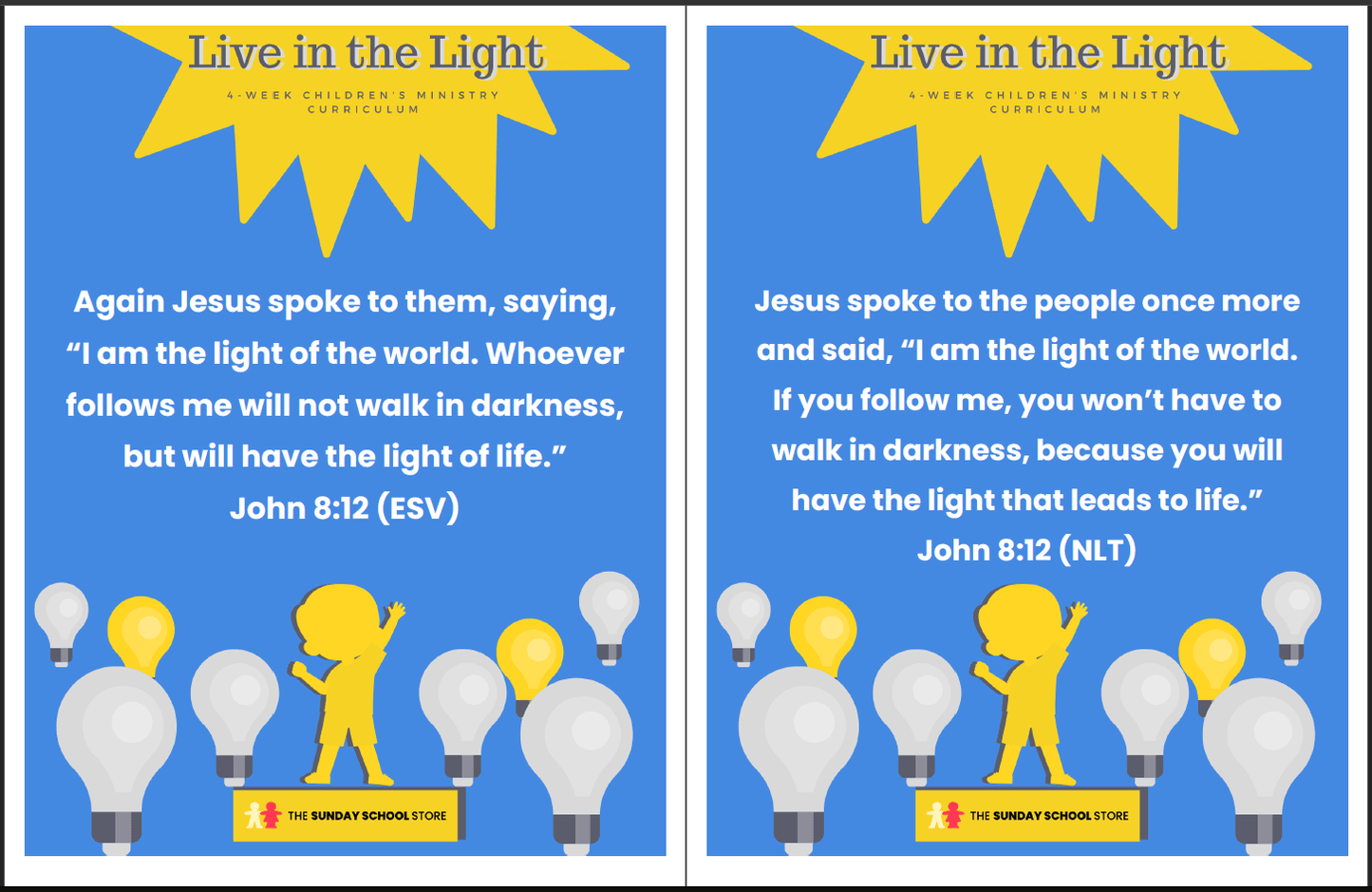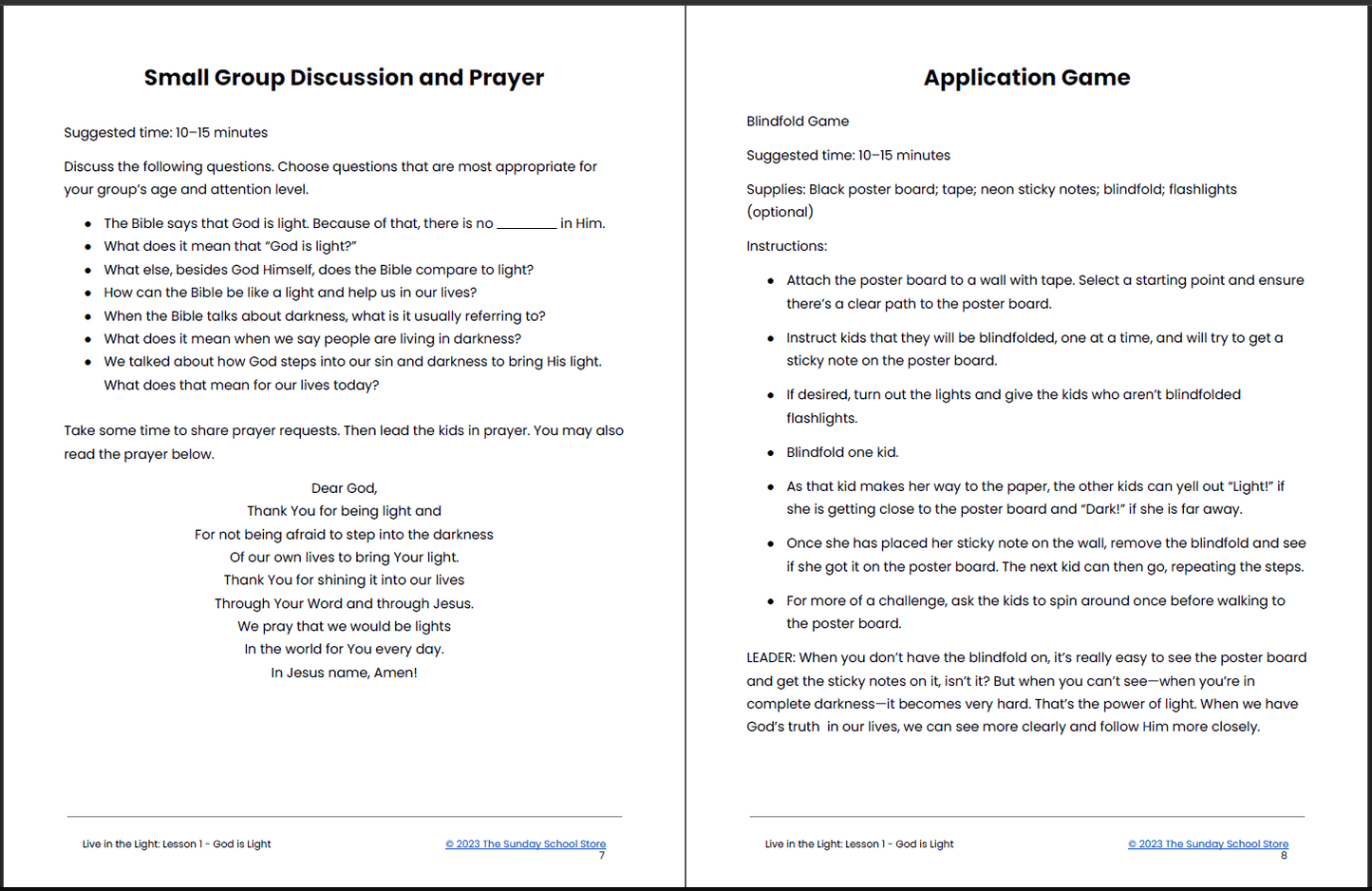 New & Popular Children's Ministry Curriculum