Limited Time Only ⏰ This lesson is included in the Print & Teach ⏩ Curriculum Bundle Deal. For less than $1 per week, download a comprehensive library of Bible teaching for kids.

CLICK HERE to See the DEAL
Regular price
$15
Sale price
$7.99
Unit price
per
Sale
Unavailable
⌛ {timer} ⌛
SALE ENDS SOON
Format 📩 Instant PDF Download
🚸 Ages 6-12 Years Old
Advent is a time of hopeful waiting. Children are waiting for the excitement of Christmas, but we also want to point them to the anticipation of Jesus. We consider how He came as a baby, and how He promises to return someday in the Second Coming. We don't know when that will be, but we know it will be wonderful, and meanwhile, we do God's work on Earth. Great things are worth the wait, and sometimes we can increase patience by doing other things to pass time. In the same way, Jesus is well worth the wait, and while we look forward to His coming, we live in His presence and serve Him in all we do.  
At Christmas, we celebrate the birth of Christ, but sometimes forget the significance of why that's so important.  Jesus was the fulfillment of God's promises to His people, the Messiah come to save. The people of God waited in long anticipation, and the birth of Jesus was only the beginning. We rejoice that He came to Earth but know that He came to die. On the other side of the resurrection, we now await His coming again, knowing that God will be faithful to that promise, as well. Since we do not know the time of His return, we rest in His presence and seek to do His will. 
Passage: Matthew 24:36-42
Target Audience: Kindergarten-6th grade (better geared to older grades)
Materials Needed: Construction paper, markers, stickers, scissors, tape/glue, paper bags, paper plates, decorations (all optional, depending which activities you choose to use). Object lesson props can include wrapped package or gift bag with small prizes for children.    
More Resources Online
Easy-Prep Bible Lesson
Target Age: elementary school, adaptable for K-6th grades
Translation: choose NIV, ESV or KJV
Stand-alone lesson plan
19-pages of teaching material
Instant digital download
Flexible teaching plan for mixed age groups
Ideal for Kids' Church or Sunday School (45-60 minutes teaching time)
Attention Keeping Activities
Object Lesson with video demonstration

Game Suggestions
Easy To Follow Teaching Plan
Craft Ideas with video demonstration 
Coloring Page
Word Find Worksheet
Memory Verse Poster
Secure Purchase & Money Back Guarantee
Every purchase from the Sunday School Store comes with a 100% money-back guarantee. If you're not happy for any reason, just contact support and we will make it right. Our checkout process has the most advanced security. Customers can pay with credit card, PayPal, or mail a physical check from their church. Simply choose your payment method during the checkout process. 
View full details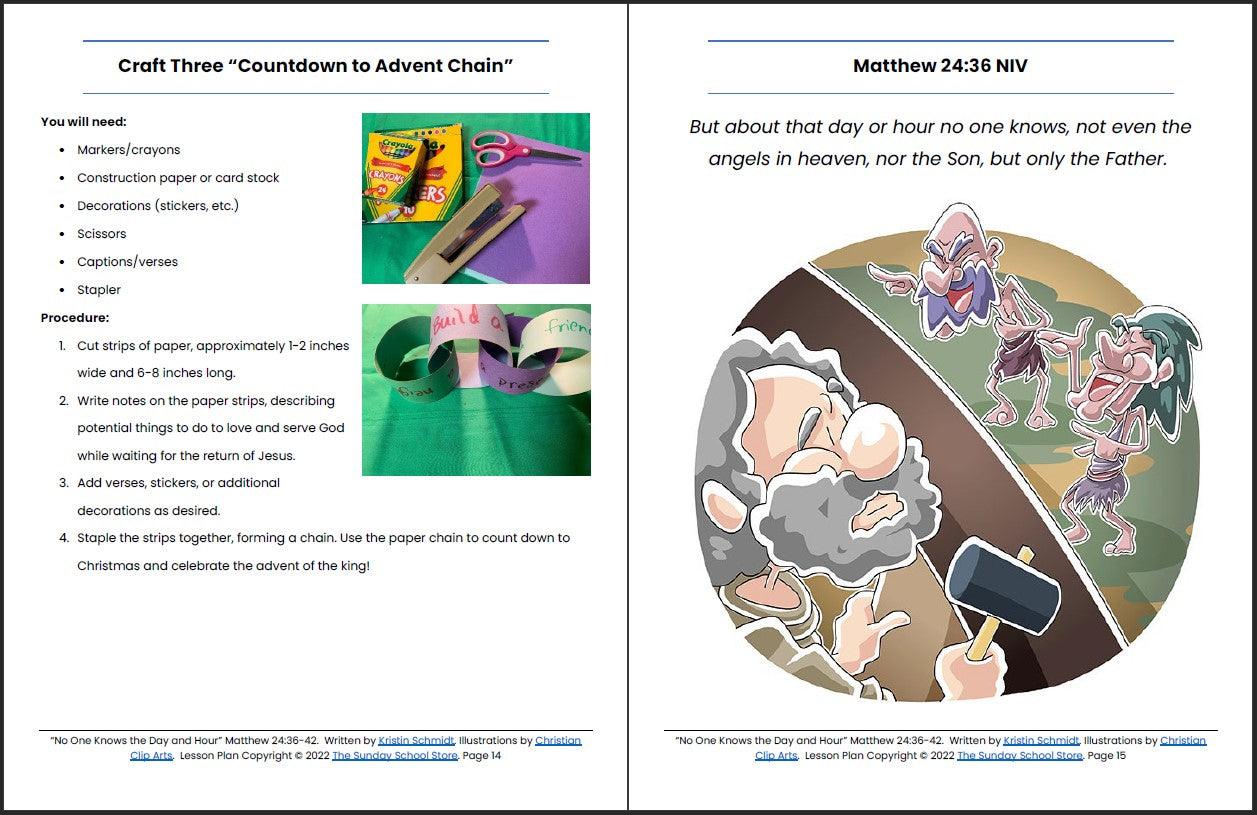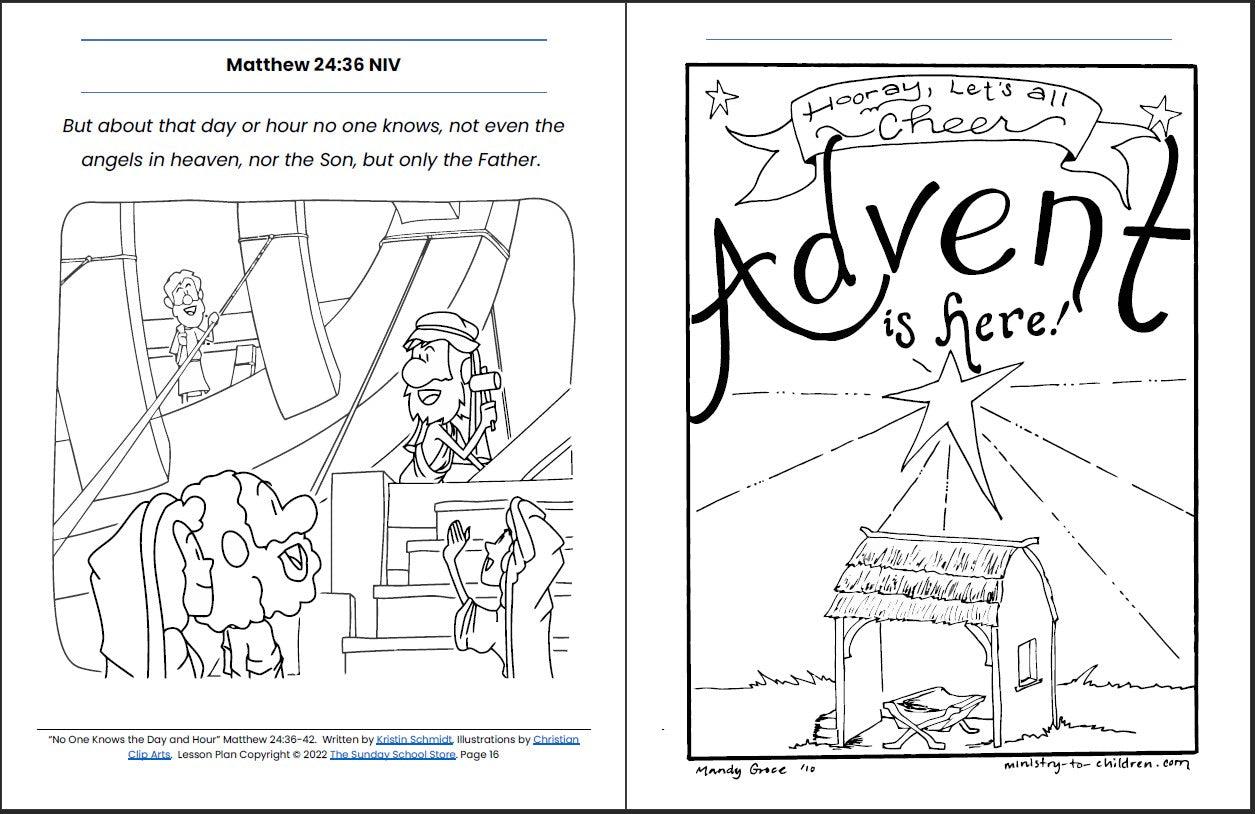 No one knows
Great lesson with awesome videos.
Great lesson
The kids and I really enjoy the lessons. It is simplified to where they can understand and easy for me to teach.
Thank you
G
No One Knows the Day and Hour
Well thought out and easy to teach.
Great lesson to start Christmas season
This lesson that told the story of why Jesus came and took us passed the Nativity was a new concept. The kids were very interested.
No one knows
This lesson material as always was very well written and made to fit exactly what I was looking for in our special needs Sunday school class.
Appreciate the availability of getting these lesson plans easily.
Good lesson
My Sunday School Class really appreciate the lesson
No One Knows the Day and Hour (Matthew 24:36-42)
Easy to use. The students understood it very quickly. I used projector to stream the lesson.