Limited Time Only ⏰ This lesson is included in the Print & Teach ⏩ Curriculum Bundle Deal. For less than $1 per week, download a comprehensive library of Bible teaching for kids.

CLICK HERE to See the DEAL
Regular price
$15
Sale price
$7.99
Unit price
per
Sale
Unavailable
⌛ {timer} ⌛
DEAL ENDS SOON
Format 📩 Instant PDF Download

🚸 Ages 6-12 Years Old
Mountains are incredible places and can be inspirational for Christians seeking deeper faith. The Bible contains many significant stories involving mountains, and this lesson highlights one of them. God often met people in unique places and made or renewed covenants there. However, mountains aren't the only way to grow closer to God. He is everywhere! His presence is everywhere, and we don't even need special equipment to access it!
Children are literal thinkers and might often wonder how or where to "find" God, imagining that perhaps He is in the sky or church buildings. It's helpful for them to realize that we do not need to go somewhere or do anything special to be in His presence. God is always with us! He's not just in a cloud or on a mountaintop. Because of the blood of Jesus, we have direct access to God, and He wants to hear from us as His beloved children. 
Passage: Exodus 24:9-18 
Target Audience: Kindergarten-6th grade. Ages 6-12 years old.
Materials Needed: Construction paper; paper plates; cotton balls; glue; markers or crayons; pictures of mountains; popsicle sticks; camping gear; tape; scissors; decorative supplies; Bibles. Object lesson props can include camping gear, items needed to travel in the mountains, and pictures of mountains.  
More Resources Online
Easy-Prep Bible Lesson
Target Age: elementary school, adaptable for K-6th grades
Translation: choose NIV, ESV or KJV
Stand-alone lesson plan
17-pages of teaching material
Instant digital download
Flexible teaching plan for mixed age groups
Ideal for Kids' Church or Sunday School (45-60 minutes teaching time)
Attention Keeping Activities
Object Lesson with video demonstration

Game Suggestions
Easy To Follow Teaching Plan
Craft Ideas with video demonstration 
Coloring Page
Word Find Worksheet
Memory Verse Poster
Secure Purchase & Money Back Guarantee
Every purchase from the Sunday School Store comes with a 100% money-back guarantee. If you're not happy for any reason, just contact support and we will make it right. Our checkout process has the most advanced security. Customers can pay with credit card or PayPal. Simply choose your payment method during the checkout process.  
View full details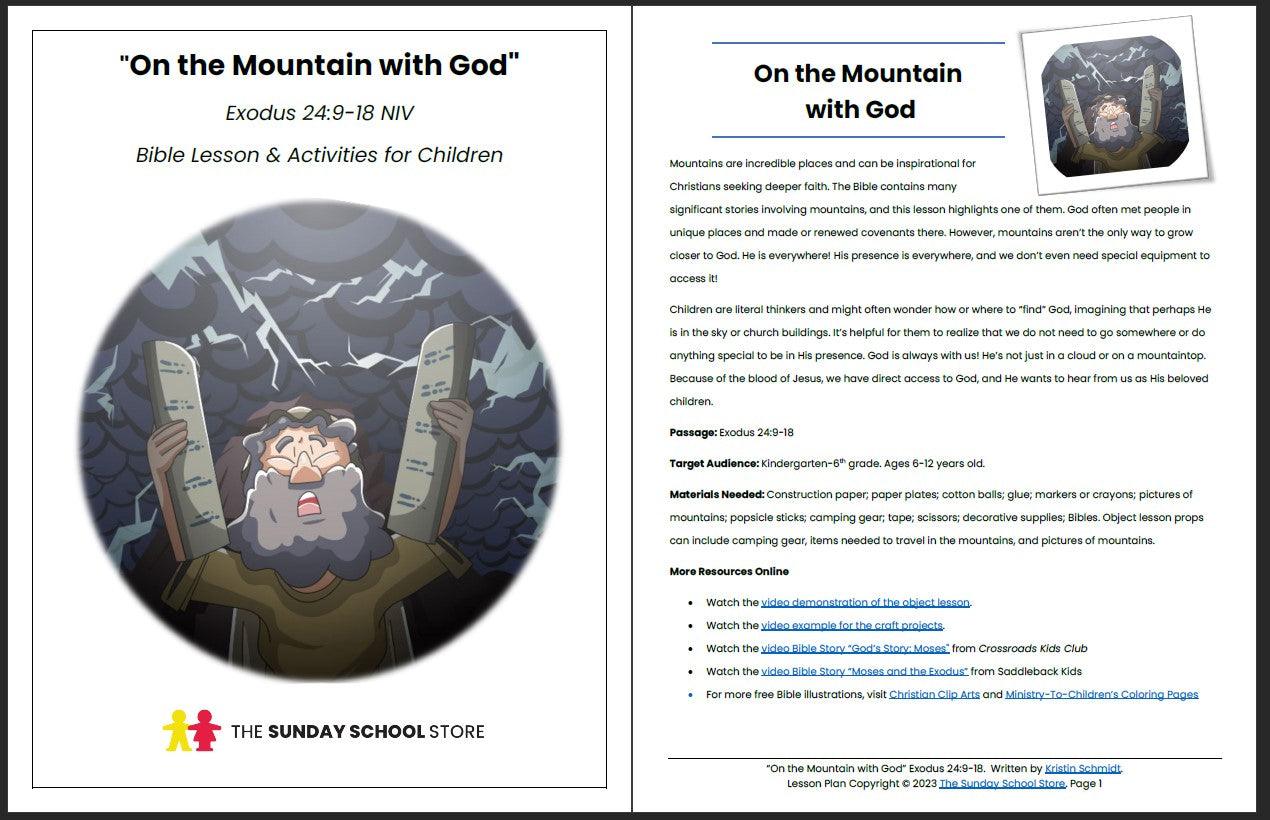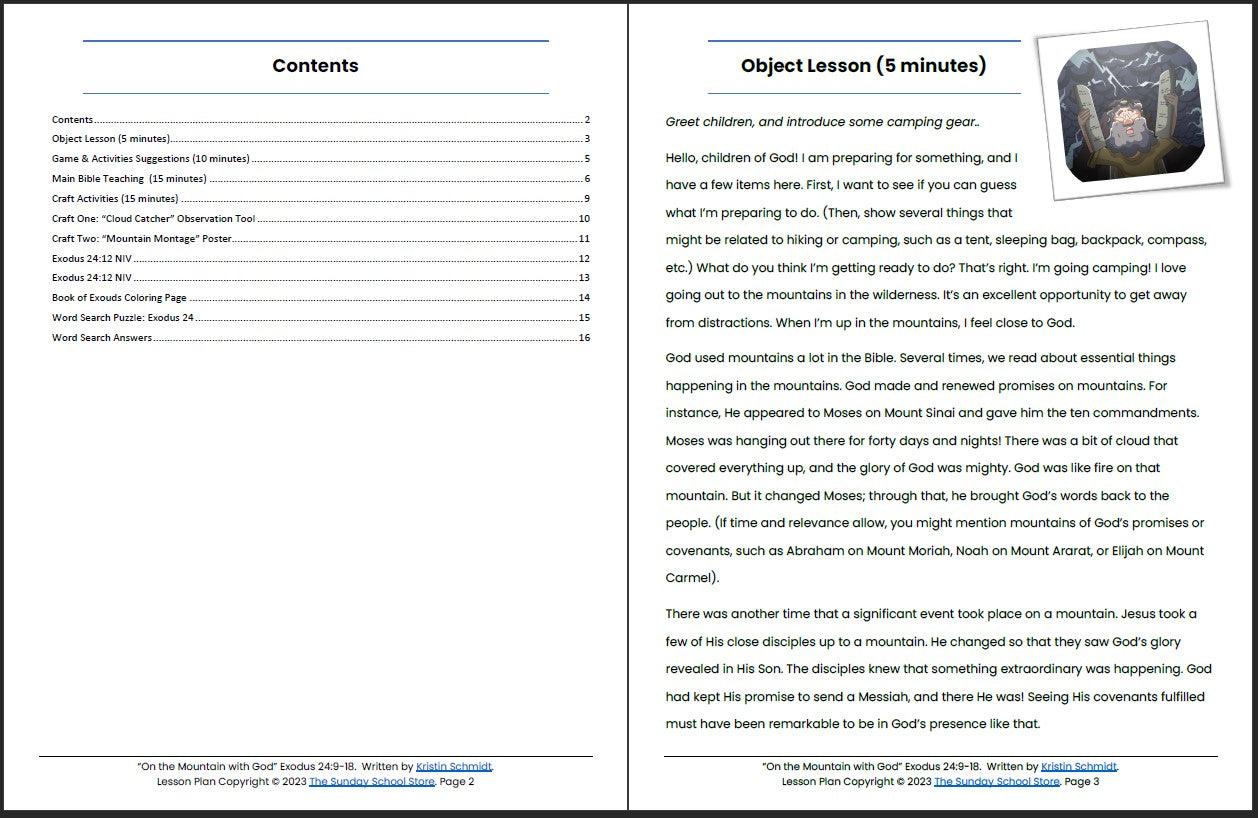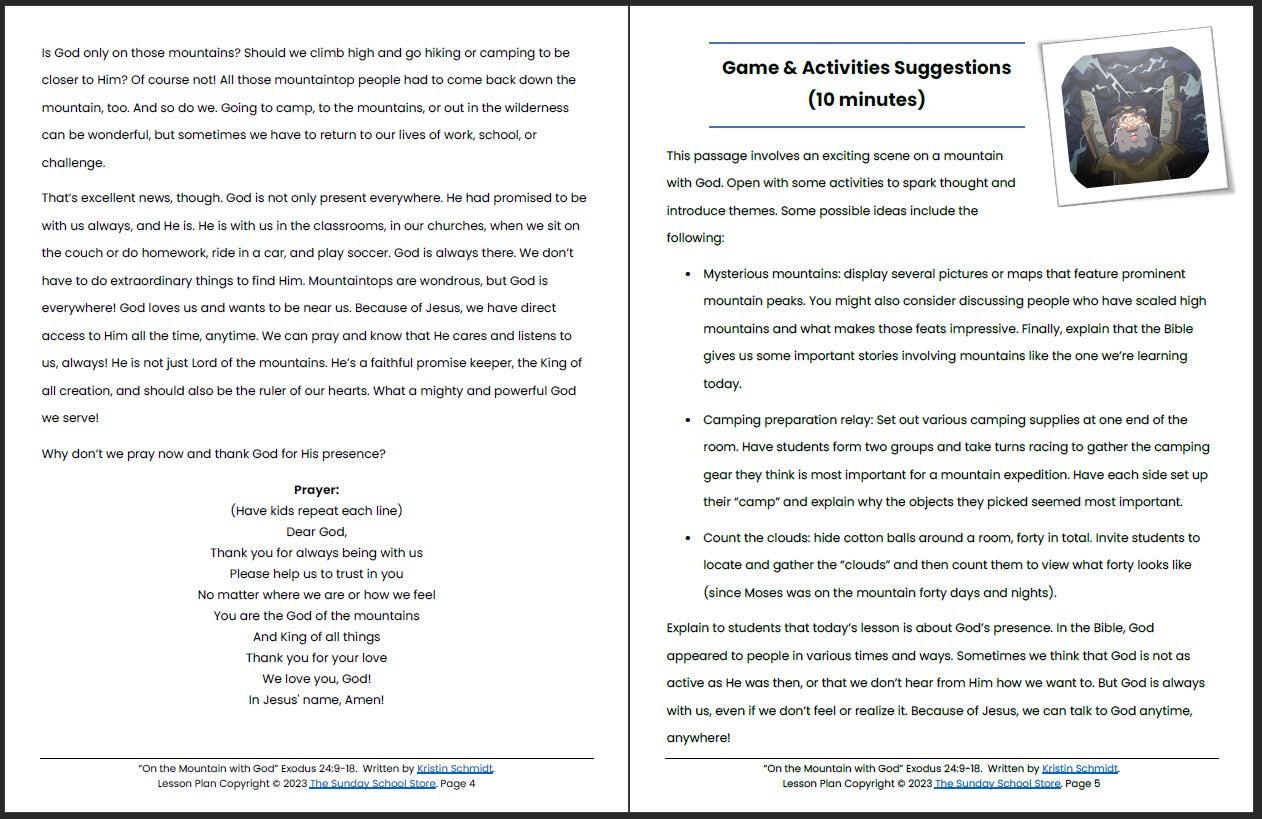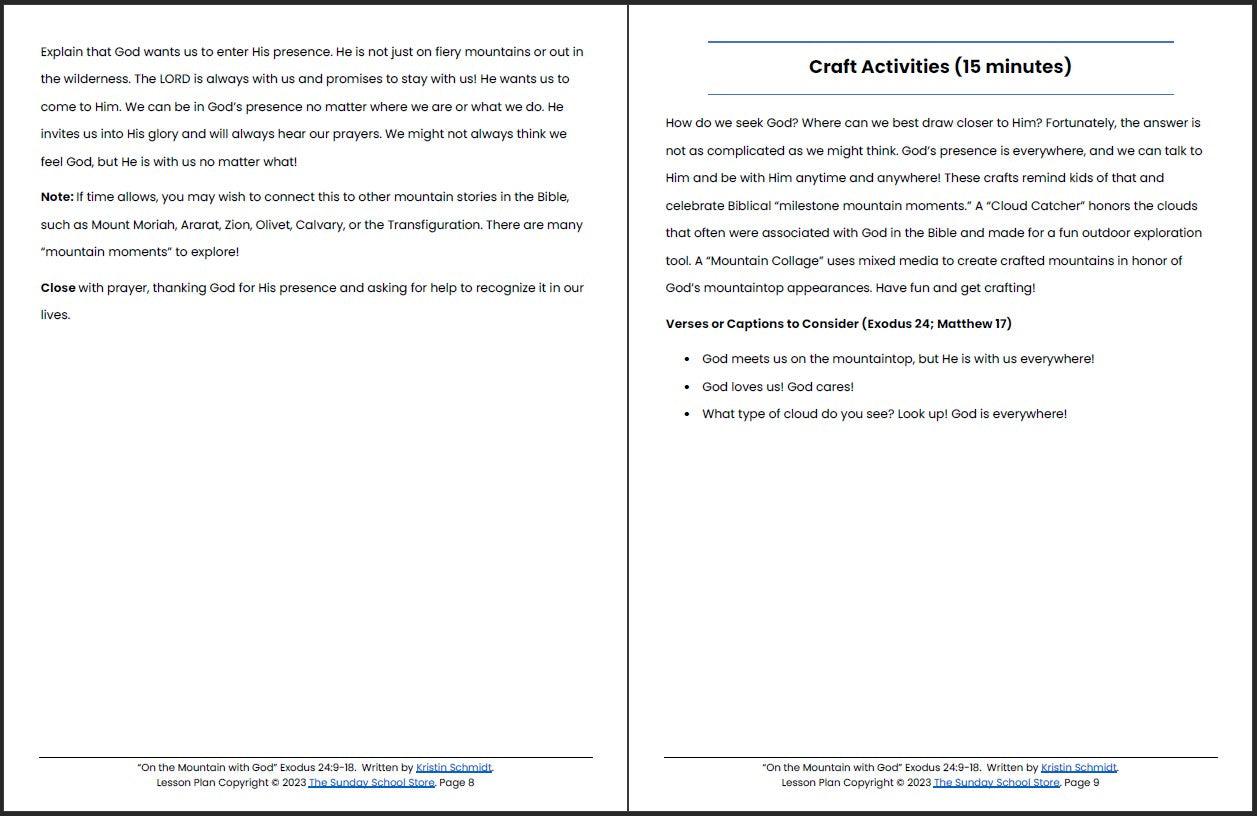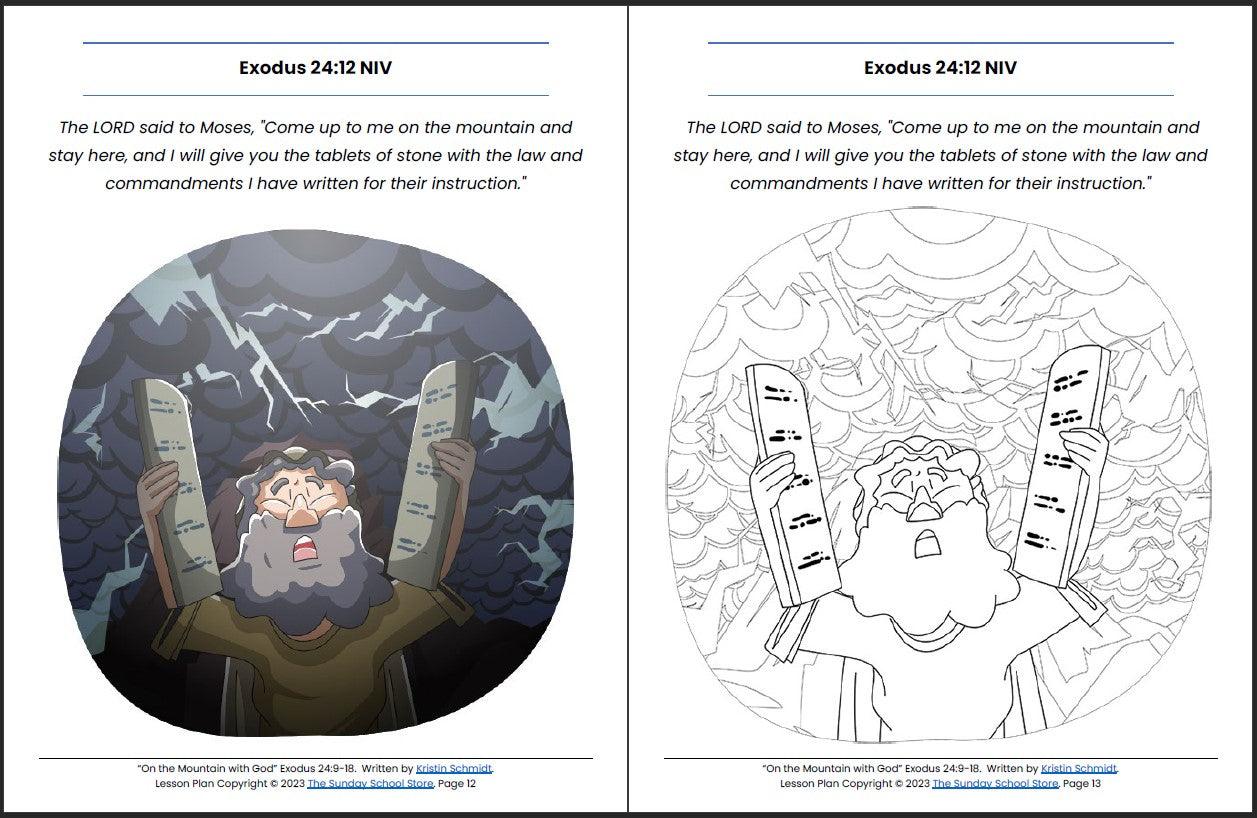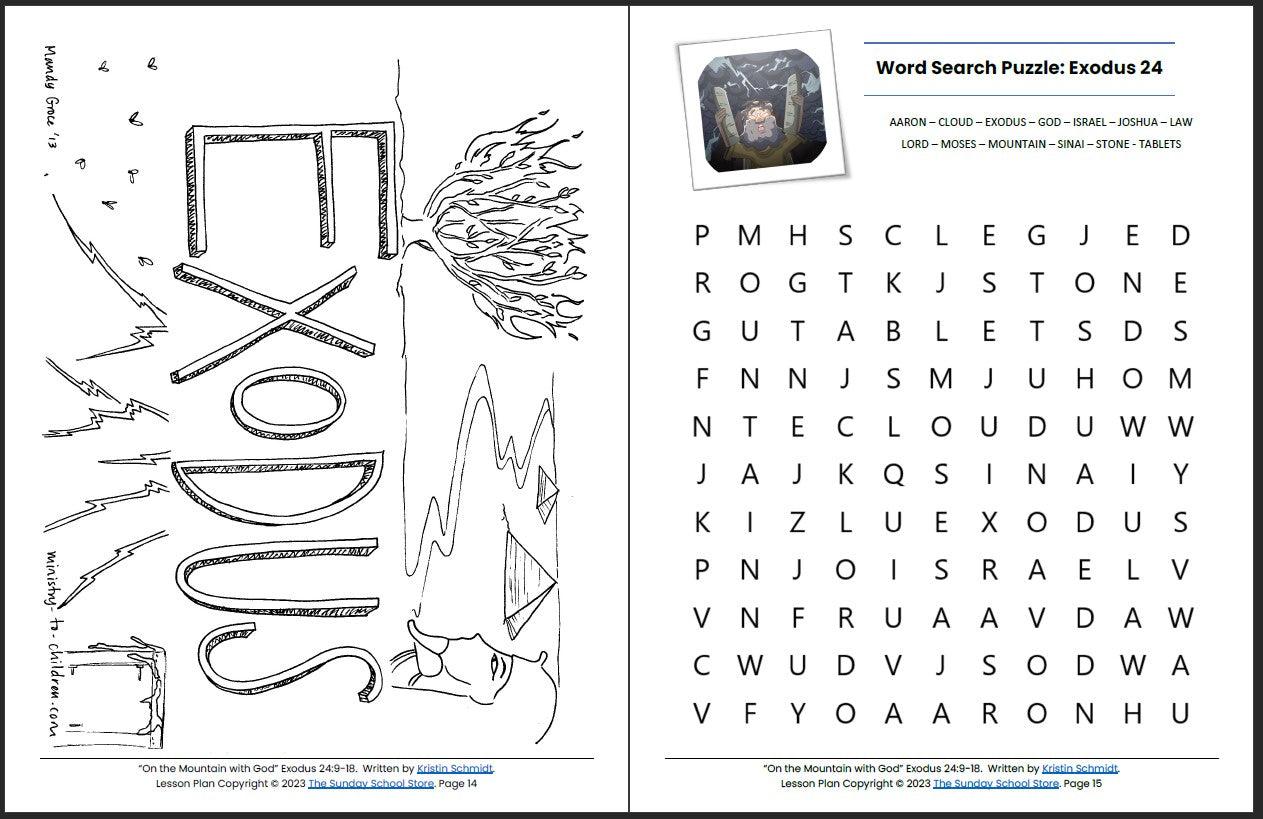 Great lesson
My children's church loved it. Easy to use and follow
Should stay the same
It was very helpfull in what I needed. I like how it is presented and the pictures is nice.
Perfect for four year olds
Great Lesson!
On the Mountain with God is a really nice lesson. My students interacted with the lesson, reading Bible verses and answering questions. We will create a mountain range collage this week using a variety of materials and verses.