Regular price
Sale price
$45
Unit price
per
Sale
Unavailable
⌛ {timer} ⌛
SALE ENDS SOON
📩 Instant PDF Download
🚸 Ages 6-12 Years Old
📖 Free Week #1 Lesson
Sharpen Your Sword is a 4-Week Children's Ministry curriculum about God's Word. This elementary-age series will teach children the fundamentals of the Bible itself, so they can experience its power in their own lives. It will equip children to read and study God's Word with confidence.
Memory Verse: 2 Timothy 3:16-17.  This series is available in the NIV, KJV, or ESV.
4-Lesson Curriculum Overview
Lesson 1: What IS the Bible? "It's all about Jesus" John 14:6. 

Lesson 2: Why do we NEED the Bible? "It's sweeter than honey" Psalm 19:7-13 

Lesson 3: Why do we TRUST the Bible? "It's God-breathed" 2 Timothy 3:16-17

Lesson 4: Why do we STUDY the Bible? "It's sharper than any sword" Heb. 4:12
Credits: This series was written by Michelle S. Kennedy. The editors were Samuel O'Neal and  Elizabeth James. We pray this material will be a blessing to your ministry and inspire the children in their love for God's Word.
Attention Keeping Learning Activities 

Easy to teach lesson plan

Discussion questions and prayer
Memory verse activity
Printable word search worksheets
Bible story coloring pages
Parent take-home review sheets
Craft activities
Perfect for Children's Ministry or Sunday School

Use this Bible study in your children's ministry, kids' church, or Sunday School. Our curriculum includes everything you need to keep the children's attention, get them into God's Word, and help them grow in their personal relationship with Jesus Christ.
62-pages of teaching material
perfect for children aged 6 to 12 (Kindergarten to 6th grade)
designed for small churches
instant digital download in one print-friendly PDF file
flexible teaching activities designed for elementary-aged students
unlimited permission to share directly with volunteers or families in your church
View full details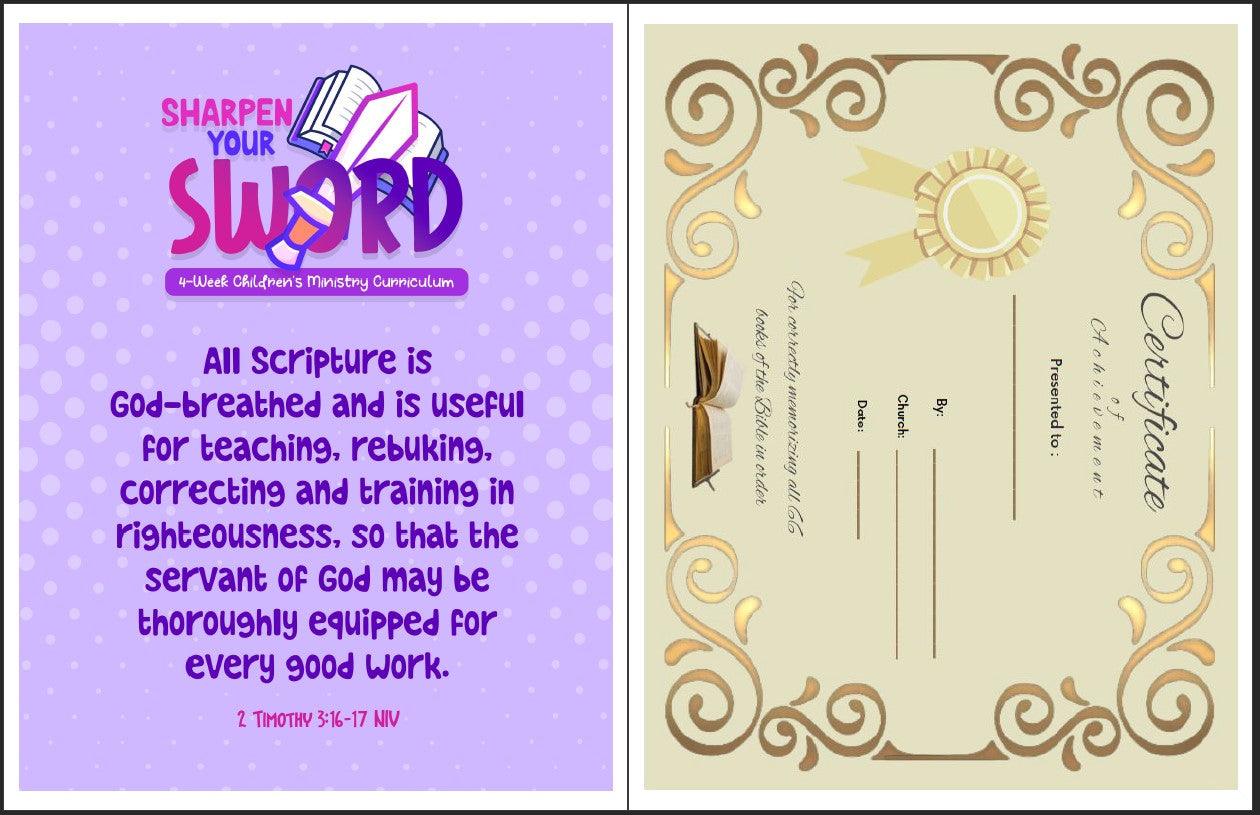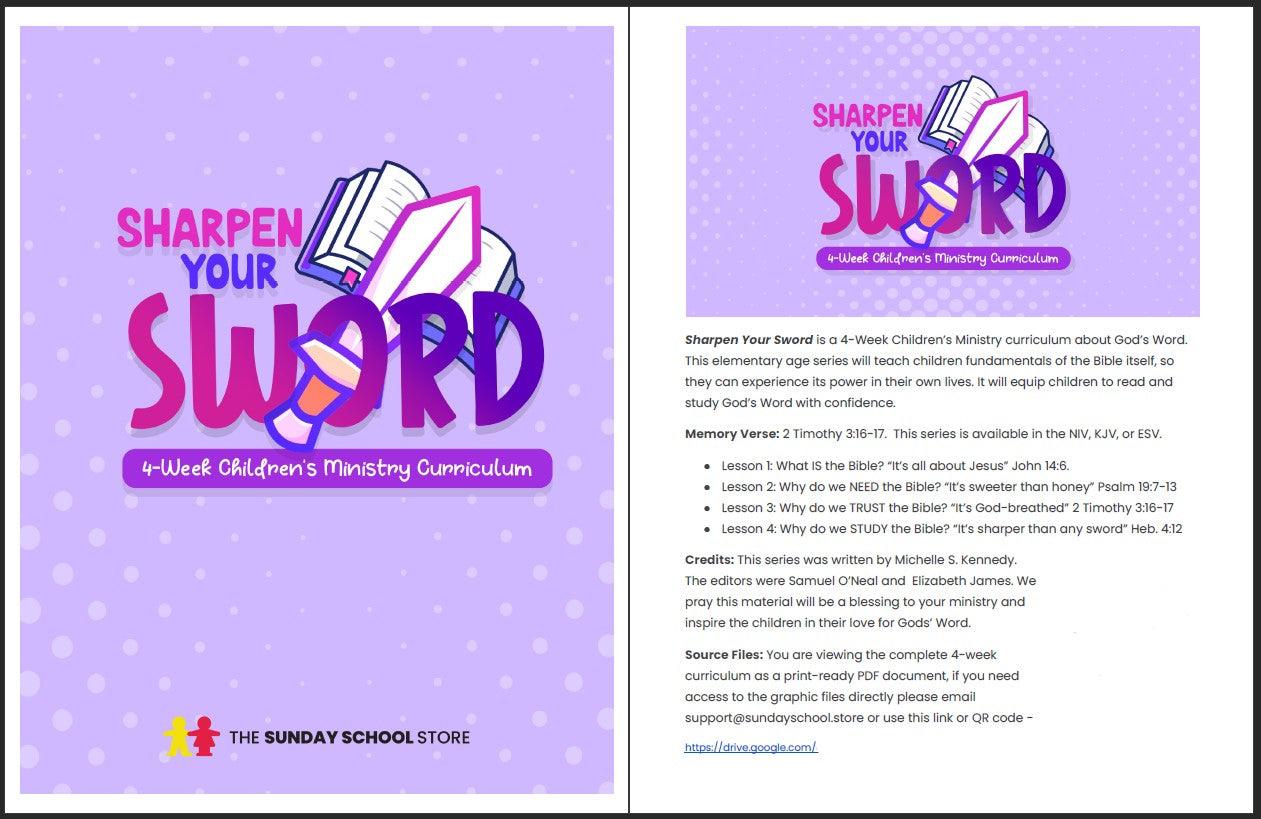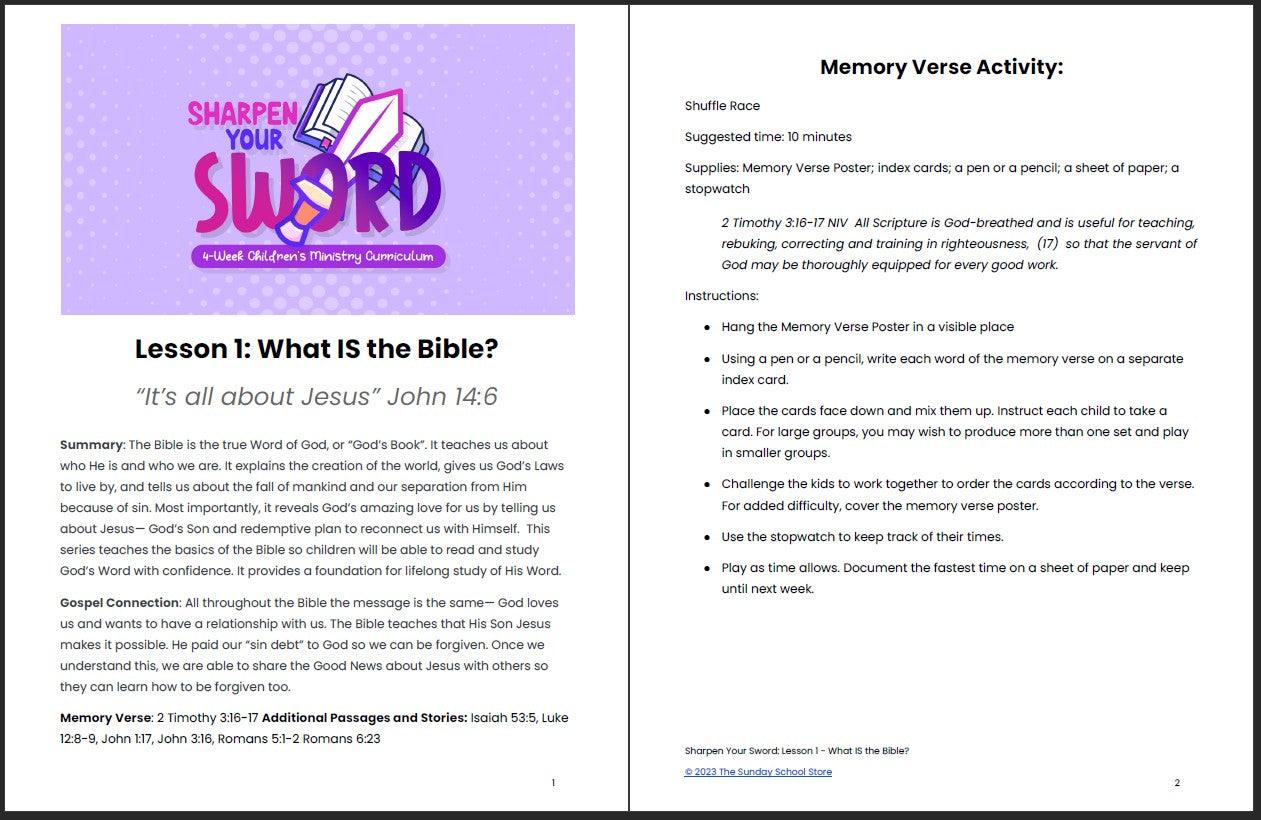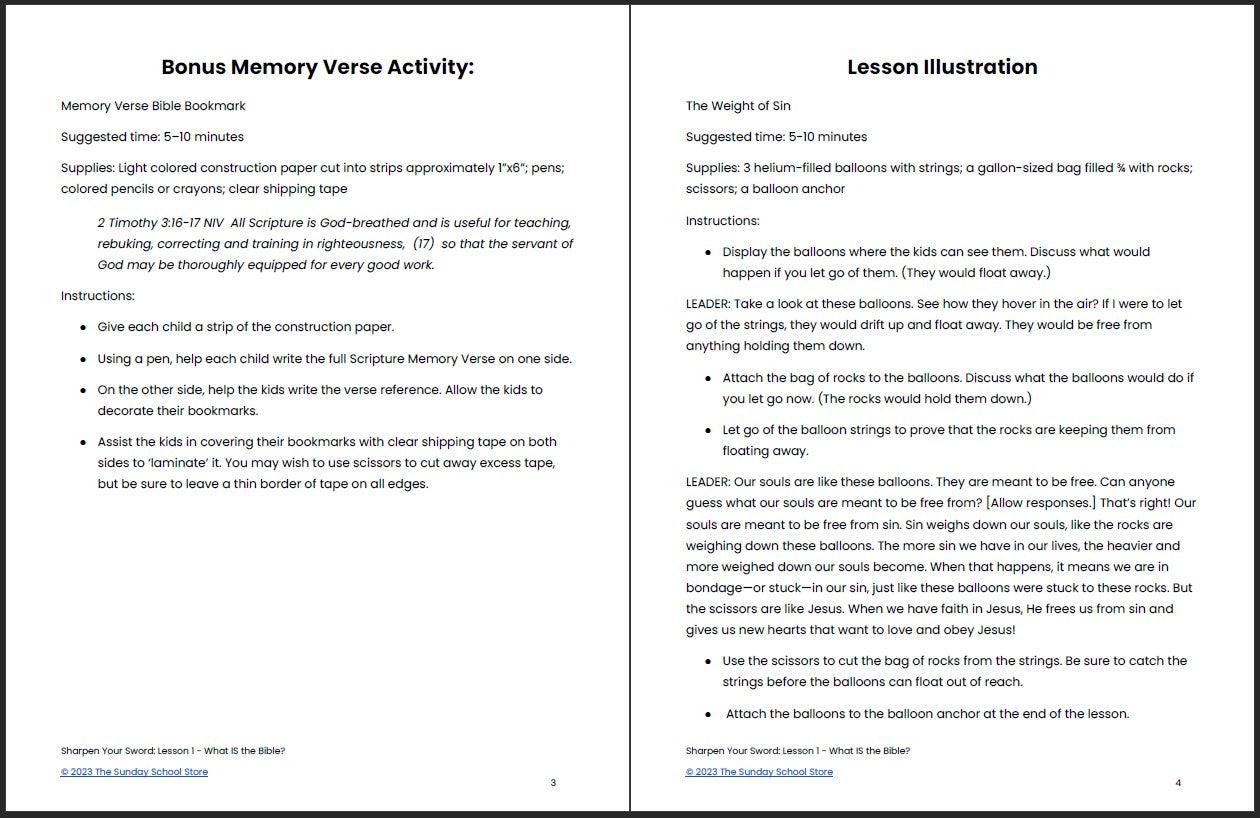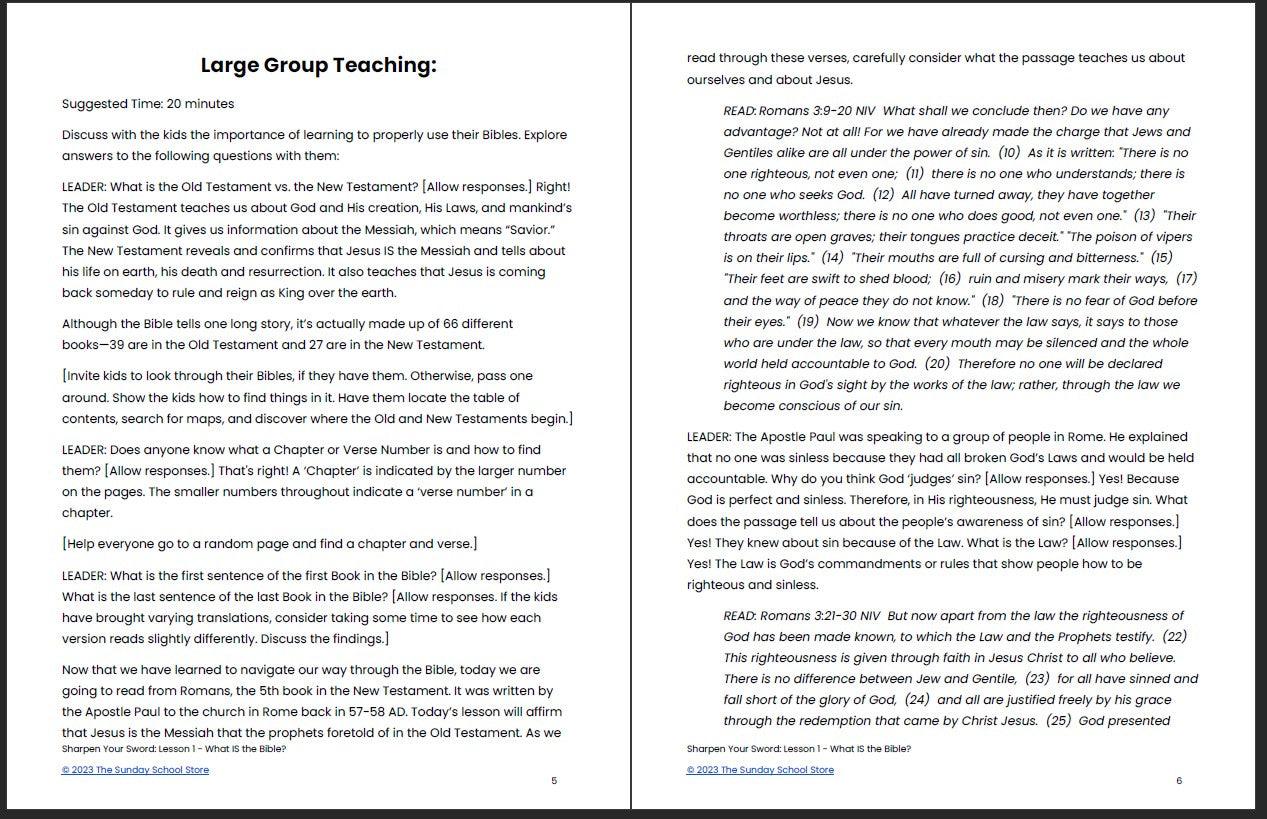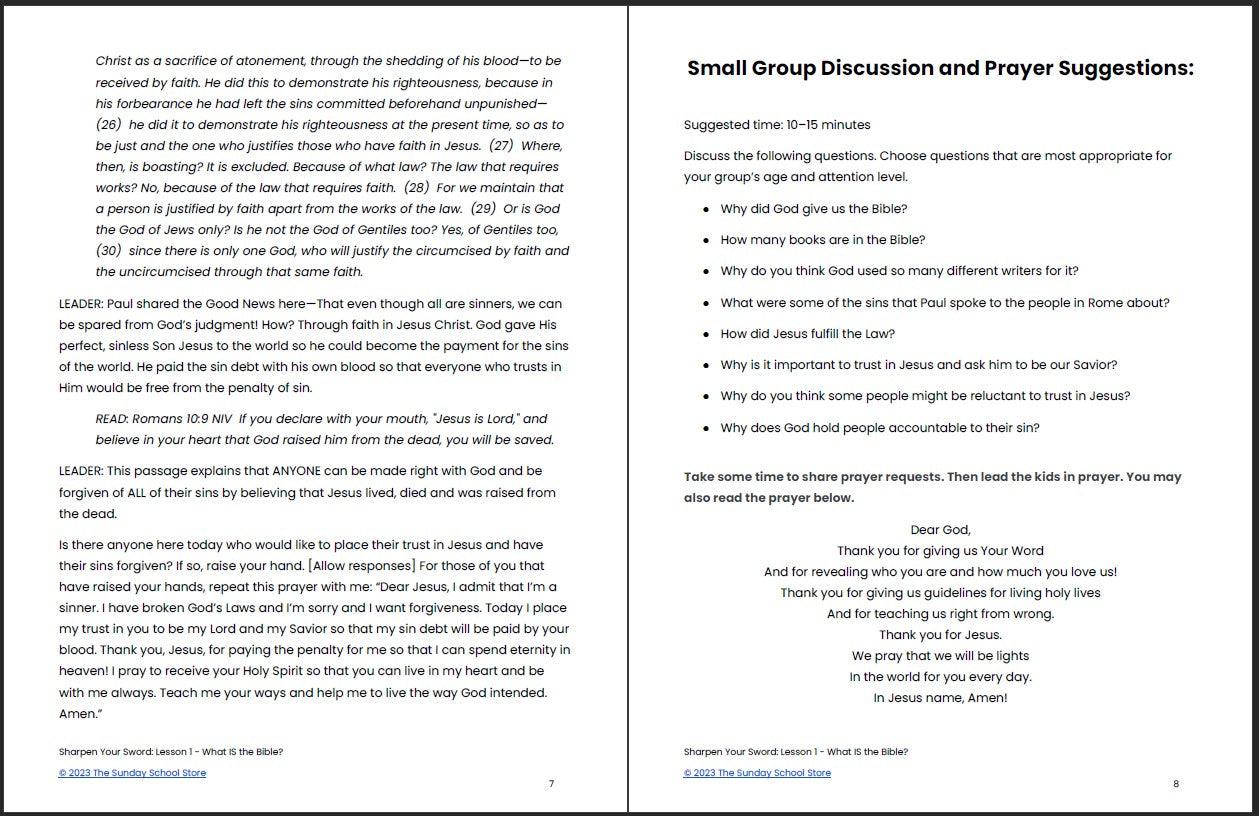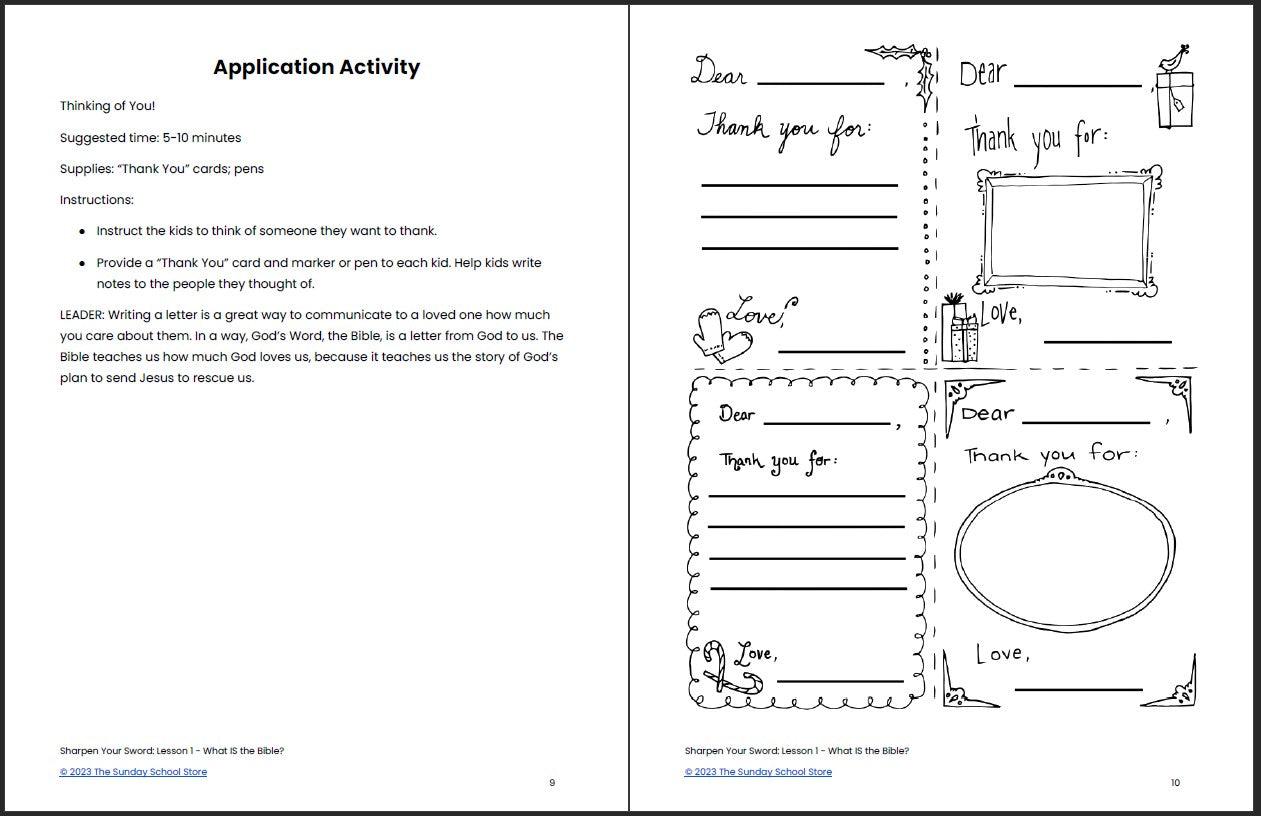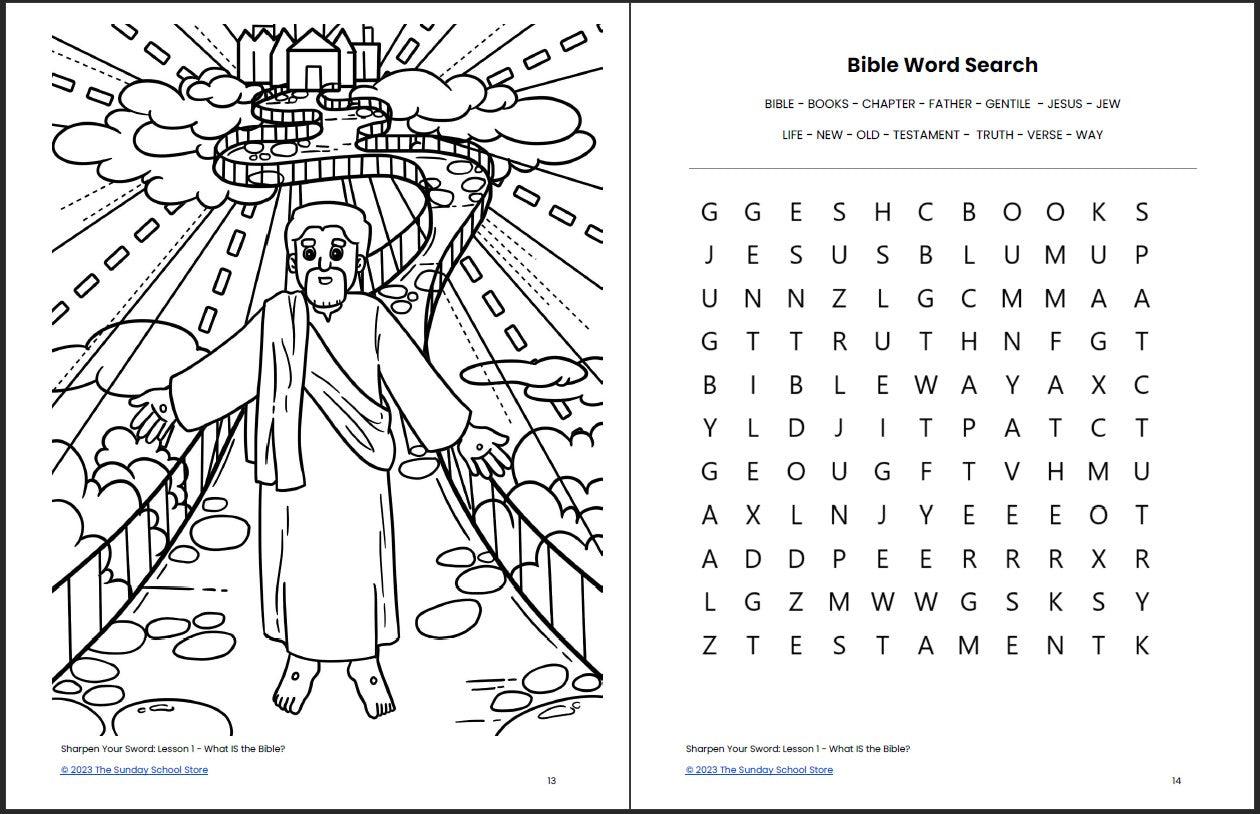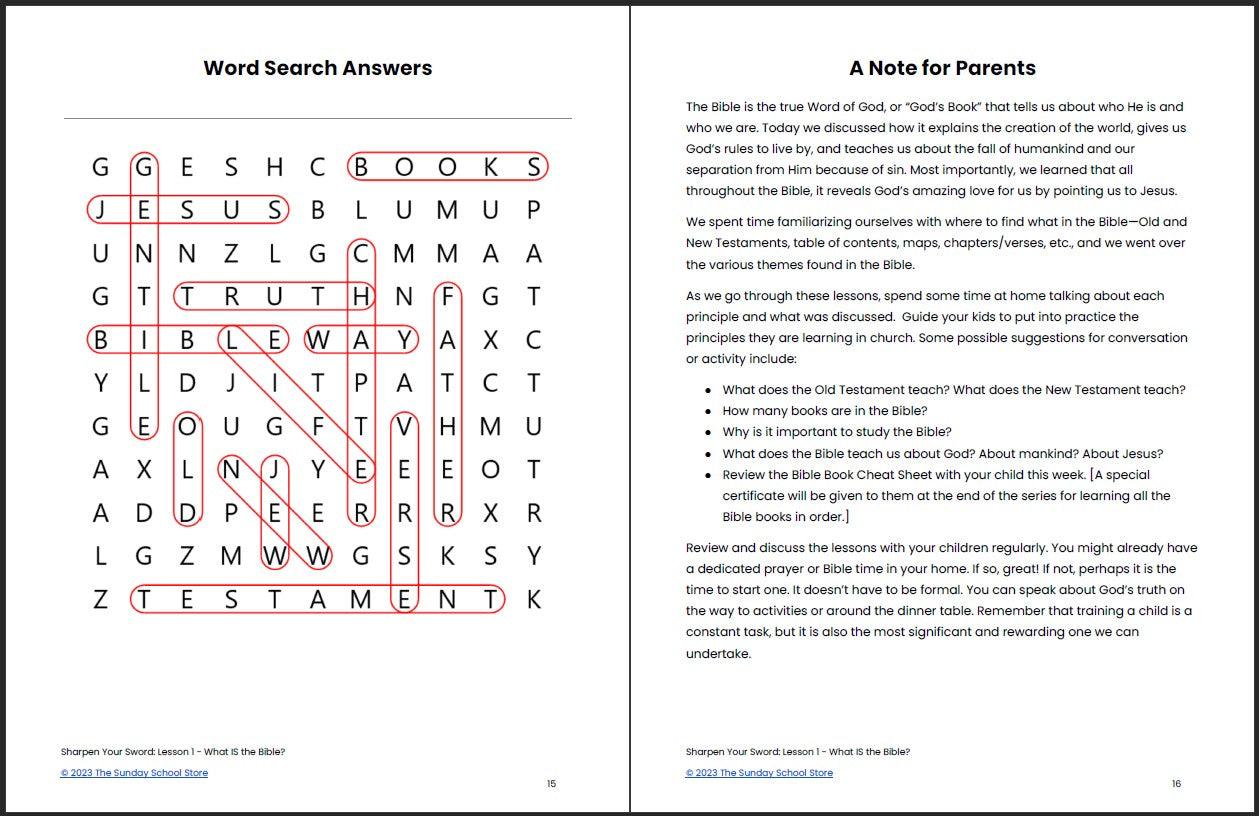 Loved it!
I currently only have one child (going into the 6th grade)in class so we are one on one and these lessons are great for getting my student in the word.
I have her bring her own Bible and highlight certain key words.
We are actually making each lesson cover 2 weeks at a time so she will remember the lesson far better.
I added an extra game to re-inforce the lessons with a PowerPoint concentration game.
Matching picture with a word or two to describe the picture. And I made a word find that I put up on PowerPoint.
Significant, rewarding, and life-changing Bible curriculum!
This creative, beautiful material mirrors the Creator's handiwork as it engages learners where they are with the importance and reliability of the Bible. In fun and practical ways, it brings evidence that the Bible is God's truthful, vital good news! I pray these tools help us to carry the news of God's love/care and goodness, which God uses to truly bless hearts and lives for eternity!
Sharpen your sword
This is great material. I love that it emphasizes Christ at the center of the Bible, as it should. It's written with the age appropriate children in our Kids Worship group. I do wish it had different activity page ideas. Word searches are good but I'd like more variety. I usually look outside the curriculum content for those type of activities. I'd also love to incorporate music/songs into the lessons. Overall I'm very pleased.
Great lessons!
These lessons introduce to children what the Bible is, and the importance of reading it and applying it to their lives.
Sharpen your Sword
I love this concept! Our children need to learn why the Bible is so important AND how to use it! The lesson is spot on, the activities are fun and relevant to the topic, and I can tell the author loves the Lord. I especially liked the balloon activity symbolizing being weighted down by sin and then being set free by Jesus and the scissors!
Fun, Informative, Engaging
I am a teacher and I am so impressed with this easy-to-follow, children's Bible study curriculum. It is fun, user-friendly, informative, and engaging.
Great material!!!
Very thorough curriculum. Well thought out. Very clear, easy to follow leader and student material. Interactive, engaging, and thought provoking. Wonderful tool to help students learn, retain and build sound Biblical teaching and knowledge.
New & Popular Children's Ministry Curriculum