Regular price
Sale price
$45
Unit price
per
Sale
Unavailable
⌛ {timer} ⌛
DEAL ENDS SOON
📩 Instant PDF Download
🚸 Ages 6-12 Years Old
📖 Free Week #1 Lesson
"So, Satisfying: 4-Week Children's Ministry Curriculum" will guide the children to understand that the true and lasting satisfaction they seek can only be found in a relationship with Jesus. The world is constantly pointing children toward instant gratification, but these fleeting pleasures never truly satisfy their longing for fulfillment. Our new curriculum, "So Satisfying," helps guide kids to understand that lasting satisfaction can only be found in a relationship with Jesus.
Memory Verse: Psalm 73:25
Main Idea: I can discover true satisfaction through a relationship with Jesus.
Source Files: You are viewing the complete 4-week curriculum in one print-friendly PDF document. Use the following link or QR code to access the graphics and single lesson format.
Introduction: Today, our children are engulfed in a world of instant gratification where fleeting "satisfactions" are only a click away. From the mesmerizing allure of perfectly fitting objects to the fascination of watching a rusty object being polished anew, the Internet is filled with "satisfying" videos that captivate our kids. But, these momentary pleasures are fleeting, never truly filling that longing for satisfaction deep within our hearts.
Like many of us, our children are searching for satisfaction in places that can't provide enduring fulfillment. This sense of unrest and discontentment is palpable in their lives as they continually seek out the next satisfying thing, only to be left wanting again. 
But what if we could point them to the solution, the one place where they can find lasting satisfaction? Our new curriculum, "So Satisfying," does just that. This four-week series is designed to guide children to understand that the true and lasting satisfaction they seek can only be found in a relationship with Jesus.
4-Week Lesson Overview
Lesson 1: Clean Heart
Scripture: Daniel 1:8-21

Main Idea: True satisfaction comes from living with a clean heart. This lesson focuses on the story of Daniel, who, despite his imperfections, sought to live a pure life in accordance with God's will. When Nebuchadnezzar tried to change Daniel and his friends' ways of worshiping him, Daniel refused and stood firm in his faith. Through Daniel's story, children will learn that true satisfaction comes when we ask God to cleanse our hearts of negative thoughts, actions, feelings, and attitudes.
Lesson 2: Forget Perfection
Scripture: Judges 6:11-16

In this lesson, we emphasize that we don't need to be perfect to find satisfaction. Gideon, a man who was far from perfect and felt unprepared for his divine calling, serves as our biblical example. God didn't wait for Gideon to become perfect; He used him as he was for His glory. This lesson will demonstrate that God uses us despite our imperfections, offering the true satisfaction of His grace and freedom from the burden of being perfect.
Lesson 3: Connect to "The Artist"
Scripture: Exodus 31:1-11

A relationship with God is the only way to have a truly satisfying life. Drawing inspiration from the story of Oholiab and Bezalel, we demonstrate how our actions can reflect our creator, "The Artist." Tasked with the sacred work of constructing and decorating the Tabernacle, their craft was a form of worship, reflecting God's character and giving Him glory. This lesson will teach children how their lives can glorify God when they form a close connection with Him.
Lesson 4: Be Restored
Scripture: Genesis 41:41-57

This lesson showcases the life of Joseph, a clear testament to the restoring power of God. Joseph, from a favored child to a prisoner and then a ruler, experienced a full circle of life, demonstrating how God can restore our lives in unimaginable ways when we trust Him. Despite all the hardships, Joseph's life was restored because he believed God would meet his every need. The kids will learn that not only does God satisfy our needs, but He also restores us, which is an even deeper level of satisfaction.
"So Satisfying: 4-Week Children's Ministry Curriculum" aims to connect with the current trend of "satisfying" videos, using this concept as a springboard to teach children that true satisfaction can only come from a relationship with Jesus. It explores the idea of satisfaction from a Biblical perspective, bringing to light the enduring, fulfilling nature of our connection with God and contrasting it against the fleeting, temporary satisfaction offered by the world.
Translation: This study is written to work with any Bible translations and poster visuals are included using the NIV, ESV, KJV, and NLT.
Attention Keeping Learning Activities 

Easy to teach lesson plan

Discussion questions and prayer
Memory verse activity
Printable word search worksheets
Bible story coloring pages
Craft activities
Perfect for Children's Ministry, Kids Church, or Sunday School for Christmas

Use this Bible study in your children's ministry, kids' church, or Sunday School. Our curriculum includes everything you need to keep the children's attention, get them into God's Word, and help them grow in their personal relationship with Jesus Christ.
51-pages of teaching material
perfect for children aged 6 to 12 (Kindergarten to 6th grade)
designed for small churches
instant digital download in one print-friendly PDF file
flexible teaching activities designed for elementary-aged students
unlimited permission to share directly with volunteers or families in your church
View full details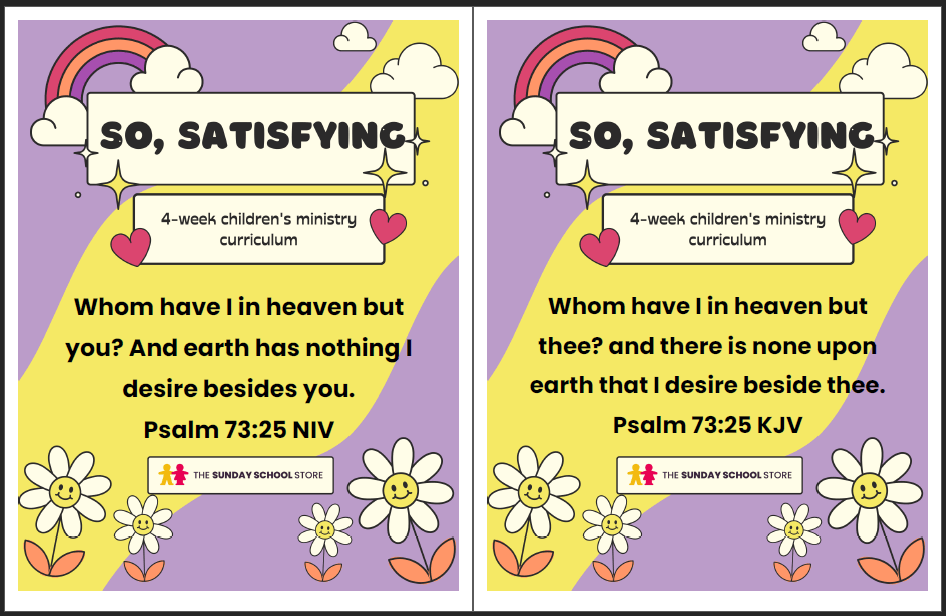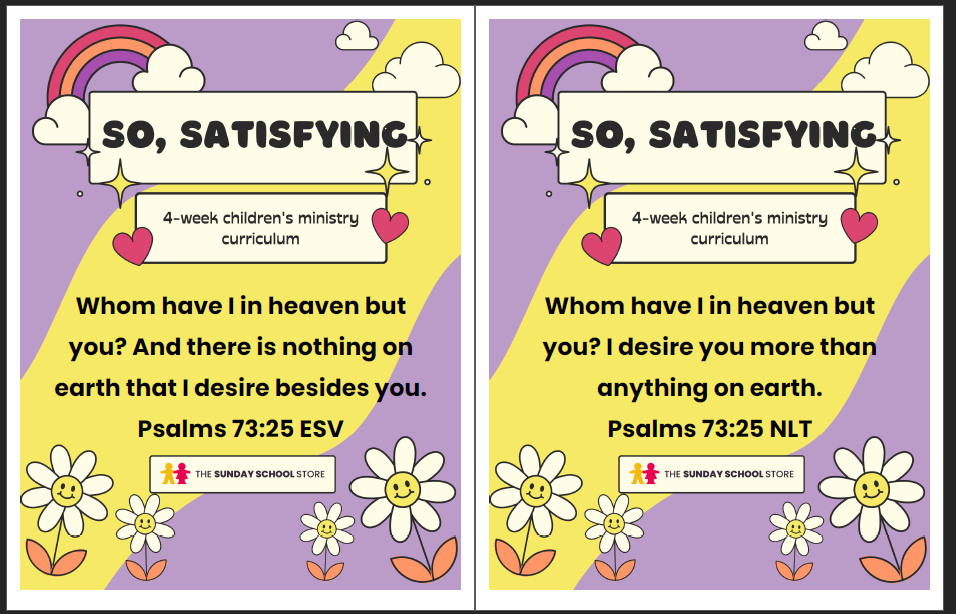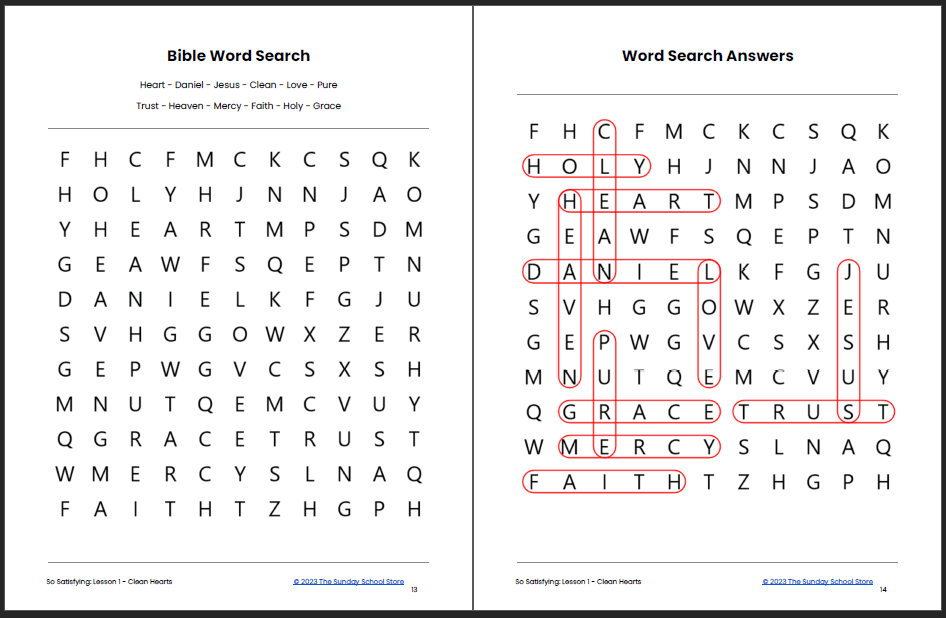 New & Popular Children's Ministry Curriculum