Regular price
$45
Sale price
$27
Unit price
per
Sale
Unavailable
⌛ {timer} ⌛
SALE ENDS SOON
📩 Instant PDF Download
🚸 Ages 6-12 Years Old
Thank-FULL is a 4-Week curriculum for children's ministry on the theme of thankfulness. This study uses a metaphor of the holiday feast and the traditional foods we enjoy. Each item can remind us of God's blessings. Children will learn how gratitude toward God is essential for our enjoyment of life. The lessons use the acronym FULL to help students recall what they are learning.
Click here to download week #1 as a free sample lesson.
Recommended teaching dates on the four Sundays of November 6, 13, 20, 27.
4 Creative Bible Lessons on Gratitude (72-page download)
Lesson #1: F is for Faith. Matthew 26:26-29. Bible Story: 

Jesus' Last Supper with  the Disciples. 

"Bread and Drinks"
Lesson #2: U is for Understanding. Acts 8:26-40. 

Bible Story:

Philip and the Ethiopian Eunuch. 

"The Turkey"
Lesson #3: L is for Love. 1 Corinthians 12:14-20.

Bible Story: The Church is One Body with Many Members. 

"Side Dishes"
Lesson #4: L is for Life. Bible Story:

The Pharisee and the Tax Collector. 

Luke 18:9-14. 

Bible Story: 

"Pie & Dessert"
Attention Keeping Learning Activities 

Easy to teach lesson plan

Discussion questions and prayer
Memory verse activity
Printable word search worksheets
Bible story coloring pages
Parent take home review sheets
Perfect for Children's Ministry or Sunday School

Use this Bible study series during the Thanksgiving season in your children's ministry, kids church, or Sunday School. Our curriculum includes everything you need to keep the children's attention, get them into God's Word, and help them grow in their personal relationship with Jesus Christ.
72-pages of teaching material
perfect for children aged 6 to 12 (Kindergarten to 6th grade)
designed for small churches
instant digital download in one print-friendly PDF file
flexible teaching activities designed for elementary aged students
unlimited permission to share directly with volunteers or families in your church

ESV translation included in Bible verse poster. Lesson plans available to edit in WORD DOCX files for alternate translations.
View full details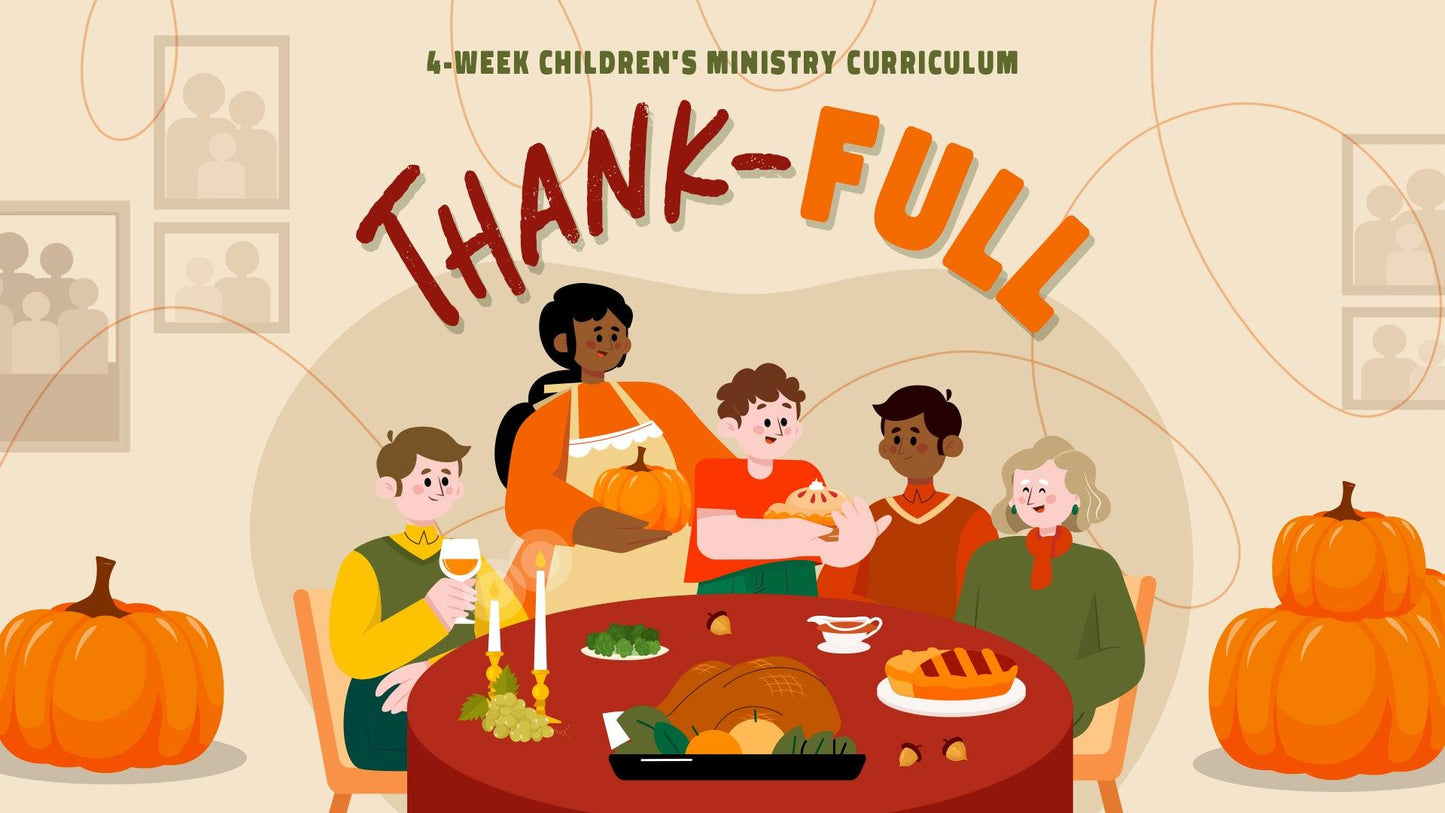 Thank-FULL Thanksgiving Lesson Plan
Small class or large, early learners or tweeners, these lessons give plenty of cohesive materials to customize for your particular situation. I supplement with our bulletins and love the 4-and 5 week lesson series to give a great organized way to share a particular theme from God's word. Always Bible Based..so important. Gives lot's of flexibility for discussion time for older kids, and adding in crafting and game ideas too. You can produce many weeks at once and share with the parents and rest of the church so we form a teaching sharing team...planting seeds in all ages of hearts and minds.
ThankFULL 4-Lesson Thanksgiving Curriculum for Children's Ministry
New & Popular Children's Ministry Curriculum