Regular price
$15
Sale price
$0
Unit price
per
Sale
Unavailable
⌛ {timer} ⌛
SALE ENDS SOON
Format 📩 Instant PDF Download
🚸 Ages 6-12 Years Old
Children can relate to the concept of admiring soldiers…whether the idea of armor comes from ancient Roman days, Medieval knights, or modern-day military and police, donning a protective uniform is something kids appreciate. Wearing defensive gear offers a visual analogy to spiritual armor. It's important to share with students that there is spiritual warfare going on around us. This might seem like an uncomfortable or frightening thought. However, when we know that God is on our side, we can be reassured with the peace of His power and presence. Nothing can hurt us when we have God's armor!
Lesson focus: This lesson explains to students what the Armor of God is, and briefly describes the meaning and significance of each component of it. Children will grow to value the importance of spiritually protecting themselves with faith in Christ. God provides us with all we need to stand firm against the powers that go against us!
Law/Gospel Theme: God promises to protect us and be present with us in all things. Because of the salvation we have in Jesus, we know that we are kept safe even in the midst of spiritual attack. The blood of Christ covers us and our faith in Him shields us from all harm. Jesus guides and guards our hearts when we trust in Him. We gain the other pieces of "armor" (truth, righteousness, etc.) when we place our lives in His hands.
Passage: Ephesians 6:10-20
Target Audience: Kindergarten-6th grade
Easy-Prep Bible Lesson
Target Age: elementary school, adaptable for K-6th grades
Translation: choose NIV, ESV or KJV
Stand-alone lesson plan
30-pages of teaching material
Instant digital download
Flexible teaching plan for mixed age groups
Ideal for kids church or Sunday School (45-60 minutes teaching time)
Attention Keeping Activities
Object Lesson with video demonstration

Game Suggestions
Easy To Follow Teaching Plan
Craft Ideas with video demonstration 
Coloring Page
Word Find Worksheet
Memory Verse Poster
Secure Purchase & Money Back Guarantee
Every purchase from the Sunday School Store comes with a 100% money-back guarantee. If you're not happy for any reason, just contact support and we will make it right. Our checkout process has the most advanced security. Customers can pay with credit card, PayPal, or mail a physical check from their church. Simply choose your payment method during the checkout process. 
View full details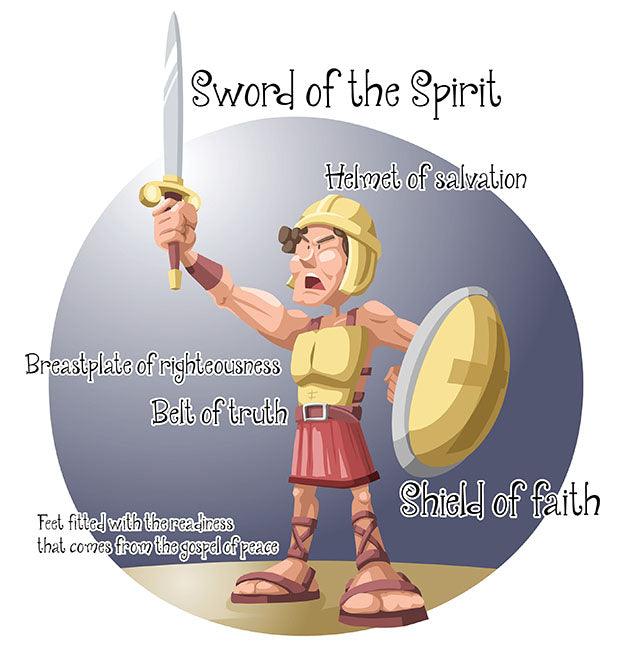 Keep up the good work , the materials are great and they make it easy for us facilitate and share the word with the kids and also for our learning...
I am always able to find something to use.
Thank you for your dedication to the Holden Congregational Church.
The Armor of God (Ephesians 6:10-20) Printable Bible Lesson & Sunday School Activities
Old and New testament chapter
Love the more information. Love to get more information about the people and discipline s
Excellent
Best teaching material, easy web site access and navigation, prices are very affordable and love the free lessons.
Loved it!
The children enjoyed this - talking about it and learning while coloring.
Armorof God
Thank you for this lesson. Sometimes we have ideas on what to teach but aren't sure how to bring it all out. your lessons are very adaptable to any class size and very enjoyable.Thank you so much for all you guys do!
Awesome
Thank you so much for material provided may the Lord bless you guys
Nice resource although incomplete
The Armor of God lesson plan had five days worth of crafts, activities and great resources with video and songs. However the lesson was laid out on two pages which made it difficult and confusing for me to breakdown for certain days and teachers. Was a lot of great fun just wish the info was broken down a little better.
New & Popular Children's Ministry Curriculum