Limited Time Only ⏰ This lesson is included in the Print & Teach ⏩ Curriculum Bundle Deal. For less than $1 per week, download a comprehensive library of Bible teaching for kids.

CLICK HERE to See the DEAL
Regular price
$15
Sale price
$0
Unit price
per
Sale
Unavailable
⌛ {timer} ⌛
SALE ENDS SOON
Format 📩 Instant PDF Download
🚸 Ages 6-12 Years Old
Let's Get Producing! Sunday School Lesson for the Fruit of the Spirit (Overview) The Fruit of the Spirit is an important topic to discuss with children, and can be a fun one to teach, as well. However, it can be a little confusing to understand what it means to bear God's fruit. These characteristics that make up Spiritual Fruit do not just randomly sprout from within us on our own power. It is our connection to the Lord that makes growth possible. On our own will, we can do nothing. With His strength, amazing things bloom! 
Lesson focus: In this lesson, students will consider the Fruit of the Spirit. The discussion briefly examines each one of the elements of this "fruit" and how we can allow God to work in and through us for growth. Children will describe the Spiritual Fruit themselves using words, pictures, and actions.
Easy-Prep Bible Lesson
Target Age: elementary school, adaptable for K-6th grades
Translation: choose NIV, ESV or KJV
Stand-alone lesson plan
17-pages of teaching material
Instant digital download
Flexible teaching plan for mixed age groups
Attention Keeping Activities
Object Lesson with video demonstration

Game Suggestions
Easy To Follow Teaching Plan
Craft Ideas with video demonstration 
Coloring Page
Word Find Worksheet
Memory Verse Poster
Secure Purchase & Money Back Guarantee
Every purchase from the Sunday School Store comes with a 100% money-back guarantee. If you're not happy for any reason, just contact support and we will make it right. Our checkout process has the most advanced security. Customers can pay with credit card, PayPal, or mail a physical check from their church. Simply choose your payment method during the checkout process. 
View full details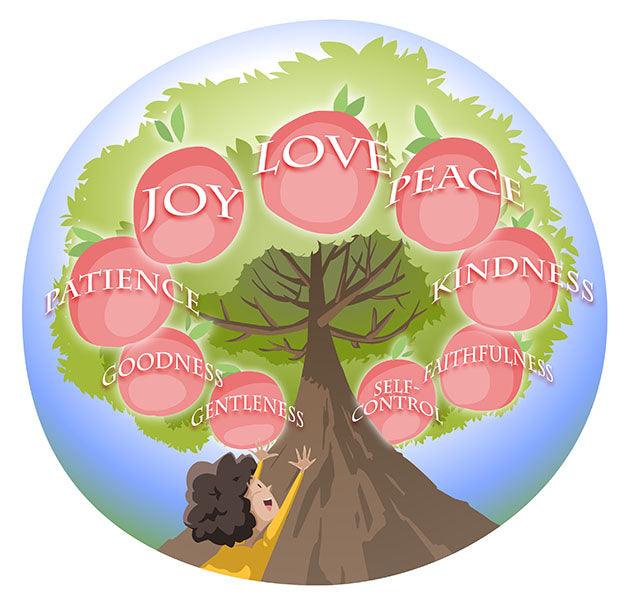 Just on time
This lesson was clear and to the point. The activities provided supported the lesson and were inspiring for the children. Easy read for any age level. Created fair amount of engagement. I would recommend.
The Fruit of the Spirit (Galatians 5:16-26) Printable Bible Lesson & Sunday School Activities
Excellent
This lesson was amazing..I had the students attention all the time..their ages vary from 4-10 and the were engaged with the introduction from the plants and fruits. Awesome ♥️ thank you for these free lessons ☺️
Lessons for Elementary Chapels
Thank you so much for making these available for free. I am able to look through them and see if I want to use any for school chapel lessons this year.
Great lesson
The kids were really into this lesson.
Thank you
I am using the material to teach my nephews in India. Hope to come back and purchase a few more later.
The Fruit of the Spirit (Galatians 5:16-26) Printable Bible Lesson & Sunday School Activities
Fruits of Spirit VBS
The plan was a lifesaver! Thanks for sharing.
Excellent
Great lessons. We thoroughly enjoyed!!!