Limited Time Only ⏰ This lesson is included in the Print & Teach ⏩ Curriculum Bundle Deal. For less than $1 per week, download a comprehensive library of Bible teaching for kids.

CLICK HERE to See the DEAL
Regular price
$15
Sale price
$0
Unit price
per
Sale
Unavailable
⌛ {timer} ⌛
DEAL ENDS SOON
Format 📩 Instant PDF Download
🚸 Ages 6-12 Years Old
Many times in our lives, things happen that are difficult to understand. We might face difficulties or uncertainties and wonder what God's plan is, or why He would allow us to suffer. The story of Joseph is a great reminder that God is always with us and has a plan that will bless us. We can trust that He is at work and will provide. Even confusing and troubling situations can be a gift when we know that He works for our good. 
 God gives us what we need. He loves each and every one of us, and He has a special plan for every step of our lives! It can be frustrating when we don't know what is up ahead, but we rest knowing that God holds the future. We might go through hard things, but they work together for God's purposes. Most importantly, we know that God has given us Jesus, who provides Eternal Life and salvation. Even if things don't work out as we might want now, a Heavenly home awaits us someday! 
Passage: Genesis 45:1-15 and 50:19-21 (also using references to Genesis 37 and 38-44) 
Target Audience: Kindergarten-6th grade 
Materials Needed: Construction paper; decorative supplies; glue; markers or crayons; tape; scissors; cotton; stickers; gift packages and boxes; jigsaw puzzles; Bibles.
More Resources Online
Easy-Prep Bible Lesson
Target Age: elementary school, adaptable for K-6th grades
Translation: choose NIV, ESV or KJV
Stand-alone lesson plan
Instant digital download
Flexible teaching plan for mixed age groups
Ideal for Kids' Church or Sunday School (45-60 minutes teaching time)
Attention Keeping Activities
Object Lesson with video demonstration

Game Suggestions
Easy To Follow Teaching Plan
Craft Ideas with video demonstration 
Coloring Page
Word Find Worksheet
Memory Verse Poster
View full details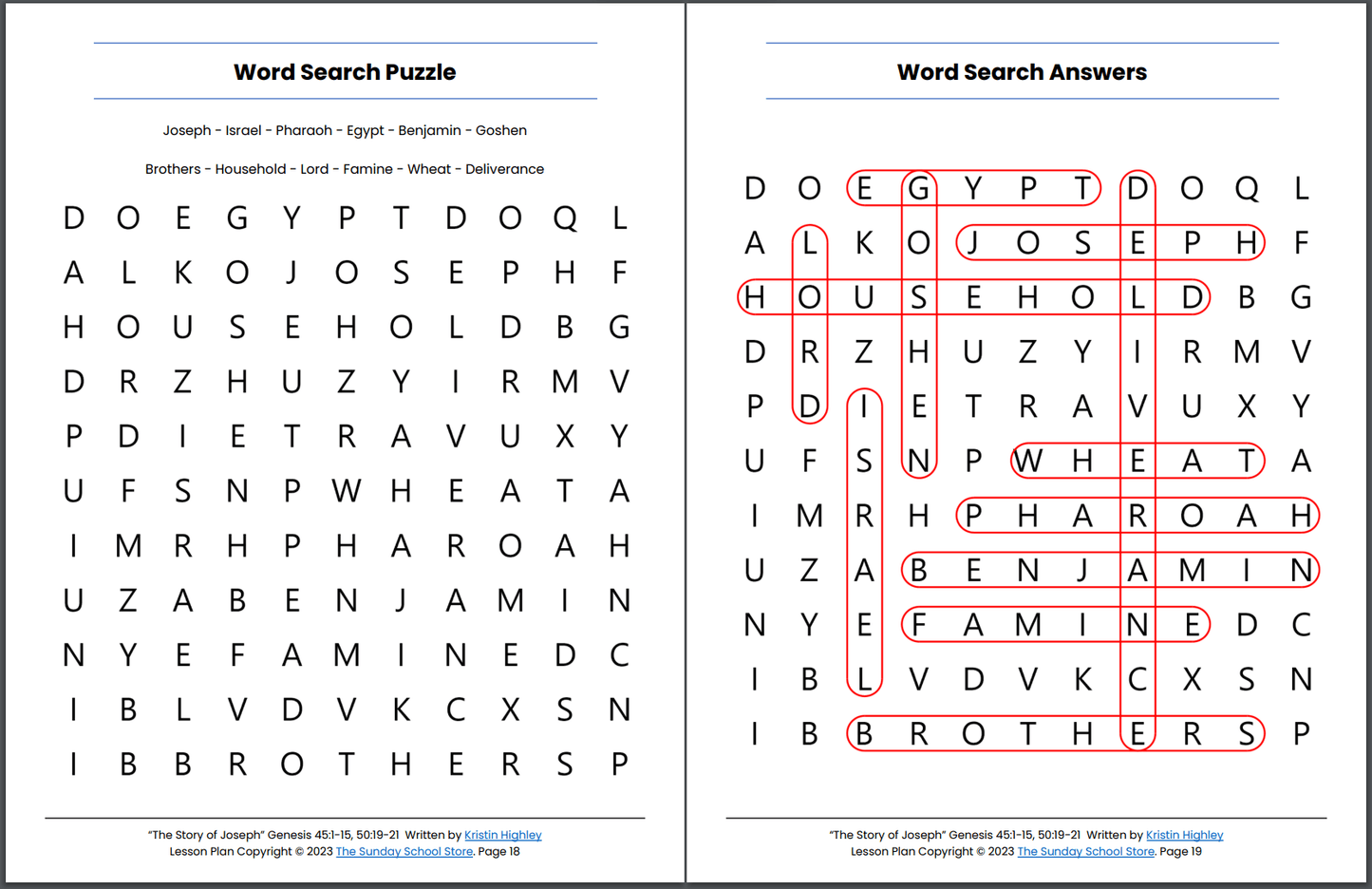 Great Value. Good Lessons.
Great Value. Good Lessons.
Good resources.
I've been looking for lessons to accompany our Sunday readings for our Sunday School. It's so great being able to teach these lessons to the kids so they can discuss what they've learned with what their parents heard in church.
The Story of Joseph (Genesis 45:1-15, 50:19-21) Printable Bible Lesson & Sunday School Activities
Pastor Law
This material greatly blessed our children.
IM very blessed to have these free materials for church ministry
The Story of Joseph (Genesis 45:1-15, 50:19-21) Printable Bible Lesson & Sunday School Activities