Regular price
Sale price
$45
Unit price
per
Sale
Unavailable
⌛ {timer} ⌛
DEAL ENDS SOON
📩 Instant PDF Download
🚸 Ages 6-12 Years Old
📖 Free Week #1 Lesson
"Harvesting Gratitude: 4-Week Children's Ministry Curriculum" is about appreciating God's blessings.  This study will help children to recognize, understand, and express gratitude for the blessings that God has given them in their everyday lives. It will guide them on a journey of discovery and appreciation for all the good things in their lives.
Memory Verse: 1 Thessalonians 5:18  
Big Idea: Jesus loves us so much, He gives us lots of good things to be thankful for every day! I can trust in His goodness and enjoy these blessings."
Series Overview: In an increasingly materialistic world, teaching children about the importance of gratitude can be a complex task. Many Sunday School and Kid's Church programs struggle to find engaging, age-appropriate content that effectively conveys the significance of gratitude, particularly as we approach the Thanksgiving season.
Elementary-aged children need a firm foundation of gratitude that makes them appreciate the blessings they enjoy and helps them grow in their relationship with God. Without the right resources, these important lessons may get lost in the shuffle of flashy gadgets and societal pressures, leading to a generation of children detached from the beauty of gratitude.
That's why we created "Harvesting Gratitude: 4-Week Children's Ministry Curriculum". This interactive, easy-to-follow Bible study is designed to make teaching about gratitude as simple as a breeze. Designed for children aged 6-12, it explores the concept of thankfulness through engaging Bible stories, fun activities, and relatable discussions.
Starting from recognizing God's blessings, expressing gratitude, and sharing our blessings, to learning gratitude in all circumstances, each week brings children a step closer to understanding and embracing an attitude of thankfulness in their daily lives.
Best of all, this digital curriculum is a breeze to use. It is available as a digital download that you can print at your convenience, ensuring the curriculum is always at your fingertips, ready to go whenever needed. You can say goodbye to lengthy preparations; we've done all the work for you!
Harness the power of gratitude this November with "Harvesting Gratitude: 4-Week Children's Ministry Curriculum". It's not just a Bible study; it's a way to shape children's futures and instill in them a spirit of genuine thankfulness that lasts a lifetime. Invest in their spiritual growth today and see them reap the benefits tomorrow.
Gospel Connection:  As children learn about gratitude, they inherently grasp the essence of the Gospel - God's grace, love, and Jesus Christ's ultimate sacrifice. This understanding nurtures a personal relationship with Christ, paving the way for their salvation. Hence, this curriculum not only teaches the value of gratitude but also subtly guides children toward the transformative message of the Gospel.
Gratefulness Sunday School Curriculum for Kids
More About This Thanksgiving Bible Curriculum
The theme of "Harvesting Gratitude: Appreciating God's Blessings" draws upon the idea of harvest - a time when we reap the fruits of our labor, and it's a time of thanksgiving. Gratitude, like harvesting, is a process. It begins with the planting of seeds—recognizing the blessings we receive—and grows into an outpouring of thankfulness.
The theme is particularly important for children because it helps instill a sense of humility, appreciation, and positivity in their formative years. A strong foundation of gratitude can help children maintain a balanced and joyful perspective on life in a world increasingly focused on material possessions and personal desires.
The concept of gratitude is intimately tied to our relationship with God, as we recognize that all blessings ultimately come from Him. Throughout this curriculum, we will explore stories from the Bible that highlight this relationship, encouraging children to see the many ways God blesses us every day—through our family, friends, nature, and even challenges that help us grow.
Week 1 - Recognizing God's Blessings
Main Idea: The first step in gratitude is recognizing all the blessings that God gives us. Children will learn to identify these blessings in their everyday lives.
Bible Story: 1 Kings 17:7-16 - Elijah and the Widow of Zarephath. In this story, God's blessing is seen as a never-ending supply of flour and oil, even during a severe drought. This teaches children about recognizing God's blessings, even in the most challenging circumstances.
Week 1 - Recognizing God's Blessings
Main Idea: The first step in gratitude is recognizing all the blessings that God gives us. Children will learn to identify these blessings in their everyday lives.
Bible Story: Genesis 1:1-31 - The Creation Story. This story highlights the ultimate gifts God has given us - the world and all its inhabitants.
Week 2 - Expressing Gratitude
Main Idea: After recognizing God's blessings, we must learn how to express our gratitude. Children will understand the importance of saying "thank you" to God this week.
Bible Story: Luke 17:11-19 - The Ten Lepers. This story emphasizes the importance of expressing gratitude, as shown by the one leper who returned to thank Jesus.
Week 3 - Sharing Our Blessings
Main Idea: Gratitude doesn't stop at recognition and expression - it also leads us to share our blessings with others. Children will learn about generosity and kindness.
Bible Story: Acts 2:42-47 - The Early Church. In this story, early Christians share their belongings and blessings with one another, embodying the spirit of gratitude and community.
Week 4 - Gratitude in All Circumstances
Main Idea: True gratitude means finding reasons to be thankful in all situations, even tough things. This week, children will explore how to remain grateful during challenging times.
Bible Story: Job 1:13-22 - The Trials of Job. Despite losing everything, Job remains faithful and thankful to God, demonstrating profound gratitude in adversity.
Translation: This study is written to work with any Bible translations and poster visuals are included using the NIV, ESV, and KJV.
Attention Keeping Learning Activities 

Easy to teach lesson plan

Discussion questions and prayer
Memory verse activity
Printable word search worksheets
Bible story coloring pages
Craft activities
Perfect for Children's Ministry, Kids Church, or Sunday School for Thanksgiving

Use this Bible study in your children's ministry, kids' church, or Sunday School. Our curriculum includes everything you need to keep the children's attention, get them into God's Word, and help them grow in their personal relationship with Jesus Christ.
57-pages of teaching material
perfect for children aged 6 to 12 (Kindergarten to 6th grade)
designed for small churches
instant digital download in one print-friendly PDF file
flexible teaching activities designed for elementary-aged students
unlimited permission to share directly with volunteers or families in your church
View full details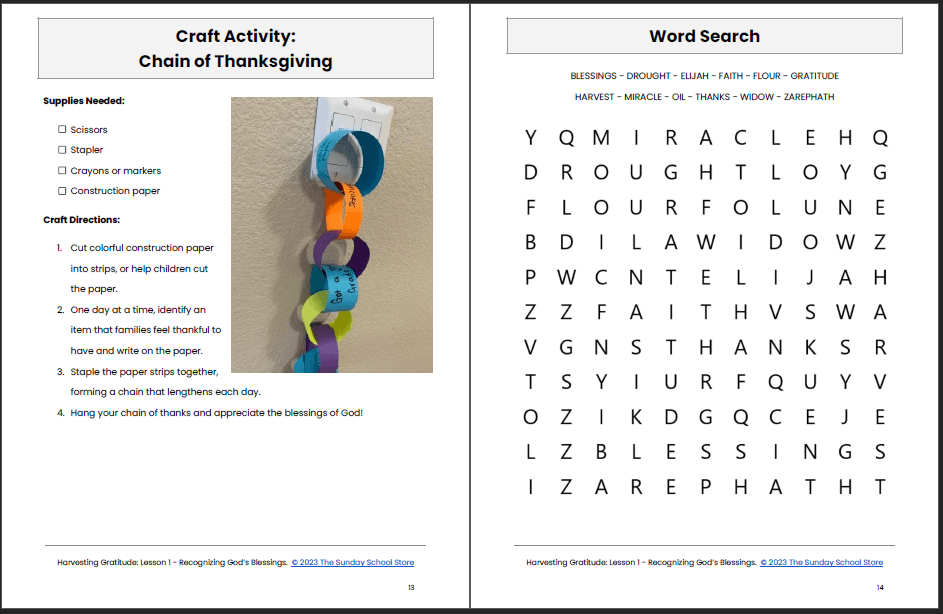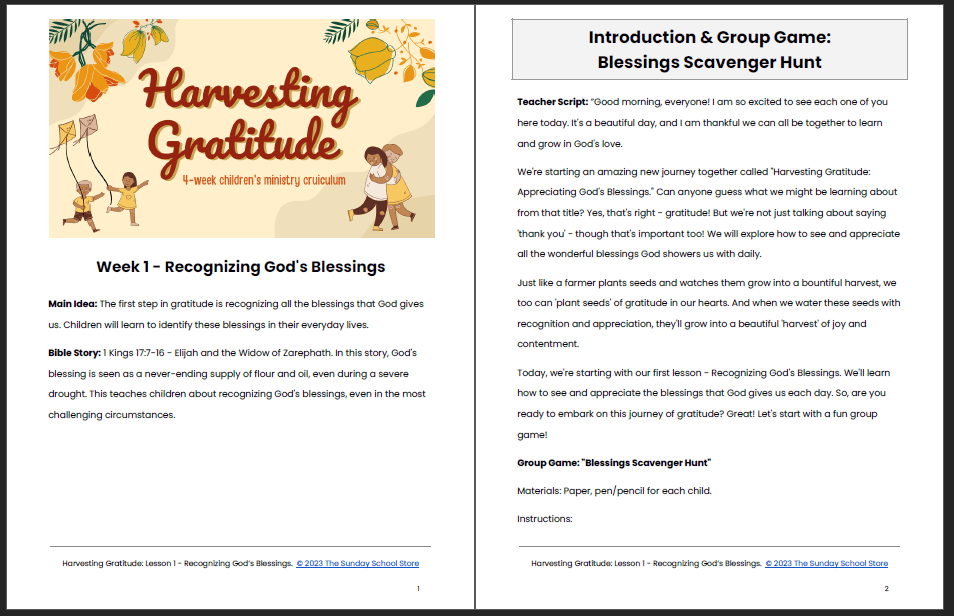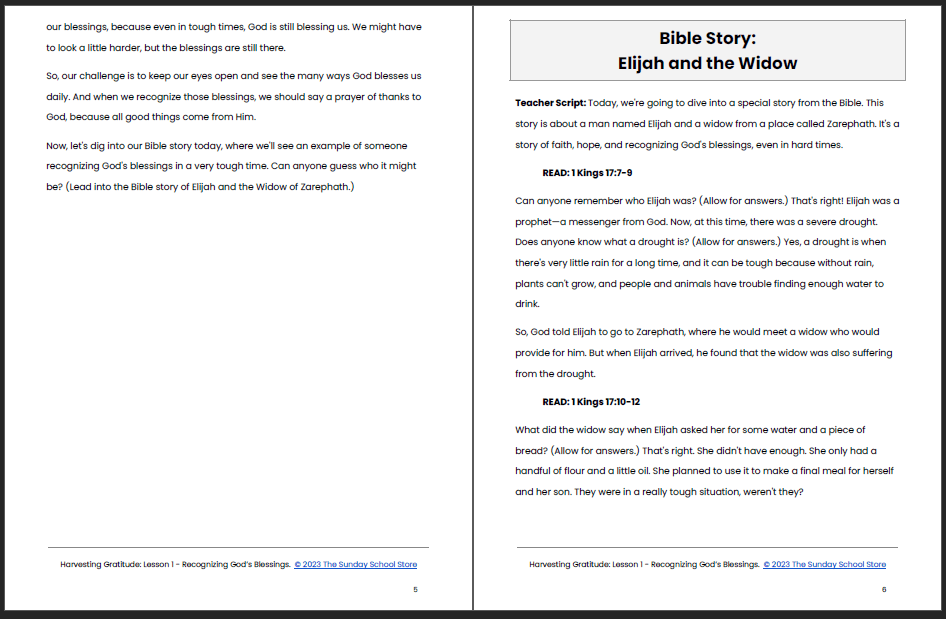 New & Popular Children's Ministry Curriculum