Regular price
Sale price
$0
Unit price
per
Sale
Unavailable
⌛ {timer} ⌛
DEAL ENDS SOON
The world can be cruel, but the spiritual fruit of kindness is growing in the hearts of all who follow Jesus. Kids who follow Jesus can be an example to their friends and a powerful witness to Jesus. Use this lesson to teach children to BE KIND to all people.

We hope you enjoy this sample and will consider buying the complete Fruit of the Spirit: 9-Week Curriculum.
INCLUDED IN THIS  KINDNESS LESSON
Print-friendly PDF document with complete teaching plan with lesson, activities, printables, and small group discussion guide. 
Permission to print, copy, and share with your ministry team.
This is the fifth Bible lesson in our series based on the Fruit of the Spirit in Galatians 5. Each particular lesson plan explains a specific character quality that God creates in us through His Spirit.
Relevant Scriptures Pertaining to Kindness: Galatians 5:22-23; Proverbs 3:3; Micah 6:8; Ephesians 4:32; Titus 3:3-5a
Learning Objectives: After this lesson, the children will demonstrate:
An understanding that kindness is a fruit of the Holy Spirit.
An understanding that kindness is modeled most greatly by our God and is made possible through Christ.
Bible Verse to Memorize: Ephesians 4:32: "Be kind to one another, tenderhearted, forgiving one another, as God in Christ forgave you." (ESV)
View full details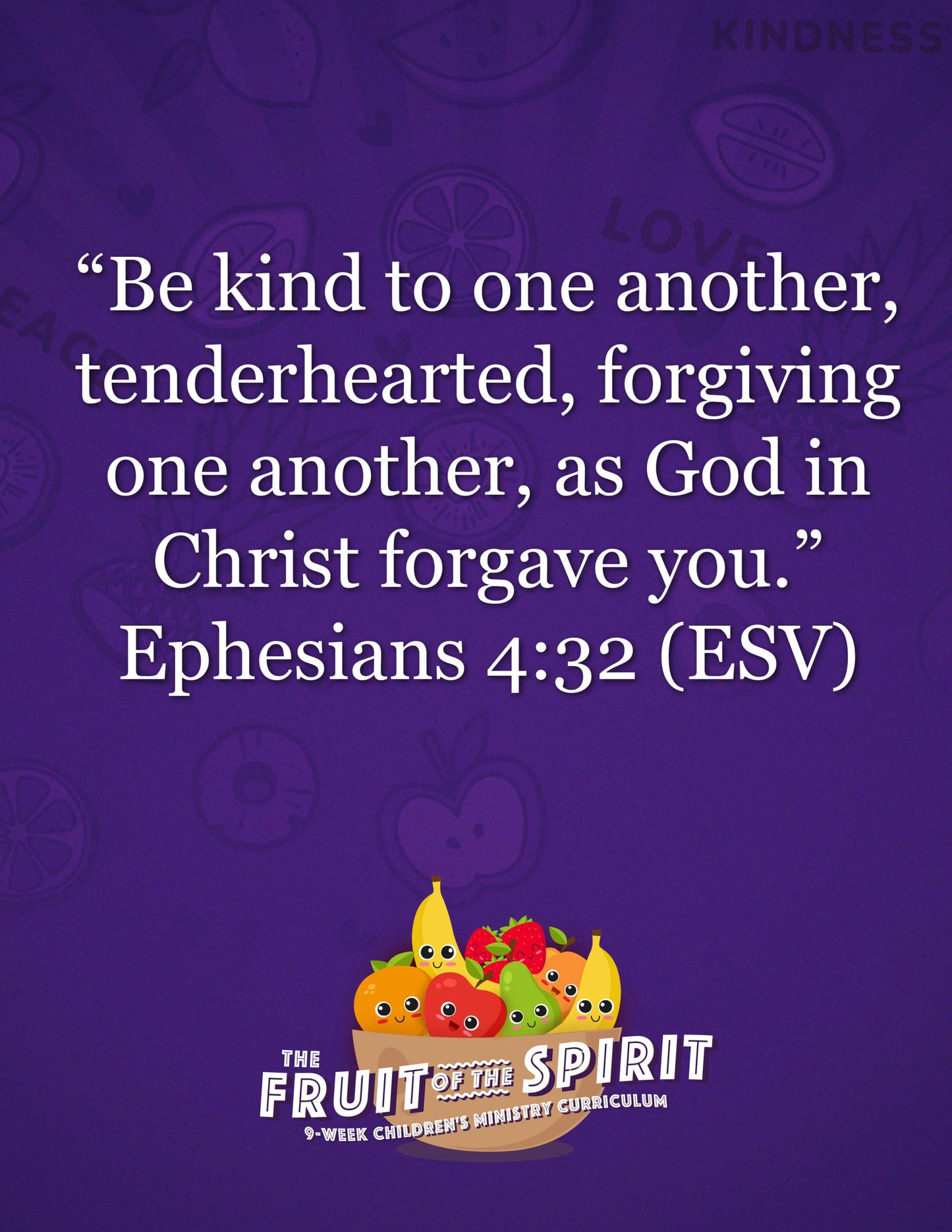 Kindness Fruit of the Spirit free sample lesson
God bless you for provide us with your free biblical lessons 💕 Easy to follow and you provide everything the teacher needs and the activities for the children are great..I teach 1-5th graders and your lessons are excellent for mix aged classes! Thankyou and God bless you and your ministry 💕
"Fruit of the Spirit" Kindness Sample Lesson
"Fruit of the Spirit" Kindness Sample Lesson
"Fruit of the Spirit" Kindness Sample Lesson
I enjoyed getting the sample Fruit of the Spirit Lesson. It was simple and well laid out. I really like the examples of a craft and how easy the lesson flows. I will be continuing to use material from the Sunday School Store.
Fruit of the Spirit
This is an amazing lesson plan for a small or big Sunday School group. It give all the information needed to do the lesson and also so many creative ideas for crafts and games.
Fruits of Spirit
Excellent children found them interesting.
"Fruit of the Spirit" Kindess Free Sample Lesson (download only)
I liked it so much I purchased the series.
"Fruit of the Spirit" Kindess Free Sample Lesson (download only)
New & Popular Children's Ministry Curriculum