Regular price
Sale price
$0
Unit price
per
Sale
Unavailable
⌛ {timer} ⌛
DEAL ENDS SOON
Kids love snacks, especially when they help prepare the food.
Bible Bites is a 10-Lesson curriculum that uses simple recipes to explore the parables of Jesus. Children will love the hands-on experience, the yummy treats, and learning these powerful lessons directly from the stories told by Jesus Christ. Bible Bites is guaranteed to keep kids' attention, get them into God's Word, and engage them with the Good News of Jesus Christ.
Bible Bites: 10-Lesson Sunday School Curriculum
Click here to see the complete Bible Bites is a 10-week Sunday School Curriculum on the Parables of Jesus for children.
The way to a child's heart is through fun and food! So, why not combine these elements with Biblical knowledge to feed their bodies and their souls?
Kids will love this easy-to-digest teaching format. In each lesson, kids will prepare and enjoy a snack while learning about the parables of Jesus.
Parables of Jesus: Free Sample Lesson
This free sample lesson will teach kids the Parable of the Lamp Stand from Matthew 5:14-16. The following teaching activities are included in this 17 page download.
Snack Activity
Bible lesson plan
Discussion questions and prayer
Memory verse activity
Printable Bible activity worksheets
Multiple age-appropriate learning activities
Parent take home review sheets
View full details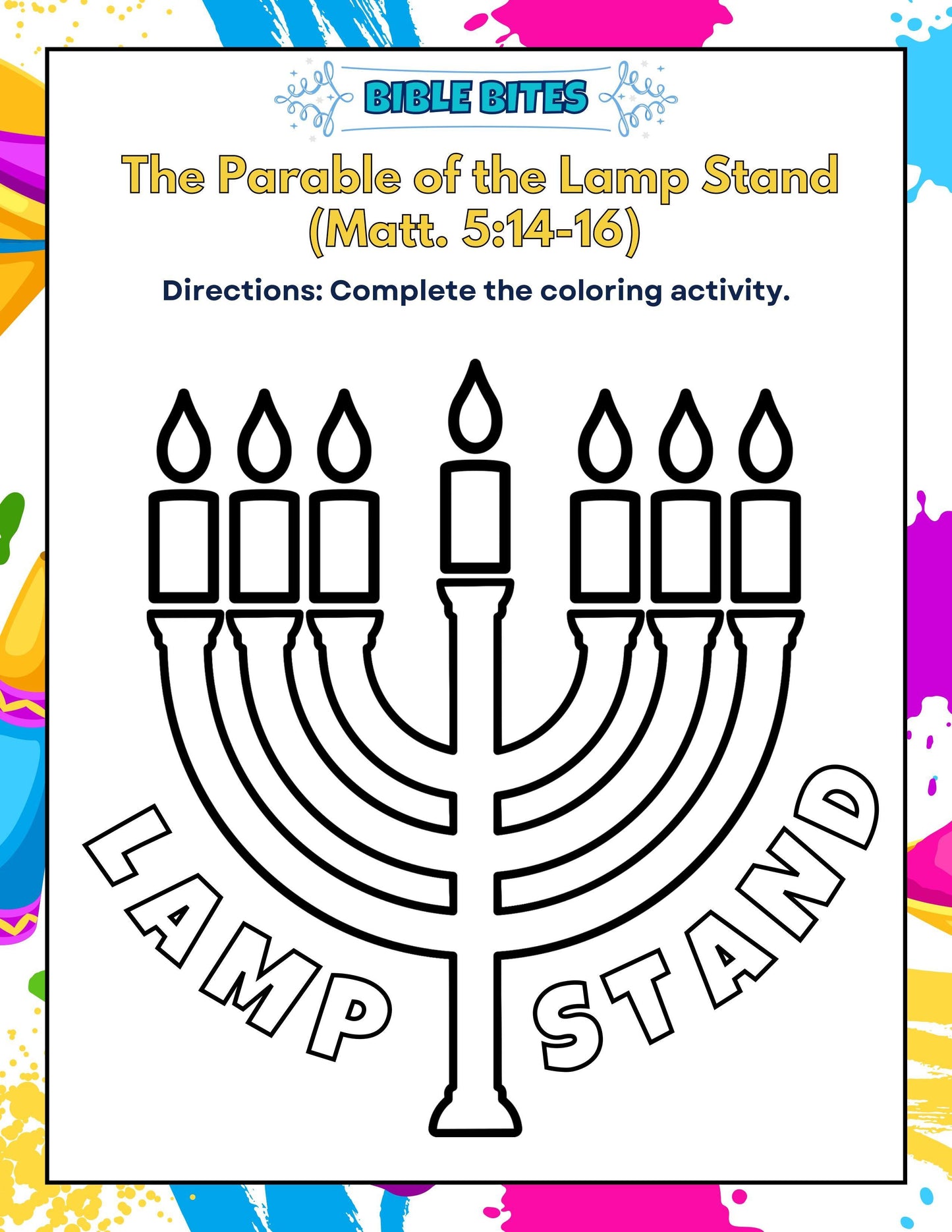 Bible Bites
I loved the free sample and so did our youth. The materials were highly effective and allowed for easy learning. The youth are looking forward to our next lesson!
Parable of the lamp.
It was a very good lesson. Enjoyed it alot and the kids enjoyed it too.
Excellent
This lesson was very illuminating for our students.We all enjoyed it and thank you so much.
Great lesson easily adaptable for younger children. Thanks!!!
Parable of the Lamp Stand
I loved it! My kids loved it too. I added finger lights to go along with it and my kids loved that.
BIble Bites - Complete curriculum
This curriculum was purchased by myself for our Children's Sunday School Department for the rest of the summertime before the Fall 2022. The attendance is low in number and the ages range from 5 years old to 12 years old (which is not developmentally appropriate). The cost is outrageous to spend but since there was a code to receive 50% for the bundle off made it a bit easier to purchase at $35.00 instead of $75.00. The activities to do are ok but not that great. I did use the "Freebie one" then purchased the rest. In my opinion, too expensive.
Children's bible story book
Love
This lesson is informative and simple but deep. It touches all ages. As I spoke with the children on the light within as we made the candles and unpacked the story, you could see the true light switch on in their smiles. They definitely got God's message with this one!
New & Popular Children's Ministry Curriculum